This thick main course pomegranate soup, Ashe Anar, will hit all your exotic taste buds with pomegranate molasses, yellow split peas, mint leaves and lamb meatballs.
I know everyone is going green today for Saint-Patrick's Day, but my mind is on a much more important event. Today is a milestone in my life, a reason for great celebration! Ten years ago on this very day I hosted my very first dinner outing under the group Cheap Ethnic Eatz. That dinner group planted the seed for this blog a few months later. The first dinner was held at a now gone Iranian and Iraqi restaurant. In honor of that first dinner, I present to you this Ashe Anar recipe, a Iranian and Iraqi Pomegranate Soup with lamb meatballs. March 20th 2017 it also the Persian New Year. Happy Nowruz!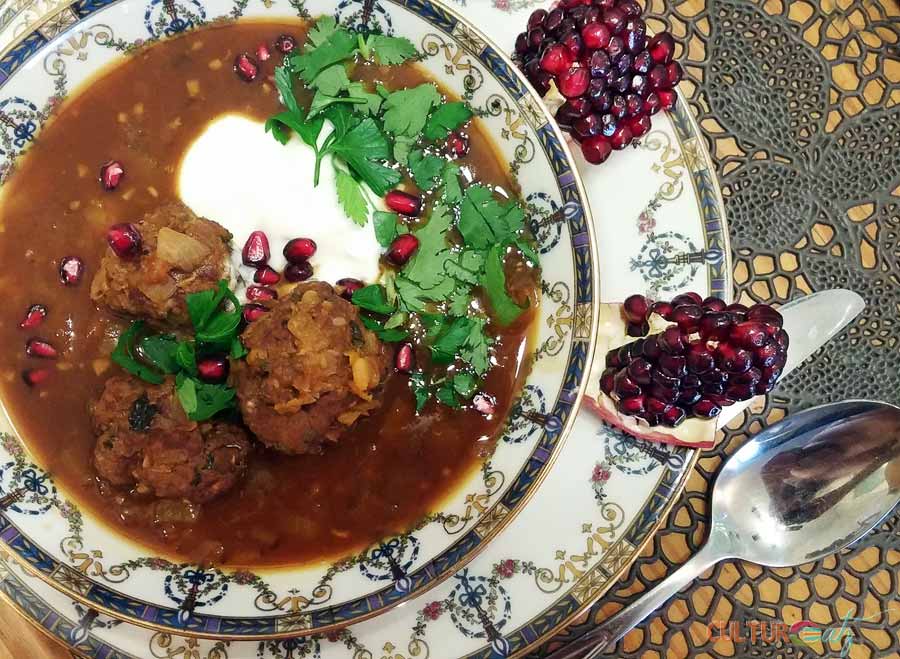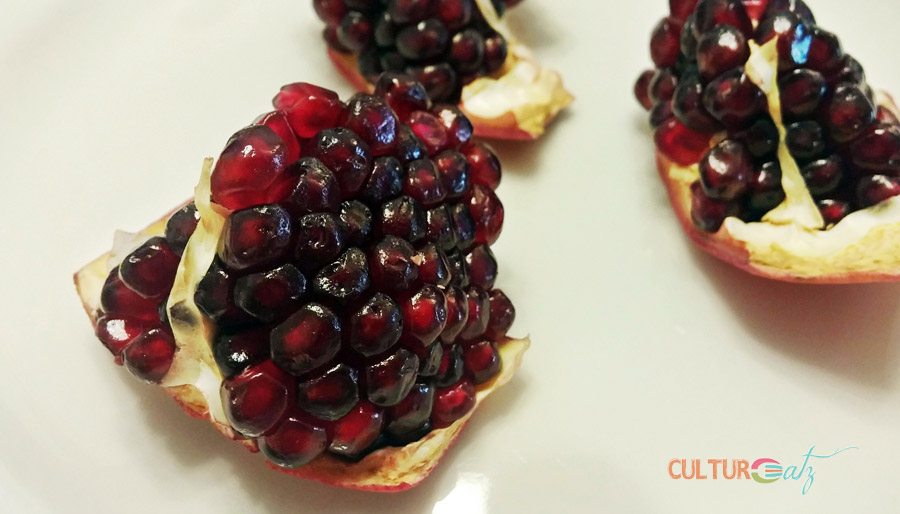 On that first dinner, two other people showed – because I had not realize it was Saint-Patrick's Day on that Saturday night. I thought this adventure was going to be short lived. Two years later, 85 members showed up for the dinner of the group's second anniversary. After about 75 dinners, I closed the dinner group in 2010 while it was still in full swing, but the blog lived on.
I am still here, 10 years later, preparing and devouring every morsel of food I can find from around the world.
Tonight We Celebrate!
I have so many memories from those dinners. And I have been creating so many more since then. Out of that group a close band of friends was formed. About 20 to 30 of us are still in touch and get together a few times a year. That is an amazing accomplishment. Tonight 15 of us are going out for dinner to celebrate! Even 1 of those 2 people at that first dinner is coming.
I cannot say where this 10 year anniversary dinner will be tonight, it is a surprise. No one knows where we are going except me. I did a few Mystery Dinners in the group and they were a big hit. So my friends are meeting me at a specific time at a subway station and I will lead them to the restaurant. I'll let you know how it goes!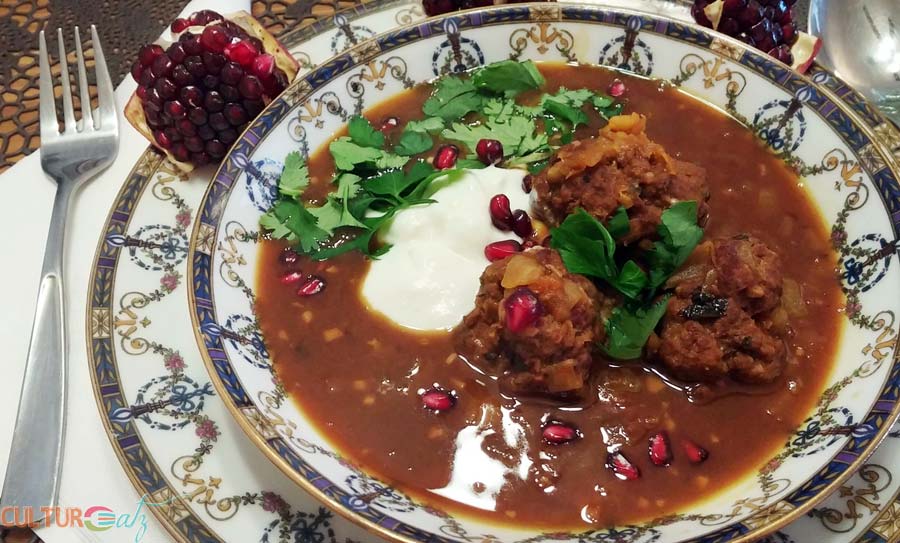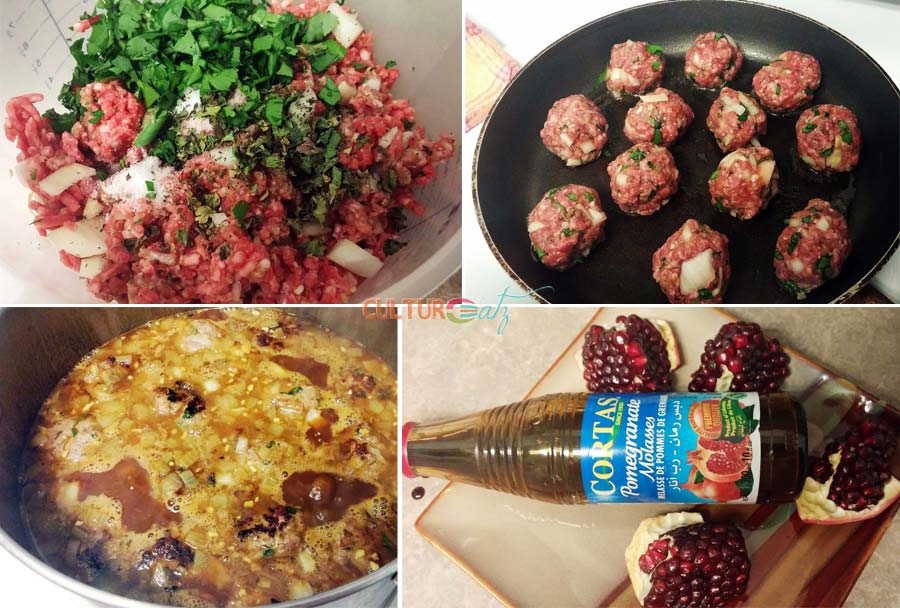 YouTube All Food Share
And really by pure coincidence, I am starting a new project today as well! I am launching a Facebook group called YouTube All Food Share. This community is EXCLUSIVELY  for Youtube vloggers who do FOOD videos. You do not need a food dedicated channel, just some food videos. Join us!
Click here to get all the info and to request to join!

A Persian Pomegranate Soup
Thanks to Laura at The Spiced Life for this recipe. The Ashe Anar recipe, a Iranian and Iraqi Pomegranate Soup, has Persian flavors all over it, well all over your soup spoon. Guys I splurged! I splurged on lamb and on the only pomegranate I could find at 4.50$ a pop! I guess they are not in season.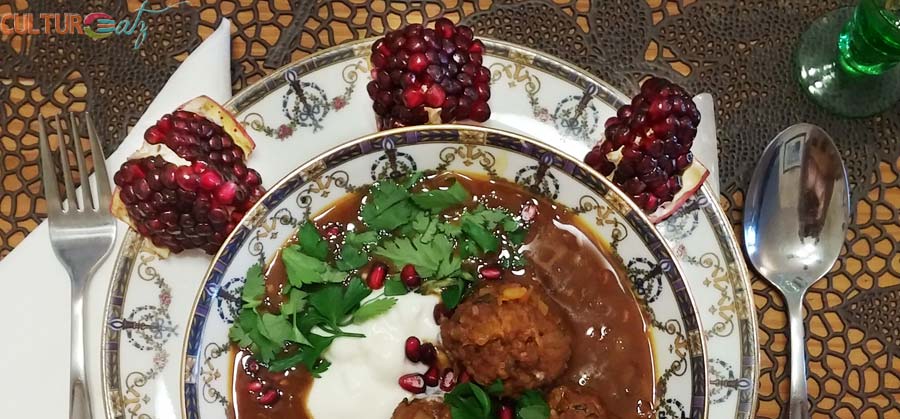 This hearty Ashe Anar soup is unlike any soup I have ever had. It's sweet and so tart at the same time – that nerve in your upper jaw will tingle – but works perfectly with the split yellow peas and luscious lamb meatballs. The yogurt brings a welcome respite between bites and the more the coriander on top the better (in my books). I cannot think of a better exotic dish for this momentous 10 year anniversary!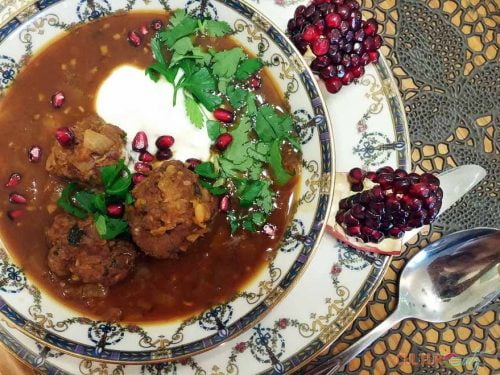 Ashe Anar | Pomegranate Soup
Ingredients  
2-4

T

vegetable oil

1

medium yellow onion

minced

5

cloves

garlic

minced

1

tsp

turmeric

2 1/2

tsp

ground cumin

1 1/2

cups

yellow split peas

8

cups

chicken stock

1

yellow small onion

minced

3

cloves

garlic

minced

1 1/2

lbs

ground lamb

or beef

1/4

cup

each finely chopped Italian parsley

cilantro and mint

2

tsp

sea salt

2/3

cup

pomegranate molasses

pomegranate seeds

1

cup

Greek yogurt

chopped parsley and cilantro
Instructions 
In a large saucepan over a medium high heat, begin to heat the oil. Cook the onions in the oil with a bit of salt, stirring occasionally, until they begin to caramelize. Add the garlic and cook for 2 min more. When the onions are nicely caramelized, stir in the turmeric and cumin and cook till fragrant, about 1 min.

Add the split peas and the chicken stock and bring to a boil. At this point cover the pan, reduce heat to a gentle simmer and cook for 1 hour.

While the peas are cooking, mix together the onions, garlic, meat, herbs and salt with your hands. Form walnut-sized balls of the mixture, about 18.

Place the meatballs in a large skillet, 9 at a time, on medium high heat and brown the meatballs on one side. Remove from skillet and set aside.

When the peas are cooked, stir in the pomegranate molasses. Gently add the meatballs to the soup and bring back to a simmer. Cover and simmer for another 20 minutes. Season with salt or pepper as desired.

Ladle in a bowl and top with the yogurt, fresh herbs, and fresh pomegranate seeds.