Yep it's time to get that microwave working again for actual cooking and not just reheating. Whether you're dining solo or you're pressed for time, the 250 Best Meals in a Mug cookbook is the perfect solution. And if you're living in a dorm, traveling in an RV or eating at the office, it offers a convenient and budget-friendly way to eat delicious and healthy meals.
I live alone so quick and easy meals in minutes sounds so perfect. I laugh when people think I eat gourmet every night because of my blog. If only they knew what a regular week night dinner looks like. I shudder myself when I think about it. I tried 4 recipes from this cookbook and I found with little effort my meals were healthier then my other lazy efforts. Perfect examples are the Pesto Chicken Couscous and Spiced Lentils with Yogurt, Almonds and Mint. For a sweet treat I made the Double Lemon Cake for dessert and the French Toast for a breakfast.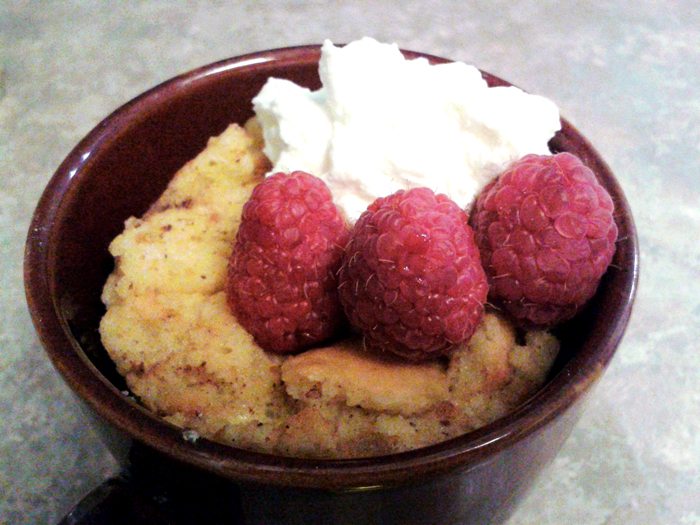 These individual-portion-sized recipes will take you through morning breakfast to late-afternoon snacks to satisfying suppers with just a quick trip to the microwave, omitting hours of stove top simmering or baking. The author has stripped away all the time-consuming steps, as well as all the artificial ingredients found in boxed meals. Most of these recipes can be created from scratch in less time than it takes to defrost a processed store-bought meal. For example, in just 2 minutes, breakfast gets a boost with a delicious homemade muffin.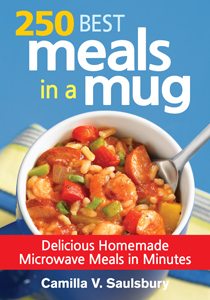 As I mentioned I prepare 4 recipes and I will share 2 with you today. For every recipe I used the suggested 16-oz (500 ml) mug, basically the big ones we all have now. The recipes in the book are overall basic and not to exotic but there are a few surprises. Some ingredients made me shudder – like canned chicken – so I substituted with leftover chicken. To each his own.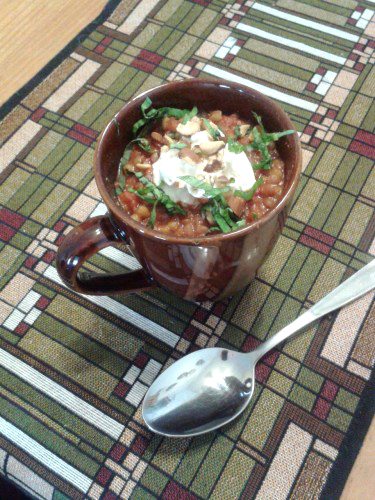 As simple is it may look, the Spiced Lentils with Yogurt, Almonds and Mint is pretty much a complete meal with protein, carbs and veggies. The taste has a touch of the exotic as well with the almonds and mint.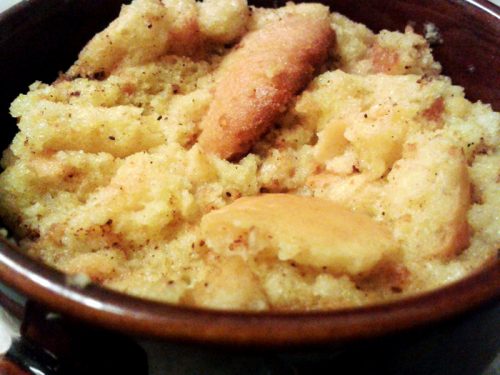 The longest was the French Toast only because you need to leave it for 15min while the bread absorbs the liquid. But let me tell you this one is a keeper, loved the French Toast mug. I topped it off with a tablespoon of mascarpone and raspberries. Now let's head into the kitchen. Both recipes are courtesy of 250 Best Meals in a Mug by Camilla V. Saulsbury © 2014 www.robertrose.ca Reprinted with publisher permission.
The Pesto Chicken Couscous was a hearty and good meal. Very simple to make but this one I found a bit messy when it came to tossing everything together. The cup was pretty full so bits and pieces fell out. No biggie though. I had Pearl couscous which also worked great, just let it stand for 10 min instead of 5.
[mpprecipe-recipe:378]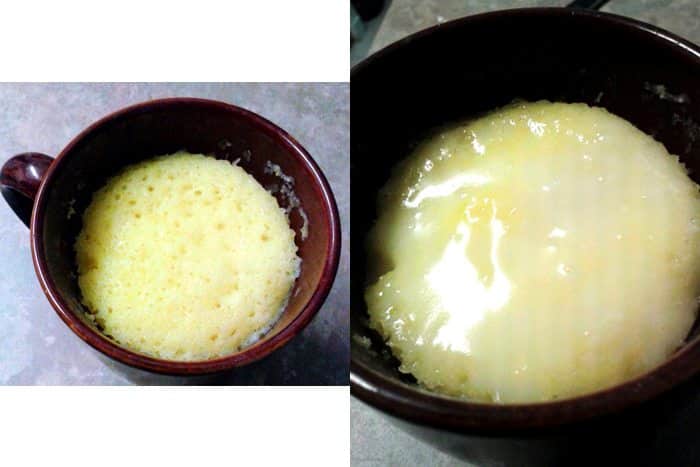 I have made a few versions of cakes in mugs over the years. They usually have an odd texture that is quite egg-y. The Double Lemon Cake was much better than I had expected and is the closest recipe of it's kind that resembles a real cake. I made half the icing and it was plenty.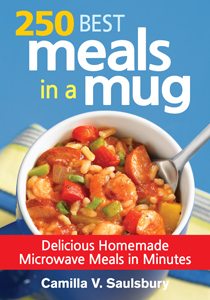 Double Lemon Cake
Heaps of citrus zing, minimal ingredients, delicious, ready in minutes — what more could you want from a lemon cake?
Ingredients  
Cake
3

tbsp

all-purpose flour 45 mL

1/4

tsp

baking powder 1 mL

1/8

tsp

salt 0.5 mL

1

large egg 1

3

tbsp

granulated sugar 45 mL

2

tbsp

vegetable oil 30 mL

1

tsp

finely grated lemon zest 5 mL

1 1/2

tbsp

freshly squeezed lemon juice 22 mL
Icing
1/3

cup

confectioners'

icing sugar 75 mL

1 1/2

tsp

freshly squeezed lemon juice 7 mL
Instructions 
Cake:
In the mug sprayed with nonstick cooking spray, combine flour, baking powder and salt. Using a fork, beat in egg, sugar, oil, lemon zest and lemon juice until very well blended.

Microwave on High for 1 1/2 to 2 minutes (checking at 1 1/2) or until risen and center is just set. Let cool slightly or entirely in mug. Eat directly from mug or gently remove to a small plate.
Icing:
In a small bowl or cup, use a fork to stir confectioners' sugar and lemon juice until smooth. Drizzle over cake.
Notes
Using oil, instead of butter, in this recipe helps to keep the cake extra-moist.
You can use 1/8 tsp (0.5 mL) lemon extract in place of the lemon zest.