This amazing Hibiscus and Chocolate Swirl Homemade Marshmallow recipe is so easy to make and it will blow your mind compared to the grocery store stuff.
You know how sometimes you prepare a recipe and it is so good you promise yourself to make it again soon? Well I am ashamed to say I made my first homemade marshmallows almost four years ago and swore I would make again in the near future. Granted four years earlier I may not have come up with an out-of-this world flavor combination. Plus this was the perfect recipe to try out my brand new Hamilton Beach 6 Speed Stand Mixer!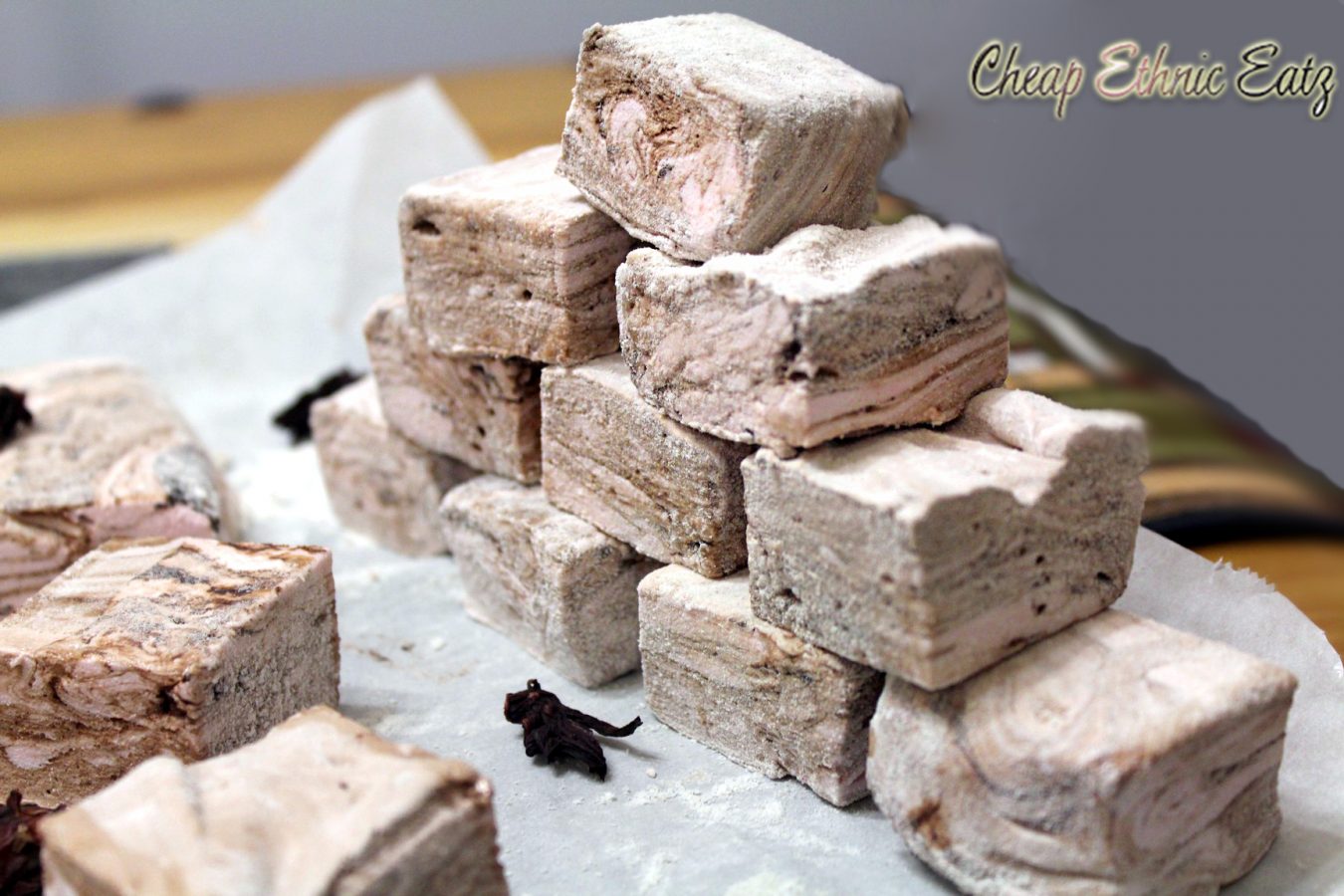 I posted a basic marshmallow recipe in Aug 2011 and I was so amazed at the results. They were amazing and delicate. I am not the biggest fan of starch tasting grocery store marshmallows … unless they are nice and charred with a melted interior from a campfire. Homemade marshmallows are a whole different ball game. As a colleague said it is like eating a cloud. Another colleague who hates marshmallows loved these. I think I spoil my colleagues too much!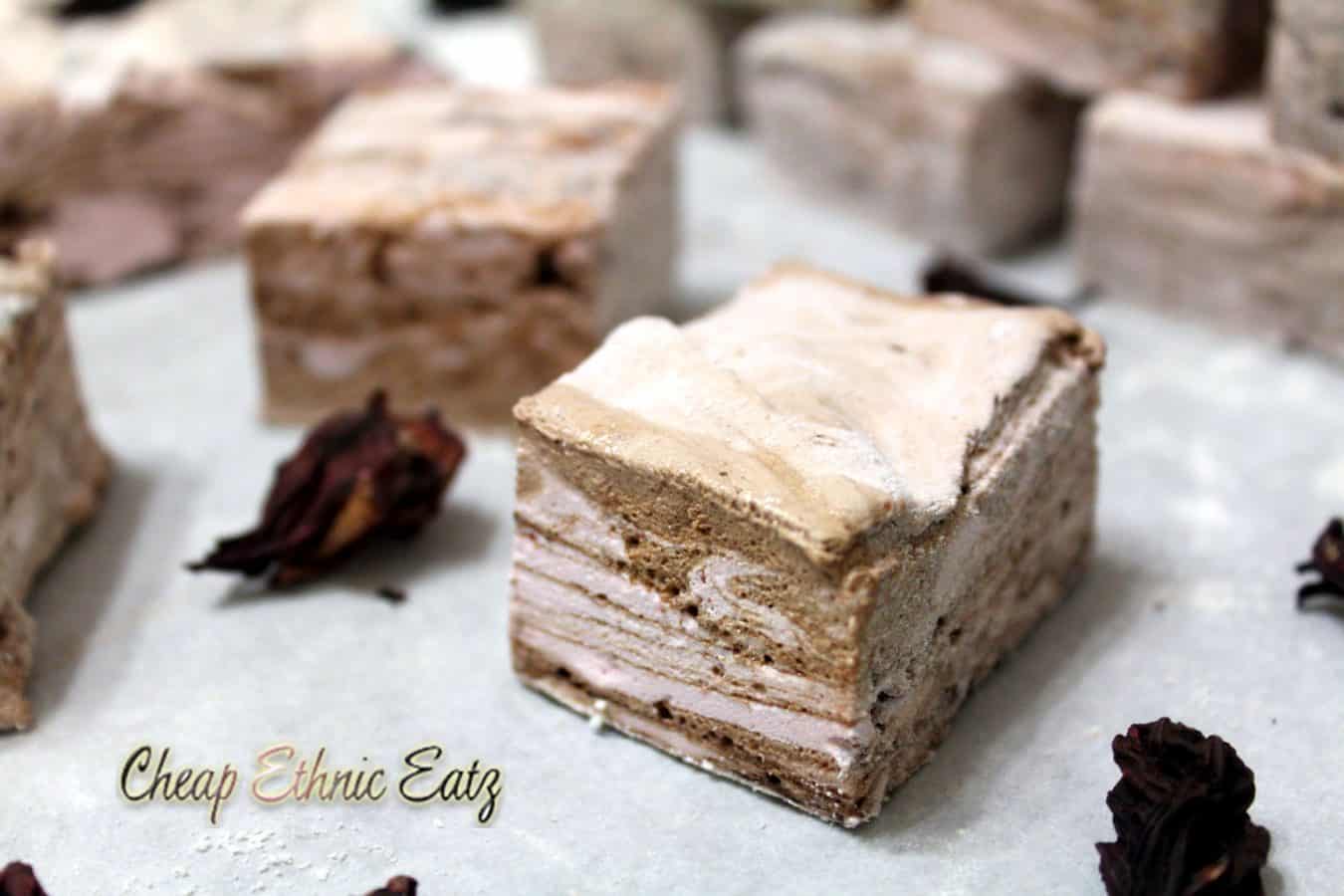 This particular chocolate swirl recipe is even better than my first try, I got it at Brownie Points. The Hibiscus addition came from another blog (oops did not keep the link). I thought it was so brilliant: I am a fan of hibiscus tea and I agreed that the lemon zesty and juice like taste was a perfect match that would cut down on the intense sweetness. Combined with the chocolate, the resulting flavor was unbeatable.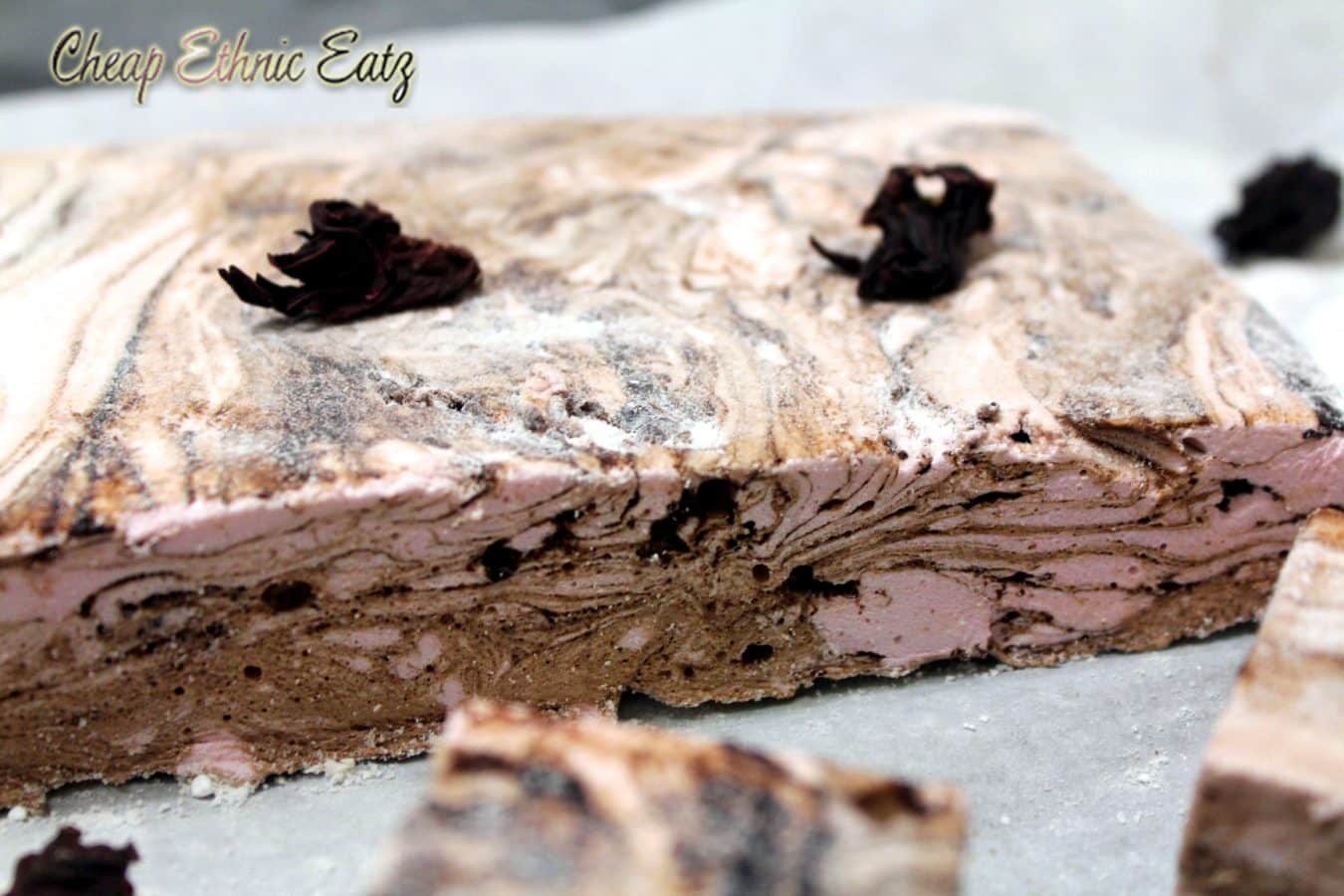 Marshmallows is the perfect recipe to try out the 6 Speed Stand Mixer by Hamilton Beach. I have to admit I was so excited to get this stand mixer to review. Now I am sure you are thinking I should have made a cake or something grander. But marshmallows need to be beaten non stop for 8 to 12 minutes, a perfect choice. I will also be posting in the near future a great quick yeast bread  made with the dough hook.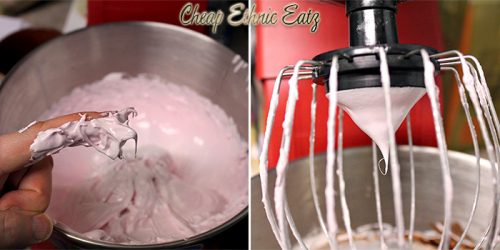 Hamilton Beach 6 Speed Stand Mixer (model 63328)
Same mixing action and average power as KitchenAid stand mixers
Hands-free mixing action and head spins as it rotates completely inside the bowl
Includes 3 attachments: flat beater, dough hook & whisk – all dishwasher safe
Stainless steel 3.5 Quart Bowl
Tilt-up head lifts out of the way for easy bowl access
6 speeds and special fold setting
Powerful 300 Watt motor
Nonslip Feet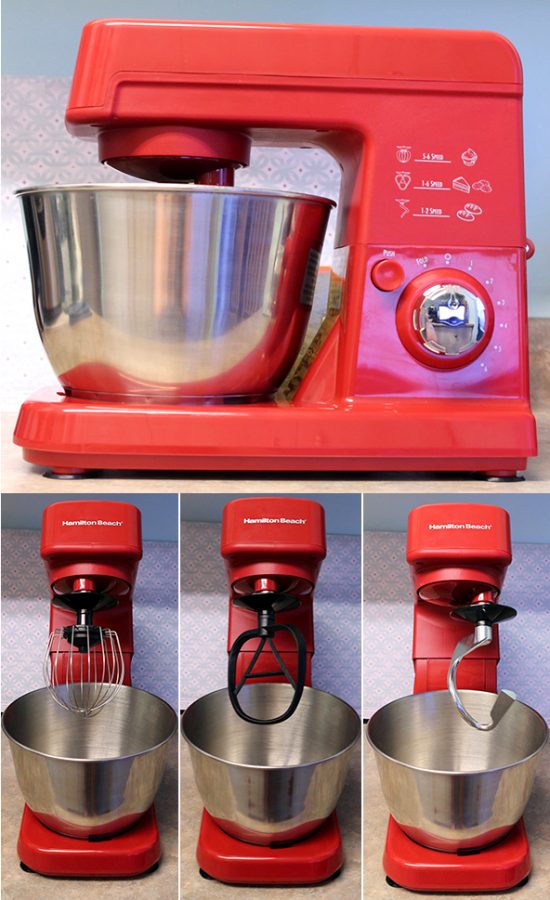 So how did I like my new stand mixer? After a few uses, I love it. I have been using a super cheap 15$ hand mixer I bought when I moved out 17 years ago. I felt like moving onto a stand mixer had a bit of a learning curve. The very first thing I learned is that it is not ideal for small recipes – like beating a single egg white. I was also thrown off by the head spinning rotating beater action at first – fear of the unknown. But as soon as I made a full cake recipe and whipped heavy cream, I fell in love and realized the beater action was ideal.

I was also very impressed by how good it was at kneading bread (future post) and the motor handled the workload very well. A pro baker friend said this would determine how good the motor really was. After all this stand mixer basically labels itself as a competitor to the KitchenAid model we all swoon over. Yes the casing looks cheaper and not as sleek…but that is how they could cut the cost by over 50%. That is cosmetic, the inner workings are the same. If I had one complaint it would be that I wish the bowl was a bit wider. Pouring things in while the motor is running can be a challenge. All 3 attachments work great according to the task at hand and I find them easier to clean by hand than a regular hand beater. And I love the nonslip feet suction cups. So two thumbs up on this Hamilton Beach 6 Speed Stand Mixer if you are in the market for one!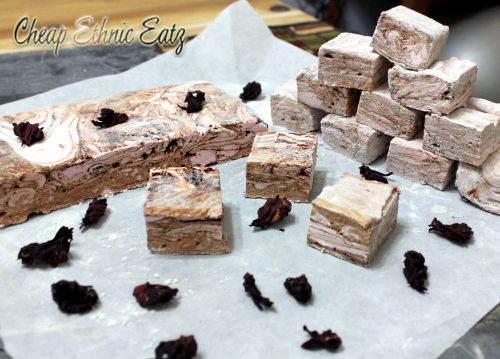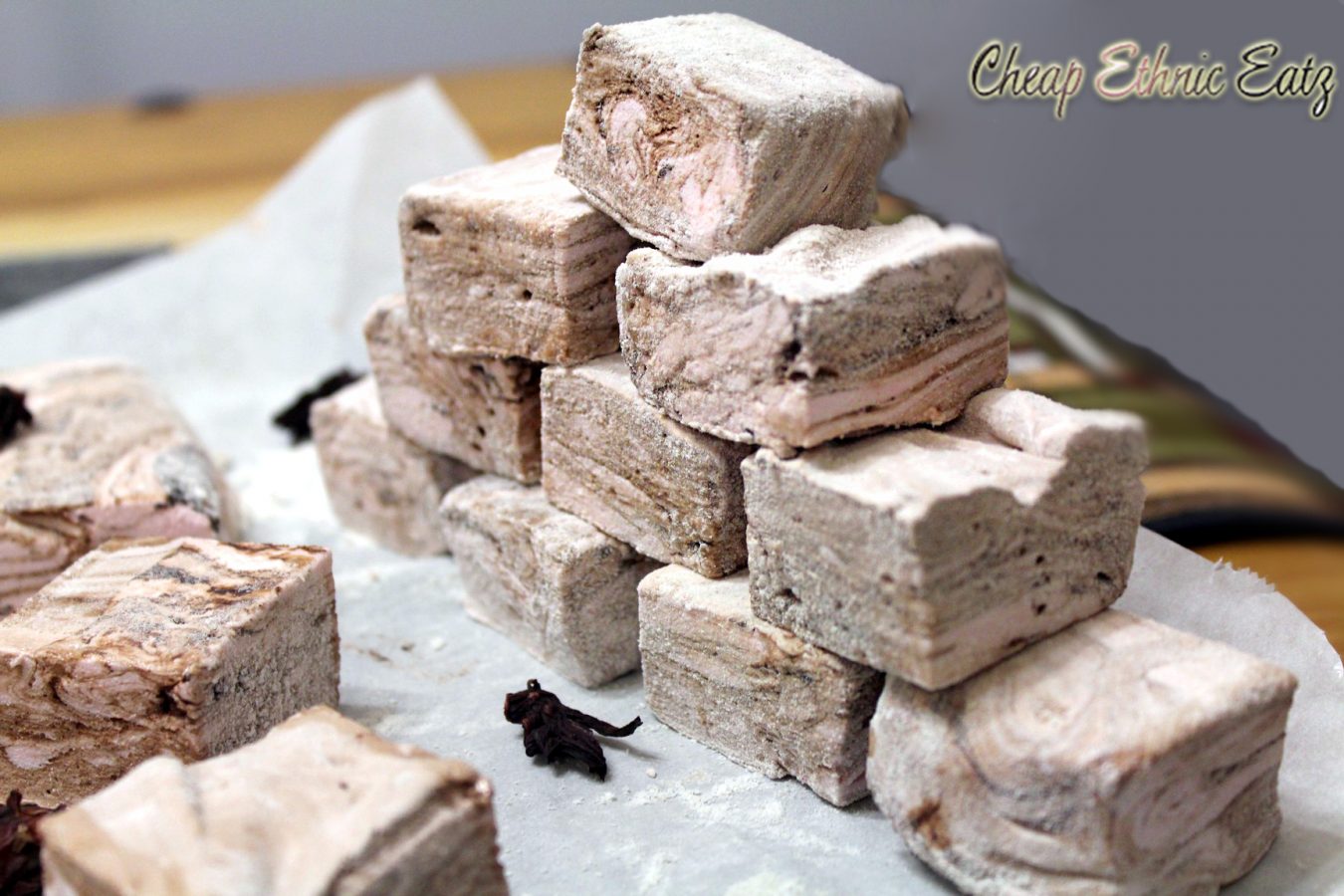 Homemade Marshmallow: Hibiscus and Chocolate Swirl
Ingredients  
Cocoa Preparation
cocoa powder

4 Tbs

hot water

4T bs
Gelatin Preparation
unflavored gelatin envelopes

2

hibiscus tea

6 Tbs

vanilla extract

1 1/2 tsp
Hot Sugar Syrup Preparation
sugar

1 1/2 c

hibiscus tea

6 Tbs

corn syrup

1/2 c + 2Tbs

salt

1/4 tsp
Marshmallow Dusting
confectioners sugar

rice flour
Instructions 
Line an 8" x 8" pan with parchment paper and oil the paper.

Stir the cocoa into the hot water in a small bowl and stir until cocoa is all dissolved. Set aside.

Fit the whisk attachment to a stand mixer. In the mixer bowl combine the hibiscus tea with vanilla. Sprinkle the gelatin over the liquid so it can bloom.

In a heavy saucepan place the sugar, salt, corn syrup, and remaining hibiscus tea. Bring to a boil with the lid on and without stirring. Then remove the lid and continue to cook without stirring until the mixture reaches 234-240 F.

With the mixer at low speed, pour the hot syrup slowly into the gelatin mixture. Turn the mixer to medium speed for 1 minute, then bring to full speed. Whip until the mixture is very fluffy and stiff, 8 to 12 minutes. Stir in the dissolved cocoa mixture gently with a finger a little bit.

Immediately pour the marshmallow cocoa mixture into the pan and smooth the top. Let mixture uncovered at room temp for 10 to 12 hours. DO NOT refrigerate.

Mix equal parts of rice flour and confectioners sugar. Sift over the marshmallow slab. Turn the slab out onto a cutting board, peel off paper and dust. Slice with a knife blade - running hot water over the blade at each cut - into squares. Dip all cut edges in sugar/starch mixture.
Notes
Hibiscus Tea: steep 1 tbsp of dried hibiscus petals in 1 cup of hot water for a few minutes (or cold brew overnight), strain.
Looking for more chocolate recipes? May we suggest…
Best No Bake Double Layer Chocolate Pie
Mango Chocolate Pound Cake from Senegal
Steamed Orange Chocolate Christmas Pudding with Chocolate Sauce
Ricotta Stuffed Baked Pear Halves in Chocolate Pie Crust and a Rosemary Glaze
Feeling Hot Chocolate Smoothie