First I have a little plug: next week is the Dine for the Depot – This week eating out is helping out! event. This is happening specifically in my hood of NDG in Montreal where the NDG Food Depot and several local restaurants are getting together to raise funds. Check out the facebook event and look at the schedule of participating restaurants. Depending on the night you go 10% of the food proceeds will go to the organization. This is the very same food depot I am working with for my Food Film Marathon. Wanna meet me? I will be at Azar on Aug 25th for the organic menu night.
—————————————————
I just love it when I come across a recipe of a food you usually buy already made and would never think of making on my own. This time I am talking about marshmallows. Yep you can make your own and be warned you will never want to go back to that store bought crap again. I actually have been meaning to make this recipe for over a year.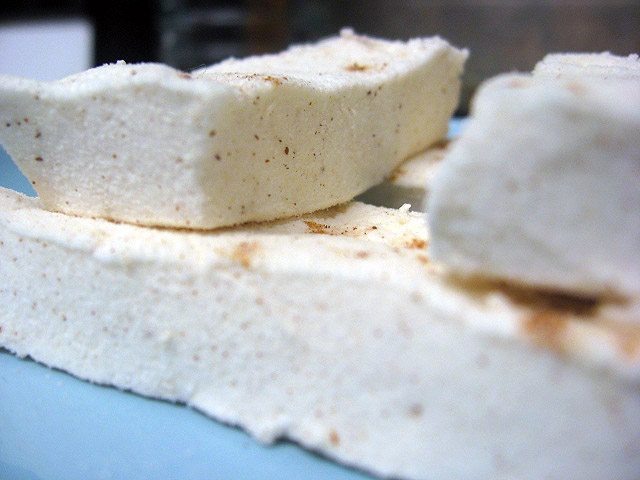 This simpler version comes from my friend Aimée over at Under the High Chair. I actually got to sample some of her own homemade marshmallows at a pot luck last summer. I have to say hers were better but she has had more practice then I, she does this recipe a lot as her kids love it. My favorite part about his recipe: no need to take out the candy thermometer!
Ξ Basic Vanilla Marshmallows Ξ
(from the French Laundry Cookbook by Thomas Keller, first seen by me on Under the High Chair)
3 envelopes of plain gelatin
1/2 cup cold water
2 cups granulated sugar
2/3 cup corn syrup
1/4 cup water
1/4 teaspoon salt
1 tablespoon vanilla extract
Line a 9×13 pan (thin) or a 8×8 pan (thick)  with plastic wrap and lightly grease all over with vegetable oil.
In the bowl of an electric mixer, sprinkle gelatin over 1/2 cup cold water. Soak for 10 minutes.
Combine sugar, corn syrup, and 1/4 cup water in a small saucepan. Bring to a boil and boil hard for 1 minute (many recipes do specify to go to 238ºF so if you want you can get the candy thermometer out).
Pour boiling syrup into gelatin and mix at high speed. Add the salt and beat for 12 minutes or until the mixture is no longer expanding in volume. Add vanilla and mix into mixture.
Scrape into the prepared pan and spread as evenly as you can.
Cover marshmallow mixture with another piece of oiled plastic wrap and press mixture into the pan. 

Let mixture sit for 12 hours.
Remove from pan, dredge the marshmallow slab with confectioners' sugar and cut into 12 to 20 equal pieces with scissors or a chef's knife.
Dredge each piece of marshmallow in confectioners' sugar.
They were a bit denser then what you buy in the store but the texture was spot on. I think the humidity level in your home can affect your result too so avoid humid days. I had problems myself with removing the plastic wrap. Other recipes suggest greasing and coating with confectioner's sugar or lining with a grease aluminum foiled or parchemin paper. I think it is a trial and error thing. just means you will have to make a lot of marshmallows he he.
Some basic flavoring suggestions:
– cinnamon: I mixed in some cinnamon with my confectioner sugar for a subtle taste.
– chocolate: place ¼ cup plus 2 tbsp water in a small microwave-safe bowl, and microwave for 2 minutes. Pour 1/3 cup cocoa powder over the hot water, and stir or whisk to dissolve the cocoa. Add to step 4 when whisking.
– strawberry or other fruit: use 3.5 envelopes of plain gelatin, reduce sugar to 1.5 cups and add 1/2 cup of fruit puree. Add puree to step 3.