Recent events and talks made a project take shape in my head. I just officially announced and invited today my closest foodie/blogger/movie friends to my large but still 1 bedroom apartment for the 1st annual Cheap Ethnic Eatz food film marathon and pot luck.
A day of food movies with food, how fun! It will take place October 15th 2011 for 12 hours and for sure you will be reading about it, before and after the event. Sorry this is a private event and invitations have been sent out already.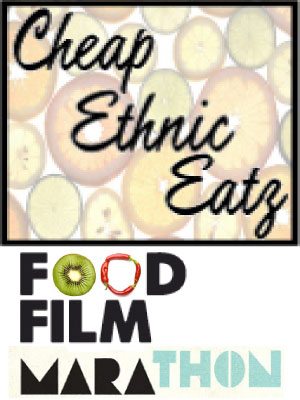 The 2011 Playbill
12 pm – Babette's Feast
2pm – Ratatouille
4pm – Coffee and Cigarettes
6pm – Tampopo
8pm – Chocolat
10pm – The Cook his Wife and her Lover
Food and Fundraising:
Guests are asked to bring non perishable food items for the NDG Food Depot, a place that strives to eliminate hunger in a manner that ensures dignity, community engagement and the development of human potential in my hood of NDG.
There will be raffle with 3 prizes! 1$ for a ticket, 3$ for 5 tickets, 5$ for 10. Prizes will be raffled off at 10pm the day of the event. You do not have to be present at 10PM but you must come over and by tickets the day off. All proceeds will be donated to the NDG Food Depot.
I want to send out a BIG Thank You to our sponsors!
Liliana at My Cookbook Addiction
NDG Food Depot
Pierre Black, Health and Lifestyle Strategies
I cannot wait for the event to take place and f it is a success it may become something much bigger next year!
I already have a line up for another 2 years with films like: Super size me, Willy Wonka and the chocolate Factory, Julie and Julia, Mostly Martha, Bigh Night, Delicatessen, Like Water for Chocolate, Eating Raoul, eat drink man woman, Ramen Girl, Woman on Top, Waitress, Fried Green Tomatoes.