You will be flushed with excitement over my Feeling Hot Chocolate Smoothie. It is a true aphrodisiac drink that will raise the heat in your body and wake up your libido!
Saint Valentine is not the only reason to raise the body heat. Can this winter get any colder? Or maybe like another 2 or 3 feet of snow? Gees! But my Feeling Hot Chocolate Smoothie is not just to get warmer, it is to turn your body into a sensual heat machine! Welcome to Part 1 of my Getting Sexy in the Kitchen Series where we will explore the world of edible aphrodisiacs!
Welcome to the first of three posts that are part of my Getting Sexy in the Kitchen Series. Today we will cover your sweet aphrodisiac foods.  In the next two parts, I'll cover your savory options and then look at some spices and herbs.
I call you out as a hedonist! Don't worry, I am not judging you on what you might be doing behind closed doors. But if you are reading this blog or consider yourself a foodie, then YOU,  my friend, are a hedonic eater! No wonder you landed here looking for aphrodisiac recipes.
You are in search of pleasure through food. It's a turn on, it makes you feel good, it in fact releases dopamine in your body. Unfortunately for most people that means junk food – sugar and carbs. But I like to think of epicureans as a higher breed who can find pleasure in any food. Even healthy ones if prepared in a sexy delicious way!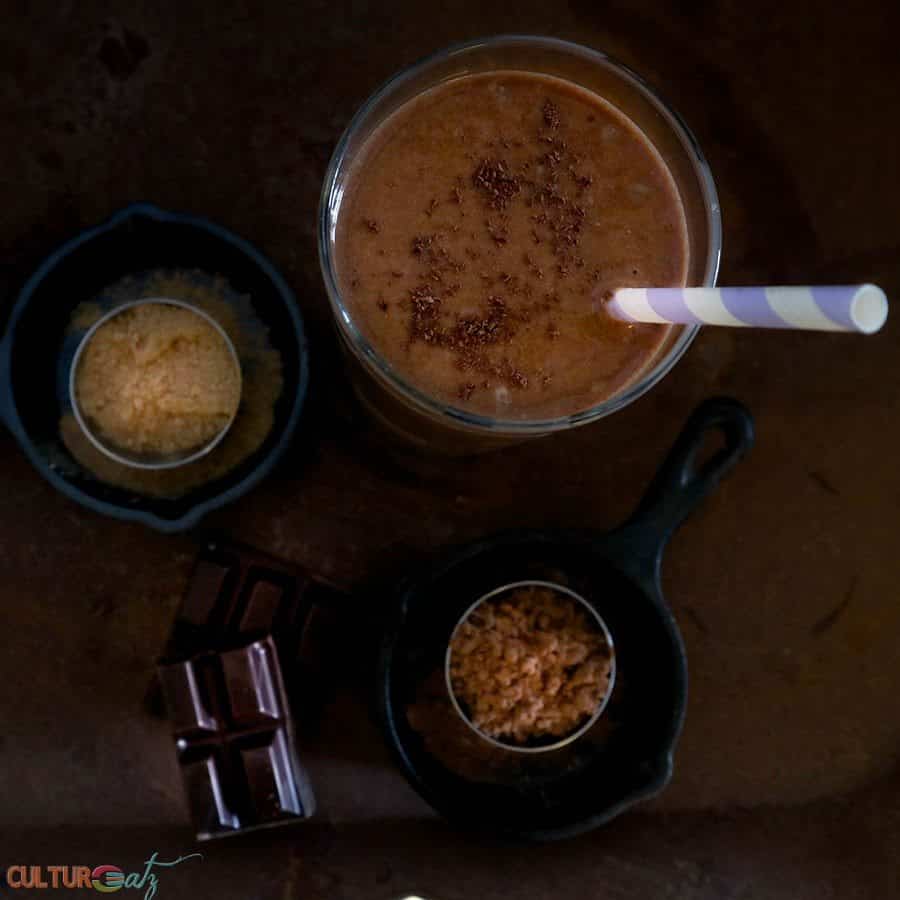 Consuming You Turns Me On
Aphrodisiac ingredients in this Feeling Hot Chocolate Smoothie recipe:
bananas contain bromelain, an enzyme that triggers testosterone production.
mangos, loaded with vitamin E, help to regulate sex hormones and boosts sex drive.
avocados, also full of vitamin E, the conquerors of South Americ forbade its people to eat them because they resembled hanging testicles.
cacao or dark chocolate stimulates dopamine, inducing feelings of pleasure.
maca boosts virility and improves sexual desire, like a natural Viagra pill.
cayenne/ chili peppers can raise your heart rate and stimulate endorphins.
Other sweet aphrodisiac foods include, but are not limited too, watermelon, almonds, raspberries, figs, coconut water, pomegranate, honey, strawberries, and cherries.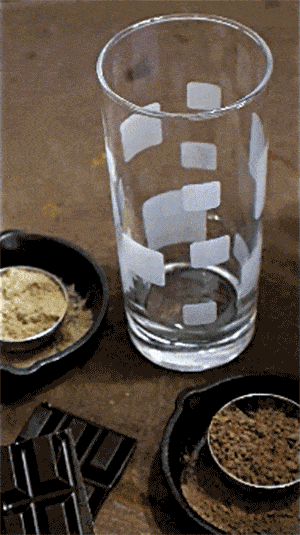 This unctuous and slightly spicy smoothie is not too sweet and will not leave you feeling weighed down before a romp in the bedroom. And obviously, the Feeling Hot Chocolate Smoothie recipe serves two people. I will not judge if you make it for one…or three!
Include this smoothie as part of a red recipe menu for Saint-Valentine's Day for your loved (lusted) one.  And check out my whole Getting Sexy in the Kitchen Series , including my Shrimp Bedded on Beluga lentils Snuggled by Pomegranate Fennel Salsa main dish.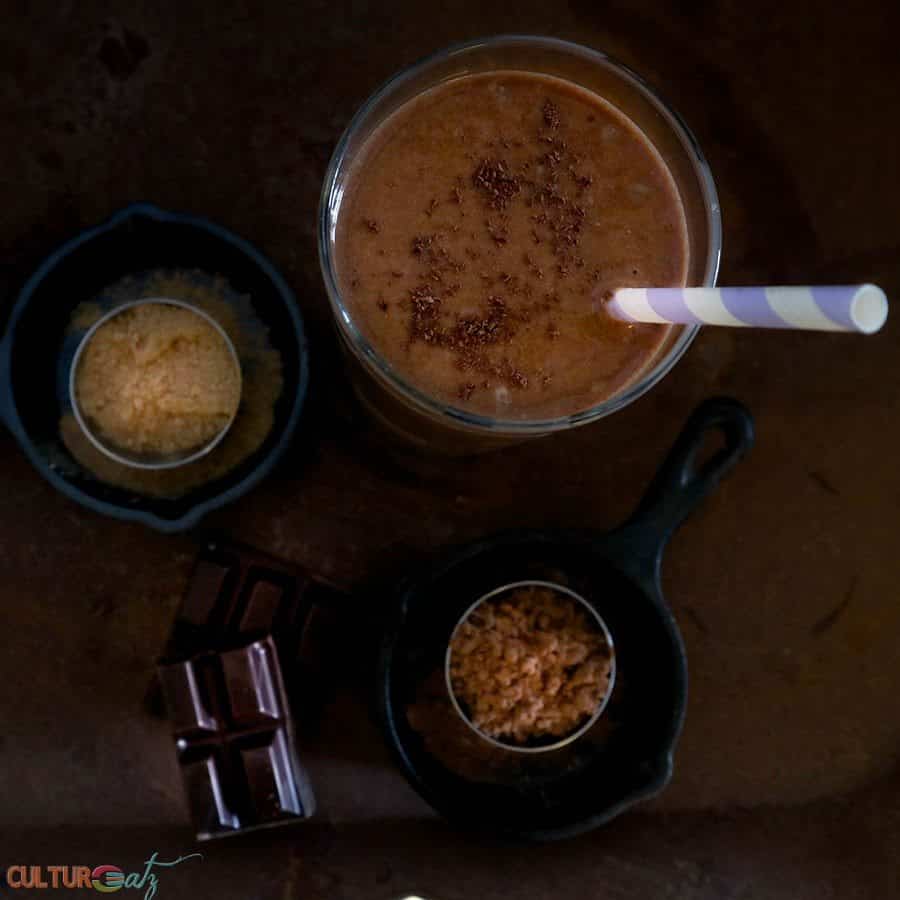 Feeling Hot Chocolate Smoothie
Ingredients  
1

banana

peeled, sliced and frozen

1/3

cup

mango

chopped

1/3

cup

avocado

chopped

2

tablespoons

cacao powder

1

tablespoon

maca powder

1 1/4

cups

milk

of choice, bonus virility for almond milk

1/16

teaspoon

cayenne pepper
Instructions 
Put all the ingredients in a smoothie blender. Place the lid on, flip over and shake a bit to mix the layers. Blend until smooth.

Pour smoothie in two glasses. Top with a pinch of grated chocolate before serving.
Before you go…
I just released a brand new trailer for my YouTube channel. It is a short video that explains what kind of videos you can find. I would be ever so grateful if you took a less than 2 minutes to watch it.
Looking for more chocolate recipes? May we suggest…
Best No Bake Double Layer Chocolate Pie
Mango Chocolate Pound Cake from Senegal
Steamed Orange Chocolate Christmas Pudding with Chocolate Sauce
Ricotta Stuffed Baked Pear Halves in Chocolate Pie Crust and a Rosemary Glaze
Homemade Marshmallow: Hibiscus and Chocolate Swirl