Nothing else says I love you like a colorful and tasty dish of Shrimp Bedded on Beluga lentils Snuggled by Pomegranate Fennel Salsa. Pssst, it's also full of aphrodisiac ingredients to really get in a naughty mood!
Wow, you all just loved last week's first part of the Getting Sexy in the Kitchen Series. I am so titillated to bring you Part 2 with a healthy, light and a stimulating main dish that I call Shrimp Bedded on Beluga lentils Snuggled by Pomegranate Fennel Salsa. It's perfect for a Saint-Valentine meal as it is so tasty but will not leave you feeling weighed down and drained of energy. Look at just how sexy the dish looks and again it's full of ingredients that will light your fire.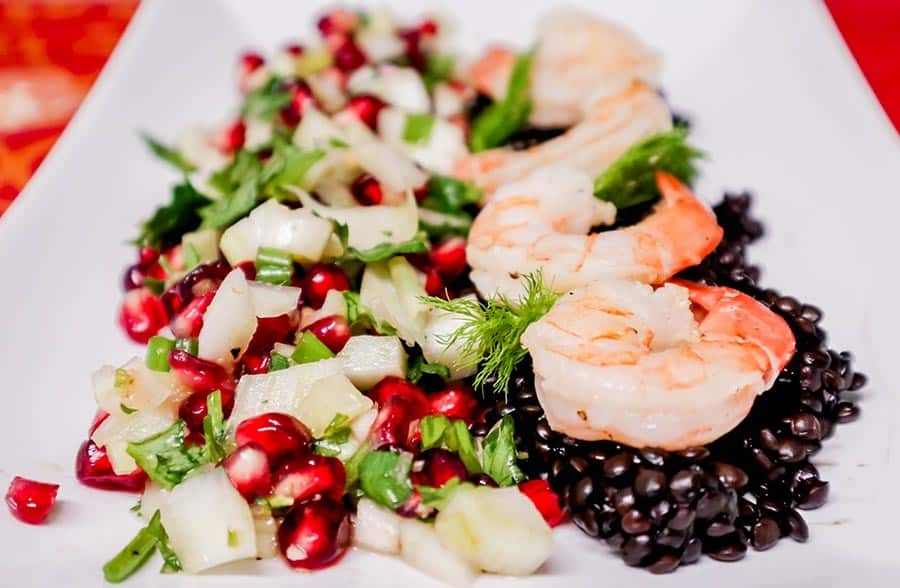 Sexy Confession Time!!
Speaking of naughty things, I have stacks (and I mean stacks) of sex toys at home. OK pick up your jaw from the floor now!
The reason is that I used to own a sex toy company. Yes, you read that right.  I had an affiliate dropshipping sex toy website a few years ago. And I also branched out and started sex toy parties under my own company. You know like a Tupperware party but with sex toys. Get a bunch of friends over and lots of wine. Then pass around the vibrators, butt plugs, edible underwear, handcuff and heating lube.
The sex toy parties were so much fun…and absolutely exhausting. It was like kindergarten at times – but with alcohol infused adults with their minds in the gutter. And it always made me laugh how those who freaked out the most in public, they were the ones asking me all sorts of really adventurous questions in private when I was taking orders.
I also got a lot of free toys as I penned a lot of sex toy reviews under a pseudonym. I am full of surprises, right? So imagine my surprise when I got an email at CulturEatz to review a very high-end brand new technology toy. I really debated if I should but I really wanted that toy. Finally, I agreed and did a youtube video. It is my most viewed video of 2017…by far. And I have done a few more since then. You can check them out here. 😉
Last week in Part 1 we took a look at sweet aphrodisiac foods with a Feeling Hot Chocolate Smoothie that is just so smooth it will get any partner into bed in a hurry. This week we will look at savory aphrodisiac ingredients. Let's get every part of the menu involved in raising the internal heat!
Consuming You Turns Me On
Aphrodisiac ingredients in this Shrimp on Beluga lentils with Pomegranate Fennel Salsa recipe:
Shrimp is loaded with iodine which keeps your sex-drive happy and amino acids that increase sex-driven neurotransmitters.
Pomegranates are good for the blood flow and it is said to have a positive effect on erectile dysfunction.
Fennel works as a libido booster, especially for women.
Honey stimulates dopamine, inducing feelings of pleasure.
Ginger warms up the body and increases the heart rate.
Garlic improves blood circulation and also improves sexual performance in some men.
Cayenne/ chili peppers can raise your heart rate and stimulate endorphins.
Other savory aphrodisiac foods include, but are not limited too, asparagus, oysters, pumpkin seeds, celery, pine nuts, sweet potatoes, arugula, artichokes, all shellfish, salmon, lamb, wild game, and beets.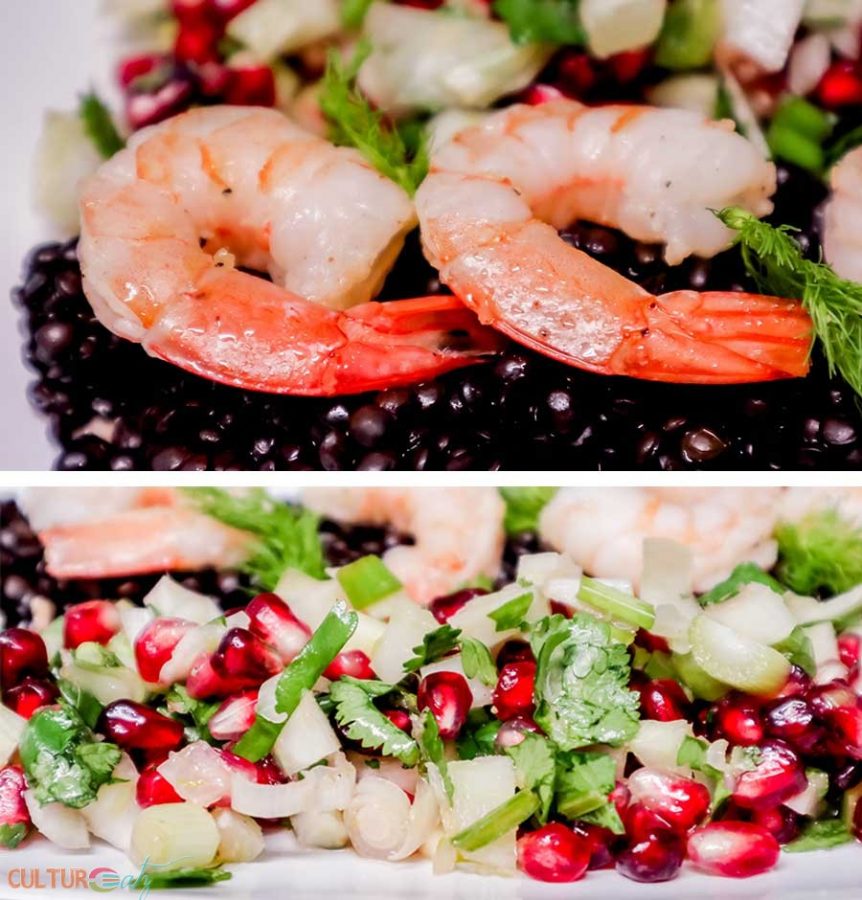 I love shrimp, pomegranate and fennel, so this dish is just heaven for me. The contrast of the dark beluga lentils topped with delicate pink shrimps is stunning. And the pomegranate fennel salsa adds the perfect zesty touch.
The dark blacks and ruby reds are a real turn on here and make this dish visually irresistible.
Include this main dish as part of a red recipe menu for Saint-Valentine's Day for your loved (lusted) one. Read my whole Getting Sexy in the Kitchen Series and find many more aphrodisiac recipes in this great post.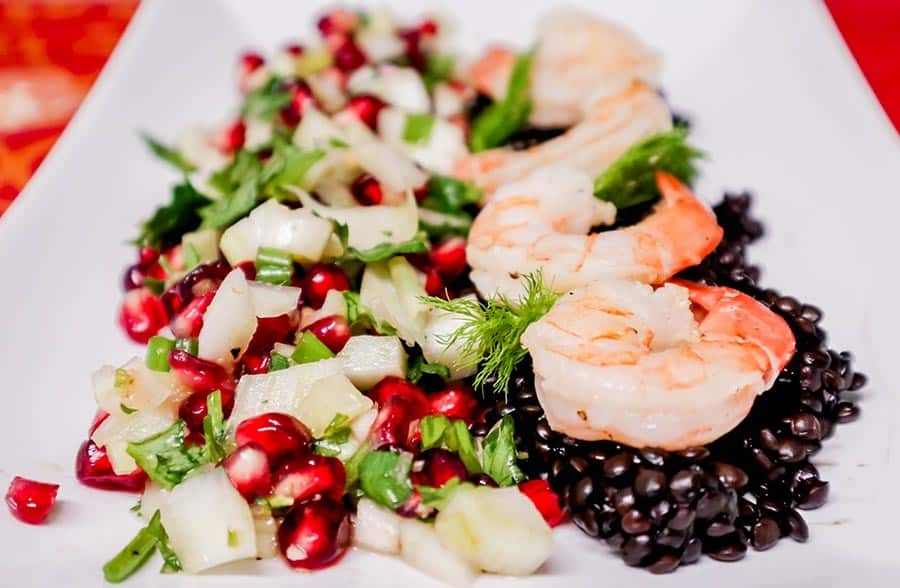 Shrimp Bedded on Beluga lentils Snuggled by Pomegranate Fennel Salsa
Ingredients  
1/2

small fennel bulb

about 1 cup

1/2

pomegranate

seeded (about 1 cup)

2

green onions

chopped

a handful of fresh cilantro

chopped

juice of 1 lime

1

tablespoon

honey

2

teaspoons

grated fresh ginger

1

tablespoons

sesame oil

pinch

of salt and pepper

1

cup

beluga lentils

2

cups

vegetable stock

pinch

of salt

16

medium shrimp

peeled

olive oil

a splash

juice of 1/2 lime

1-2

garlic clove

minced

chili powder

salt and pepper
Instructions 
Chop fennel into bits about the size of a pomegranate seed. Add the seeds, green onions, cilantro, lime juice, honey, ginger, sesame oil, salt and pepper, and toss. Set aside.

Place lentils, stock and salt in a medium saucepan on high and bring to a boil. Lower heat and simmer for 25 min or until lentils are tender. Drain excess stock.

Pre-heat oven to broil or heat a grill. Place shrimps in one layer on a sheet pan and sprinkle with olive oil, lemon juice, garlic, chili powder, salt and pepper. Toss and cook/grill until shrimps are no longer opaque.

Spoon the beluga lentils on a plate, top with shrimp. Serve with a side of the salsa.