It's time to enjoy the sunny days and blue skies, so make sure to try out this fun recipe! These healthy edible fruit baskets are easy enough for even kids to help with.
I'm so excited to share with you my latest little project in the kitchen. Forget paying a premium for those edible fruit baskets at the grocery store. If you just like crafting and making things with food in general, this tutorial is for you!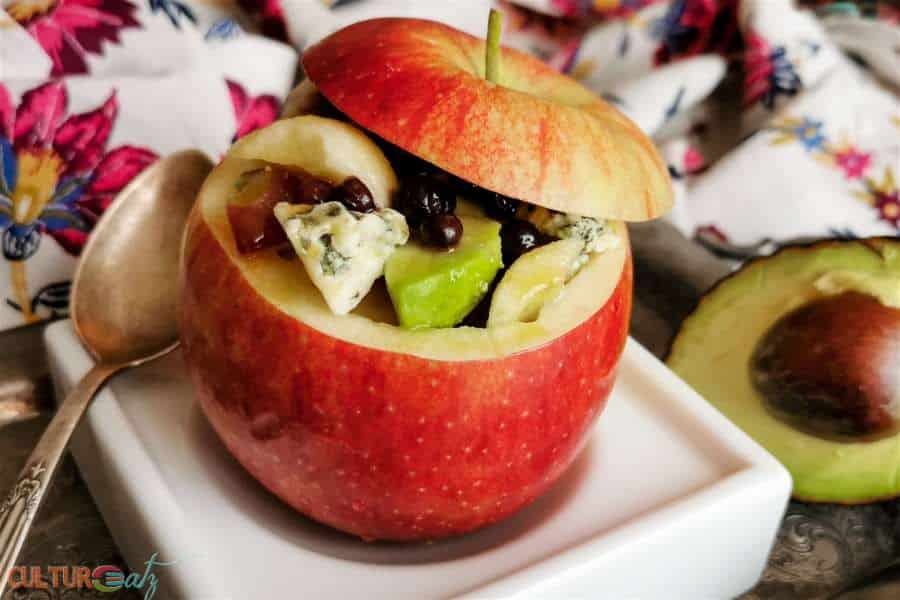 Disclaimer: Thank you to Organic Washington Apples for this sponsored post opportunity. Note that all thoughts and opinions are my own. Lire l'article en français ici.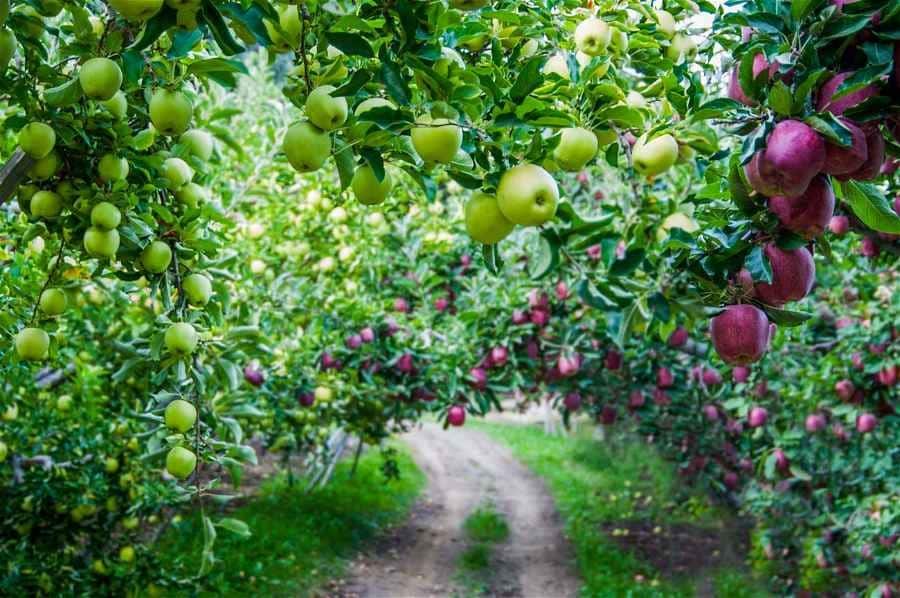 How much do you know about Organic Washington apples?
Washington State is a place of wonder. The state's warm, arid climate, nutrient-rich soil, and plentiful water provide the perfect environment and known as the premier apple-growing area in the world. The State has developed an advanced growing system that produces top-quality Organic Washington apples.
Washington State tops the nation in organic apple production with over 90% of U.S.-certified produce available to consumers, ranging from Gala, Fuji, Golden Delicious, Red Delicious, Granny Smith, Pink Lady, Honeycrisp, and Cosmic Crisp.
Did you know that one medium apple (180 g) is a low-calorie and healthy option? It has only 72 calories and 19 carbohydrates per serving, as well as fibre which helps keep your digestive system working smoothly and also provides Vitamin C.
These apples are also perfect to play around with in the kitchen.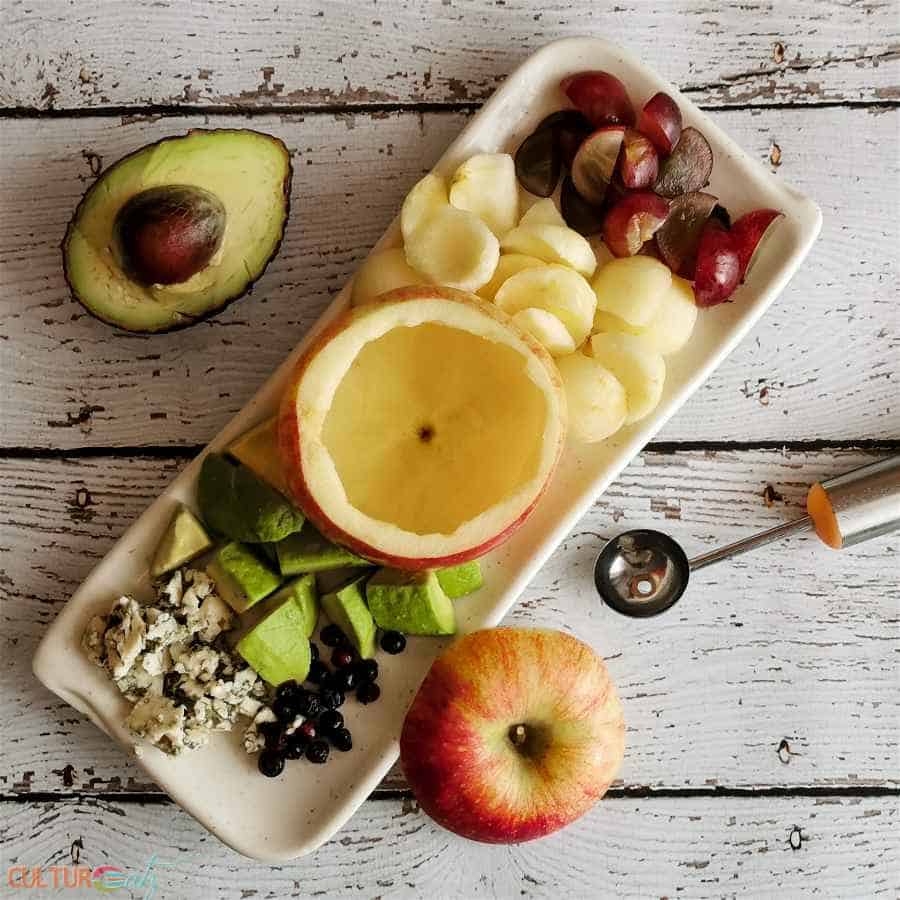 How to make an Apple Edible Fruit Basket
So, you want to make an edible fruit basket for your breakfast or as a snack? Well, I have the perfect thing! This tutorial will show how to create a crispy apple basket ready to be filled with a fruit salad or any filling you can think of.
I saw a version of these apple edible fruit baskets on the Harvest apple salad recipe on Yummy Mummy Kitchen. Not only are they tasty but also healthy, and so easy to make.
Simply slice the top of your apple and save it as a lid. Next, use a melon baller or spoon to delicately scoop out the flesh of the apple, making sure to leave walls about 1/4 inch thick.
You now have an apple recipient to fill with your favorite fruits, cheeses, nuts, and more. Plus, they're a great way to use the produce in your fridge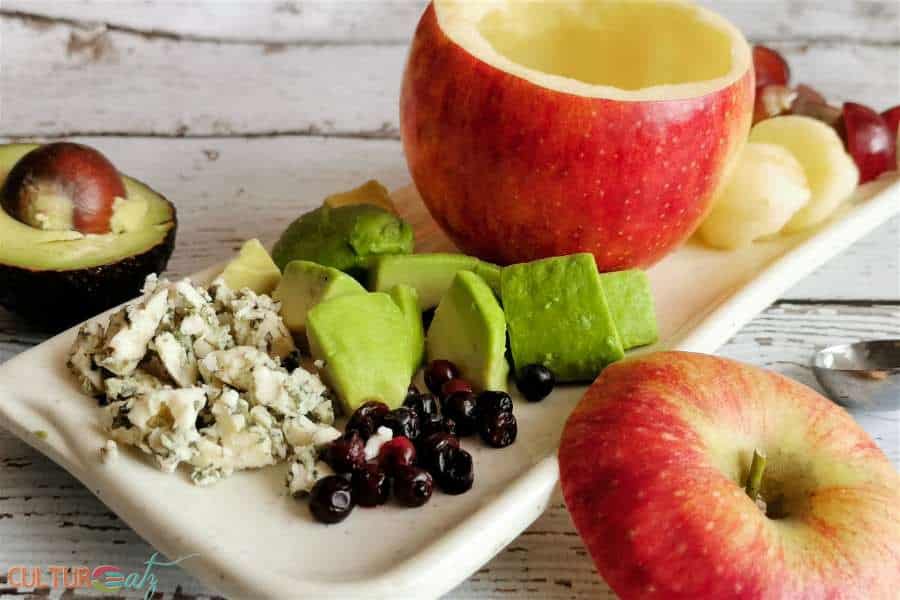 Ideas for what you can put in the basket, including fruit, nuts, and other snacks
They're perfect for snack time, dessert or breakfast. The fruit salad I used here is sweet and tangy from the honey and apple cider vinegar.
The sky's the limit when it comes to ideas for what to add to your apple. Here are a few suggestions:
a savory salad such as spinach
quinoa, rice, and grains
any fruits you have in the kitchen
a variety of nuts, nut butter, and seeds
a cheese that pairs well with fruit
cooked oatmeal
smoothies or cold soups
The list goes on, let your imagination soar! Though I do highly recommend my version.
This is the most delicious year-round salad because it's made in a fruit that is always available, an apple! The blue cheese, grapes, and avocado come together to make a sweet crunchy fruit-filled treat.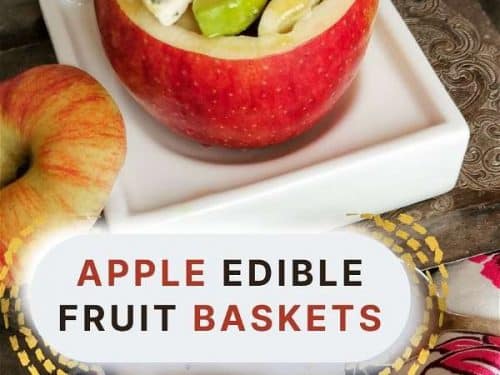 Sweet and Tangy Apple Fruit Salad served in an Edible Fruit Baskets
Ingredients  
2

Organic Washington apples

1/4

cup

grapes

quartered

1/2

avocado

diced

2

tbsp

crumbled blue cheese

2

tbsp

berries (I used wild blueberries)

1.5

tsp

apple cider vinegar

1.5

tsp

honey
Instructions 
Slice the top of the apples and keep it as a lid. Using a melon baller or spoon, carefully scoop out the flesh of the apples, making sure to leave the wall about 1/4 inch thick.

Chop the scooped-out apples. In a bowl, add the apples, grapes, avocado, cheese, and berries. Drizzle apple cider vinegar and honey and toss till well coated.

Carefully spoon the fruits back into the apple cups. Optional, drizzle a bit more honey on top.