Why an Invisible Apple Cake you ask? The magic trick comes from the very thinly sliced apples coated with a minimal amount of batter. When the cake is sliced the apple and batter are practically invisible.
If you are looking for the latest trend in baking, this is it! The invisible apple cake, or gâteau invisible aux pommes in French, was the trend in French baking starting last fall. Japan caught on to this fashionable cake pretty fast around February of this year. And it seems that North America is finally in the know. What perfect timing with fall and apple season just starting!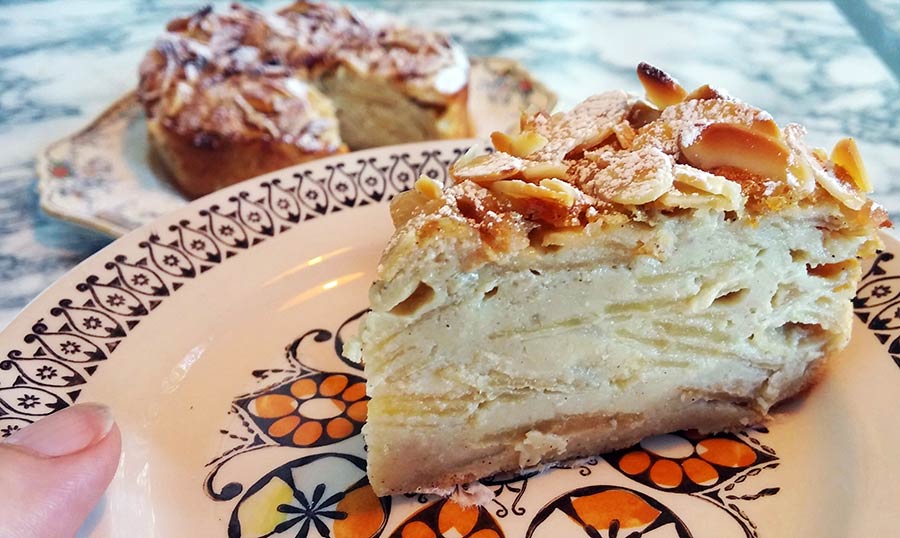 Don't you LOVE the retro plate? I made this cake while I was at the cottage and this is one of the sets of dishes we have in our cupboards there. My mom hates it, I love it for the cottage. It reminds me of my grandmother.
My grandmother turned peeling apples into a fun game. Perhaps you know it as well? I think at the time it was one of the very popular "old wives tales" told to young girls. Watch the short video below to find out what the game was!
The Invisible Apple Cake Magic Trick Revealed!
Now to achieve the invisible effect you will want to cut evenly thin slices of apples, around 1/8 of an inch or 3 mm. Cutting your apples by hand can be very time consuming and your slices will be very inconsistent. The tool of choice here is definitely mandolin. I have had one for years that I got in Chinatown and it is the best tool to shred or slice veggies and fruits.
The safeguard that comes with it though sucks. One great trick I discovered what to use cut resistant gloves that prevent finger cuts and slicing! The gloves are great also for any hard knife job like cutting meat with bones or thick skinned squashes.
PIN IT FOR LATER https://www.pinterest.com/pin/266275396702029825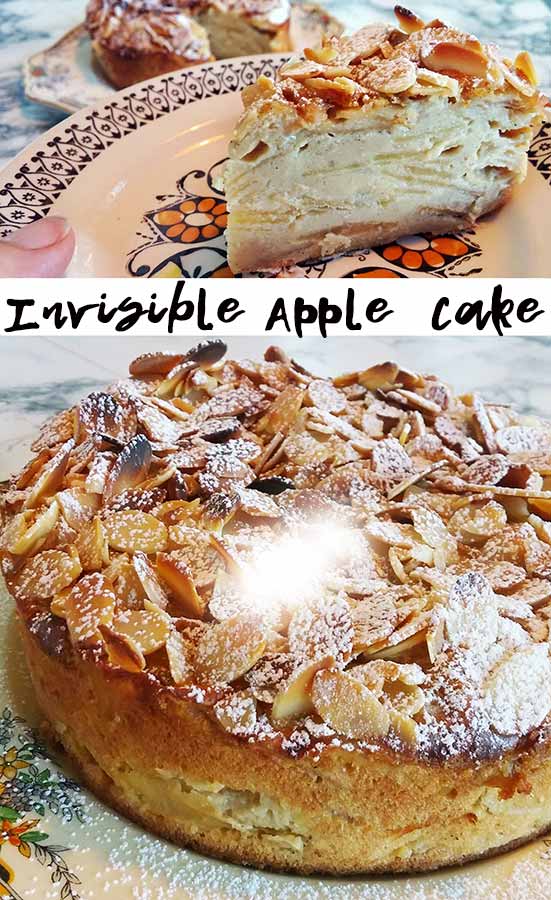 My next tip for a great invisible apple cake is to be careful when folding the apple slices into the batter. Mix them delicately as too not break your apples slices. Feel free to add slices to the batter as they are cut to prevent oxidization if you just left the apples out.
My final tip is to try to get the apples slices to be as horizontal as possible when you pour the apple batter mixture into the pan and make a neat flat top. Try a narrow pound cake tin to get height or an 8 inch pan for a thinner but lager cake. I used a 6 inch round pan for a small but tall cake.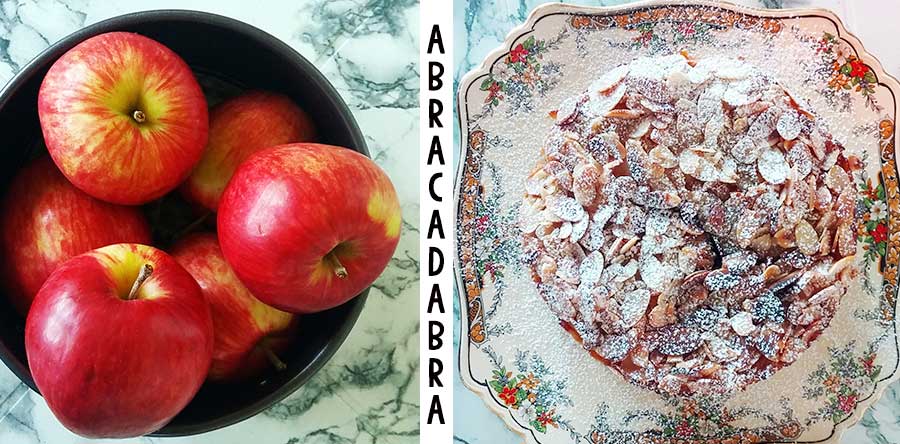 Choosing an Ap-peeling apple!
Now you will want to choose good cooking apples for such recipes. You could try Cortland, Golden Delicious, Gala, Fuji, Honeycrisp or Empire … to name a few.
I used Norland apples that I picked myself at an orchard near my cottage. It's a pretty new orchard in Lanaudière,quite a northern location for an orchard. But they specialize in heirloom and unusual varieties. I think they have about 25 varieties now. Check out this video of my day at the orchard with my friend Hania.
I am sure you will enjoy this fun and quick to make cake. You could play up the spices a bit more to your taste. This Invisible Apple Cake is just perfect for dessert at dinnertime, as an afternoon snack, or warmed up in thin slices in a pan with butter for breakfast (oh yeah, I did that!).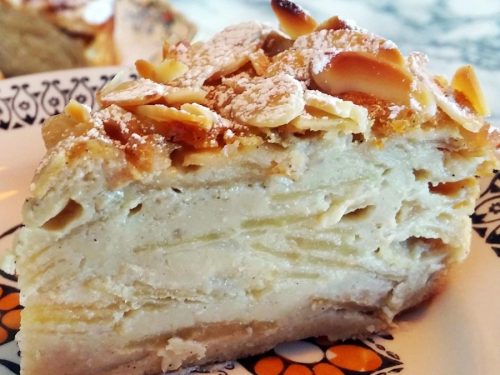 Invisible Apple Cake
Why an Invisible Apple Cake you ask? The magic trick comes from the very thinly sliced apples coated with a minimal amount of batter. When the cake is sliced the apple are practically invisible.
Ingredients  
5-6

cooking apples

peeled and cored

3

large eggs

1/4

cup

brown sugar

2

Tbsp

butter

melted

1/3

cup

milk

1

tsp

vanilla

1/2

cup

flour

1

tsp

baking powder

1

tsp

cinnamon

dash of nutmeg

Pinch

of salt

sliced almonds

icing sugar
Instructions 
Place a piece of parchment paper at the bottom of a 6-inch springform pan and grease sides and paper lightly. Preheat the oven to 400 F.

With a stand or electric mixer, beat the eggs and the sugar for about 3 minutes or until fluffy. Add the melted butter, the milk and vanilla, and mix till combined.

Mix the flour, baking powder, cinnamon and salt together. Add the dry ingredients to the wet ones and mix until just combined.

Cut the apples in quarters and with a mandolin slice each piece into 1/8 in (3 mm) thick slices. Very gently coat the apples with batter with a silicone spatula, ensuring each slice is coated but without breaking the apple slice.

Pour batter gently and evenly into the prepared pan. Sprinkle sliced almonds on top.

Bake in the oven for 60 minutes or until set. If the almonds brown to fast cover loosely with aluminium foil. Cool cake completely in the pan. When cooled remove the pan and dust with icing sugar before serving.