Meet the Apple Avocado Cheese and Ham Toastie with a drizzle of honey, the new lunch sandwich in town. Picture a slab of bread broiled with smoked gouda, ham slices, slivers of apple, and avocado.
Since working from home, I have been facing a daily dilemma: what's for lunch? I have never been very inspired for lunch, which means I don't eat well. I am not a big fan of plain sandwiches. But call it an open sandwich, now we are getting fancy. Add protein, thick bread, avocado, and apples.  This is an interesting and healthy lunch option. I highly recommend you try the Apple Avocado Cheese and Ham Toastie recipe below.
And don't forget to add a delicious drizzle of honey!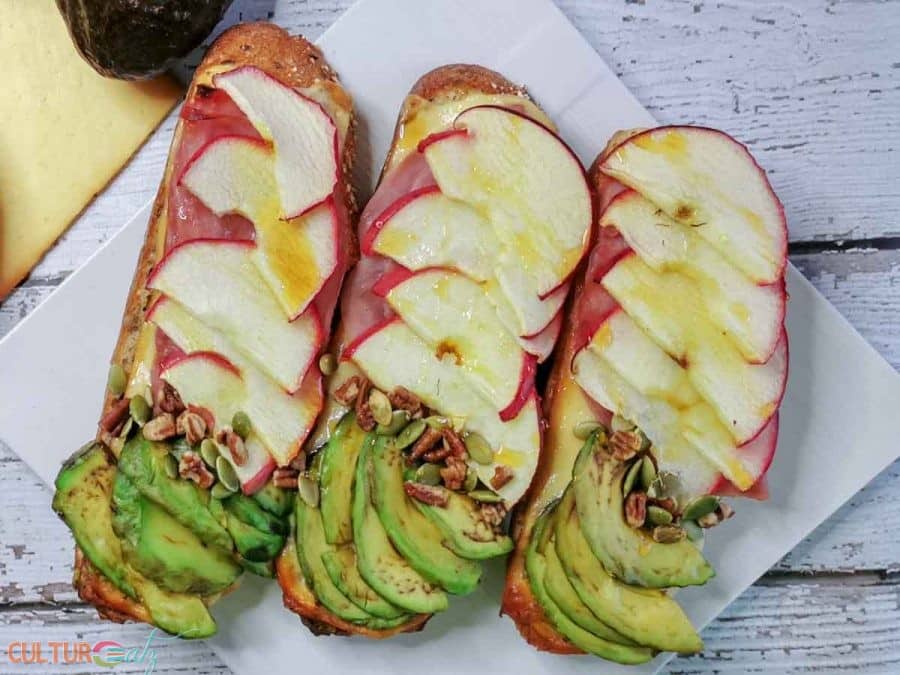 Disclaimer: Thank you to Cosmic Crisp Washington State Apples for this sponsored post opportunity. Note that all thoughts and opinions are my own. Lire l'article en français ici.
About Cosmic Crisps
Cosmic Crisp brand apples are a cross between the 'Enterprise' and the 'Honeycrisp' apples.
This classically bred non-GMO apple was developed over 20 years at Washington State University.
This sweet, large, juicy apple has a remarkably firm and crisp texture. Some say it snaps when they take a bite.
Next time you're shopping, don't be shy to pick up a big bag of Cosmic Crisp Washington state apples—they maintain their texture and flavour very well in your refrigerator's crisper.
How to enjoy Cosmic Crisp apples
Since they are sweeter and crispier than other varieties of apples, they make an excellent eating apple.
Cosmic Crisp apples are perfect for snacking, and cooking and baking, as they keep their shape.
A big plus when baking is that these apples are naturally slow to brown when cut.
One medium apple contains 100 Calories, 0.5g Fat, 24g Carbs, and 6g Fibre. They are a great low-calorie density food.
Out of all the different types of apples out there, and comparing them to the newest apple varieties, Cosmis Crisps are hands down my preferred apple. No wonder they called it cosmic, the taste is out of this world.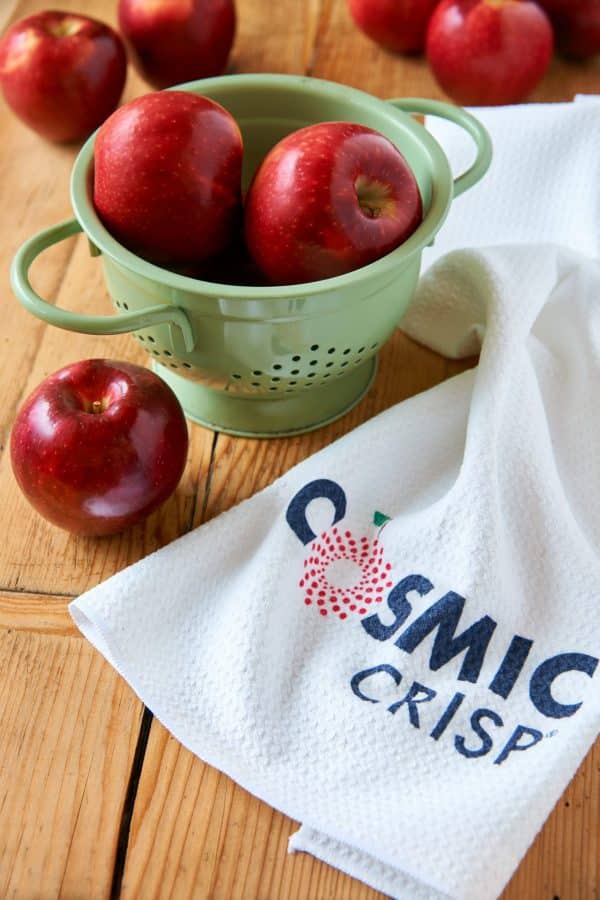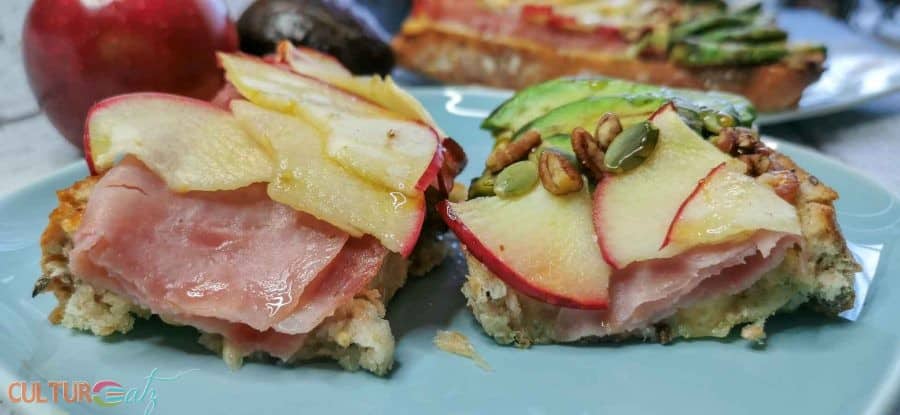 Apple Avocado Cheese and Ham Toastie Recipe
The fact that apples also pair well with cheese and savory recipes, well that makes me that much happier. Have you ever tried an apple grilled cheese? Lip-smacking goodness.
To vamp up my ham and cheese toastie, I combined the popular open-faced sandwich with the easy avocado toast. I am a huge fan of avocados but I must admit, I have had my fair share of bland avocado toast ideas. I find I miss the salt.
How about a ham cheese toastie then? Come closer, let me share with you the secret of success below.

The secret is layers.
The sandwich comes together very fast and all you need is a broiler setting in your oven. First off, cut 4 thick slices from a multigrain bread. Spread a bit of butter and toast them slightly in the oven.
A nice smoked cheese slice should cover all the toast surface. I used two thin small ham slices and covered two-thirds of my sandwich. On the other third, I added my sliced avocado.
Next, let's top our ham with Cosmic Crisp apple slices. Put these babies in the broiler for a few minutes, until the cheese is bubbly.
For the final touch, I added chopped pecans and pumpkin seeds, a pinch of salt and pepper if desired. And the piece de résistance, a drizzle of honey on top.
It's a very filling sandwich. One slice per person is more than enough but a side salad would complete the meal.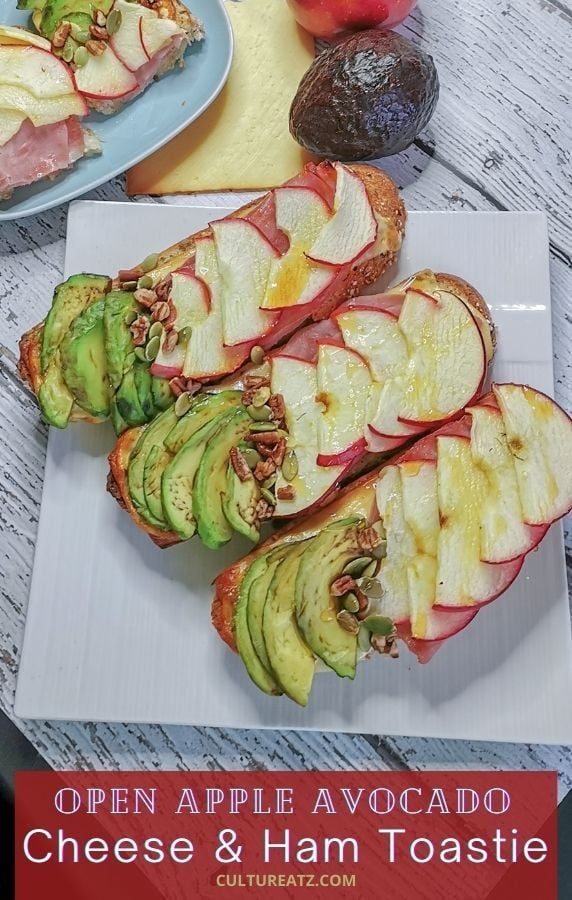 Open Apple Avocado Cheese and Ham Toastie with Honey
Meet the Apple Avocado Cheese and Ham Toastie. Picture a slab of bread broiled with smoked gouda, ham slices, slivers of apple, and avocado. 
Ingredients  
4

slices

thick-cut whole grain bread

1

Tbsp

olive oil

Kosher salt and black pepper

4

slices

smoked cheese

like gruyère or gouda

4

slices

deli ham

2

Cosmic Crisp apples

cored and thinly sliced

1

avocado

thinly sliced

Honey

to taste
Instructions 
Heat your oven to broil and place a rack in the upper middle position. Line a baking sheet with aluminium foil.

With the olive oil, brush the bread on both sides, and season with salt and pepper. Place the slices on a baking sheet and place into the oven for 1–2 minutes each side, until lightly toasted.

Remove the bread slices and set aside. Place ham slices on a baking sheet, and broil 2 minutes each side, until they begin to brown. Remove the ham slices and set aside.

Cover the bread slice with a slice of cheese. Place the ham so it covers about 2/3 of the bread slice.

Top the ham with apple slices. Arrange the avocado slices on the other 1/3 of the bread slice.

Repeat for remaining slices of bread.

Broil for 3–4 minutes, or until cheese starts to melt. Remove from the oven, drizzle with honey, and sprinkle a bit of salt and pepper. Serve while warm.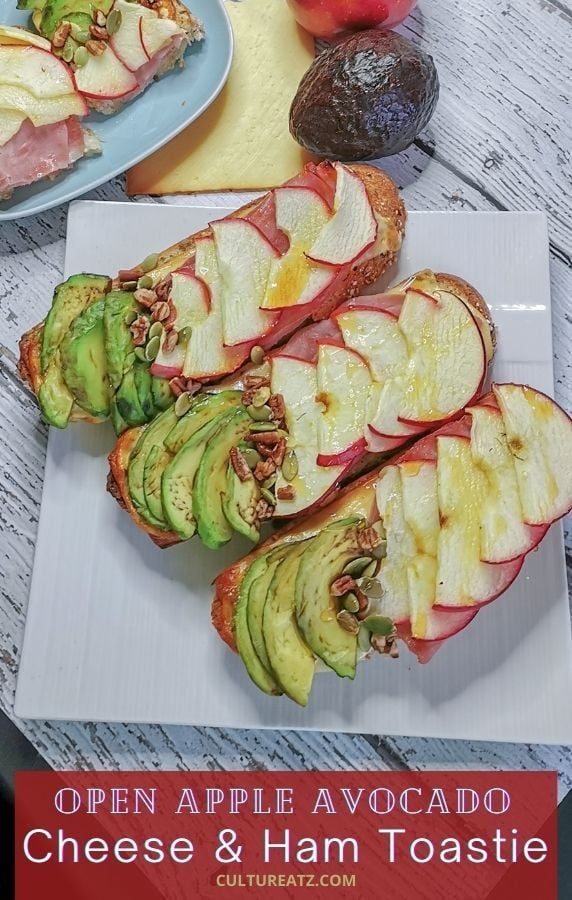 Looking for more apple recipes? May we suggest…
Apple Brussels Sprout Salad with a Maple Citrus Dressing
Invisible Apple Cake – Now You See Them, Now You Don't!
Candied Bacon and Apple Halva with Maple Gastrique
Bourbon Lavender Raspberry Applesauce
Puff Pastry Apple Roses