With most of the world's attention focused on the Olympics in Rio, it is a perfect time to discover some delicious Brazilian dishes.
So when was the last time you enjoyed a meal composed of Brazilian dishes? I am willing to bet it has been quite a while, if ever. Luckily I have sourced 4 Brazilian recipes from CulturEatz's archives for you to try in honor of the 2016 Olympics in Rio. They are are mix of traditional recipes with a twist, a vegan version of a classic dish, a sandwich made with a tapioca crepe, and a refeshing drink made with Coca Cola.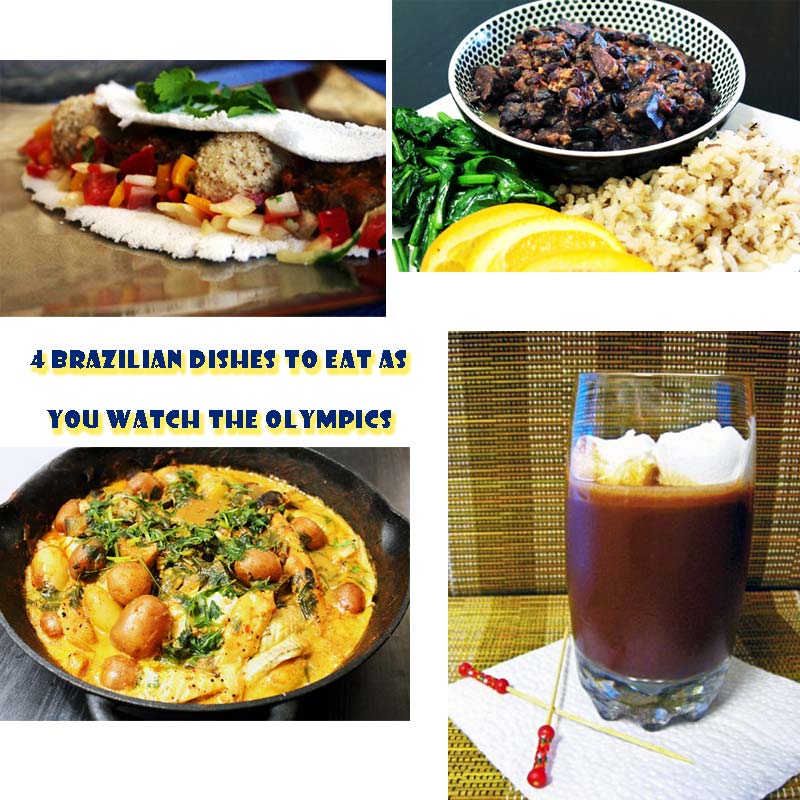 Do you have Olympic fever? Are you glued to your TV every day or night to watch the comptetions? I don't have TV at home so I am only catching glimpses at friends and trying to sneak some live streams during the day. My favorite disciplines are gymnastics and diving. What are you favorite Olympic sports?
So what are all the atheletes enjoying at meal times in Brazil? Brazilian cuisine has European, African and Amerindian influences. Typical local ingredients include cassava, yams, and fruit like açaí, cupuaçu, mango, papaya, guava, orange, passion fruit, pineapple, and hog plum. Rice and beans is an extremely popular dish, as are feijoada, vatapá, moqueca, polenta, acarajé and caruru. Cheese buns called Pão de queijo are the snack of choice. Sweet tooths will rejoice at the large selcetions os sweets made with chocolate, cocnut, peanuts and guava jam. The caipirinha is the national cocktail, made from Cachaça, an alcohol distilled from sugar cane.
4 Brazilian Dishes to Eat as You Watch the Olympics
Moqueca, a Brazilian Fish and Potato Stew with a smoky twist
The Moqueca dish is a very old Brazilian seafood stew. Here I added a Canadian twist with a dash of liquid smoke and lovely morsels of Canadian grilled smoked salmon.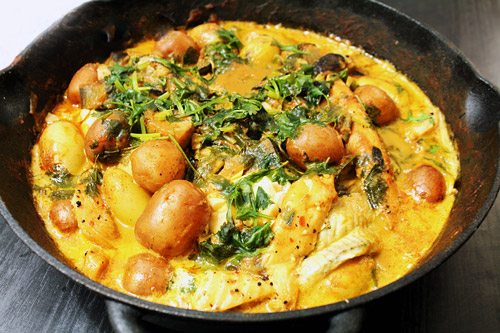 Brie Brazil Balls and Lentil Loaf Tapiocas with a Brazilian Salsa
My tapioca sandwich came to be after I was challenged to make BLT WITHOUT bacon, lettuce and tomatoes. The name of the dish is pretty self explanatory;-)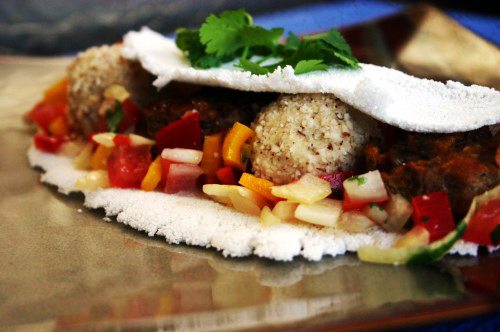 Vegan Brazilian Feijoada
Feijoada is a stew from Brazil that is typically very full of meat. Liquid smoke and seitan (or tofu) add some depth of flavor and textures to this homage to Brazil's national dish. You will not be asking where is the beef!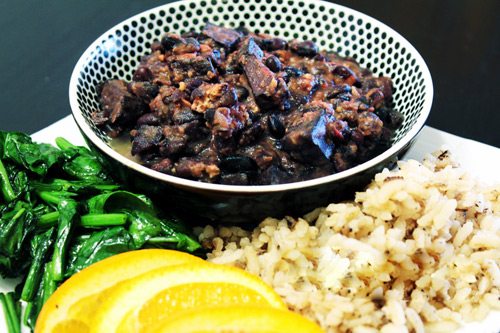 Brazilian Iced Chocolate
This beverage is a super decadent chocolate iced drink!