Brie Brazil Balls & Lentil Loaf in Tapioca Crepes with Brazilian Salsa is my answer to the folowing challenge: BLT Sandwich WITHOUT bacon, lettuce and tomatoes!
The new Creative Cooking Crew hosts really seem to have racked their brains in the last months to challenge the members with fun and crazy themes. Last month we had a Chopped (TV show) like challenge where we had to use Granny Smith apples, nut butter, vinegar and bacon in a recipe. And our hosts where just as cooky this month with this theme: BLT Sandwich WITHOUT bacon, lettuce and tomatoes! A famous movie quote came to mind: Toto we're not in Kansas anymore! I also added a personal challenge here: to defy the concept of the sandwich. You see my 'bread' was the T of my BLT. Well actually I made a BBBLLT with Brazilian flair! Let's explore my mysterious sandwich with tapioca crepes.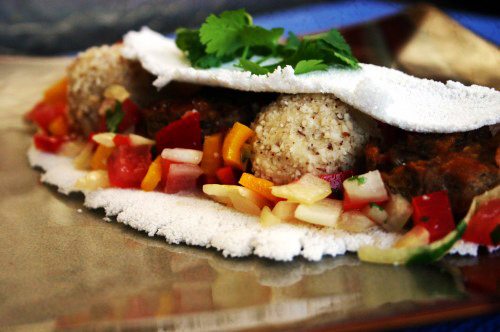 There are 4 parts to my creation:
My B is a Brie Brazil Ball: brie cheese shaped into a sphere and then rolled in ground Brazil nuts
My L is a delicious Lentil Loaf with a spicy kick. Awesome dish for vegetarians.
My T is Tapioca, more precisely a traditional Brazilian 'tortilla' if you will, made from tapioca starch.
And finally let's add some fresh flavor and color with a Brazilian Salsa called Vinaigrette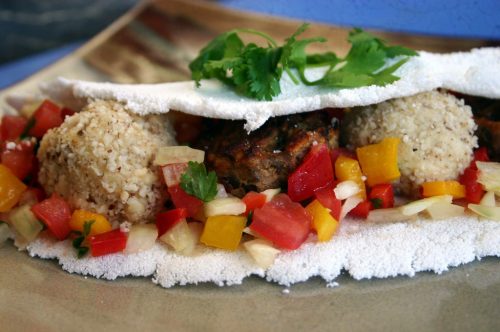 My BLT also looks like an exotic meatball sandwich don't you think? The B, the L and the Vinaigrette where just wonderful and had a lingering taste in the mouth. I must have had bad breath but I really did not care.
The T, Tapioca crepes, did not quite do it for me but I don't think I got it quite right. You add a dash of salt and a bit of water to the starch until you get a crumbly texture. But what happens if you add too much water? Looked like wet cement! Once you get it right you just put a layer of your tapioca pearls in a hot pan, the heat will 'gel' them together. Mine were hard and had a powdery plaster of Paris taste. Appetizing right?
It did look as it should for the picture at least. And the ones I saw online seemed malleable and fluffy.  Don't let me discourage you from experimenting with this recipe. Any tips from experts out there for Brazilian tapioca crepess?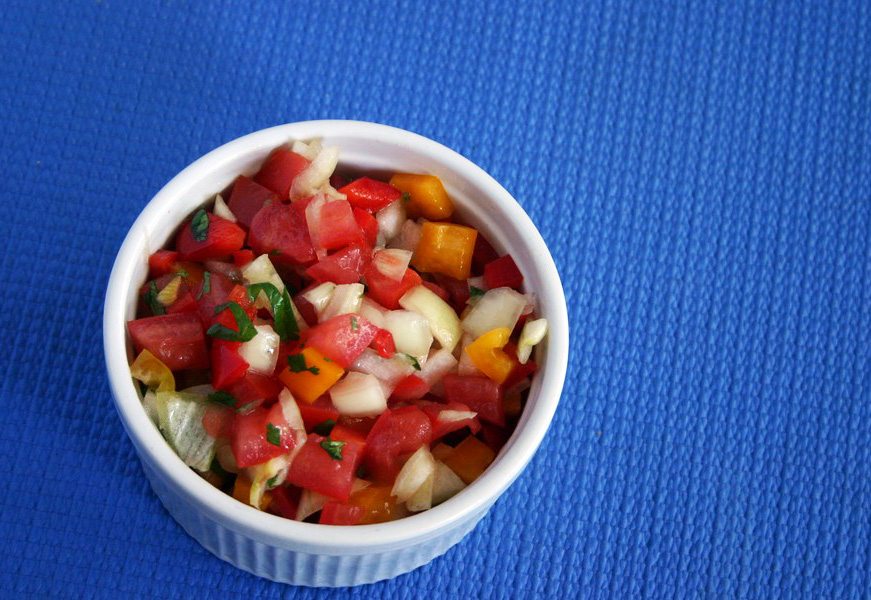 Brie Brazil Balls and Lentil Loaf Tapiocas with a Brazilian Salsa
A BBBLLT sandwich, defying the standard, with Brie Brazil Balls and Lentil Loaf Tapiocas, and a Brazilian Salsa. A creation for this month's Creative Cooking Crew
Ingredients  
For Lentil Loaf

1

cup

of cooked lentils

1

tbsp

sriracha sauce

1/4

onion

chopped

1/4

red bell pepper

diced

3/4

tsp

minced garlic

1/4

tbsp

olive oil

salt

pepper

2

tsp

BBQ sauce

1

egg

1/3

cup

bread crumbs

For Brie Brazil Balls

8-

ounces

Brie cheese

rind removed

4-

ounces

cream cheese

softened

1/2

teaspoon

cumin

1/2

cup

chopped Brazil nuts

For Brazilian Salsa

Vinaigrette

2 to

matoes

1/2

small white onion

1/3

red bell pepper

1/3

yellow bell pepper

1 1/2

tbsp

of coriander

coarsely chopped

1

pinch

of sugar

2 1/2

tbsp

olive oil

5

tbsp

white wine vinegar

1/2

tbsp

of salt

For Tapioca

2

cup

dried cassava starch

or flour

1/2

cup

water approx

1/4

tsp

salt
Instructions 
For Lentil loaf:
Preheat oven to 375F. Mix the lentils with the sriracha sauce, set aside.

In a skillet, heat the olive oil, and saute the onions, red bell pepper and the garlic for 5 min on medium-low. At the end, add in the BBQ sauce, as well as add salt and pepper. Let slightly cool, and divide equally into two portions.

Puree about 3/4 cup of the lentil mix with 1/2 the sauteed vegetables in the food processor. Add the puree to a larger bowl and mix with the remaining lentils and vegetables. Add the egg and bread crumbs, and mix all the ingredients gently.

Spray a loaf pan or muffin pan or brownie pan with cooking spray, and distribute the mix in the pan, pressing down. Bake for 35min at 375F.
For Brie Brazil Balls:
Mix brie with cream cheese and cumin until well combined.

Shape mixture into 8 balls and roll in ground nuts. Chill until ready to serve.
For Brazilian Salsa (Vinaigrette):
De-seed and chop the tomatoes. Dice the onions and bell peppers. Chop the coriander. Combine all prepared ingredients in a mixing bowl. Add the olive oil, vinegar,salt and pinch of sugar. Gently toss the ingredients.
For Tapioca:
In a medium size bowl, add the dried cassava starch and salt. Add a little bit of water at a time and mixing in totally before adding more water until you reach the texture of tiny peas, each one separate. Do not over-add water to make a dough. Over a baking sheet, push the starch through a sieve. You should now have little balls of starch that you are ble to scatter individually.

Heat a dry non-stick frying pan over medium heat. Sprinkle the moistened starch over the bottom of the hot pan, making sure it covers the entire bottom. It should be less than 1/2 inch (1 cm) thick over the entire surface. Let cook for a few minutes or until the starch adheres to inself to make a crepe and it becomes dry and just begins to brown on the bottom side. Using a spatula as an aid, turn the crepe over and cook for just a minute or two.
Assembly:
To make the sandwich place 2 brie Brazil balls and 1 lentil loaf cut in two in a row on half the warm tapioca. Fold tapioca over and add the Brazilian salsa in the sandwich. Makes 4 sandwiches
Thank you Lazaro Cooks and Foodalogue for this month's fun challenge. Check out what the other members have created on our Pinterest board by clicking on the banner below.