If you're an apple lover, this recipe is for you! It combines Cosmic Crisp apples with a delicious cinnamon pull-apart bread. It's easy to make and the end result is mouth-watering and the apple bread is perfect for sharing with family and friends over brunch or dinner.
When I think about the best foods in the world, apple pie always comes to mind. There's something about that crispy crust and warm apples that just makes my mouth water. But sometimes, you don't want a whole pie, you want something a little smaller and easier to eat. That's where this Cosmic Crisp apples cinnamon pull-apart bread comes in.
This bread is like all of the deliciousness of apple pie but in an easy-to-eat form factor! Not to mention, it's gorgeous to look at too. So if you're an apple-lover like me, then what are you waiting for? Start baking!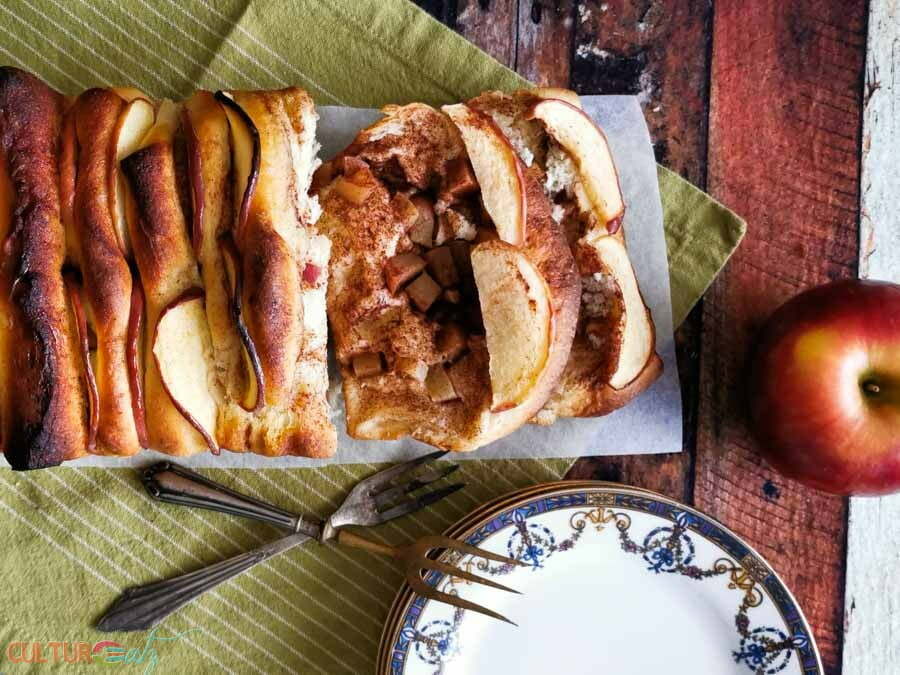 Disclaimer: Thank you to Cosmic Crisp Washington state apples for this sponsored post opportunity. Note that all thoughts and opinions are my own. Lire l'article en français ici.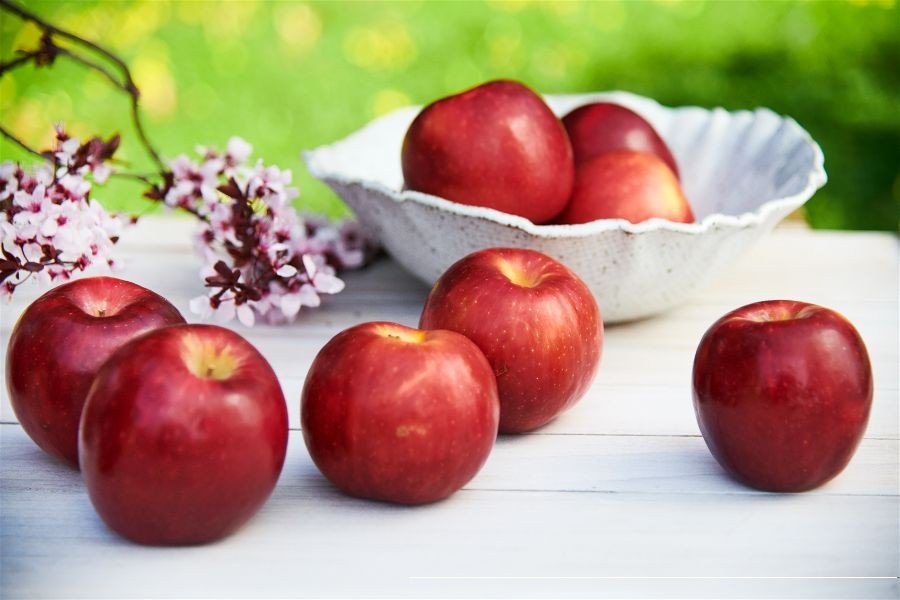 Have you tried Cosmic Crisp Apples yet?
Did you know that Washington State is home to a warm dry climate and nutrient-rich soil, making it one of the most perfect apple-growing areas in the world? Many of your favourite apples grow there.
The non-GMO Cosmic Crisp took 20 years of breeding at Washington State University. In fact, Cosmic Crips are a cross between the 'Enterprise apples' and the 'Honeycrisp apples'.
So just exactly how and when can you eat Cosmic Crisp apples? Any way you like! Cosmic Crisp apples are sweeter and the crispiest apples over other varieties, making them ideal for snacking.
And since they are naturally slow to brown, Cosmic Crisps are perfect for all your cooking and baking apple recipes. These sweet and juicy apples retain their remarkably firm and crisp texture after baking. They truly are perfect for this recipe that combines Cosmic Crisp with a cinnamon apple pull-apart bread.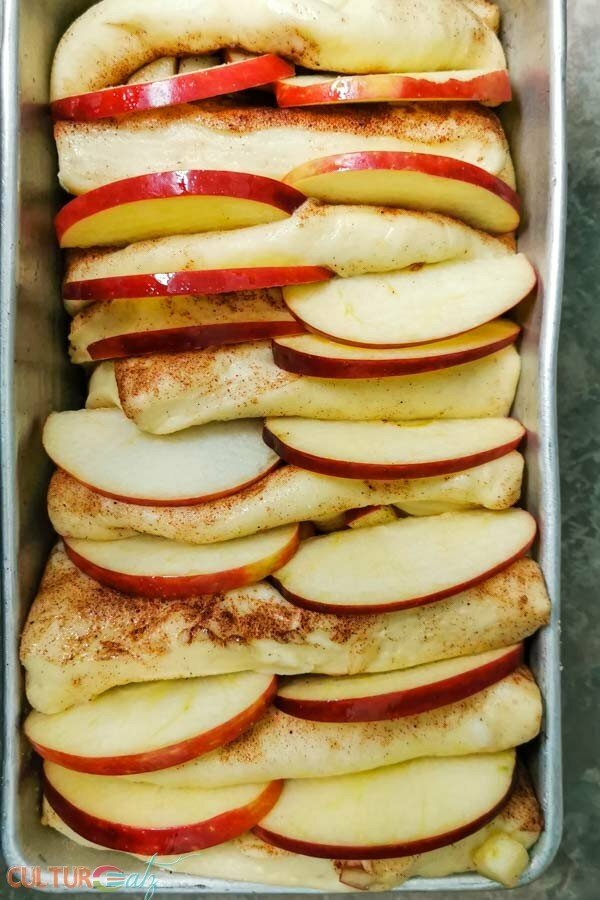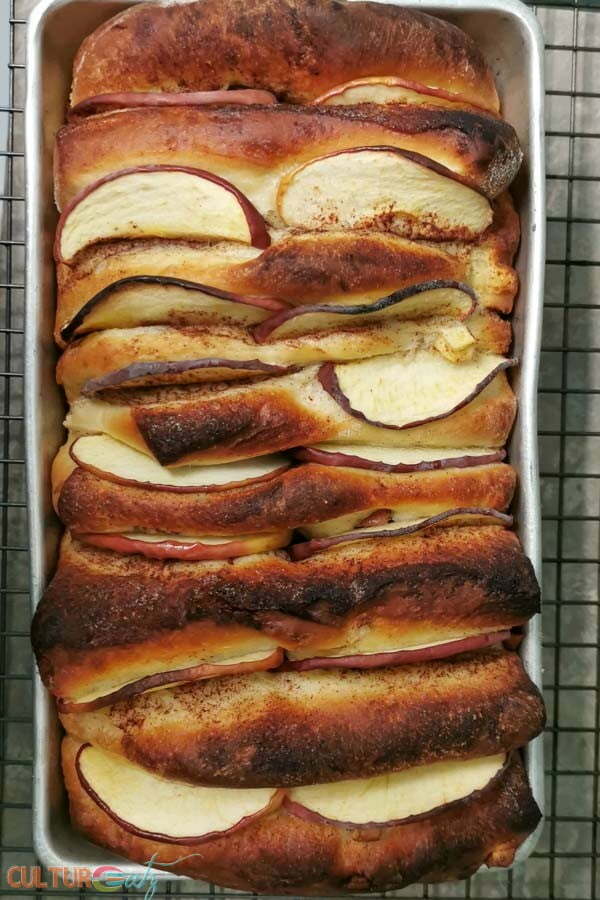 Cosmic Crisp Apples Cinnamon Pull-Apart Bread Recipe
Have you ever baked or savored a cinnamon pull-apart bread before? If not, you are in for a real treat.
It's always more fun to make and eat pull-apart bread. Don't be scared of making bread with this recipe, it is really easy to make. Plus you will fall in love with how puffy and stretchy this dough is. It's just like a cloud or a pillow.
You can absolutely customize this bread to any spices, fruit, or sweet combination you like. In this case, apples and cinnamon sugar goodness were the way to go. I chose Cosmic Crips apples because they stand up well in a bread recipe. And I wanted to put the 'slow to brown' claim to the test.
Truly slow to brown?
I prepped my dough, covered it for the 1h  hour-long rise, and immediately chopped my apples into cubes. I left the cubes spread out on the cutting board for that hour. As you can see below, after sprinkling my apple cubes on the rolled-out dough, the Cosmic Crisp apple flesh stayed the exact same color and there was zero sign of browning any time soon.
I had a quarter of an apple left and I placed it unwrapped in the fridge. Two days later, it still looked freshly sliced.
Back to the bread, the best part about making these loaves is that you can literally pull apart each slice of the loaf. That is because the dough is rolled out, cut into many small rectangles, and stacked sideways in the bread pan.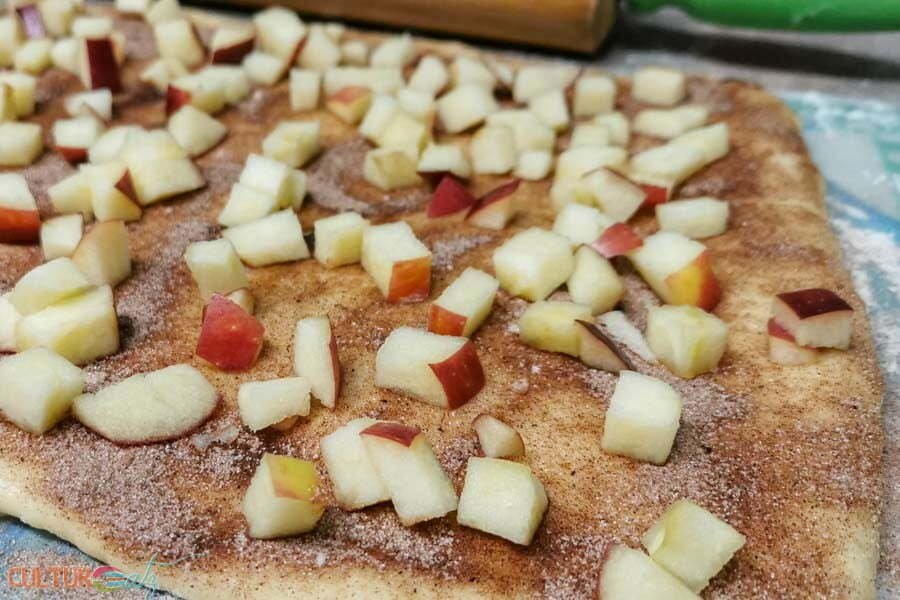 Ready for a slice?
It's the perfect time to start baking with Cosmic Crisp apples! Our recipe for cinnamon pull apart bread is easy, delicious, and guaranteed to get your mouth watering. We love how it combines these sweet Cosmic Crisp Washington state apples with this buttery dough made from scratch.
The best part? You'll be able to enjoy the fruits of your labor all week long because our healthy apple dessert will last up to 5 days if kept refrigerated between uses! The bread is perfect for snack time, dessert or breakfast.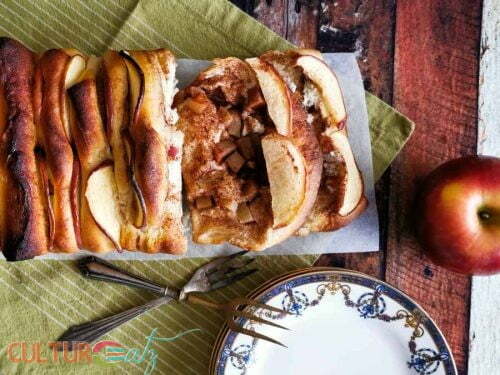 Cosmic Crisp Apples Cinnamon Pull-Apart Bread
If you're an apple lover, this recipe is for you! It combines Cosmic Crisp apples with a delicious cinnamon pull-apart bread. It's easy to make and the end result is mouth-watering.
Ingredients  
Dough
1 ½

cups

whole milk

warmed

1

package yeast

2 ¼ teaspoons

3

Tablespoons

granulated sugar

½

cup

butter

melted and cooled

1

teaspoon

salt

3

eggs

5 ½ - 6

cups

flour
Apple Filling
1

large Cosmic Crisp apples

about 1 cup chopped

¼

cup

butter

melted

¼

cup

granulated sugar

1

Tablespoon

ground cinnamon
Instructions 
Using a stand mixer with a dough attachment, add the milk to the bowl. Sprinkle in the yeast and the sugar. Mix lightly and let sit for 10 minutes, or until bubbles appear

Stir in melted butter, salt, eggs, and 2 cups of flour. Then, start adding 1/2 cup of flour at a time with the mixer running on low speed until the dough begins to come together, and forms a loose ball. You might not need all the flour.

Knead dough in a stand mixer at low speed for 10 minutes, or until smooth.

Move the dough into a lightly greased clean bowl,cover with plastic wrap, and let it rise for 60 minutes, or until it has doubled in size.

Once the dough has doubled, deflate the dough by punching it down lightly. On a floured counter, roll the dough into a 18" x 12" rectangle.

Brush the top of the dough with butter, then sprinkle with the mixed cinnamon sugar. Finally, sprinkle the Cosmic Crisp apples evenly. With a knife, cut dough into 3" x 4" rectangles.

Gently place 4 rectangles into a stack, and continue until you have 8 stacks. In a greased bread pan, place each stack in the pan, in a straight line or in random order, with the end sides up. Cover and let rise for 30 minutes.

Bake in a 350-degree preheated oven for 45-50 minutes. Cool for 20 minutes before removing from the pan. Let cool completely on a baking rack.