This apple coleslaw and spicy-sweet citrus salad dressing is a perfect match! It's crunchy, sweet with just enough spice to keep things interesting.
The apples in this cabbage and chayote salad are delicately sliced, giving them an elegant appeal, while the spicy chili flakes provide just enough heat for your taste buds. The citrusy flavor of lemons, sweetened with maple syrup, is sharp and tangy against the delicate vegetables. I am a big fan of unique dressing recipes and this one compliments the organic Washington apple coleslaw to a tee.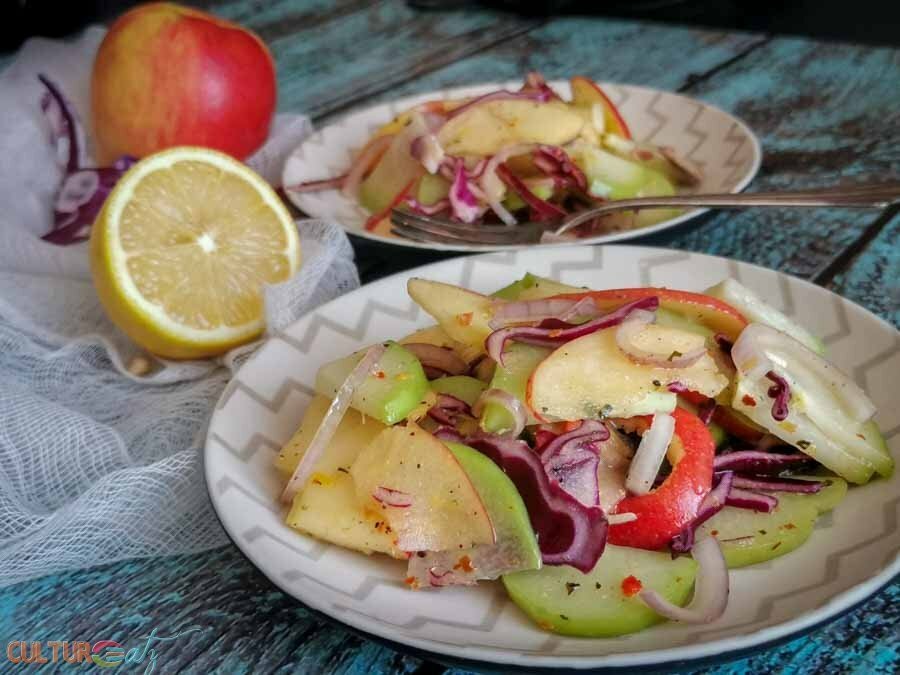 Disclaimer: Thank you to Organic Washington Apples for this sponsored post opportunity. Note that all thoughts and opinions are my own. Lire l'article en français ici.
All About Organic Washington apples
In my opinion, organic apples are the best. And though you will find plenty of orchards in Canada, the varieties are a bit more limited because of our climate. Thankfully, neighbourly America is known to produce more organic apples than anyone else in the world.
And can you guess which state is the top organic apple producer? If you answered Washington State, you are correct.
In fact, Washington State cultivates just over 90% of the U.S. certified organic. It's no surprise why the state has been hailed as a thriving organic apple-growing paradise.
The major contributor is the region's perfect growing conditions and using farming techniques with non-synthetic fertilizers and biological pest controls. There are even specific regulations on how the Organic Washington apples are processed and packed.
More Than 30 Organic Washington Apple Varieties
Every key apple variety, and many more cultivars, can be found in Washington State. Here are a few of them:
Gala

Fuji

Golden Delicious

Red Delicious
Granny Smith

Cripps Pink

Honeycrisp

Cosmic Crisp
and new varieties like

Jazz, 

Ambrosia, Jonagold, and Sugarbee.
Although an apple a day may not literally keep the doctor away, they are excellent for your health. Canada's Food Guide recommends that an adult should consume 7 to 10 portions of fruit and vegetables per day. One medium organic Washington apple is one fruit serving.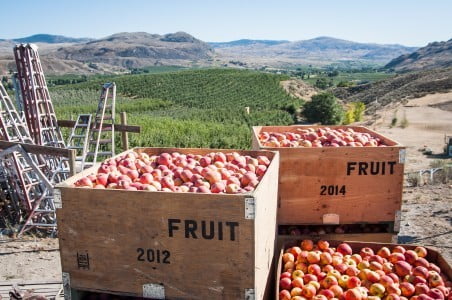 How to Make an Apple Coleslaw
I don't know about you, but I am a really big fan of coleslaw salads. I love the fact that you can play around with the ingredients and flavours. Just check out my Apple Brussels Sprout Salad and my Crunchy Colorful Thai Cabbage Slaw.
Slaws are perfect for a summertime BBQ and also ideal in winter as the base vegetable, cabbage, is available year-round. You can then tweak it with any seasonal produce.
For this recipe, I chose red cabbage, one Ambrosia organic Washington apple (you can use any variety you like), and the unusual chayote. The chayote name's root comes from a Nahuatl word, which was spoken by the Aztecs in Mexico. It kind of looks like a bumpy pear and can be eaten raw. The taste is quite neutral, kind of like a starchy cucumber.
Slaws can vary in texture too. We are used to the shredded version, but veggies can be cubed, or like in this recipe, thinly sliced. I find this method gives an extra pleasant crunch.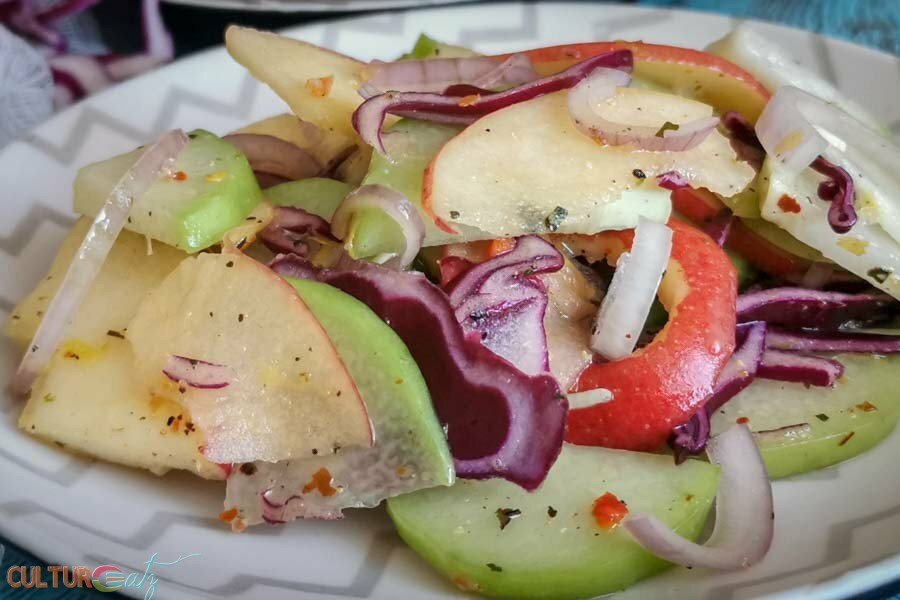 The Fun Spicy Sweet Citrus Salad Dressing
Do you agree that a vinaigrette can make or break a salad? I am also of the thought that less is more. Just a fine coating will suffice, which is exactly the right amount we will make for the apple slaw.
An extra zesty salad dressing is always welcomed in my books. But you have to balance the flavor or it can be too acidic. A touch of olive oil and maple syrup will do just the trick. And for a slightly more complex flavor, add some heat with spicy chilis and include the zest of a lemon.
Give this apple coleslaw and citrus salad dressing a try the next time you're looking for a healthy, delicious side dish. You won't be disappointed!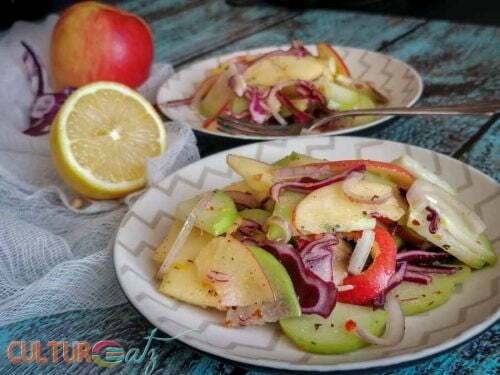 Apple Coleslaw and Citrus Salad Dressing
This apple coleslaw and spicy-sweet citrus salad dressing is a perfect match! It's crunchy, sweet with just enough spice to keep things interesting.
Ingredients  
Vinaigrette
juice of 1 lemon + zest of 1/2 a lemon

1/4

tsp

dried chives

Pinch

garlic powder

Pinch

hot pepper flakes

to taste

2

tsp

maple syrup

2

tsp

olive oil

salt + pepper
Salad
1

Organic Washington apple

I chose an Ambrosia

1

chayote

or kohlrabi

1

shallot

1

cup

shredded red cabbage
Instructions 
In a salad bowl, whisk together thoroughly all the ingredients of the vinaigrette, set aside.

Core, half, and thinly slice the apple. Add to the vinaigrette, stirring to coat all slices to prevent browning.

Half and thinly slice the shallot. Quarter and thinly slice the chayote.

Add the sliced shallot and chayote, and the shredded red cabbage to the apples and toss to coat.

Chill at least 1 hour or long enough for all ingredients to incorporate.