This Game of Thrones recipe is in honor of a favorite character, the Mother of Dragons, with an exotic Mother of Dragon Fruit Salad … and a bonus Mojito cocktail recipe.
Dragon fruits can have red or white flesh, and they are just brimming with nutrients. Each fruit is packed with natural fiber, protein, vitamin C, antioxidants, and Omega-3s. It has also been known to lower and stabilize blood glucose levels for people who suffer from Type-2 diabetes, while also decreasing levels of bad cholesterol. All good things to keep Daenerys Targaryen healthy and be a good Mother of Dragon Fruit Salad!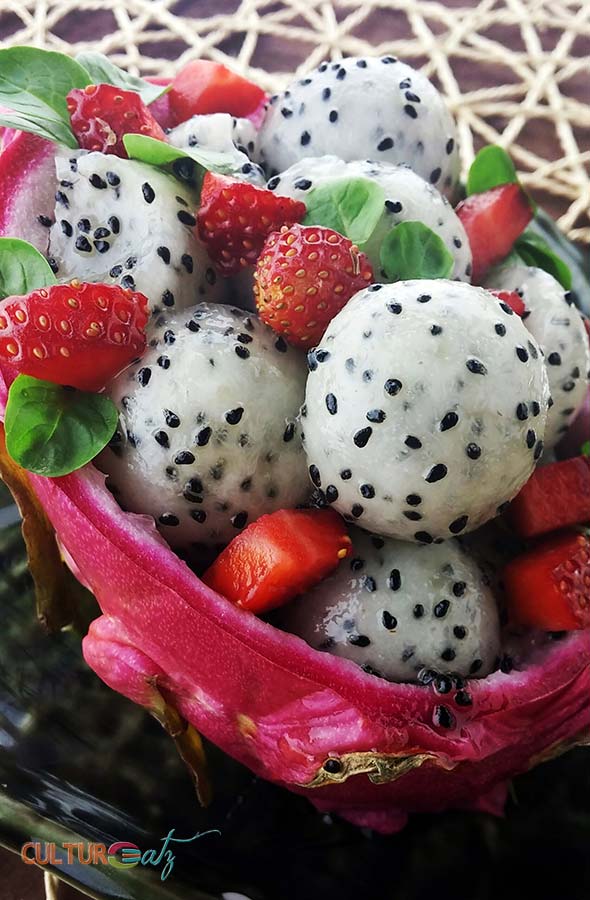 Welcome to Day 5 of the Epic Game of Thrones Food Battle between myself at CulturEatz and Heather at All Roads Lead to the Kitchen! We are having a week-long recipe battle in honor of the long-awaited return of the show which premieres this Sunday.
Heather and I are both big fans and after a few email exchanges we settled on this plan: we will each take turns every other day posting 3 unique recipes each. And on Sunday, July 16th we chose a specific theme we must both follow – but our recipes will remain a secret till our posts go live!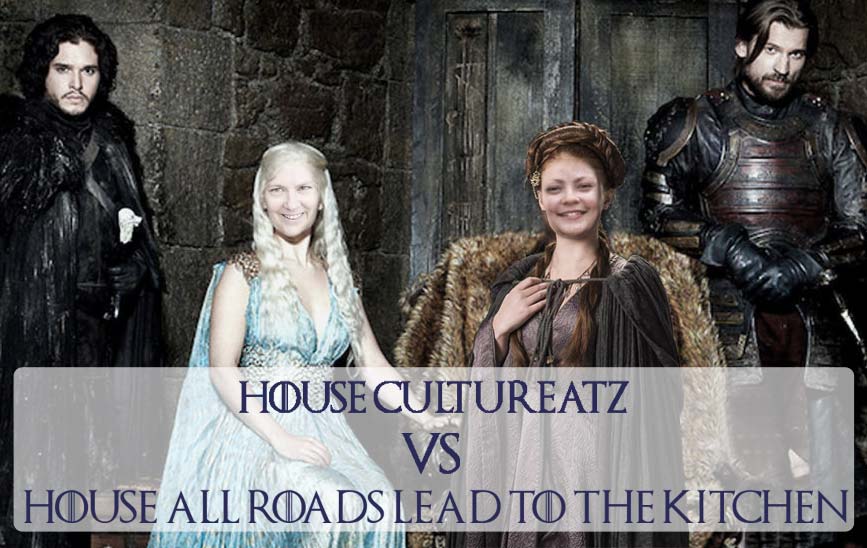 Evelyne – July 10: Blackberry Galette with Red Wine Sauce for a Red Wedding
Heather – July 11: Honeyed Chicken
Evelyne – July 12: Anglesey Eggs for House Banefort
Heather – July 13: Bran Muffins
Evelyne – July 14: Mother of Dragon Fruit Salad & a Mojito
Heather – July 15: Blackberry Wine Slushies
Evelyne – July 16: Sauteed Clams Oysters and Snails with Sea Greens
Heather – July 16: Smoked Oysters, Clams, and Cockles Linguine
Make sure to visit our sites each day this week to see all our Game of Thrones-inspired recipes!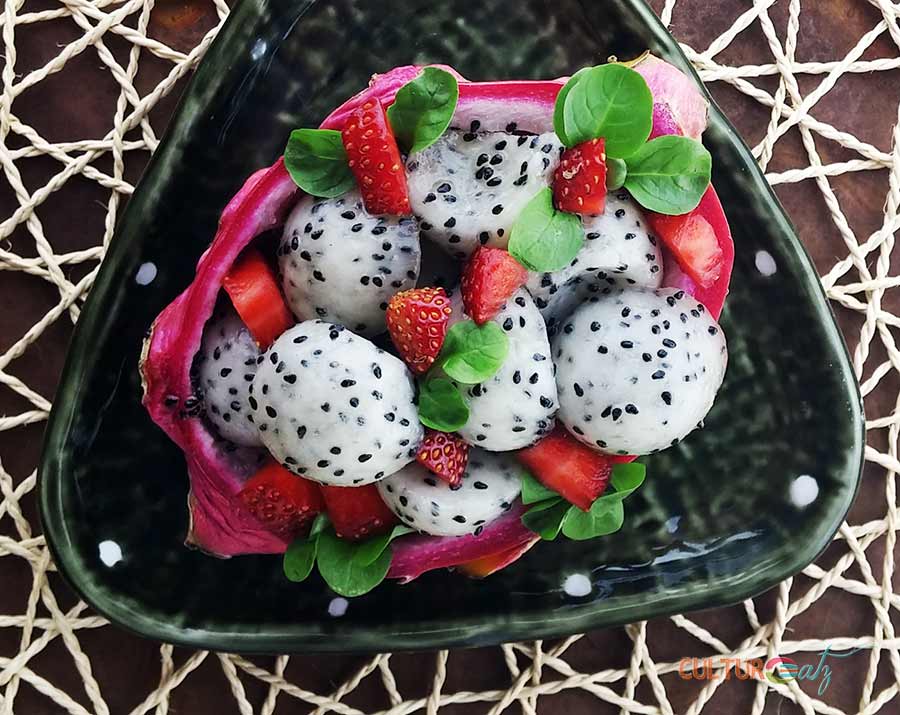 How many of you have tried dragon fruit before? Lift up your hands! Hmm, not as many as I would like. As exotic as the dragon fruit looks, the taste is relatively mild so you will not get a scary surprise. The fruit's real name is Pitaya.
Although it is commonly grown now in Asia for the world market, it is not an Asian fruit at all. Turns out the cactus fruit Pitaya is actually native to Mexico and the South and Central Americas.
Mother of Dragon Fruit Salad
Now even if you are not a fan of the show, you probably know that there are dragons in Game of Thrones. They belong to Daenerys Targaryen who is aptly named the Mother of Dragons. Daenerys is one of the last confirmed members of her house. She is very clever and will play the weakling until it is time for her to show just how powerful she can be.
When she is married she is offered three petrified dragon eggs. The eggs all hatch, the first in a long time, and she raises them. Her story is long but she basically conquers every place she goes…and her final desired prize is all of Westeros.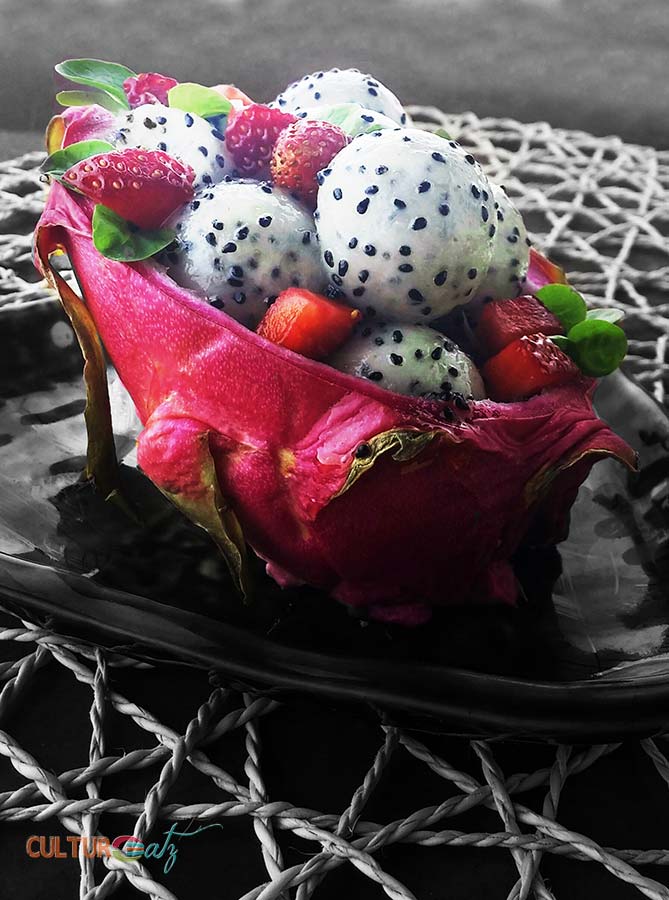 When I saw a bunch of dragon fruits at the market I instantly knew what my main inspiration would be for the Mother of Dragons. I found this idea of presentation over here, like Daenerys, a pretty and exotic salad with a touch of danger emanating from it.
How cool is it to use the shell as an actual bowl for the salad? And I really like how the scooped flesh resembles perhaps some dragon eggs 😉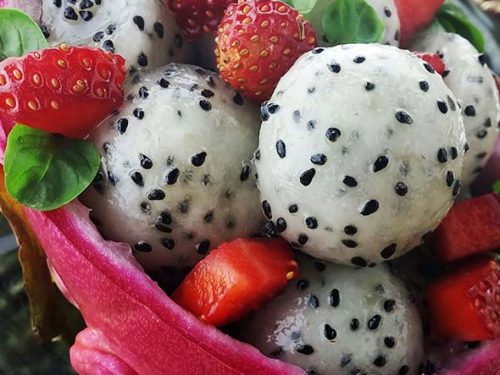 Mother of Dragon Fruit Salad
Ingredients  
1

dragon fruit

1

tablespoon

honey

chopped strawberries and small lettuce leaves

optional
Instructions 
Cut the dragon fruit in two on a diagonal and cut a slice on the bottom of the peel (wihtout cutting through the whole wall) so the fruit can stand up and be used as a serving bowl.

Scoop out the white flesh of the fruit with a spoon or melon baller and place into a bowl. Drizzle with the honey and toss gently.

Spoon fruit back into the peel and decorate with starwberries and lettuce leaves.
You can see all of the Epic CulturEatz Game of Thrones recipes here and if you want more GOT inspirations check out the Baking Mischief's #AFeastofThrones linkup with Fandom Foodies!
Feeling left out because you have not seen or read anything from Game of Thrones?
Check out what all the fuss is about with the Five Novel Book Set or the Season 1 -6 DVD Set.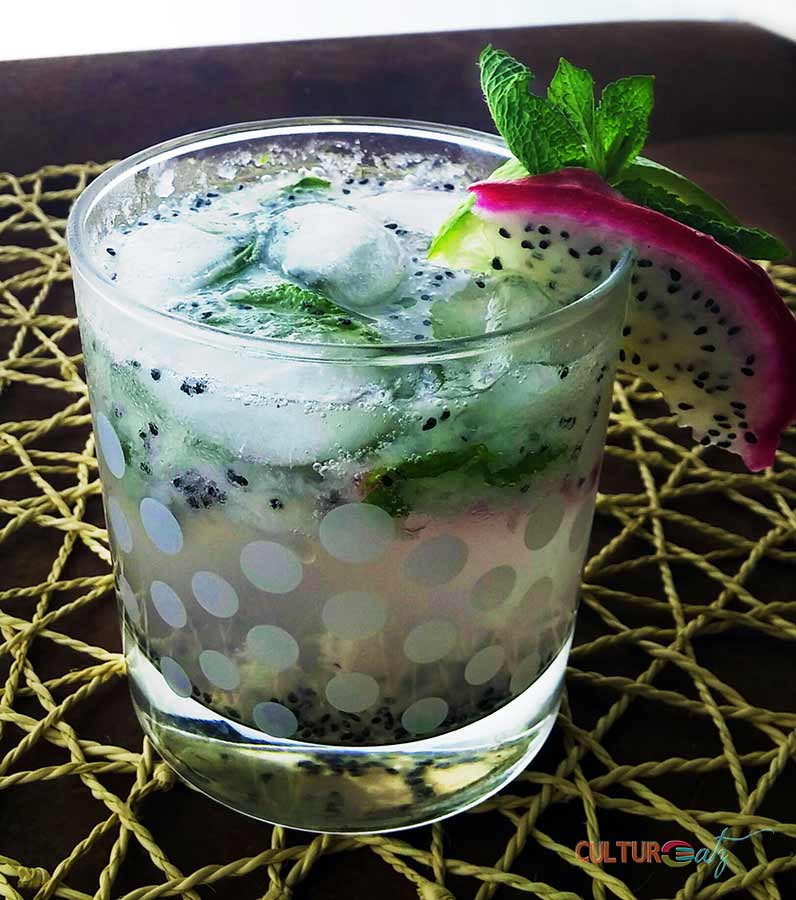 Mother of Dragon Fruit Mojito
And I am giving you a bonus recipe too! An exotic twist on the mojito using the dragon fruit inspired by this recipe at Hot & Chilli. See I am always thinking of you, my readers.
I had a little bit of leftover flesh…I could have just eaten it and you would be none the wiser! But I made this cocktail just for you! And guess what? it is lip-smacking good!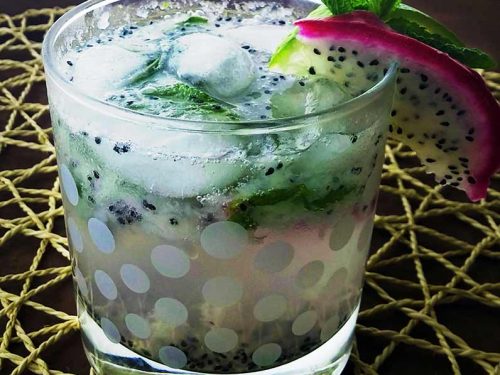 Dragon Fruit Mojito
Ingredients  
3

tablespoons

fresh dragon fruit flesh

2

strips dragon fruit peel

8

mint leaves + some for garnish

1

tbsp

of white sugar

1/2

fresh lime juice

1.5

ounes white rum

soda water

ice cubes
Instructions 
In the bottom of a glass, muddle the dragon fruit flesh, strips of dragon fruit peel, mint leaves, and sugar until the sugar has disolved.

Squeeze in the juice of half a lime and stir.

Add the rum and about 5 ice cubes to the glass. Mix well.

Top off the glas with soda water. Garnish with lime, mint leaves and a strip of the dragon fruit.
Here is a quick video on how to prepare the cocktail as well! Please subscribe to the CulturEat Youtube channel if you have not done so yet!
PIN IT HERE for later!