Tunisian Brick à l'Oeuf is a delicious dish filled with tuna, onions, capers, harissa, parsley and a luscious runny egg yolk, all wrapped up in a delicate pastry.
It's time for the MENA (Middle Eastern & North African) Cooking Group. This monthly group has for goal to help us discover the culture and cuisine of the countries found in these parts of the world. The host of the month will choose two savory and a sweet dish from the country and the members pick one dish to make. This month we are off to beautiful Tunisia where we will snack on Tunisian Brick à l'Oeuf.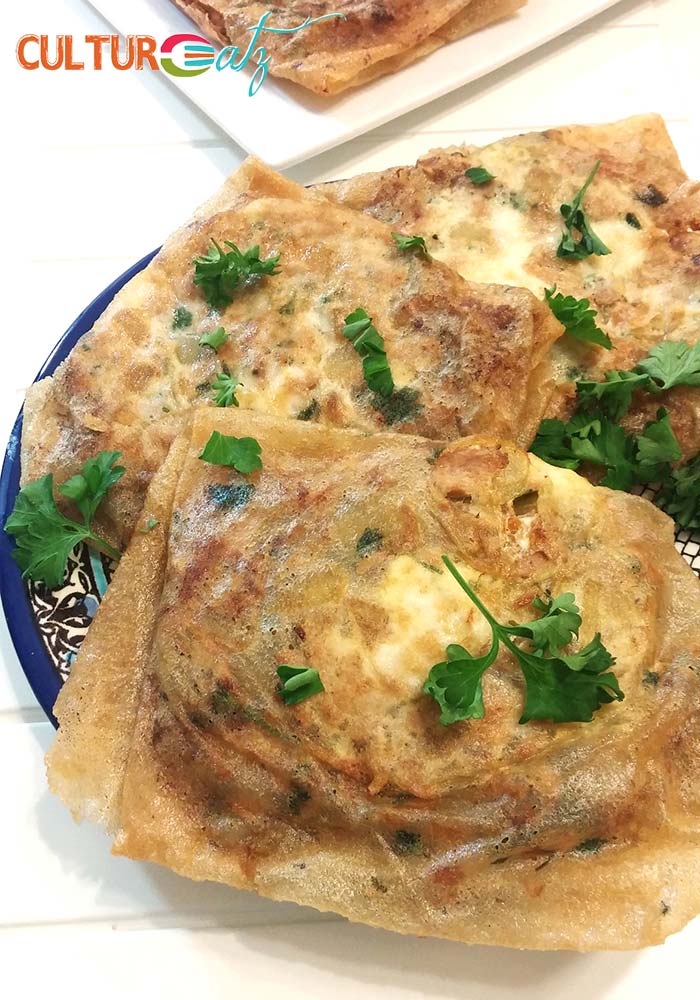 Tunisia is located in Northern Africa and has a Mediterranean Sea coastline. The country lies immediately to the south of Italy and Malta. Libya borders Tunisia to the south-east, whilst Algeria lies to the west. Alas it is not a particularly good time to visit Tunisia as there have been recent attacks targeted at tourists, which is unfortunate as Tunisia has much to offer with a rich cultural history dating back to Antiquity. The north has a lot of beach resorts along the Mediterranean. The capital Tunis is relatively laid-back, and many cities are filled with amazing museums, ols sites and great architecture. Such cities include Sousse, Carthage, Sfax and El Jem. Down south explore the desert and major archaeological sites in the Saharan Jebil National Park.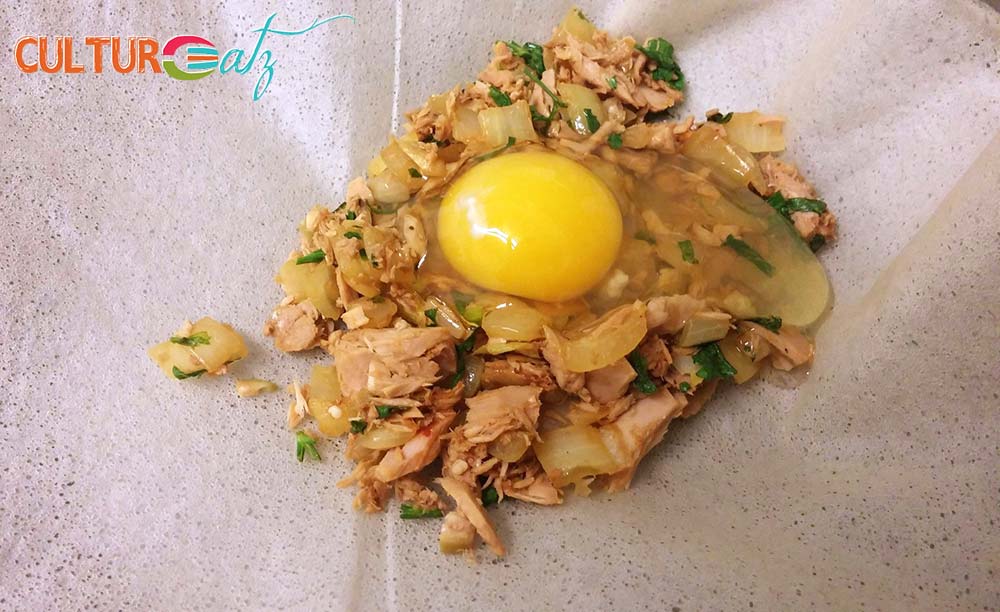 Tunisian cuisine offers up, like the rest of the Maghreb areas, couscous and marqa stews. Tajinesin are a type of omelette-like pie prepared with a ragout of meat or vegetables mixed with herbs, legumes. Other typical dishes are Tunisian brick, shorba (soups), slata (salads), rishta (pastas), samsa (a popular pastry), kifta (ground meat), kaak (pastries), gnawiya (gombos), merguez (lamb sausage) and shakshouka (ratatouille).The harissa chili sauce and tiny olives are abundant in many traditional recipes. Many pastries are enriched with eggs and cheese. Lamb and local seafood is common placed. Some dishes and desserts are quite floral with the use of rose water, orange blossom water, jasmine water and geranium water.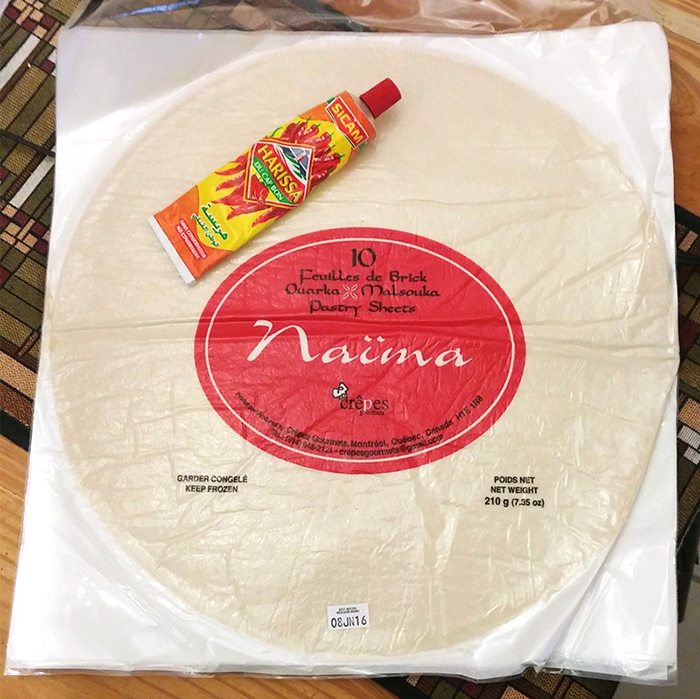 Tunisian Brick à l'Oeuf (or brik or brek) is a fried pastry made of a very thin wrapper (called malsouka sheets) filled most traditionally with tuna, chopped onions, caper, harissa and parsley. Just before frying a whole egg is broken into the mixture. Some recipe are made with potatoes, ground meat, chicken, or anchovies. Often fried in a triangular shape, the result is a crispy exterior that when cut into releases a runny egg yolk, creating a silky sauce to the delicious filling.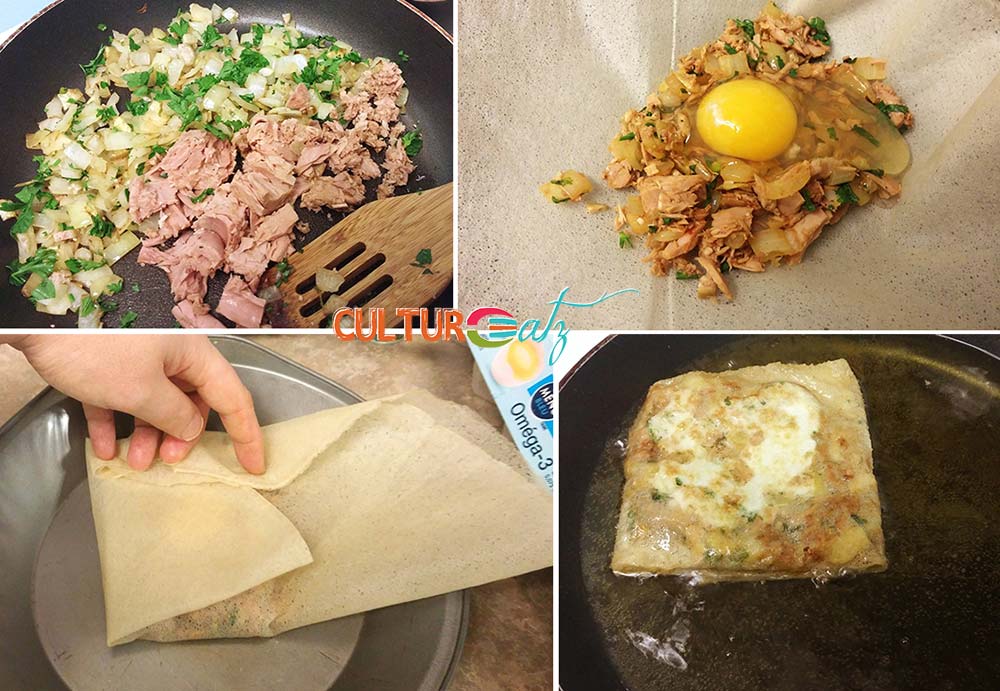 Making this Tunisian Brick à l'Oeuf recipe has actually been on my recipe bucket list for quite some time. I clearly remember the first time I had one. It was about 12 year ago at a Tunisian restaurant and it was the appetizer of a 3 course meal. I fell in love with the texture, particularly the runny egg yolk. I never had another good one since, until I made this recipe. It certainly did not turn out as pretty but this one tasted way better. Its great for brunch, a snack or lunch served with a salad.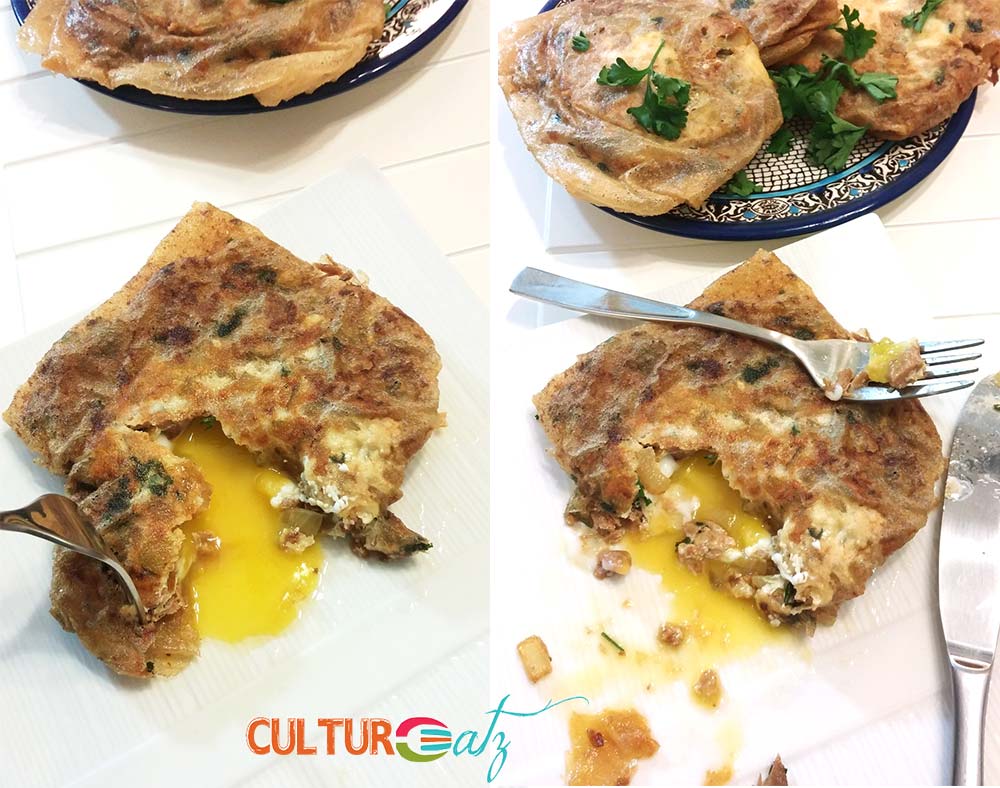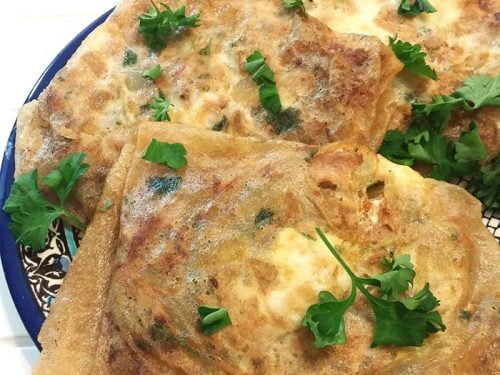 Tunisian Brick à l'Oeuf
Ingredients  
1

tablespoon

olive oil

1

onion

finely chopped

1

x 180g can tuna

drained, flaked

1

tablespoon

drained capers

coarsely chopped

1/4

cup

chopped parsley

1

teaspoon

harissa

4

malsouka sheets

or spring roll wrappers or filo pastry

4

eggs

Light olive oil

to shallow-fry

Fresh parsley sprigs

to decorate
Instructions 
Heat oil on medium in a frying pan. Add the onion and cook until soft, about 5 minutes. Add to the pan the tuna, capers, parsley and harissa. Stir to mix well and leave to cool slightly.

Add 2 cm (3/4 inch) worth of olive oil in a frying pan and heat over medium heat.

Place a malsouka sheet off center in a shallow plate or pie plate. Spoon in 1/4 of the tuna mixture and make a well in the centre. Break one egg into the well. Fold malsouka over on 3 sides to make a rectangle parcel. Repeat with the remaining 3 malsouka sheets just prior to frying.

Add prepared brick to heated oil, leave until golden, turn once, and fry again until golden. Transfer to a plate lined with paper towels. Reheat oil between batches and repeat with remaining bricks.
The closest recipe I found to what I had tasted was found here on Taste. Thank you to MENA Cooking Club and to our host this month: Asma of Halal Home Cooking .
Check out more savory pastry recipes here: