This month's 5 Star Makeover, hosted by the amazing 5 Star Foodie and Lazaro Cooks is another brilliant group presentation: A tea party. Each member was asked to prepare a nibble such as the ones you would find in a tea service.
The variant name of Napoléon appears to come from "napolitain", the French adjective for the Italian city of Naples, but altered by association with the name of Emperor Napoleon I of France. However there is no evidence to connect the pastry to the emperor himself. The classic french Napoléon, or Mille Feuille, is a pastry consisting of with almond flavored paste.
But in Italy, where the city of Naples is, it is called mille foglie and there are several savory versions of it. I will be exploring a savory version for you today with the us use of salmon, a favorite filling used to make finger sandwiches during tea service. Another classic component of tea service is Crême Fraiche, a thick cream with a tangy sour taste which results from light fermentation. It can be used on both sweets (like scones) or savory (sandwiches) treats.
Did you know that high tea was actually for the poor and common folk? They were served at high tables without chairs, with dishes such as meat, cheese, pickles bread. What the socialites and aristocrats enjoyed was actually referred to as low tea, or afternoon tea, because the rich had the luxury of 'waisting' time sitting leisurely for a snack.
Ξ Salmon Duo Napoleon with Crême Fraiche Ξ
adapted from CBC.ca Best Recipes
Crême Fraiche:
1/4 cup sour cream
1/2 cup whipping cream
1 tsp dried dill
1 tbsp fresh chives, chopped
1/4 tsp pepper
1 pinch salt
Filling:
6 peppercorns
1 sprig thyme (or 1/4 tsp dried)
1 bay leaf
4 oz salmon
3 oz smoked salmon (I used a dry Maple version)
puff pastry
Crème Fraîche: place the sour cream and whipping cream in a jar with an airtight lid. Cover securely and shake 15 seconds. Place on the counter (yes the counter) for 24 hours or until thickened. Stir once or twice during that time. Mix in the dill, chives, pepper and salt. Leftovers can be refrigerated for up to two weeks.
On lightly floured surface, roll puff pastry to a rectangle 10 by 12 inches and about 1/8-inch thick. Cut into 20 pieces, 2 by 3 inches . Place on parchment paper lined baking sheets; prick pastry all over with fork. Bake in 425°F (220°C) oven for about 12 minutes or until golden, rotating pans once. Let cool completely.
Filling: Meanwhile, in shallow saucepan, bring 4 cups (1 L) water, peppercorns, thyme and bay leaf to boil. Reduce heat to medium. Add salmon; cover and simmer for about 8 minutes or until salmon flakes easily when tested with fork. Transfer to plate; let cool completely. Break into chunks.
Lay 1 of the pastry squares on work surface; dollop with Crème Fraîche. Top with some of the poached salmon and a slice of smoked salmon. Top with another square of pastry; repeat layers. Sprinkle with chives. Serves 10.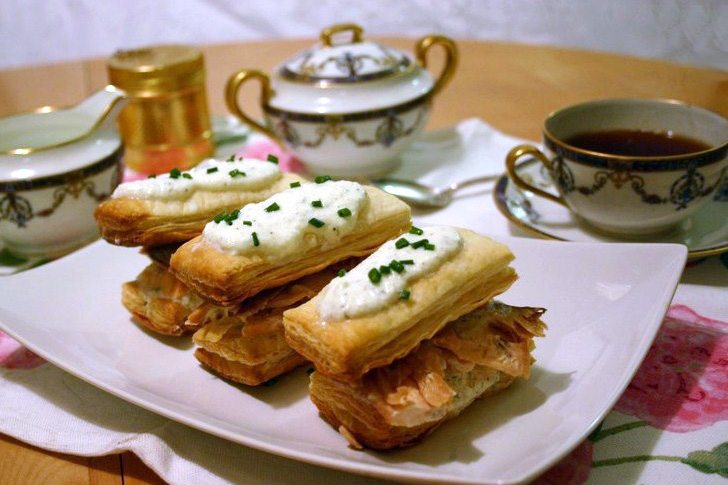 Check out more savory pastry recipes here: