An instant Ramen soup mix transforms itself into a noodle bun to make a perfectly modern Japanese Ramen Burger with Teriyaki Sauce!
It's Food 'n Flix time again! In this monthly group a host picks a movie of their choice that pertains to food. Everyone watches the movie and then makes a recipe which the film inspired. It can be any recipe you want. This month's pick is hosted by Heather of All Roads Lead to the Kitchen, who suggested a great movie called Tampopo which is all about Ramen soup. My dish presents a currently trendy twist: the Ramen Burger with a Teriyaki Sauce.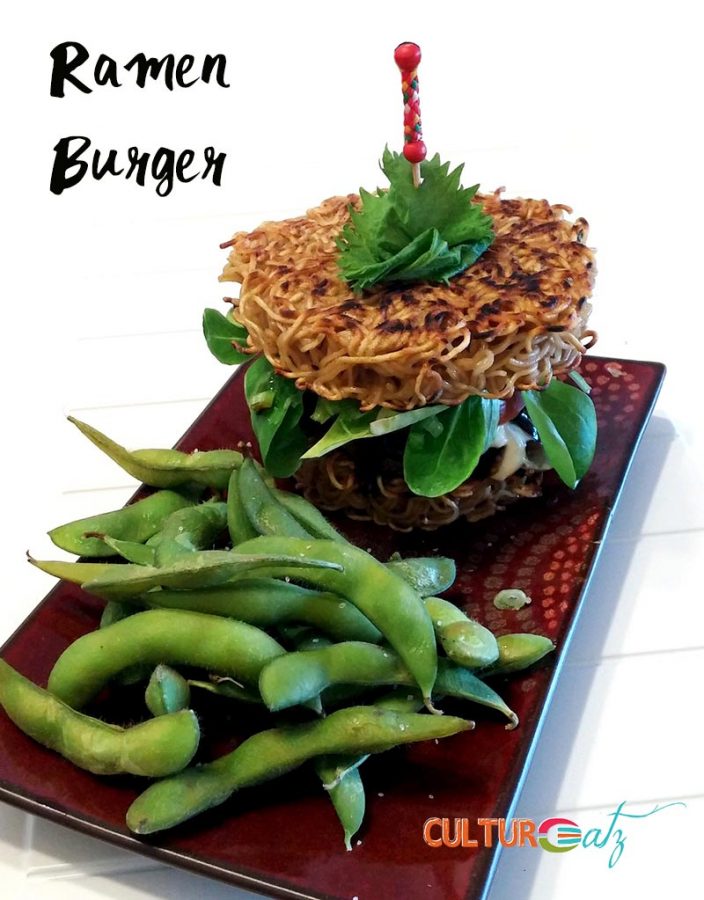 Tampopo is a Japanese humorous film from 1985 and it has been dubbed the first spaghetti "ramen western", if such a thing is possible. I saw this movie already during my very first annual Food Film Marathon 5 years ago and it was a hit with all attendees.
Nobuko is trying to keep open her late husband's Ramen shop but without great success as her Ramen is simply not very good. This general opinion is confirmed by two à la John Wayne truckers who stop by the shop. Goro and Gun decide to take Nobuko under their wing and teach her to make a perfect Ramen bowl. Hence begin a series of adventures with a growing group of helpers in pursuit of the perfect Ramen soup and it is met with many obstacles. Does Nobuko finally achieve the holy grail bowl of Ramen? Watch the movie to find out!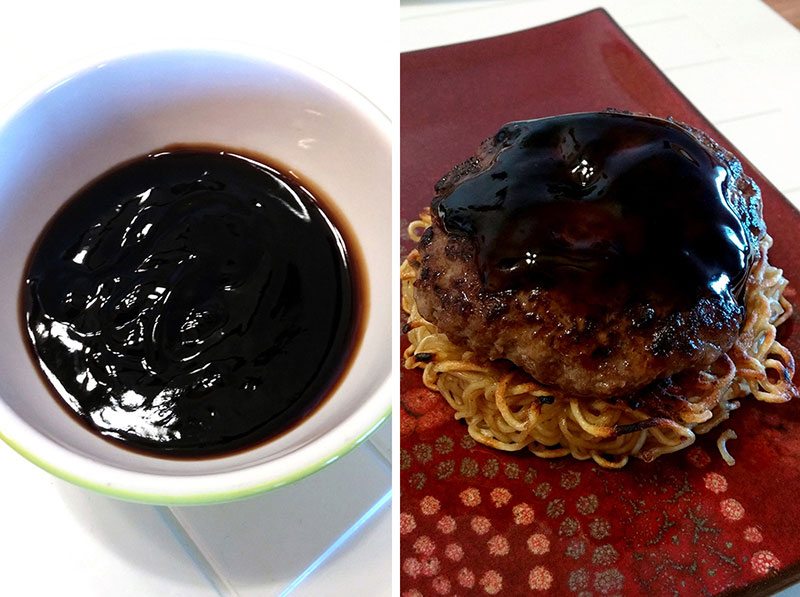 There are a number of sub stories here and many fascinating characters to discover. And lots of Japanese food, Ramen being the main star. I have a feeling there will be a lot of Ramen bowls in this month's round-up and I wanted to try something different. Lots of places offer Ramen burger now, they are all the rage and I have sampled one before in a restaurant. Sounded like a fun challenge.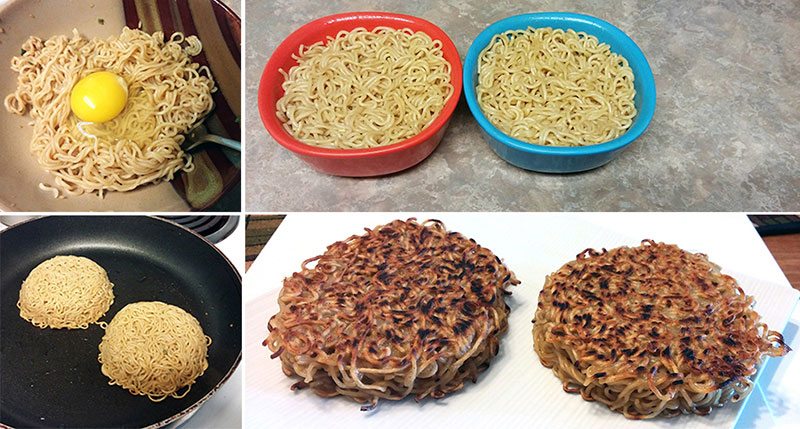 A Ramen burger is a twist on the American standard. One will find their bread bun replaced with Ramen noodle buns. I went the extra step and made Teriyaki beef patties and used Japanese condiments. Making Ramen buns is super easy. Just buy those instant Ramen soup mix and boil the noodles. Add the included seasoning and an egg. One packet makes a complete bun. Shape, press and cook in a pan till the bun holds together. So cool right?
The teriyaki sauce is really simple to make as well and it has the most unique texture, it's like a warm jelly and all super shiny. I put half the sauce in my beef mix and used the rest as a ketchup. I added a bit of Japanese mayonnaise, tomato slices, mâche (lamb's lettuce), chopped green onions and topped it off with a shiso leaf for decoration.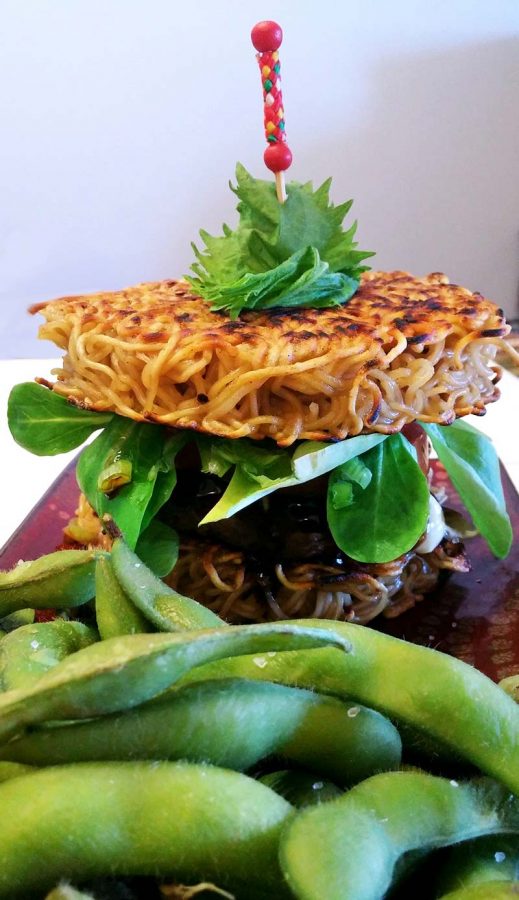 No side order of fries here, I thought edamame would be a more suitable accompaniment.
The Ramen Burger verdict? You will need a fork and knife to eat this burger but the taste is two chopsticks up!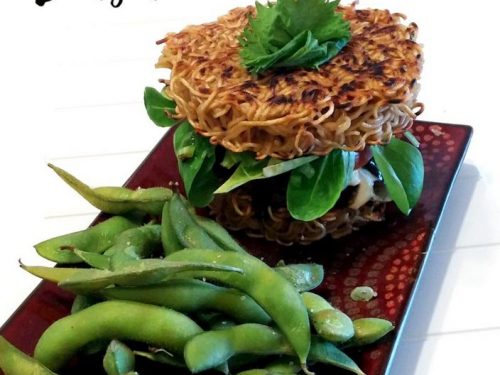 Ramen Burger with Teriyaki Sauce
Ingredients  
4

packet of ramen

4

egg

vegetable oil

1/4

cup

soy sauce

1/4

cup

sugar

1/4

cup

Mirin

1/2

cup

water

2

Tbsp

cornstarch

1

lb

ground beef

1/2

tsp

salt

pepper

green onions

1 to

mato

sliced

mache

or lettuce / arugula

Japanese mayonnaise

or regular mayonnaise
Instructions 
Cook the ramen according to the package's instructions. Drain, rinse under cold water and drain again. Mix and blend well the ramen with the egg and any spice packet.

Oil the inside of two (per ramen package) deep, flat-bottom salad bowls and divide the ramen mix. Press the noodles into the bottoms of the dishes with the bottom of a glass and refrigerate for about 30 minutes.

Heat a little oil in a non-stick skillet on medium-high heat, flip the buns into the skillet and remove the bowl. Cook for 3 to 5 minutes until golden brown on one side, flip, and cook about 2 to 3 minutes more till golden.

Mix the soy sauce, sugar, Mirin and water in a sauce pan. Measure out cornstarch in a bowl and mix with a bit of the liquid mix to prevent clumping. Add back to the sauce mix. Cook at medium heat until it boils, and keep a boil going for about 1 minute. Cool for a bit.

Mix ground beef, half the teriyaki sauce, salt and pepper. Divide into 4 and make large patties.

Heat a skillet at medium high heat and add a little oil. Cook the beef for 2-3 minutes on each side.

Build your burger: place a patty on a ramen bun. Spoon some teriyaki sauce and mayonnaise. As you desire, place a slice of tomato, some lettuce, and chopped green onions. Top with another ramen bun. Enjoy!
Just wanted to say a big thank you to everyone who reached out with comforting words following the passing of my cat Miyu, which I celebrated in my last post, also Japanese style, with foods he liked to eat: Neko Manma with Chinese Broccoli
Check out more Japanese recipes here: