With just a touch of matcha and the cherries reminiscent of the beautiful cherry blossoms, these Glazed Cherry Matcha Scones are a true nod to Japanese culture. Enjoy them with a lovely cup of green tea.
Did you know that this week is International Scones Week? There is no shortage of scone recipes out there but I decided to revisit a scone I made in 2010 that I truly enjoyed. But the recipe has been zinged up with the addition of cherries and a little glaze. So help yourself to one of my Glazed Cherry Matcha Scones with your afternoon tea!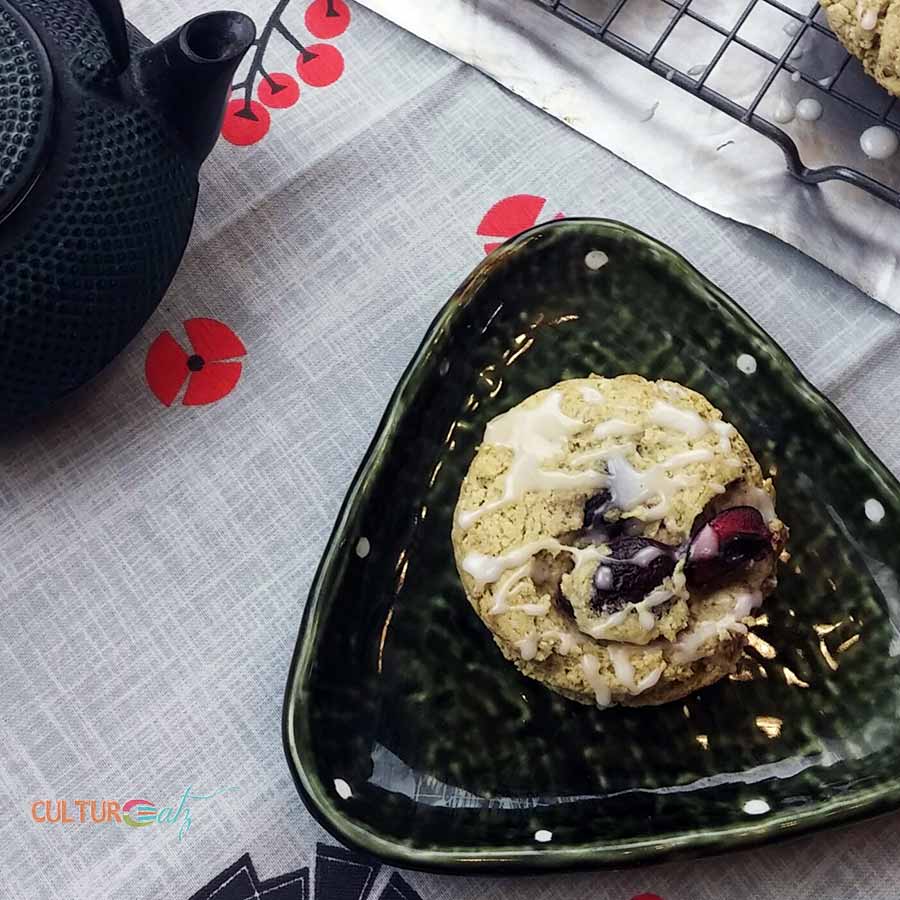 For the unfamiliar, let's start with a description of matcha. Matcha is green tea from the Camellia sinensis, transformed into a very fine powder. Unlike other teas derived from Camellia sinensis, matcha has not been fermented.
This is not its only particularity, as true matcha is derived from tea leaves grown in the shade so that the leaves achieve a dark green color. This is what gives matcha its magnificent amino acids.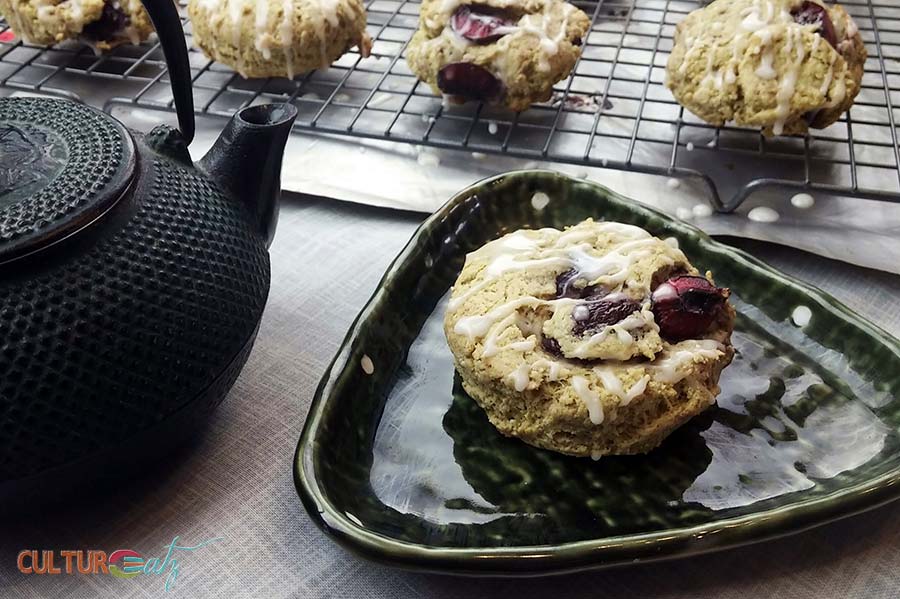 When you ingest matcha you are consuming the entire leaf. Did you know that one glass of matcha green tea is equal to 10 glasses of regular green tea? The antioxidants found in green tea have been found to fight against many forms of cancer, HIV, heart disease and a host of other illnesses and diseases.
Don't like or want to drink your matcha? Well, great news as you can cook and bake with it. In Japan matcha is in everything, maybe I need to go to Japan for a full-on matcha discovery 🙂
PIN IT FOR LATER https://www.pinterest.com/pin/266275396701864967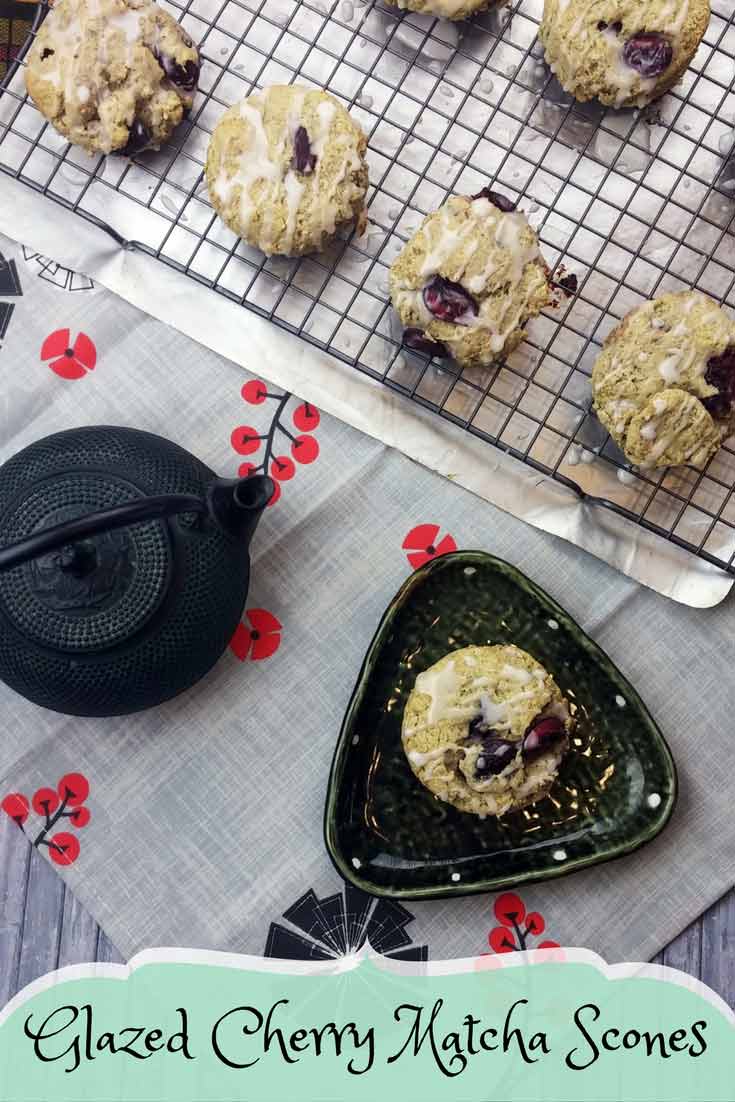 Glazed Cherry Matcha Scones
Wow, these scones were so easy and quick to make. I literally made them this Sunday morning for breakfast and they are also perfect for an afternoon tea. I upped the sugar and matcha quantity a tad from my original recipe. By adding a touch of matcha I created a fusion scone which mixes the traditional English baked good with lovely Japanese notes.
And if my tweaks were not already perfect, I just had to toss in a few summer cherries into these Glazed Cherry Matcha Scones. I am finding myself sneaking a scone every time I have a little pang of hunger. Hmm maybe not a good idea then to make too many lol.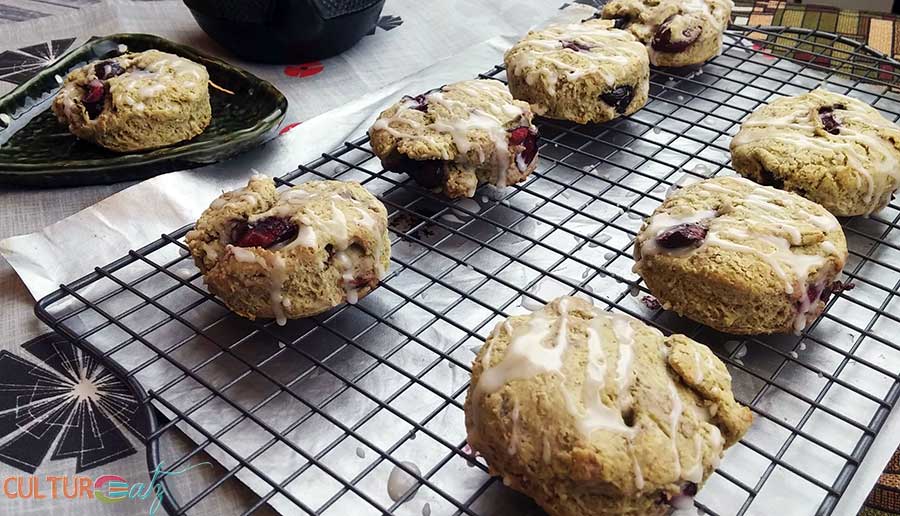 Thank you so much, Tandy from Lavender and Lime, for hosting this year's International Scone Week 2017. I hope my dear reader that you will try my Glazed Cherry Matcha Scones recipe soon. Check out my growing collection of recipes with matcha if you need inspiration.
Feel free to share this post and all the other scones submitted for this event with the hashtag #ISW2017.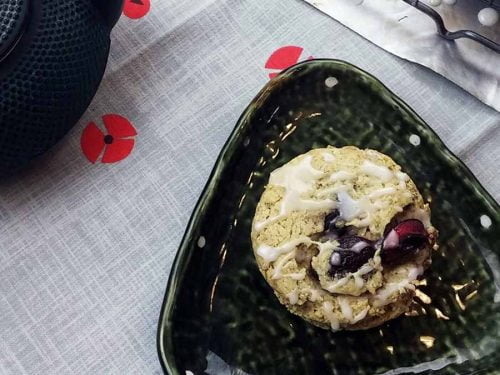 Glazed Cherry Matcha Scones
Ingredients  
9

ounces

/ 255 gr cake flour

1

tablespoon

baking powder

1

tablespoon

granulated sugar

2

teaspoons

Matcha powder

1/4

teaspoon

salt

2.5

ounces

70 gr butter

1/3

cup

pitted cherries

quartered

1/2

cup

+ 2 tablespoons milk

1

large egg yolk

1/2

cup

powdered sugar

1

tablespoon

milk
Instructions 
Sift together the flour, baking powder, sugar, Matcha powder and salt.

Cut the butter into small pieces and mix into the flour with your hands until you get a coarse crumbly texture. Gently stir in the cherries.

Beat the milk and egg yolk, and mix it into the flour mixture until just combined.

Knead very lightly until the dough just comes together. Pat the dough down with your hands to 1.5 inch thickness. Using a 2.5 inch cookie cutter, cut into 8 circles.

Bake in a preheated oven at 400°F for 12- 15 minutes or until a toothpick comes out clean. Cool for 10 minutes on a rack.

Whisk the powdered sugar and milk until homogeneous. Use a spoon or a pipping bag to glaze the scones as desired.
Check out more Japanese recipes here: