An instant Ramen soup mix transforms itself into a noodle bun to make a perfectly modern Japanese Ramen Burger with Teriyaki Sauce!
Ramen burgers are all the rage right now, and for good reason! They are delicious, easy to make, and perfect for satisfying any hunger craving. This Ramen burger recipe takes things up a notch by adding a honey teriyaki sauce to the bun, which brings out the flavor of the ramen noodles.
So if you're looking for an irresistible burger that will have everyone asking for seconds, get your aprons on, and let's start cooking!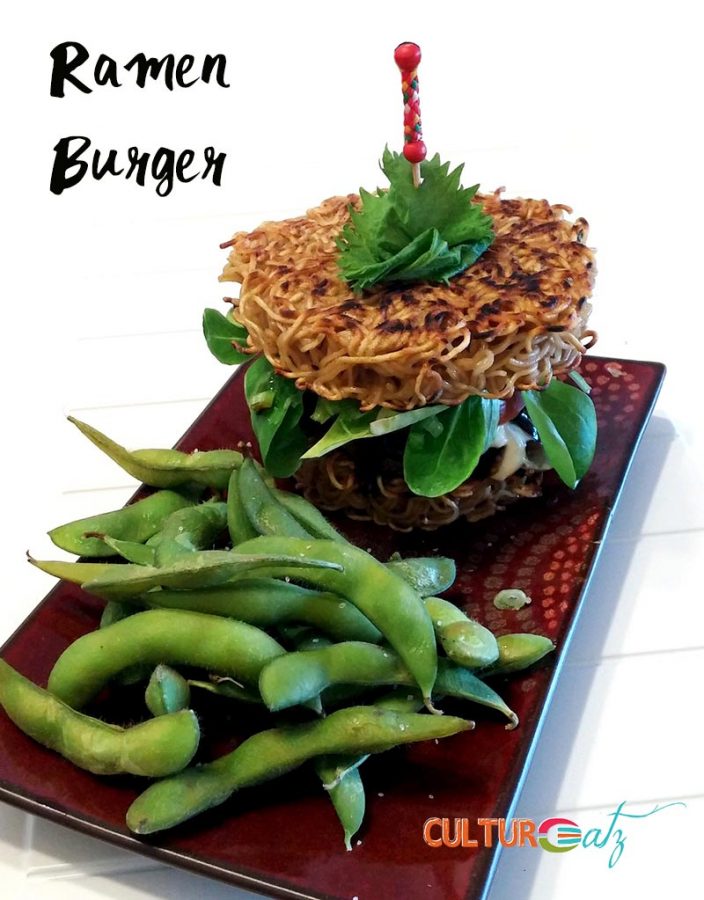 Inspired by the film Tampopo
If you're a fan of Japanese cuisine, you'll love the film Tampopo. It's all about the art of cooking ramen but in a crazy humoristic way. In fact, it has been dubbed the first spaghetti "ramen western", if such a thing is possible.
The movie is also a lot of fun, so you can enjoy yourself while learning some new tricks in the kitchen. I saw this movie during my very first annual Food Film Marathon some years ago, and it was a hit with all attendees.
The story centers around Nobuko, who is trying to keep open her late husband's Ramen shop but without great success as her Ramen is simply not very good. This general opinion is confirmed by two à la John Wayne truckers who stop by the shop. Goro and Gun decide to take Nobuko under their wing and teach her to make a perfect Ramen bowl.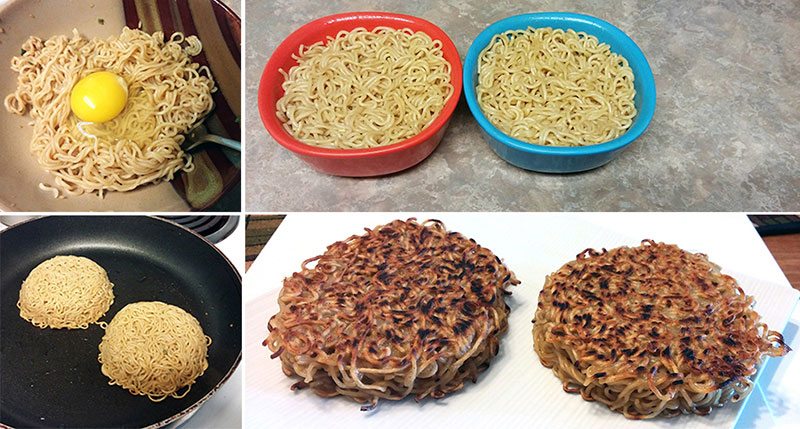 Hence begin a series of adventures with a growing group of helpers in pursuit of the perfect Ramen soup and it is met with many obstacles. Does Nobuko finally achieve the holy grail bowl of Ramen? Watch the movie to find out!
Not Your Normal Japanese Ramen Recipe
It's a great film to get familiar with many Japanese food recipes, And as I am sure you have deduced, Ramen is the main star.
Making a ramen broth from scratch is definitely on my to-do list but for this post, I wanted to try something different. Ramens burger is one of the many fusion Asian recipes that are so popular. I have tasted a couple myself when out in restaurants.
Making my own ramen burger sounded like a fun and easy enough challenge. And boy, am I ever happy I did.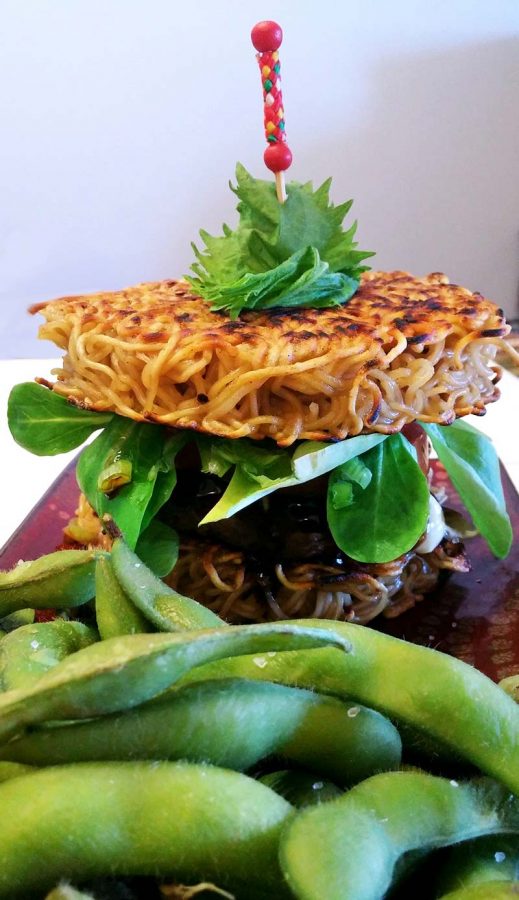 Where does the Ramen Burger actually come from?
Keizo Shimamoto is the man who is responsible for the world-famous ramen burger, which he created in 2013 in Brooklyn, NY. Just like General Tso, the ramen burger recipe is a cultural twist invented in America.
Instead of regular hamburger buns, ramen noodles are briefly cooked, mixed in with eggs, the included soup mix, and a few other ingredients, then pressed into bowls resembling the shape of a bun.
And no need to get fancy ramen, those Japanese instant ramen ones from your grocery store will do perfectly. One small package is enough for one burger.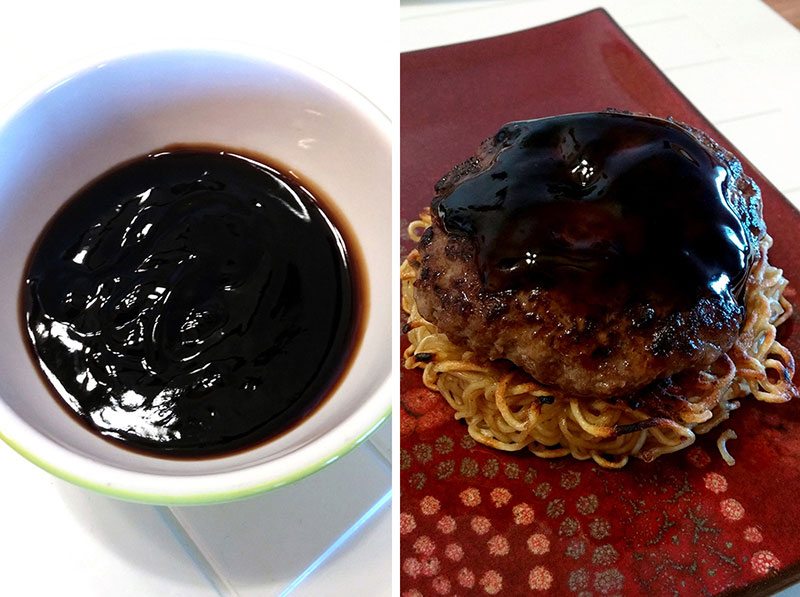 Watch You Got Between Your Buns?
What to put in your ramen burger is really up to you, but I highly recommend pairing it with Japanese condiments. For my burger, the honey teriyaki sauce sounded like a perfect fit.
The teriyaki sauce is really simple to make and you will enjoy its warm jelly texture and super shiny look. Make your honey teriyaki sauce first and separate it into a small bowl and a bigger one to season your meat. Mix with the ground meat, divide into how many patties your need, and cook them as usual.
Use the rest of the sauce as your main condiment when you build your ramen burger.  Other nice additions are Japanese mayonnaise, tomato slices, lamb's lettuce, and chopped green onions. Serve with a side of edamame.
You will need a fork and knife to eat this burger but the taste is two chopsticks up!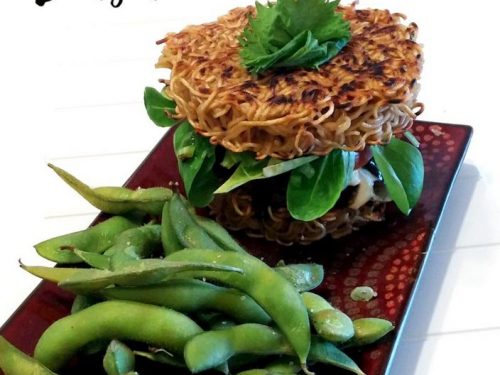 Ramen Burger with Honey Teriyaki Sauce
An instant Ramen soup mix transforms itself into a noodle bun to make a perfectly modern Japanese Ramen Burger with Honey Teriyaki Sauce!
Ingredients  
4

packet of ramen

4

egg

2

Tbsp

vegetable oil

divided

1/4

cup

soy sauce

1/4

cup

honey

1/4

cup

Mirin

1/2

cup

water

2

Tbsp

cornstarch

1

lb

ground beef

1/2

tsp

salt

pepper, to taste

2

green onions

chopped

1

tomato

sliced

1

cup

lettuce

such as arugulaor mache

2

Tbsp

Japanese mayonnaise

or regular mayonnaise
Instructions 
Cook the ramen according to the package's instructions. Drain, rinse under cold water and drain again. Mix and blend well the ramen with the egg and the spice packet.

Oil the inside of 8 deep, flat-bottom salad bowls and divide the ramen mix. Press the noodles into the bottoms of the dishes with the bottom of a glass and refrigerate for about 30 minutes.

Heat 1 Tbsp of oil in a non-stick skillet on medium-high heat, and flip the buns into the skillet and remove the bowl. Cook for 3 to 5 minutes until golden brown on one side, flip, and cook about 3 to 5 minutes more till golden.

Mix the soy sauce, honey, Mirin and water in a sauce pan. Measure out cornstarch in a bowl and mix with a bit of the liquid mix to prevent clumping. Add back to the sauce mix. Cook at medium heat until it boils, and keep a boil going for about 1 minute. Cool for a bit.

Mix ground beef, half the teriyaki sauce, salt and pepper. Divide into 4 and make large patties. Heat a skillet at medium-high heat and add 1 Tbsp of oil. Cook the beef for 3-5 minutes on each side.
Build your burger
Place a patty on a ramen bun. Spoon some teriyaki sauce and mayonnaise. As you desire, place a slice of tomato, some lettuce, and chopped green onions. Top with another ramen bun. Enjoy!