The Styrian potato field salad, or Erdäpfel Vogerlsalat, is the ultimate Austrian salad. The tangy potatoes are topped with field salad, speck and a heavenly dose of Styrian pumpkin seed oil.
I have waited one long full year to post this recipe. I tasted this salad last year during my trip to Austria and totally fell head over heals with the taste. Why did I not post it sooner? Because I wanted to grow one of the main ingredients myself. Read on to find out what came out of my garden and to find out all the wonderful special flavors found in this delicious Potato Field Salad … called Erdäpfel Vogerlsalat in Austria.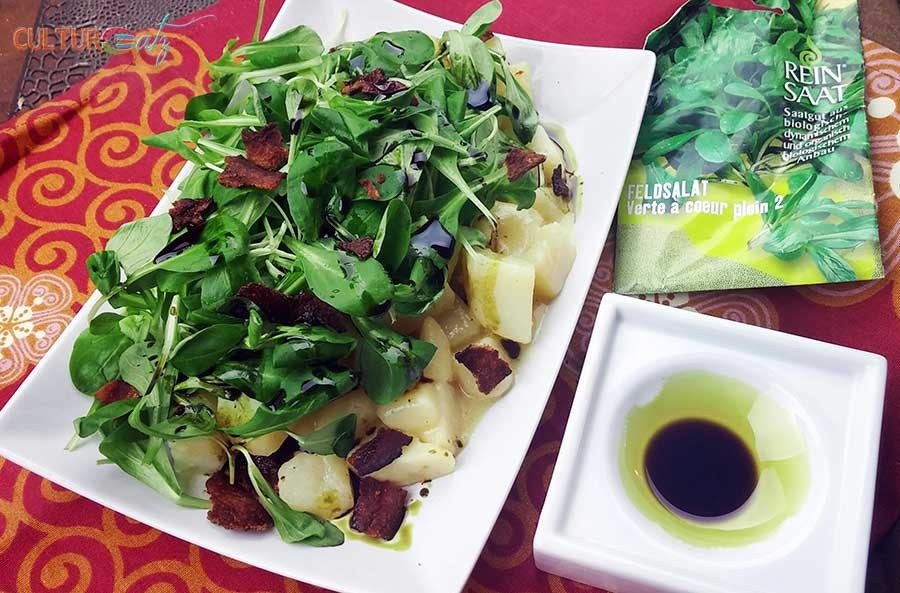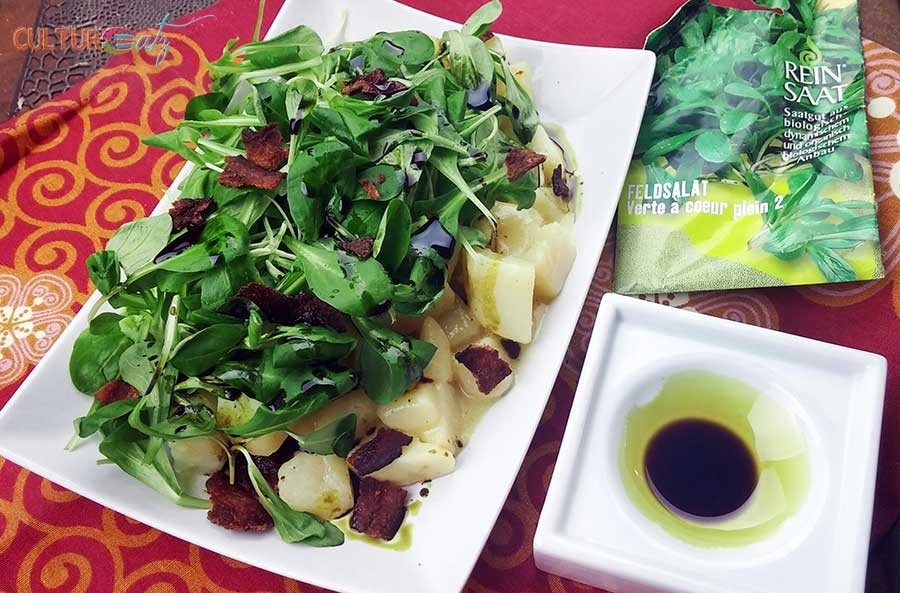 My Austrian 'DUH' moment
Oh how I wish I was in Austria again this summer. I have so many fond memories of that trip. And I ate so well. Since my trips I have posted several Austrian recipes in the last year but I had to wait 1 year for this one. About 1 year ago my cousins picked me up in Vienna and we stopped for lung in a Gasthaus for lunch on our way to their place in Styria. One of my cousins got excited because he saw the Styrian Potato Field Salad on the menu. Too curious I had to order one myself. I could not get enough of it. Not only do I love that kind of potato salad, I devoured this odd green lettuce, and discovered pumpkin seed oil. I will tell you more about each part of the salad below.
But I was fascinated by this Vogerlsalat and my cousin offered to go to a garden store and buy a packet of seeds for me on our way to their place. He said this salad hates the heat so it was to late to plant it so far into the summer and I had to wait till the following spring. When I got back home I did google the word on the seed packet and that is when I realized I totally knew what Vogerlsalat was: field salad, or in Quebec we know it s mâche. A real 'DUH' moment!
Deconstructing the Styrian Potato Field Salad
Now I don't want to create a stir with my next comment, but I might. As much as I like a mayonnaise-based potato salad, it does not hold a candle to an Austrian potato salad. The main difference is the warm vinegar and Dijon based dressing. And the potatoes! Stay away from high starched spuds for this one, like the Russet potato. You need a potato that will hold it's shape. Try the white, yellow, or red skinned potatoes. Once the potatoes are just tender you let them bathed in the dressing for at least 30 minutes. The potatoes suck in a bit of the dressing and the dressing thickens a little bit from the starch. YUM-MY.
Next up for this particular recipe is the field salad or Vogerlsalat. Have you heard of it?  It also goes by the name of corn salad, lamb's lettuce, mâche and nut lettuce. I planted my seeds in late spring in a small box on my balcony and I was finally able to harvest the salad for my recipe. I used this website on how to grow field salad.
The bacon or speck is optional but gives a lot of flavors. Speck is a ham, cut to look like bacon, salt-cured and smoked. No need to cook it.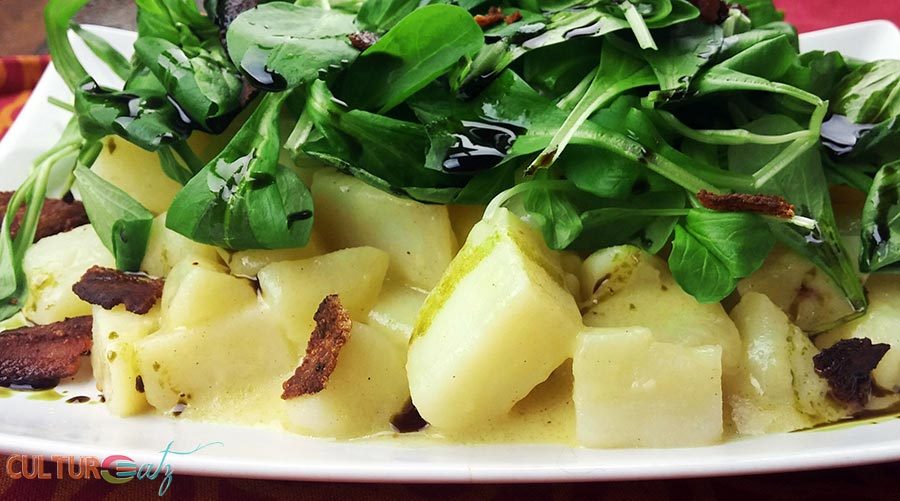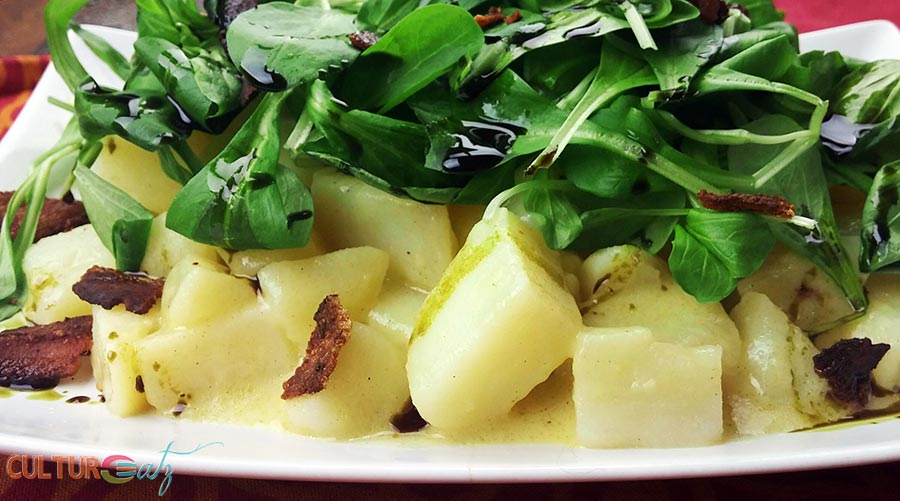 Styrian Gold: Kürbiskernöl
And the crowning jewel nicknamed Styrian Gold: the Styrian pumpkin seed oil, or Kürbiskernöl. This amazing lustrous dark green oil actually tastes like pumpkin seeds. This nutty and smooth oil must be made from pumpkins seed from the Styrian pumpkin that grew in Styria which is in the south of Austria. And to be truly certified it must have a PGI seal (Protected Geographical Indication – think Champagne, Porto or Stilton cheese). It just so happens that some cousins live there and got me a bottle. You can find it imported now in specialty stores or online.
By the way, you know what is another Gold moment here? The Styrian Alps which is part of the Alps mountain range. Great place for winter sport like skiing. But the best places to ski in Austria are nearby, a mere 3 hours toward Salzburg.
Kürbiskernöl TIPS
Store the oil out of direct sunlight, that is why it is in a dark bottle.
If you are serving the salad outdoors, do not leave it in the sun or it will go bitter.
If you get a stain – and you will – on clothes or your tablecloth, do not wash it. Just place the item in the sun for a few hours and the stain will disappear. You can then launder the item as usual.
Yields 6 servings
Styrian Potato Field Salad | Erdäpfel Vogerlsalat
The Styrian potato field salad, or Erdäpfel Vogerlsalat, is the ultimate Austrian salad. The tangy potatoes are topped with field salad, speck and a heavenly dose of Styrian pumpkin seed oil.
Ingredients
2 pds/900 gr waxy potatoes
1/3 cup apple cider vinegar
1/4 cup olive oil
2 tablespoons Dijon mustard
1/2 cup vegetable or chicken stock
2 teaspoons sugar
salt and pepper to taste
5 ounces/150 gr bacon or speck (optional)
3.5 ounces/100 gr field salad
1 very liberal shot of Styrian pumpkin seed oil (Kürbiskernöl)
Instructions
Peel and dice the potatoes in 3/4 inch cubes. Place in a pan and cover with cold water and a dash of salt. Bring to a boil, lower heat, and simmer until the potatoes are just tender but still hold their shape. Strain.
In the mean time, mix the vinegar, oil, mustard, stock, sugar, salt and pepper well in a big bowl. Put the cooked potatoes in the bowl and stir gently but evenly. Set aside to rest for at least 30 minutes.
Fry the bacon if using and chop into pieces once cooked (if using speck just cut it up no need to cooked it).
Pour the potatoes and liquid into a serving dish, top with the field salad and sprinkle with the bacon. Drizzle the salad with the pumpkin seed oil before serving.
7.8.1.2
473
https://cultureatz.com/potato-field-salad-vogerlsalat/
Explore more Austrian recipe…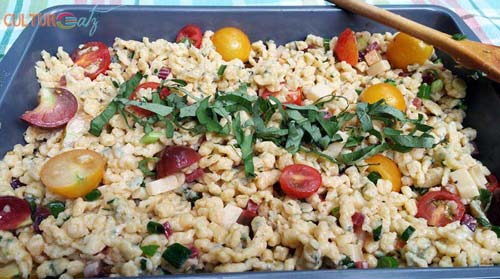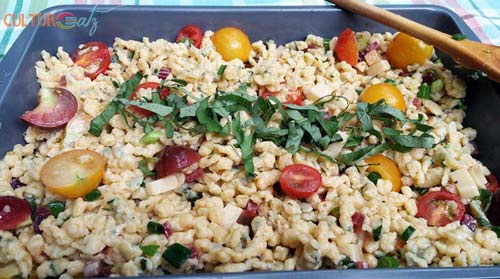 Punschtorte, a Punch flavored Cake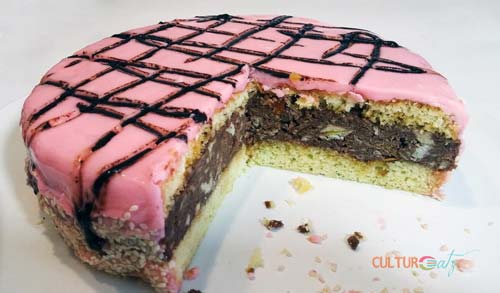 Tirolerknödel with Foie Gras Sausages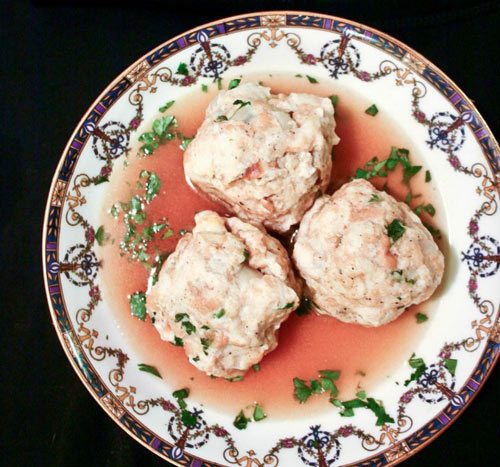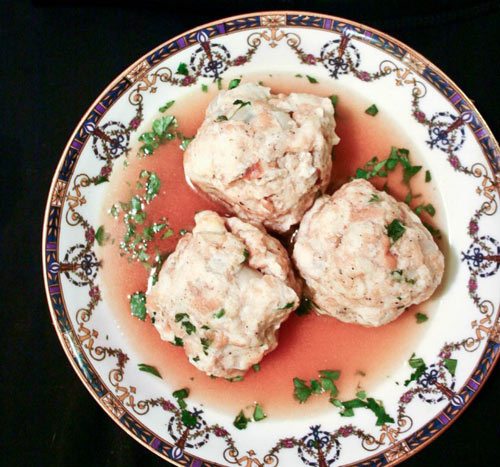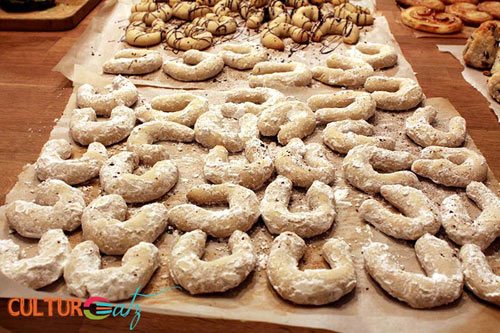 Leberknödel, Austrian Liver Dumplings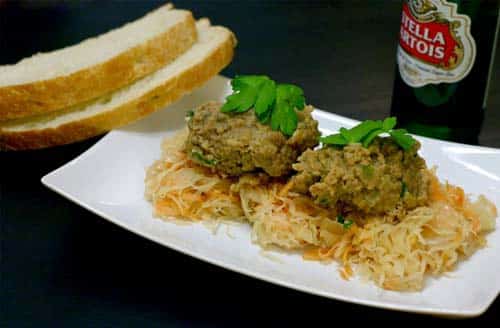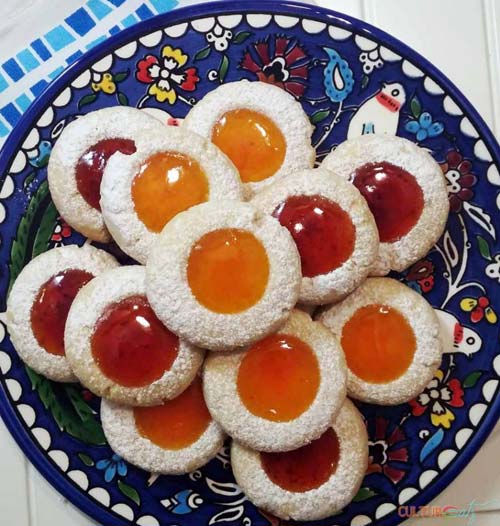 PIN IT FOR LATER https://www.pinterest.com/pin/266275396701943689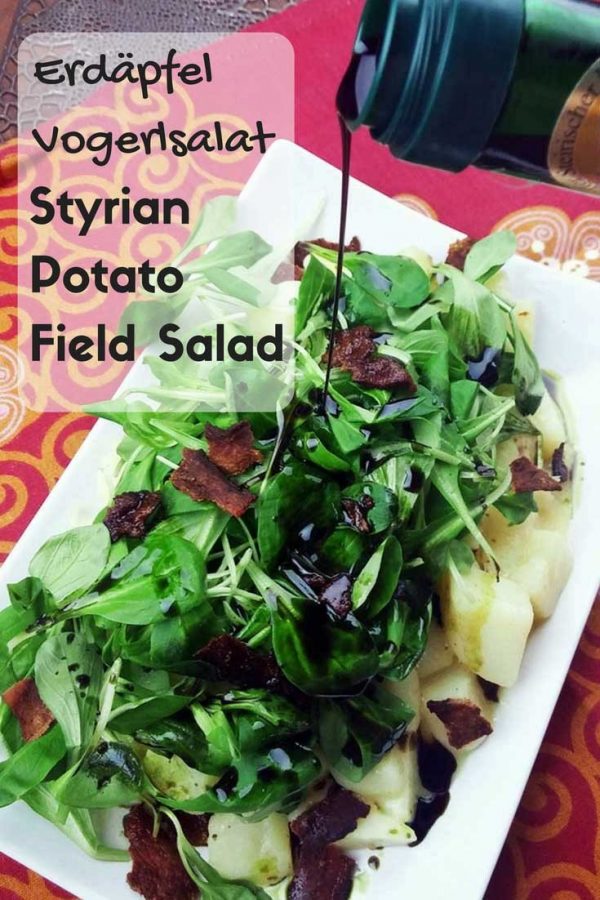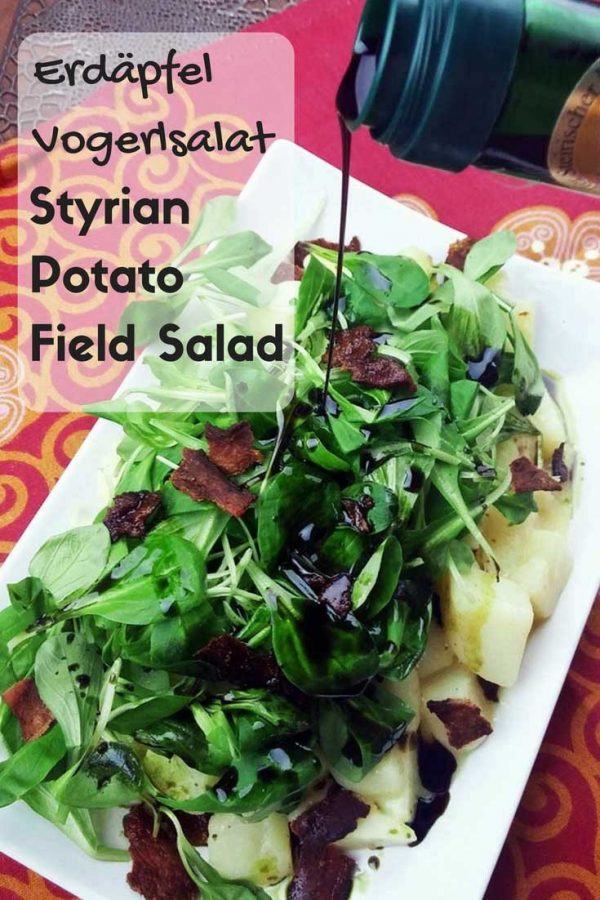 Did you make one of my recipes? I would love to see it. Take a photo and tag me on Instagram @cultureatz.
EDITOR'S NOTE: This post may contain affiliate links (disclosure policy). Please support CulturEatz by clicking on the links and purchasing through them so I can keep the kitchen well stocked. It does not alter the price you pay.