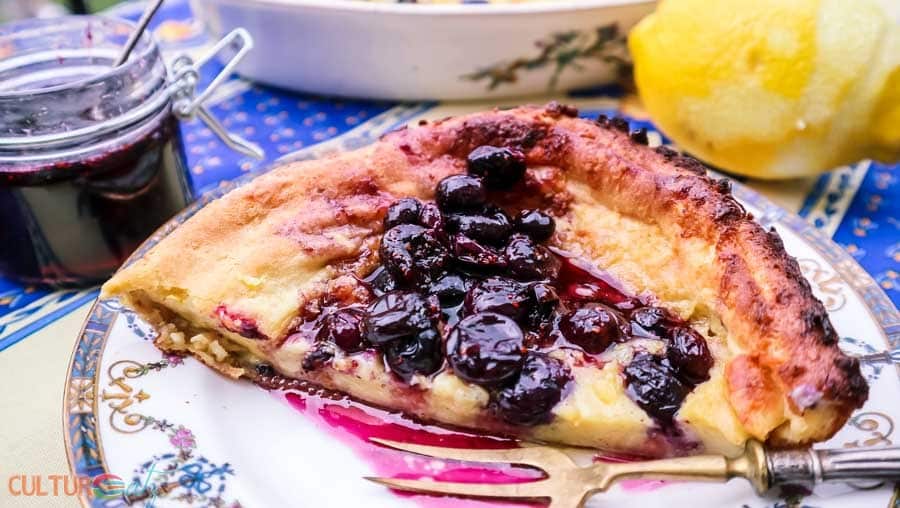 Is there such a thing as oven baked pancakes? The Finnish pancakes, Pannukakku, will make you a convert, plus they are quick and easy to prep! They pair beautifully with blueberries.
Have you ever tasted oven baked pancakes? It's a whole new world of yum! These Pannukakku Finnish pancakes may remind you of Dutch baby pancakes but they have their own twist. This Finnish pancake recipe is really an easy homemade pancakes breakfast to make and they are simpler to cook than on a griddle.
Traditionally the Pannukakku recipe is topped with fruit after it has been baked. But for my baked pancake recipe, I was inspired to add a few blueberries on top of the batter just before cooking them in the oven. A wise decision, as is the blueberry sauce for pancakes on the side.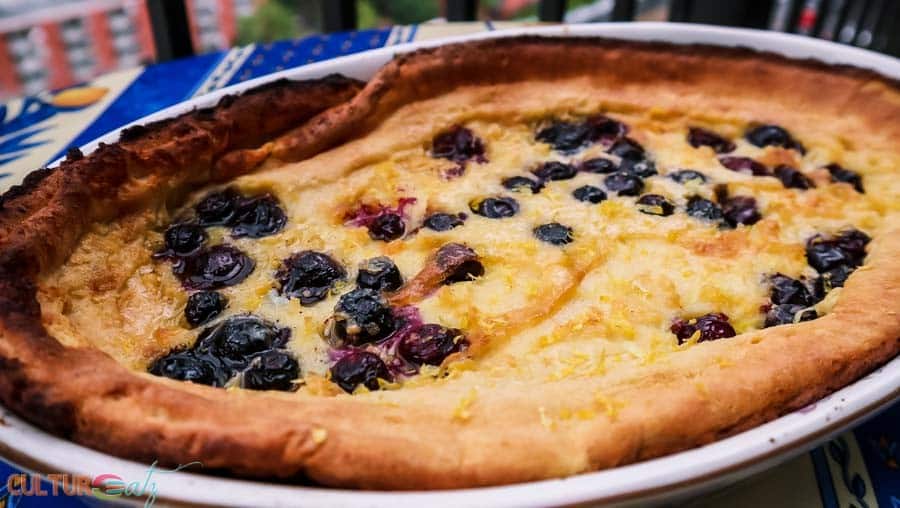 Finnish food and Finnish recipes
Finnish cuisine is a mix of hardy country fare and fine cuisine. Not everyone can pull that off! The cornerstone ingredients of Finnish dishes are meat, fish, mushrooms, barley, oats, exotic berries, and dairy.
The meats are usually pork, beef, duck or game like reindeer. Hunting and fishing are big here. There is a lot of water to catch fresh fish in. And the woods are perfect for mushroom and berry picking.
Porridges, heavy wholemeal bread, cabbage rolls, and stews are popular in colder months. In the summer berries are added to meat and to lots of dessert recipes. Dill and chives are popular too in the warmer months, perfect for making gravlax.
Want to make a Finn mad? Take away his coffee, salty black licorice, and strong local spirits. Then run away very fast!
I have a FREE PRINTABLE for you
Surprise! I have prepared a Cheat Sheet that includes 41 Cooking and Baking Ingredient Substitutions that are commonly found in a kitchen. Click here to get your FREE Ingredient Substitutions Cheat Sheet right now!

Pannukakku, the Finnish pancake
The Finnish Pannukakku is unlike any other homemade pancake recipe you have ever tried. As the pancake batter recipe cooks in the oven, you will witness a quick rise. This is truly the ultimate fluffy pancake recipe. But just like a souffle, this Finnish breakfast dish will start to deflate once taken out of the oven and take on more of a crater appearance.
By the time you serve these easy homemade pancakes and enjoy your first bite, you may be taken aback by the taste and texture. They do not taste like pancakes so much. Rather, they are almost like a mix of custard, French toast, and crepe…yet thick like a pancake.
The sides are crispy and offer a more eggy flavor. The rest will be soft and tender while eaten warm. My Finnish blueberry pancake recipe is best right out of the oven. I had leftovers and the texture changed dramatically once out of the fridge. Imagine a very dense custard that has been thickened with flour. It's not unpleasant, but right of the oven is best.
You can omit the blueberries from the oven pancake recipe if you wish and top them later with jam, fruits, or maple syrup. I personally really liked this version with blueberries.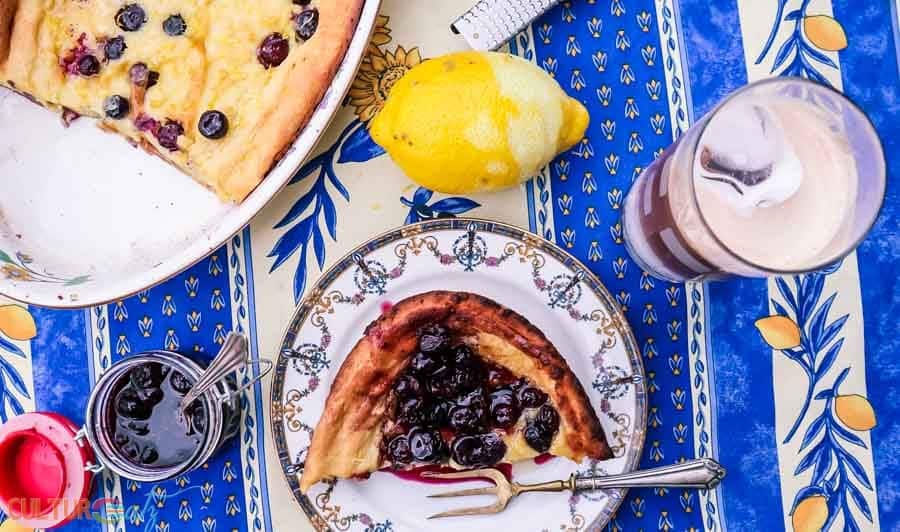 Looking for more exotic pancake recipes? Check these out:
How to prepare pancakes, specifically oven baked pancakes
Now everyone knows how to make pancakes on the griddle or pan, so why would someone want to oven bake their pancakes in the first place? It all about the show and the resulting texture of the ultimate puffy pancake recipe.
The first important step is preheating your oven at a high temperature, with the baking dish in the oven. Once hot enough, the dish is quickly taken out, the butter poured in, followed by the batter. You will see the batter starting to set on the edges right away.
It's time to get the dish back in the oven asap! In no time the cooking batter will puff up like a giant pillow around the edges, which will become brown and crisp. Really, stay near to oven and watch the magic show.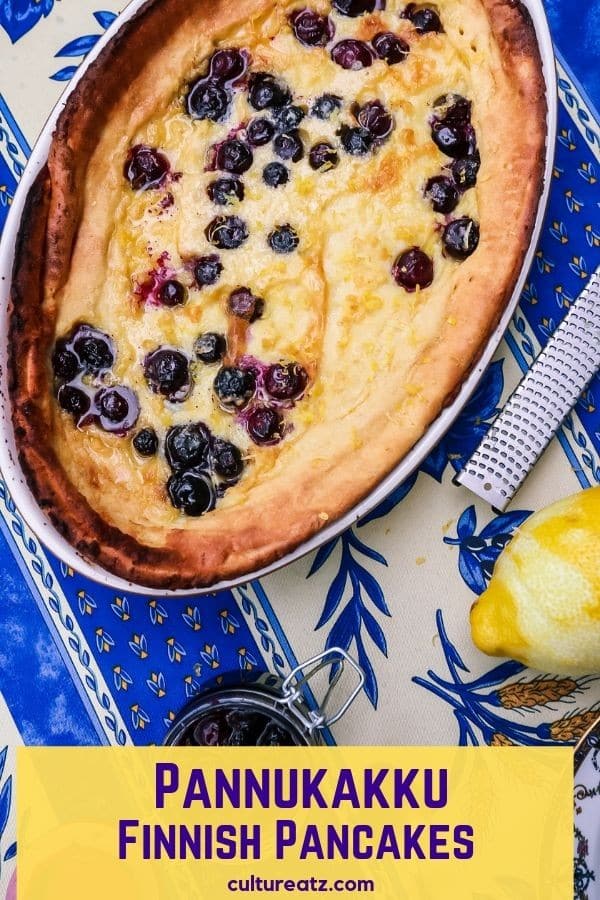 Finnish Pancakes (Pannukakku)
Is there such a thing as oven baked pancakes? The Finnish pancakes, Pannukakku, will make you a convert, plus they are quick and easy to prep! They pair beautifully with blueberries.
Ingredients  
1

cup

full fat milk

4

eggs

1/2

tsp

vanilla extract

1 1/2

tsp

lemon zest

1

cup

all-purpose flour

1/2

teaspoon

baking powder

1/2

tsp

salt

1/4

cup

white sugar

1/4

cup

melted butter

3/4

cup

blueberries

fresh or frozen

1/4

cup

maple syrup

Icing sugar and/or lemon zest for garnish
Instructions 
In a medium bowl, whisk very well the milk, eggs, vanilla, lemon zest, flour, baking powder, salt and sugar. Make sure there are no lumps. Set aside to rest for 30 min.

Melt the butter and set aside. Measure 1/4 cup of blueberries and set aside.

Place a 9 by 13 inch baking dish (or similar size) in your oven and preheat to 425° F.

Add the remaining 1/2 cup of blueberries and maple syrup in a small sauce pan. Heat on low until the blueberries are warm. Mash them a bit with a fork. Set the sauce aside.

Remove the baking dish from the oven and quickly pour in the melted butter. Brush butter up the sides of the dish and pour in the batter. Top with reserved blueberries and return to the oven as fast as you can.

Bake for 20-25 minutes, or until set. If after 15 minutes the pancakes are already browned, cover loosely with tin foil. The pancakes with rise very high and be very puffy.

When taken out of the oven, they will deflate. Top with lemon zest and/or icing sugar if desired. Serve the cut portions on plates and spoon the blueberry sauce on top.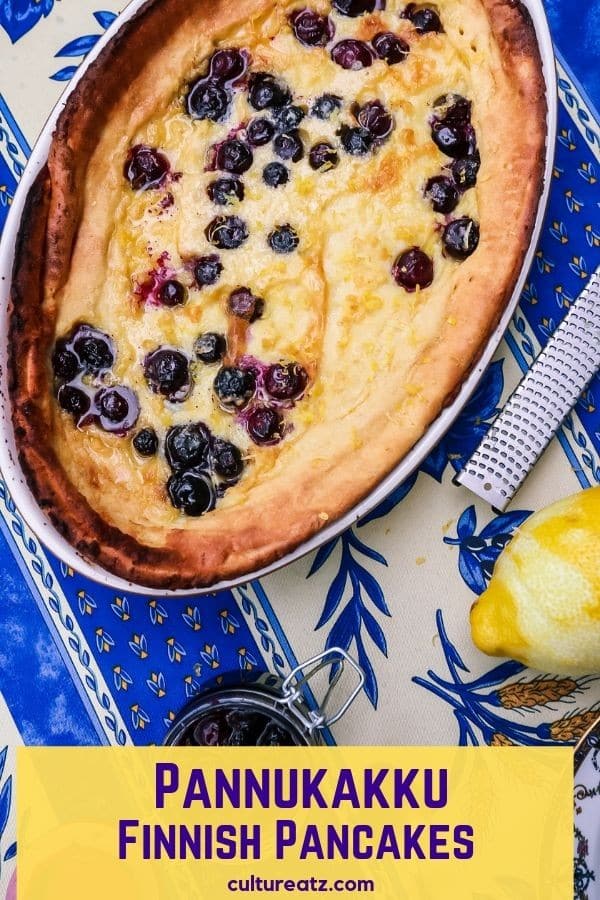 Check out all the wonderful Finnish dishes prepared by fellow Eat the World members and share with #eattheworld. Click here to find out how to join and have fun exploring a country a month in the kitchen with us!
Pandemonium Noshery: Vispipuuro – Whipped Semolina Pudding
Nicoletta & Loreto Sugarlovespices: Mustikkapiirakka (Finnish Blueberry Pie)
Margaret at Kitchen Frau: Lohikeitto (Creamy Salmon, Potato & Dill Soup)
Tara's Multicultural Table: Makaronilaatikko (Finnish Macaroni Casserole)
Culinary Adventures with Camilla: Mustikkapiirakka (Finnish Blueberry Pie)
Amy: Sima (Finnish Lemonade)
Sharanya Sara's Tasty Buds: Voisilmapulla(Finnish Butter Eye Buns)
Evelyne: Pannukakku Finnish Pancakes with Blueberries
Sue: Lattyja Pancakes with Strawberry-Gooseberry Jam
A Day in the Life on the Farm: Lihapullat (Finnish Meatballs)