Štefani pečenka is meatloaf with hard-boiled eggs and beautifully seasoned meat with cooked onions, paprika, coriander, thyme, and oregano.
Have you ever tried Slovak food recipes before? Well, you are in for a treat with this traditional meatloaf recipe, called Štefani pečenka. You will find a hidden surprise inside, a meatloaf with hard-boiled eggs inside, giving it extra flavor and texture.
It's no wonder this esthetically pleasing dish is a very popular dish served during Easter.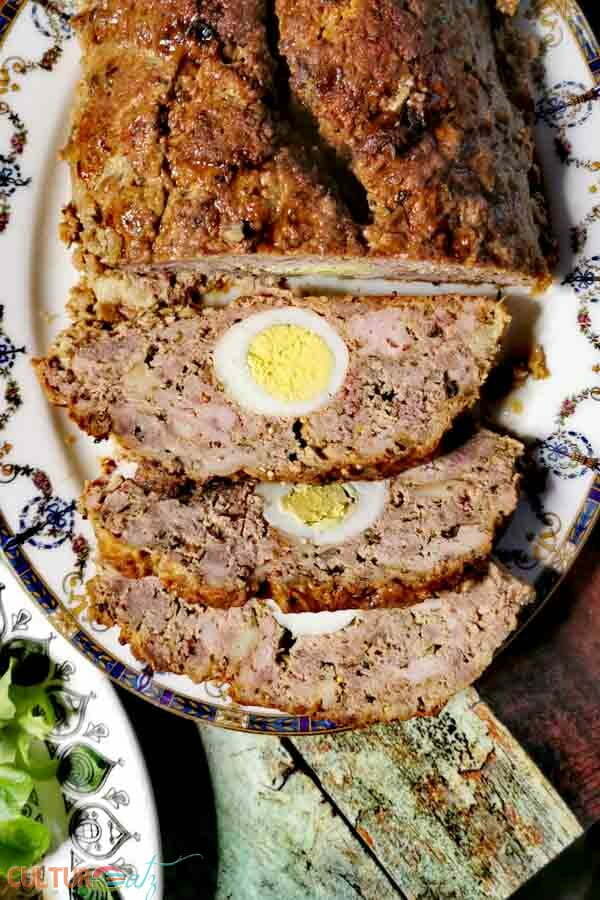 Štefani pečenka: a meatloaf with hard-boiled eggs
Meatloaf is definitely something I would classify as comfort food. It's not the most appetizing dish, but it sure is tasty. The meatloaf recipe has been around for ages and there are many different variations of this classic main dish. Let's explore one of the best ever meatloaf recipes, that comes from Slovakia.
Slovakian food is some of the best in all of Europe, and it's not just me saying that either. The country has been invaded by both Hungarians and Turks over its history which means you're going to find influences from these cultures mixed into their own unique culinary traditions – creating an amazing array of flavors for your taste buds!
It's safe to say that this beef and pork meatloaf is an iconic Slovakian recipe in the land of Slovakia. The flavors are rich and complex in their simplicity, resulting in a tender and juicy bite at each forkful.
Being very much a part of the Slovakian culture,  this 2 lb meatloaf, finished off with a bbq sauce glaze, is taken to the next level with 4 hard-boiled eggs hidden inside. It's no wonder that this meatloaf adorns many tables for Easter meals.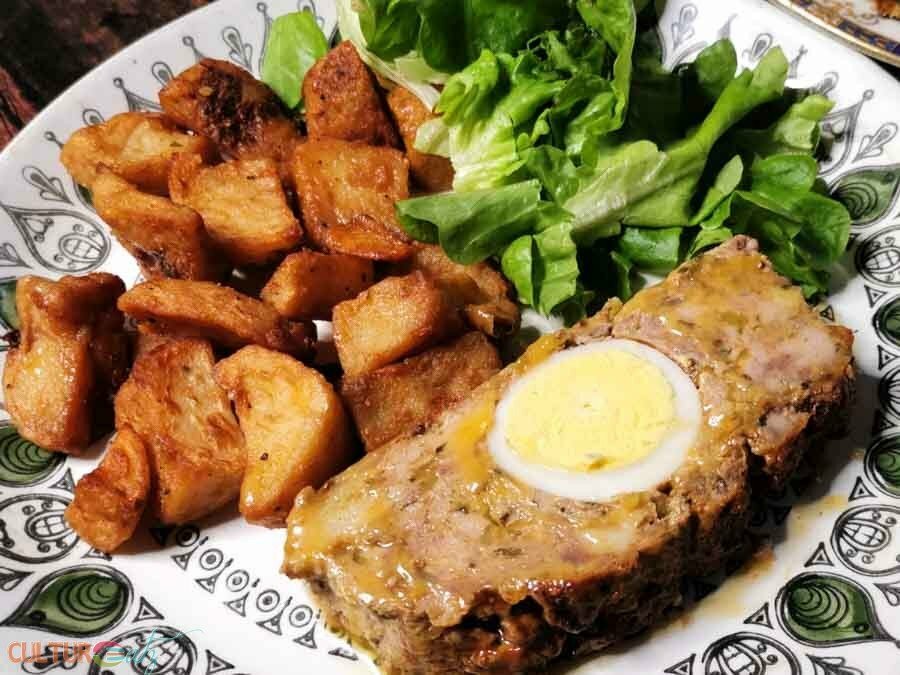 Dedicated to Ukraine and the countries that welcomed so many refugees
I wanted this month of Eat the World to be dedicated to the war and the atrocities being committed in Ukraine. I won't go into details or my personal views. But I stand with Ukraine. Although I am not so close to these roots of mine, on my father's father's side there is Belarussian, Russian, and Ukrainian heritage. It's been an internal struggle as well.
Surprisingly, the blogger group already has done Ukraine, as well as many of the top countries to take in Ukrainian as refugees. At the time when this month's challenge was announced, Slovakia was the 3rd country to take in the most amount of refugees. At the time, Poland and Hungary were the biggest and we had them too. But this post is dedicated to all the countries that have taken in Ukrainians fleeing their homeland in order to survive.
Please take the time to visit my recipe from some of these countries. Getting to know a people is done very much through the recipes and culture: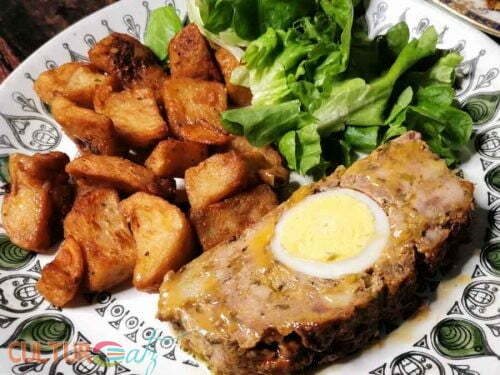 Slovakian Meatloaf With Hard-Boiled Eggs
Štefani pečenka is meatloaf with hard-boiled eggs and beautifully seasoned meat with cooked onions, paprika, coriander, thyme, and oregano.
Ingredients  
Meatloaf
120

g

stale bread

4.2 oz

120

g

milk, heated

1/2 cup

60

g

heavy cream, heated

1/4 cup

1

onion

2

cloves

of garlic

1

handful parsley

2

tbsp

olive oil

1

tbsp

ground paprika

1

tsp

oregano

1

tsp

thyme

1/2

tsp

coriander

450

g

ground beef

1 lb

450

g

ground pork

1 lb

1

egg yolk and 1 egg

1

tbsp

dijon mustard

1

tsp

Worcestershire sauce

4

hard-boiled eggs, peeled
Glaze
1

tbsp

bbq sauce

1

tbsp

Oyster sauce
Instructions 
Preheat your oven to 170°C / 340°F.

Slice the stale bread in small cubes. Place in a large bowl, pour the hot milk and hot heavy cream over the bread, and and stir: set aside for a few minutes.

Dice the onion, garlic, and parsley. Place a skillet over medium-high heat. Add olive oil and diced onion. Cook until the onion softens, then add diced garlic, chopped parsley, ground paprika powder, oregano, thyme, and coriander. Stir to combine and cook for about 2 minutes.

Transfer the mixture to the stale bread mixture in a bowl and stir well to get a smooth, paste-like texture.

Add ground beef and pork to the large bowl, and season with salt and pepper. Stir well to combine, then add egg yolk, egg, dijon mustard, and Worcestershire sauce. Mix the meat mixture well with your hands

In a large baking dish, shape into a loaf. Make a hole lengthways in the center to create space for hard-boiled eggs. Arrange hard-boiled eggs tightly in a row. Cover well and smooth over the meat on top.

Pour 120 ml (1/2 cup) beef stock to the baking dish with the meatloaf and cover it with 2 sheets of aluminum foil. Put in the oven on the middle rack and roast for 45 minutes. Remove the aluminum foil and continue to roast for 30 - 35 minutes.

In the mean time, stir to combine bbq sauce and oyster sauce in a small bowl. Glaze the meatloaf with the mixture. Place back in the oven and roast for another 10 - 15 minutes at 210 °C / 410 °F.

Serve warm and spoon on a bit of the juice.