Looking for a new Indian dish to make at home? Try this Kadhi Chawal recipe, a very popular yogurt curry in India, served with rice and chickpea fritters.
It's Food 'n Flix time again! In this monthly group a host picks a movie of their choice that pertains to food. Everyone watches the movie and then makes a recipe which the film inspired. It can be any recipe you want. This month's pick is hosted by Camilla of Culinary Adventures with Camilla, who suggested a really awesome foreign film from India called The Lunchbox! Indian cooking is not new to me but I found a jewel of a recipe that I have never tasted before, called Kadhi Chawal, or Yogurt Curry with Rice.
The Lunchbox is a beautiful 2013 Indian romantic film full of melancholy. The first main character is Saajan, a lonely widower who is about to retire. Our second main character is Ila, a lonely young wife seeking her husband's attention. She prepares a lunchbox everyday to be delivered to her husband via a dabbawala delivery service. One day her lunchbox gets accidentally delivered to Saajan instead. Soon her lunches reach Saajan every day on purpose and they start corresponding with a written message placed in the lunchbox. A strange but touching friendship develops and they share emotional and personal stories. They attempt to meet but Saajan backs out when he sees the beautiful young woman from afar. This leads to hurt feelings and life altering decisions on both sides. Do they ever actually meet in person in the end? Watch the movie to find out!

Dabbawalas are the carrier men that collect and deliver hot lunchboxes from homes or meal suppliers to workers at their offices. Delivery is made usually on foot, by bicycle, by carts, or by local train. The metal containers, called tiffin boxes, are then returned in the afternoon at the workers' homes. It is estimated that up to 350,000 lunches are delivered each day in Mumbai alone by 5,000 dabbawalas. Errors in deliveries are extremely rare.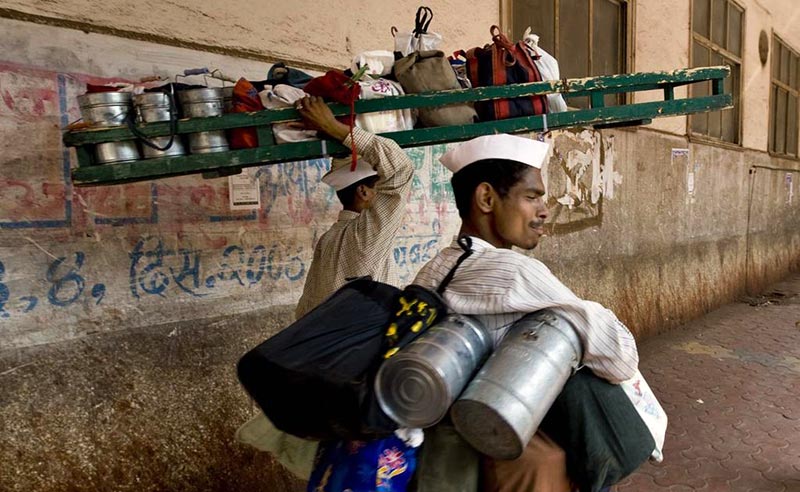 I saw this movie twice already, once at my annual Food Film Marathon, so I did not watch it again. The film is filled with gorgeous shots of Indian dishes but they do not mention them a whole lot (or my memory fails). Online I did find a mention of a dish called Kadhi. Further research brought me to this recipe from Indian Food Forever which I did adapt.

This was a totally new Indian dish to me. Kadhi Chawal is a spiced yogurt based curry served with rice and chickpea flour fritters called pakodas (I recently made cauliflower pakodas too). Apparently it is very popular in India and there are many variation, but I have never come across it in North American restaurants. I cut the hot spices almost by a third and it was still quite hot, but perfect for me. I really enjoyed it and can see myself making some again. I wonder how many Kadhi Chawal will be delivered tomorrow?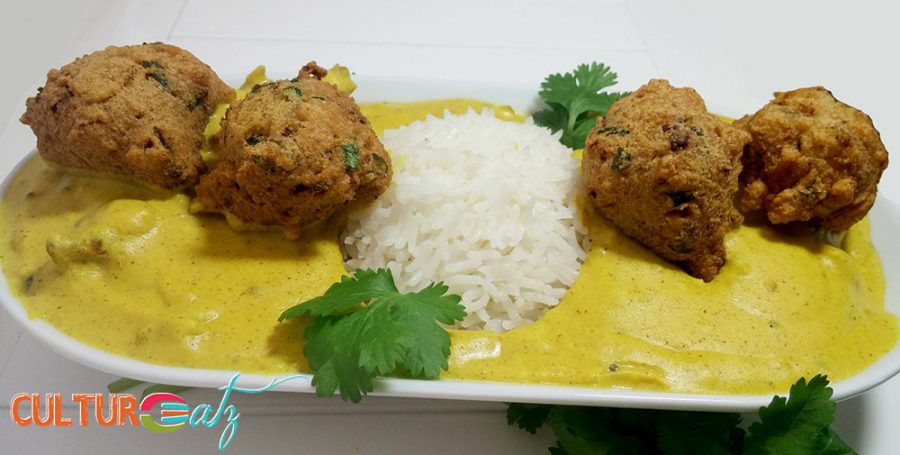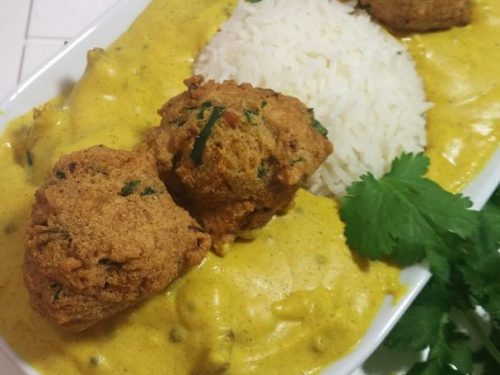 Kadhi Chawal (Yogurt Curry with Rice)
Ingredients  
For Pakodas
2/3

cup

chickpea flour

1/2

tsp

chili powder

Salt to taste

1/2

tsp

baking soda

1

onion

finely chopped

1

tsp

green chili paste

2

tbsp

coriander leaves

finely chopped

Oil for deep frying
For Rice
1/2

cup

rice

1 1/2

cups

of water

Pinch

of salt
For Kadhi Curry
1 1/4

cup

thick yogurt

Greek or Skyr

3

tbsp

chickpea flour

2/3

cup

water

1/2

tsp

chili powder

1/2

tsp

turmeric powder

Salt to taste

1

tsp

oil

1/2

tsp

mustard seeds

1/2

tsp

coriander seeds

Pinch

of asafetida

1/4

tsp

fenugreek powder

1/4

tsp

cumin powder

1

tsp

ginger paste

1

tsp

garlic paste

1/2

tsp

finely chopped green chili
Instructions 
For Pakodas
In a mixing bowl add and mix chickpea flour, chili powder, salt, baking soda, onions, green chili paste and coriander. Add water a bit at a time until you get a very thick batter.

Heat 1 inch of oil in a saucepan to 375F and drop in a tablespoonful at a time of the batter in small batches. Turn them occasionally and keep frying until golden brown. Drain on a paper towels.
For Rice
On high heat bring water, rice and salt to a boil in a saucepan. Lower heat and simmer for 15 minutes or till the rice in completely cooked. Drain any excess water. Put rice in a bowl and set aside till serving time.
For Kadhi Curry
In a mixing bowl, whisk chickpea flour and water until smooth. Add yogurt a 1/4 cup at a time and mix until homogenous. Add red chili powder, turmeric and salt.

Heat oil in a saucepan on med-high and add mustard seeds, coriander seeds, asafetida, fenugreek and cumin. When spices get fragrant mix in green chili, ginger and garlic paste. Mix in yogurt mixture, stirring constantly, until it starts to boil. Lower heat and simmer for 10-15 minutes on low until curry thickens.

Turn rice bowl over on a plate, place half the pakodas around, cover with curry sauce, top with remaining pakodas and garnish with coriander leaves.