Aromatically spiced bouquets of cauliflowers are drenched in batter and lightly fried. The result is a classic Indian snack called Gobi Pakora.
Can you remember the first time you ate Indian food? I do: I was probably 16 and my friend, Helen 23, had suggested it. This lunch was probably the first defining exotic meal I had, one of the first bricks of a path I built that lead me down this blog adventure. So thank you Helen! Playing it safe, I ordered the Chicken Tandoori. But I fell in love. I am not sure what else I had that time but the following Indian meals often included today's recipe, a staple snack or vegetable side dish, Cauliflower fritters known as Gobi Pakora.
Gobi Pakora recipe
This recipe is brought to you by the Daring Kitchen with Vimala, from Cooking Club 17, as our host for the November daring cooks challenge. She invited us to try our hands at some Indian snacks and treats, specifically Pakoras, a fried snack or fritter, originally from India but it is found across South Asia. Vimala got this Gobi Pakora recipe from her mother which she got from her mother.
Please note you can use any vegetable or meat to make these pakoras. Pakoras are a cornerstone dish of Indian cuisine found in most menus, banquets, or even as a dish on the Maharaja Express Train, what a luxury train trip that would be with fine Indian foods on board. Have you ever dreamed of going to India?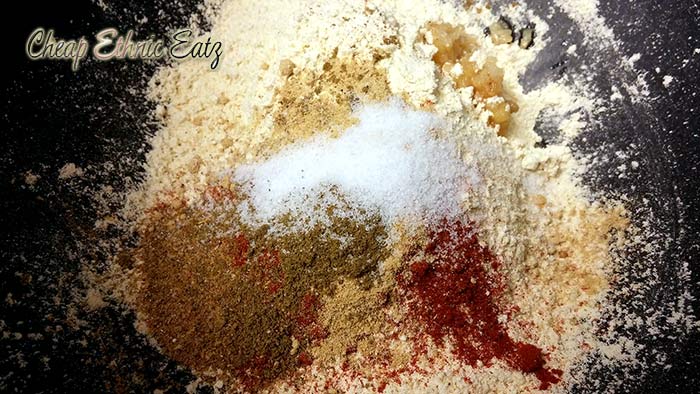 Diwali
The Indian theme this month coincides perfectly with Diwali, one of the largest and brightest festivals in India. The festival signifies the victory of light over darkness, knowledge over ignorance, good over evil, and hope over despair. Five days of preparations and rituals leading up to the main night of Diwali. It coincides with the darkest, new moon night of the Hindu Lunisolar month Kartika. This year is November 10th. Happy Diwali to all!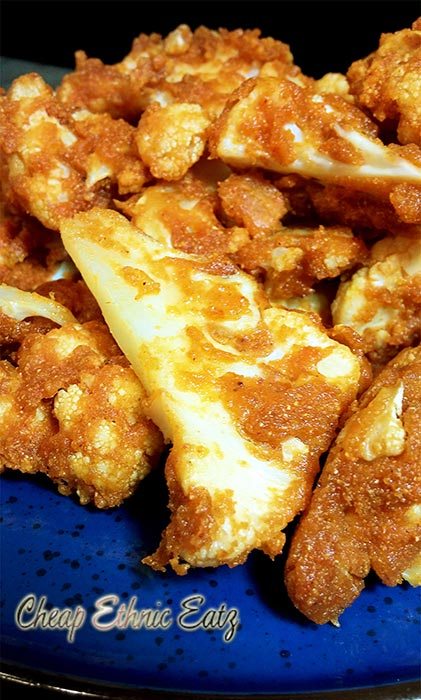 I could probably have added a bit more water to my batter but the instructions installed fear in me and I did not want to end up with a watery mix. Oh well more water next time. My pakoras are not evenly wrapped in a golden dough but honestly that certainly did not affect the taste or delicate texture of these beautifully fried Gobi Pakora. Loved the explosion of spices and heat. And they would probably be great served with a dollop of Green Chutney.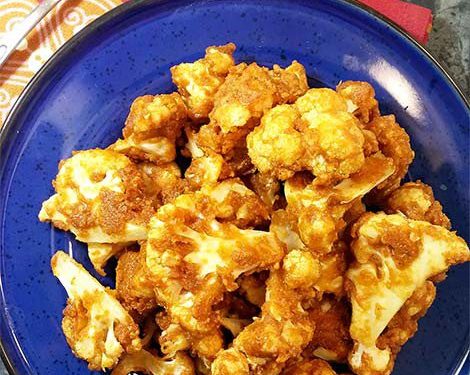 Gobi Pakora (Cauliflower)
Ingredients  
1

cup

/ 11oz / 320g cauliflower florets

clean and cut into thin long strips

a pinch salt

a pinch turmeric powder

1/2

cup

/ 1 1/2oz / 43g gram

chickpea/garbanzo/besan flour OR powdered yellow cornmeal

2

Tbsp

/ 1/2oz / 16g cornstarch

maizena, Aust/UK cornflour

1/2

tsp

paprika/ red chili powder

1/2

tsp

ginger garlic paste

1/4

tsp

garam masala

1/4

tsp

ground cumin

1/4

tsp

salt

1/4

cup

water

oil for deep frying
Instructions 
Soak the cauliflower florets in a bowl of water with a pinch of salt and turmeric powder for 10 mins. Remove and drain them and cut into thin long strips.

In a clean bowl, add gram flour/ powdered cornmeal, cornstarch, paprika/red chili powder, cumin powder, ginger-garlic paste, garam masala and salt, and mix well.

Add cauliflower and mix with your hands to coat it well.

Add a little water and mix it with your hands until the mixture is moistened and the powder combines well with the cauliflower. Note: The mixture should not be watery and the consistency should be sticky.

Set aside for 5 mins and add enough oil to a frying pan that it's about a quarter full, and heat till it reaches 200°F / 93°C. Now reduce the heat and put the battered cauliflower into oil and fry them till golden brown.
Notes
you can use any vegetable or meat to make these pakoras.
If you would like to make your own spice mix for the Gobi Pakora, here is the recipe:
Garam Masala
3-4 pieces, 1-inch cinnamon sticks
2 cloves
3 cardamom pods
Grind well to make a fine powder.