My the time is just going by way to fast, another month has gone by already and it is Secret Recipe Club time again. And this month was a real treat for me. What is the SRC? Basically you are assigned a fellow participant's blog by the organizer and then you pick a recipe of your choice from that blog and make your version of it. But it is a secret, you cannot reveal whom you picked and what you made until the established posting date and time…. which is today! I can't wait to see who picked me.
This month I was assigned a fabulous blog  called Sin-a-Mon and it is written by the wonderful Monika. Her blog mostly features Indian food. Have I mentioned how much I LOVE Indian food? Actually my first memory of going to an 'ethnic'  restaurant was with a friend in my mid teens at an Indian restaurant. You could say this cuisine if the one that got my palate very curious to explore the unknown.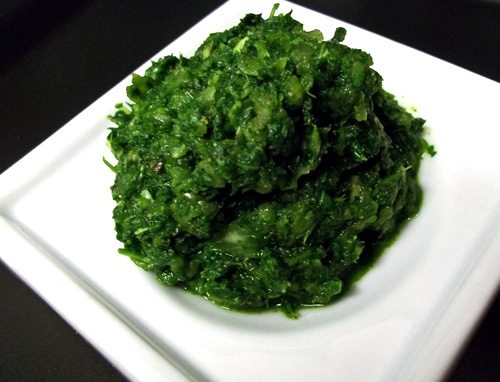 Since then I have cooked quite a few Indian dishes but there where so many recipes n Monika's blog I had never head of, I did not know where to start to pick one. I was really tempted to maybe try an Indian sweet as they are fabulous but finally I went for one of my favorite recipes, the Green Chutney.
I though it was an odd choice for me as the recipe is so simple to prepare. But I just could not help myself, I have never made my own. I remember buying Green Chutney once in a jar and I was so disappointed, the flavor was terribly bland and I could barely decipher a hint of coriandre. The idea of learning how to make my own, full of flavor, was too enticing.
Ξ Green Chutney Ξ
1 Bunch of Mint leaves
2 Bunches of coriander leaves
1 onion chopped
2-3 green chillies (more if u want it spicy)
1/2 tsp cumin seeds powder
1/2 tsp garam masala
Something for the tang now here u have the following options

1-2 tsp anardana
2 tsp dry mango powder
1/2 small raw mango chopped
3 tbsp curd
2 tomatoes
juice of 1 lemon (what I chose)

salt to tastes
Put everything in the grinder (food processor) and using just enough water to mix grind them to a coarse paste. That is it.
And look at that gorgeous green mix. I could not help eating little pieces of it all by itself. I adore coriander. I decided to try it on fish that was baked in the oven. It was sublime!
But what else can you do with this chutney? Well  come back a 12 pm EST to see another challenge due this same day where I will combine this recipe with another for the Crazy Cooking Challenge with Mashed Potatoes!