Shhh … Pouvez-vous garder un secret? Aujourd'hui je partage avec vous ma recette Diplomate Pêches et Crème. Il s'agit d'une recette ultra rapide que vos invités exigeront.
J'ai presque honte de dire que cette recette est mon dessert d'urgence depuis des années quand le temps presse, et pourtant je ne l'ai jamais partagé sur ce blogue avant. Pourquoi n'ai-je pas partagé avec vous avant cette recette divine de Diplomate Pêches et Crème? J'avais peur que vous me jugiez parce que c'est tellement facile et rapide à faire. Mais c'est aussi l'un de mes dessert le plus constamment demandé . Parfois la grandeur vient de la simplicité.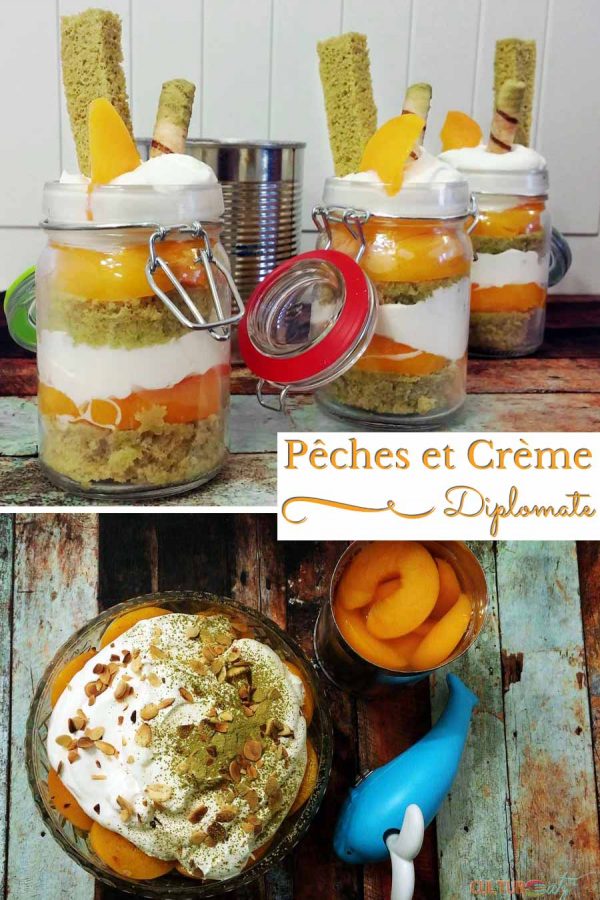 Divulgation: ce poste a été sponsorisé par pêches Cling de Californie.
Ah les pêches et la crème! Ces cinq petits mots me font toujours sentir heureuse car ça me fait penser à  l'été. Les pêches sont dans le Top 3 de mes fruits d'été préférés. Mais en hiver, oubliez de trouver de beaux fruits frais. C'est à ce moment que je choisi des pêches en conserve. Saviez-vous que la plupart des pêches en conserve sont des pêches Cling de Californie?
Comme pour la plupart des produits congelés et en conserve, les pêches Cling de Californie sont cueillies et misent en conserve dans leur jus, dans un délai de 24 heures. Cela garantit que les pêches maintiennent leur apparence, leur texture, leur saveur et leur contenu nutritionnel. En fait, des études montrent que le processus de mise en conserve de pêches a été prouvé d'augmenter certains nutriments, tel la vitamine A, la vitamine C et le folate. J'aime bien obtenir une meilleure nutrition pendant ces mois froids et ennuyeux.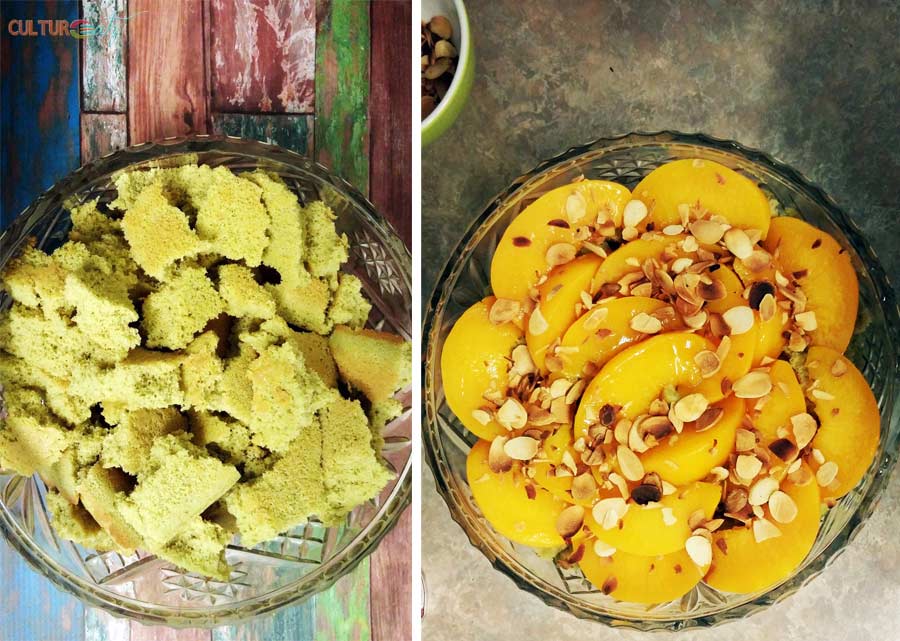 Avec un gateau matcha
J'ai mis un tournant amusant sur mon Diplomate Pêches et Crème cette fois en faisant mon gateau rouleau suisse au matcha comme base. Je suis une grande fan de matcha dans la cuisson. Ça donne un goût agréable qui se marie vraiment bien avec les pêches et j'adore la combinaison des couleurs. Si votre matcha n'est pas le plus vert, n'hésitez pas à ajouter un peu de colorant alimentaire vert.
Conseil pour diplomate: si les invités sont en route et vous n'avez que le temps de faire un voyage rapide à l'épicerie, n'hésitez pas à acheter un gâteau pré-faits. En toute honnêteté, j'ai fait ce diplomate avec un gâteaux aux anges acheté maintes fois et personne n'a été le plus sage. Ou vous pourriez faire n'importe quelle recette de gâteau éponge que vous préparez normalement.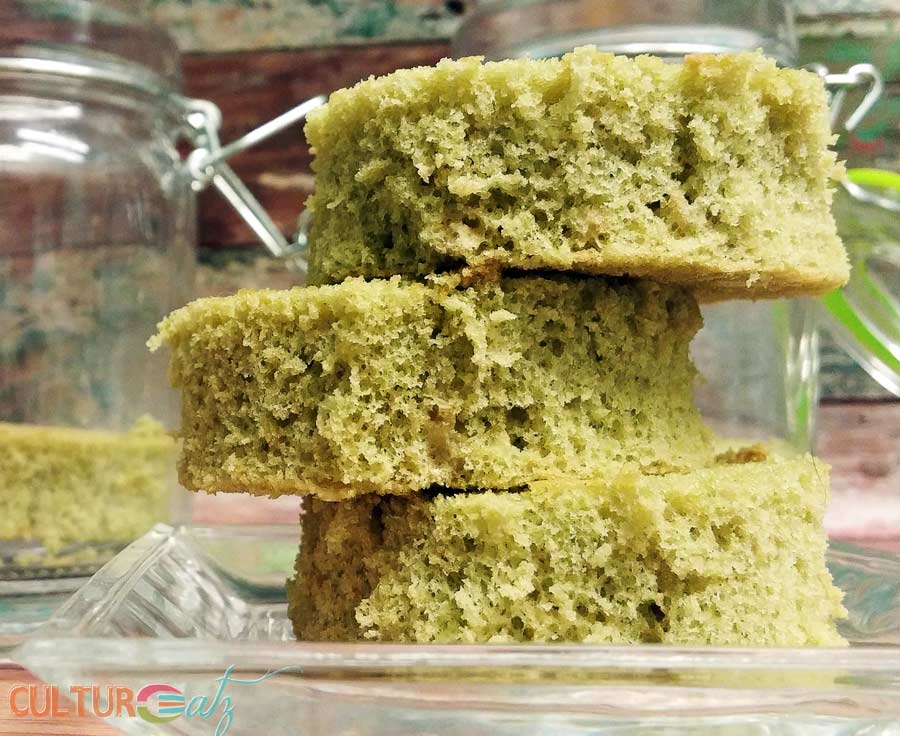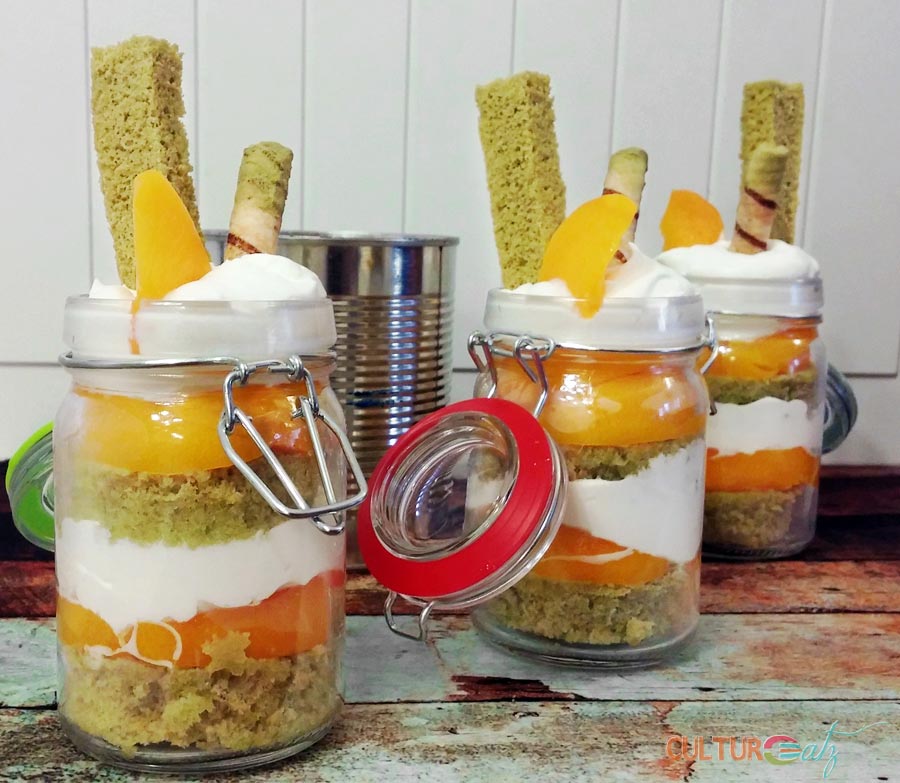 Non seulement je partage avec vous aujourd'hui ma recette secrète de diplomate ultra facile, je vais même vous montrer deux façons de la présenter! La carte de recette ci-dessous vous explique la présentation traditionnelle dans un bol. Et après la recette, je vais vous montrer comment faire des petits pots de dessert préparés individuellement!
Ok, je vous ai fait patienté assez longtemps, mon secret est révélé, voici ma recette Diplomate Pêches et Crème Ivre!
Evelyne de CulturEatz.com
Yields 8 à 10 portions
Diplomate Pêches et Crème Ivre avec Gateau Matcha
Shhh ... Pouvez-vous garder un secret? Aujourd'hui je partage avec vous ma recette Diplomate Pêches et Crème. Il s'agit d'une recette ultra rapide que vos invités exigeront.
Ingredients
Gateau suisse au Matcha ou un gateau éponge de votre choix
1/4 à 1/2 tasse de rhum (ou essayer un autres alcool)
1-conserve de 28 oz de pêches en tranches dans leur sirop
1 tasse de crême 35%
2 cuillères à soupe de sucre
1 à 2 cuillères à soupe d'amandes effilées, grillées
Instructions
Déchirez le gâteau en morceaux et remplir un bol vitré environ au 2/3.
Ajouter 1/4 à 1/2 tasse de rhum dans une tasse à mesurer, remplir la tasse à mesurer avec du sirop de pêche pour faire un total de 1 tasse de liquide. Verser sur le gâteau uniformément et y pousser le gâteau doucement pour absorber le liquide.
Ajouter une belle couche décorative de pêches égouttées sur le dessus du gâteau.
Avec un mélangeur, battre la crème jusqu'à ce qu'elle commence à épaissir. Ajouter le sucre et continuer à battre jusqu'à ce que vous ayez des pics presque durs.
Étendre la crème fouettée sur les pêches et couvrir d'amandes effilées grillées.
Notes
N'hésitez pas à faire votre propre recette de gâteau éponge, ou même acheter un gateau déjà fait. Vous pouvez essayer avec un autre alcool, tel un Bourbon, Grand Marnier, Triple Sec ou Schnapps aux pêches.
7.8.1.2
437
https://cultureatz.com/diplomate-peches-et-creme/

Parfait pour des pots de dessert!
Des pots de dessert, c'est juste tellement mignons, non? C'est une excellente façon de servir votre diplomate d'une manière unique, et en plus vous pouvez fermer le pot pour faire des portions supplémentaires qui durons plus longtemps dans les jours à suivre! C'est idéal pour contrôler les portions aussi!
Pour ces pots, il est important d'avoir un rouleau suisse ou un gâteau éponge mince. Couper deux cercles de gâteau de la taille des pots, par pot que vous faites. Ajouter un des cercles au fond du bocal et y verser environ 1 cuillère à soupe du liquide de trempage. Ensuite placez deux tranches de pêches contre le mur du pot et y déposer une cuillère pleine de crème fouettée. Répétez à nouveau pour faire une deuxième couche complète comme décrit ci-haut, et décorer comme vous le souhaitez. Tellement mignon!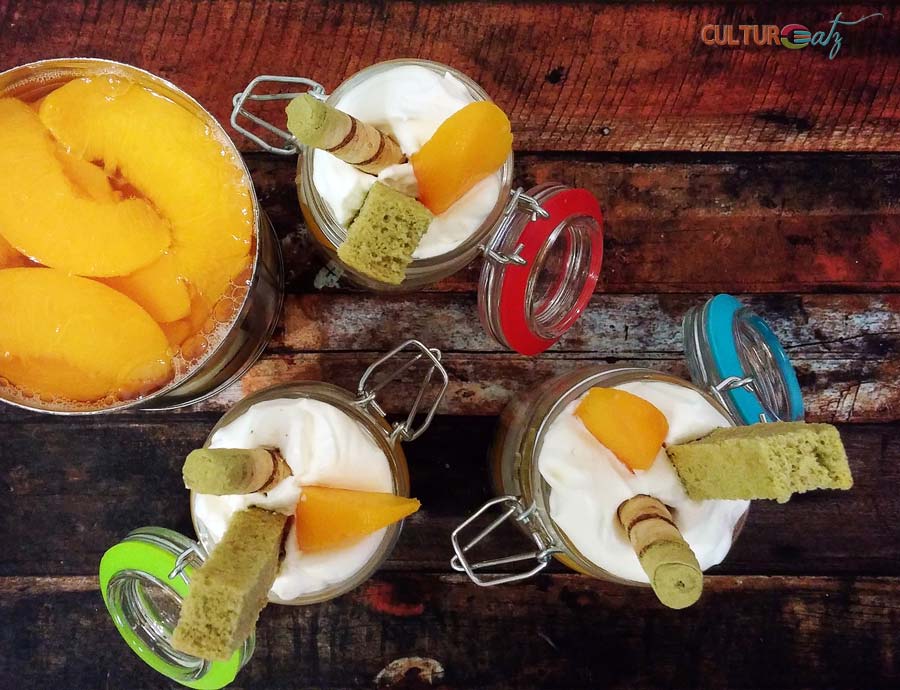 Vous cherchez plus de recettes en français? Consultez mes autres recettes:
Did you make one of my recipes? I would love to see it. Take a photo and tag me on Instagram @cultureatz.
EDITOR'S NOTE: This post may contain affiliate links (disclosure policy). Please support CulturEatz by clicking on the links and purchasing through them so I can keep the kitchen well stocked. It does not alter the price you pay.