Êtes-vous régulièrement une victime de la rage de sucre de 15 heures? Une tranche de ce gâteau aux noix et pêches, avec votre tasse préférée de café ou de thé, sera certainement comblé vos besoins.
Assise à mon bureau, je ressens une crise de manque d'énergie presque tous les jours de travail pendant l'après-midi. Les chances sont que si je regarde l'horloge, il est probablement à peu près 15 heures. J'ai besoin d'un peu de sucre, d'un petit coup de fouet, pour terminer la journée. Ce gâteau aux noix et pêches est une alternative plus saine à comparer à un morceau de gâteau ordinaire, en raison des protéines dand les noix et de la dose de fruits dans chaque tranche.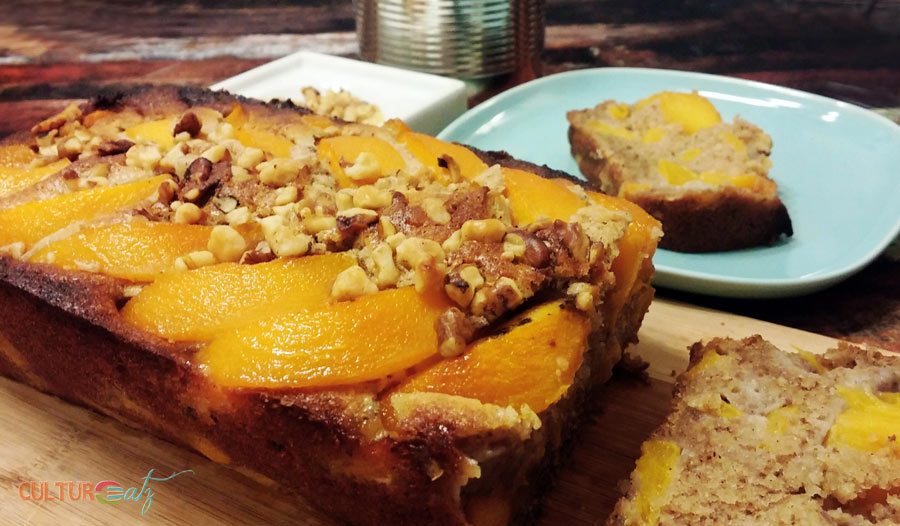 Avez-vous déjà demandé ce que le diable est un gâteau pause-café? Il ne s'agit pas d'un gâteau avec du café dedans, pas du tout. Un gâteau pause-café est décrit comme un gâteau simple d'un étage, aromatisé à la cannelle ou aux fruits, souvent surmonté de noix , généralement servi avec du café.
Cette recette est inspiré par la recette d'une amie, un gâteau aux noix et poires, mais avec quelques modifications. Outre la surcharge de pêche, il semble que ce qui distingue cette recette particulière, comparé aux autres gâteaux pause-café, est les noix moulues ajouté à la pâte. Chaque morceau est rempli d'une délicieuse saveur de noisette et la texture du gâteau est légèrement plus dense.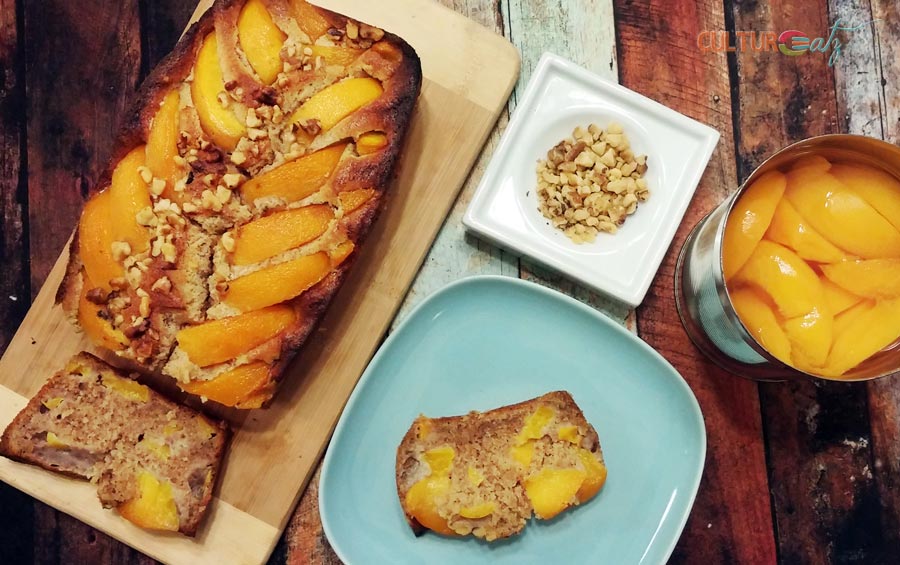 Un Gâteau Peachy Keen
J'ai partagé avec vous récemment une recette pour un Diplomate Pêches et Crème Ivre avec Gateau Matcha. Eh bien, je suis de retour avec des pêches! Je ne peux pas m'empêcher, ils sont vraiment un de mes fruits préférés. Heureusement les pêches peuvent être trouvées dans des boîtes de conserve car les pêches que je vois chez l'épicier l'hiver ne valent pas un sou.
Saviez-vous que la plupart des boîtes de conserve de pêches en Amérique du Nord sont remplis de pêches Cling de Californie? Elles sont mises en conserve fraîches, peu de temps après la récolte, sur des fermes familiales qui respectent les normes agricoles et de sécurité les plus élevées. Emballés dans leur propre jus et sans agent conservateur ajoutés, les pêches Cling de Californie en conserve sont riches en antioxydants, vitamine A, vitamine C et débordant de folate.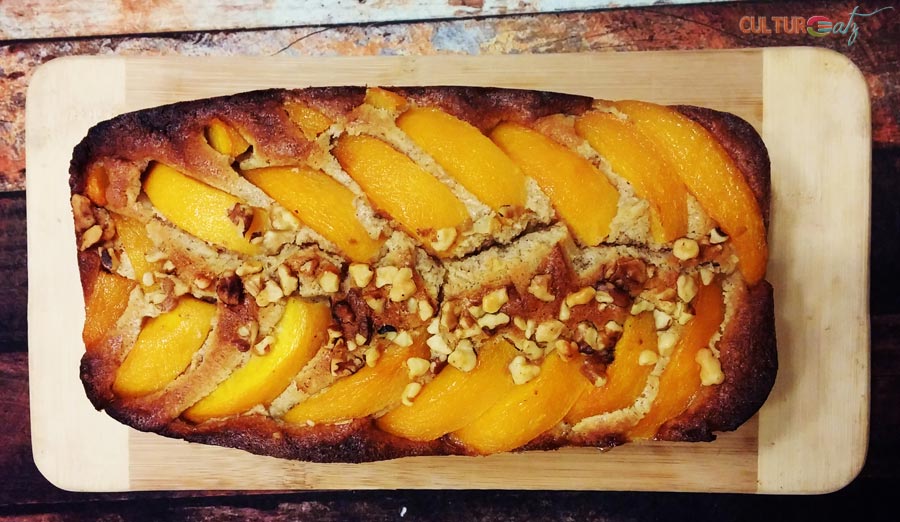 Ne limiter pas votre consommation de ce gâteau seulement à l'heure de la pause-café. Changez votre routine du déjeuner avec quelques tranches de ce gâteau ainsi qu'un verre de lait (de votre choix). Et il fait aussi un superbe dessert à l'heure du souper. Divulgation: ce poste a été sponsorisé par pêches Cling de Californie.
Yields 1 gâteau
Gâteau aux noix et pêches
Êtes-vous régulièrement une victime de la rage de sure de 15 heures? Une tranche de ce gâteau aux noix et pêches, avec votre tasse préférée de café ou de thé, sera certainement comblé vos besoins.
Ingredients
2-conserves de 28 oz de pêches en tranches dans leur sirop
125 g beurre, mou
100 g sucre
3 oeufs
200 g farine
75 g noix de Grenobles, moulu
1 tsp poudre à pâte
1/2 tsp sel
1/2 tsp gingembre en poudre
1/2 tsp canelle en poudre
60 ml lait
Instructions
Égoutter 12 tranches de pêches et les sècher avec un essui-out. Couper en petits cubes.
Préparer un moule à pain rectangulaire et préchauffer le four à 180C/350F. Battre le beurre et le sucre jusqu'à consistance crêmeuse avec un malexeur. Battre au mélange 1 oeuf à la fois et bien incorporer.
Mélanger la farine, les noix de Grenobles, la poudre à pâte, le sel et les épices ensemble. Mélanger la moitié de la farine avec les ingrédients mouillés. Ajouter tout le lait, bien mélanger, et ensuite y mélanger le restant de la farine. Bien incorporer. Replier délicatement les pêches dans la pâte.
Verser la pâte dans le moule. Égoutter et sècher au tant de tranches de pêches que nécessaire pour décorer le dessus du gâteau avec le motif désiré. Parsemer avec des noix de Grenobles si désiré.
Cuire au four pendant 60-70 minutes. Refroidir le moule pendant 15 minutes, démouler et laisser le gâteau refroidir au complet sur une grille avant de servor. Trancher pour le service.
7.8.1.2
445
https://cultureatz.com/gateau-aux-noix-et-peches/
Did you make one of my recipes? I would love to see it. Take a photo and tag me on Instagram @cultureatz.
EDITOR'S NOTE: This post may contain affiliate links (disclosure policy). Please support CulturEatz by clicking on the links and purchasing through them so I can keep the kitchen well stocked. It does not alter the price you pay.