These Chocolate Birds Nests are the perfect little Easter treat. They are so easy to prepare with chocolate, nut butter, and wheat cereal biscuits.
Working with people who also love to cook is wonderful. I would say 70% of our daily social talk revolves around food, at least. We all have varying degrees of experience and we all agree: cooking and baking are two separate beasts. A perfect example is a colleague of mine who is great cooking but is trying to master baking. We keep telling him baking is chemistry, you HAVE to follow the steps and measurements. Recently we did get great cookies from him. Did I mention we have a communal snack table too so we can share our homemade treats lol? These Chocolate Birds Nests were so welcomed at the communal snack table.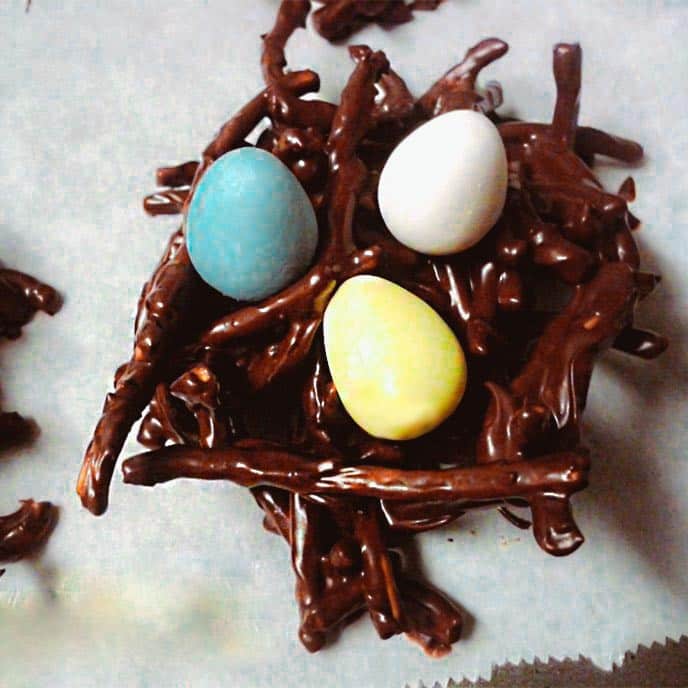 And then candy making is in a whole other category. Many of us are intimidated by the thought of making our own candies. You have to follow precise temperatures, very specific directions, etc. So many things can go wrong!?!? At least that is how we feel. But if you take your time and follow a recipe to the letter, you should be good.
So I was thrilled to resharpen my candy making skills when I recently got a copy of the 300 Best Homemade Candy Recipes cookbook. From all the tantalizing recipes in this cookbook I could not pass up these Chocolate Birds Nests, they just screamed Spring and Easter!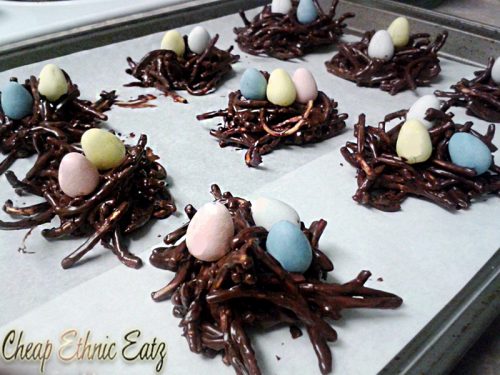 Are these not just absolutely adorable?
My colleagues were quite happy with my snack contribution today! Do you bake and bring your goodies to work for your colleagues?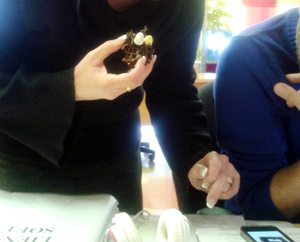 I substituted the large shredded wheat cereal for Chow Mein noodles, as I could not find any that day. I think the nest look is more realistic this way too.
For my chocolate, I used "couvertures", made for candy making, from Cacao Berry which I got at a chocolate show in early February.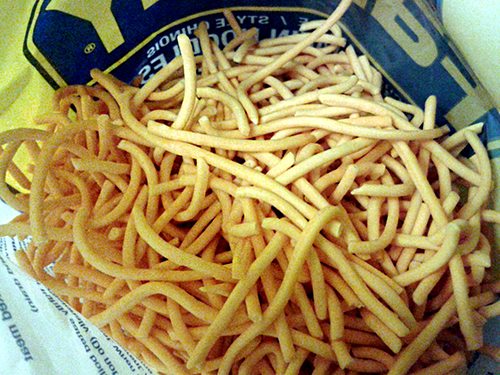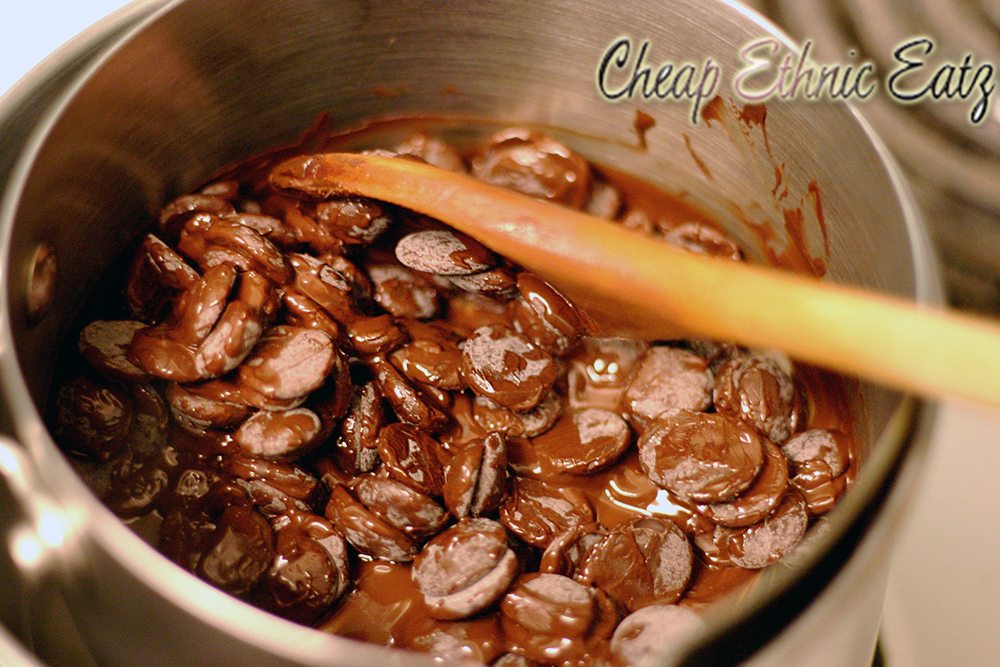 The recipe is courtesy of 300 Best Homemade Candy Recipes by Jane Sharrock © 2014 www.robertrose.ca Reprinted with publisher permission.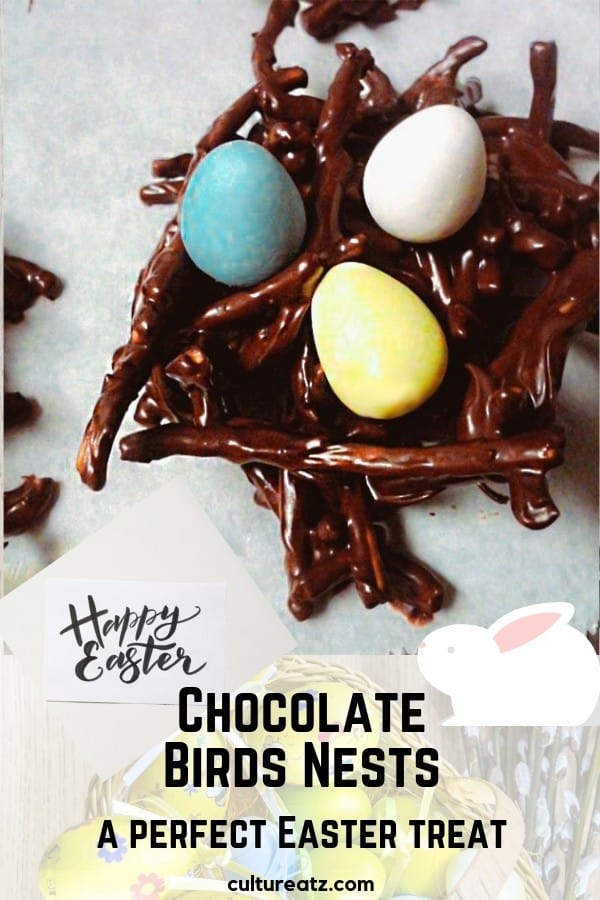 Chocolate Birds
Perfect for an Easter celebration, these egg-filled birds' nests will put a twinkle into any child 's eye.
Ingredients  
2

cups

semisweet chocolate chips 500 mL

1 1/4

cups

smooth or crunchy peanut butter 300 mL

1/4

tsp

vanilla extract 1 mL

10

large shredded wheat cereal biscuits

crushed (or Chow Mein noodles)

Colored jellybeans or miniature candy eggs
Instructions 
Cover a large countertop area or 2 large baking sheets with waxed paper.

In the top pan of a double boiler over hot but not boiling water, melt the chocolate chips, stirring until smooth. Add the peanut butter, vanilla and cereal, stirring until the peanut butter has melted and the mixture is well blended.

Remove from the heat. Quickly drop by spoonfuls onto the waxed paper. Using a thumb or the back of a spoon, make an indention in the center of each candy. Lightly press 2 to 5 brightly colored jellybeans or miniature candy eggs into each indentation before the chocolate cools completely. Cool. Store in an airtight container.
Notes
If desired, slightly less peanut butter may be used.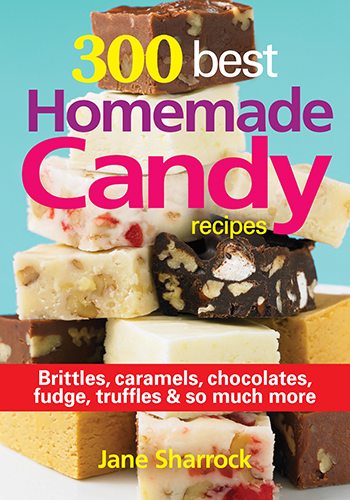 The 300 Best Homemade Candy Recipes cookbook has hundreds of recipes for sumptuously mouthwatering candies, chocolates, pralines, crèmes, fudges, toffee, holiday treats, and no-bake cookies, this candy bible covers everything from the traditional to the exotic.
Complete with easy-to-follow instructions and step-by-step photos, it's a treasure trove of information and inspiring recipes. The author does a great job of showing us how to master a few basic principles that every candy-maker should know. Before you know it, you're producing these delicious homemade goodies in your own kitchen:
• Old-Fashioned Cooked Candies
• Old-Fashioned Hard Candies
• Clusters, Patties and Pralines
• Divinities, Nougats and Similar Candies
• Old-Fashioned Candy Rolls
• Old-Fashioned Chocolate Fudges
• Balls and Shaped Candies
• Chocolate-Coated Candies
• Candied and Spiced Nuts
• Popcorn Candies and Fruit Candies