Happy Sunday everyone! I am so very excited today to talk to you about a cookbook that is about to hit the shelves in November 2012. I was very lucky to get an advanced copy by the author, my dear friend and fellow food blogger Faith of the blog An Edible Mosaic. Faith's cookbook is an absolutely wonderful collection of traditional Middle Eastern dishes. I was so honored to receive a copy of the book because I think the message Faith wants to convey is very close to my blog's purpose: it is for food lovers, restaurant goers and home cooks who would like to explore a more exotic palate in their plate.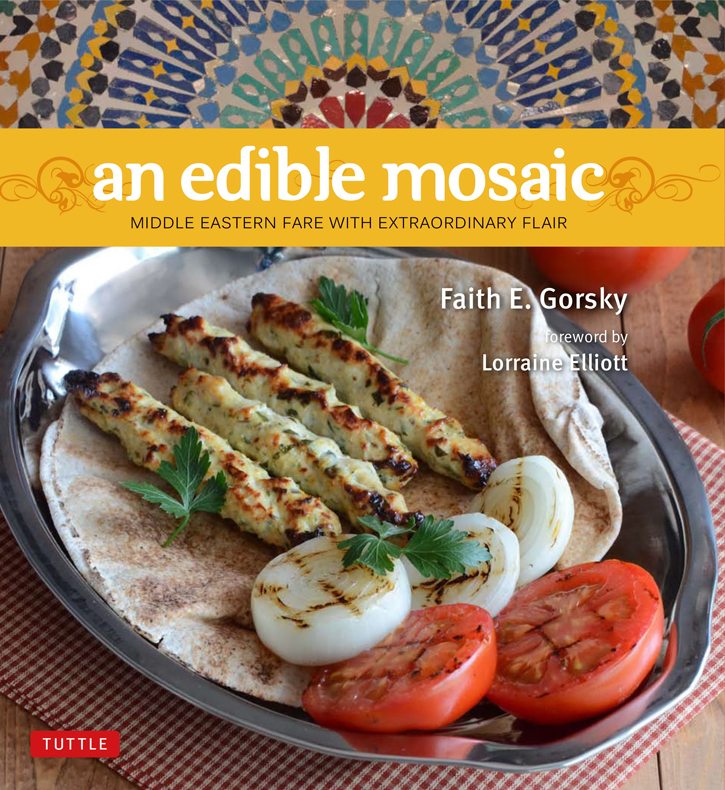 I have been lucky to have made friends over the last 20 years with people from various parts of the Middle East so I have been exposed to classic Lebanese, Syrian, Iranian, Palestinian and so forth dishes. The cuisine has nothing to do with your local Shish Taouk sandwich shop. Faith did not grow up accustomed to these dishes either, not until she met her now husband Mike who is Middle Eastern. She learned to cook these fabulous dishes during the first 6 months of her marriage in her mother-in-law's kitchen. Faith brought back this treasure of recipes to North America.
In this cookbook you will find such classics as hummus, kebabs and pistachio drenched sweets. But you will discover a whole plethora of delectable flavors which I hope you will try like tabbouleh, saffron rice, stuffed squash with yogurt sauce, beautiful lamb dishes and scented milk puddings. The recipe I prepared is an unusual choice for me: Fried Eggplant with Garlic and Parsley Dressing. I have never been a fan unless it has been cooked and drenched in tomato sauce but made the effort to turn into a now acquired taste. Faith's husband, Mike, also hates eggplants. His mother always hoped he would one day marry a girl who liked this vegetable. When Faith tasted and fell in love with this recipe she also got her mother-in-law's blessing. So it just goes to show you never know what can come out of keeping an open mind and trying new foods!
Fried Eggplant with Garlic and Parsley Dressing (BATINJAN MEKLEH)
Recipe courtesy of An Edible Mosaic:  Middle Eastern Fare with Extraordinary Flair by Faith Gorsky (Tuttle Publishing; Nov. 2012); reprinted with permission.
Serves 4 to 6
Preparation Time: 10 minutes, plus 30 minutes for the eggplant to drain
Cooking Time: 20 minutes
1 large or 2 small globe eggplants (about 2 lb/900 g)
2 teaspoons salt
4 tablespoons red wine vinegar
1 tablespoon water
4 cloves garlic, minced
1/4 bunch fresh parsley, minced
Oil, for shallow frying
Fully or partially peel the eggplant if desired. (To partially peel it, peel one strip off down the length of the vegetable, then leave the next strip in place and peel the next strip off, and so on). Slice into 1/4 to 1/2 inch (6 mm to 1.25 cm) thick slices (lengthwise or crosswise is fine if you're using baby eggplant, but if you're using a large eggplant slice it crosswise).
Sprinkle the salt on both sides of each slice and transfer to a colander; put the colander in the sink and let it sit for 30 minutes. Rinse the eggplant under cold running water, then gently wring out any excess water and pat dry.
Combine the vinegar, water, garlic, and parsley in a small bowl and set aside.
Coat the bottom of a large skillet over moderately high heat with oil. Fry the eggplant in batches (so the pan isn't overcrowded) until golden brown, about 2 to 4 minutes per side. (You can add more oil to the pan if necessary.) Transfer the cooked eggplant to a paper towel-lined plate to drain any excess oil.
Serve the eggplant warm or at room temperature, along with the dressing to drizzle on top.
Check out more eggplant recipes here: