If you are unfamiliar with Israeli food recipes let me lift the veil and give you a taste with this irresistible Burnt Eggplant Salad with Green Tahini Dressing.
I bet most of us out there would be at a loss for words is asked to name an Israeli food of the top of your head. Israeli cuisine is a beautiful melting pot of so many flavors from various cultures, with its own little twist. I thought Israel was the perfect country to explore next for this month's Eat the World challenge. My contribution is this eggplant salad with tahini dressing, my favorite chef Ottolenghi's eggplant salad recipe.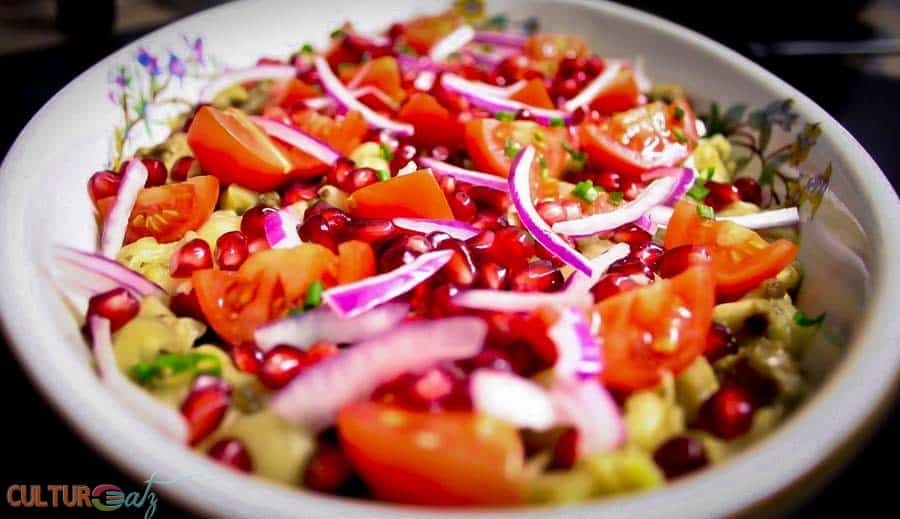 What is Israeli food?
Israeli recipes are a delicious blend of Jewish recipes, middle eastern food recipes, Mediterranean dishes, kosher recipes, and yes, even Palestinian cuisine (they can co-exist happily in the kitchen).
Popular dishes include falafel, hummus, msabbha, shakshouka, couscous, a huge variety of mezze (appetizers). there are matzah balls, lentil soups, fresh fish dishes, beautifully grilled poultry and meats seasoned with tahini paste, za'atar or sumac. You'll find lots of street food too like Jerusalem Mix Grill.
Fresh cheese like cottage cheese and thick yogurts like labneh are aplenty. As are fruits and delicious baked goods like semolina cakes, kugel, donuts, Rugelach, and many more.
Vegetables are served at most meals, often in the form of salads. I think every home has its special Israeli salad recipe. Popular salads include tabouleh, sabich salad, and Israeli salad. Some salads are made with pearl couscous also called Israeli couscous. Check out my own warm Israeli couscous recipe with spinach, feta, and walnuts.
Either salad would pair beautifully with this healthy crispy air fryer chicken breast.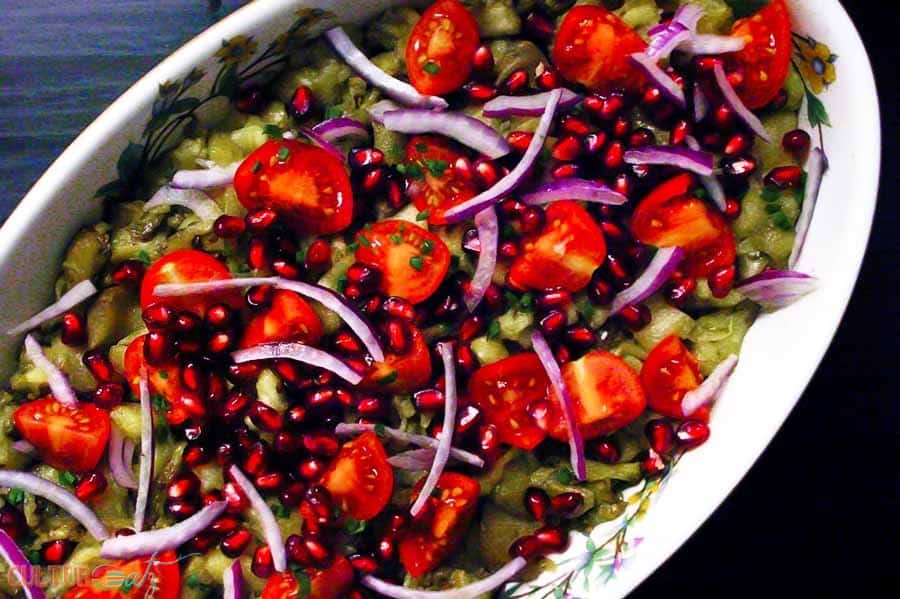 Ottolenghi's Burnt Eggplant
I am sure you all know someone who 'hates eggplant'. Personally, I lean towards the hate, except if it is covered with tomato and cheese, or if it is roasted a long time or fried.
I bet you wondered why the recipe is called burnt salad? Well, the aubergine salad by Ottolenghi uses a bed of roasted eggplant salad. The eggplant is previously roasted and the skin charred in the oven at high heat. This really gives the eggplant flesh a smoky delicious taste.
This Israeli eggplant salad recipe is an adaption from two recipe books by the only chef I love to follow, Yotam Ottolenghi. He is truly phenomenal with marrying his native Israeli dishes with other Middle Eastern flavors. The 2 cookbooks in question are Jerusalem: A Cookbook  (which I own and love) and Ottolenghi's book.
Other flavors here that make this eggplant salad recipe very Israeli are the chopped tomatoes, fresh onions, the pomegranate seeds, and the tahini salad dressing.
Check out more Evelyne approved eggplant recipes here:
I have a FREE PRINTABLE for you
Surprise! I have prepared a Cheat Sheet that includes 41 Cooking and Baking Ingredient Substitutions that are commonly found in a kitchen. Click here to get your FREE Ingredient Substitutions Cheat Sheet right now!

Speaking of that Green Tahini Dressing
Now let's have a little chat about this eggplant salad dressing. on the surface, it is very basic. You have your lemon juice, salt, garlic, parsley. The only thing missing is fat. No olive oil here. To keep the Israeli flavors going the recipes uses tahini paste. This is the key ingredient that makes this salad dressing simply fabulously.
Do you know what tahini paste is? Tahini is a popular middle eastern ingredient and it is simply crushed sesame seeds. It's basically a seed butter.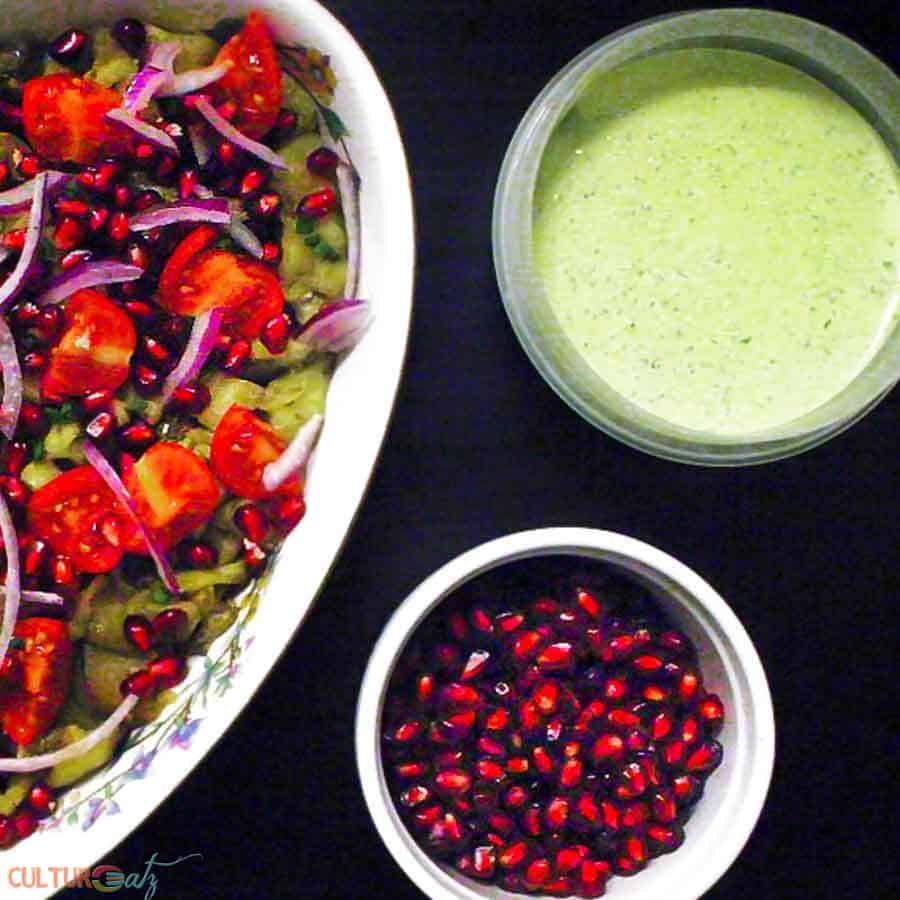 This Ottolenghi eggplant tahini salad is really one of my favorite salads of all times. It sounds exotic but the taste is perfect and balanced. This recipe is a real gem.
In the last months, I have brought this dish to two parties and it was a huge hit both times. Almost everyone came back for seconds and asked for the recipe. Doesn't hurt that visually it is simply stunning as well.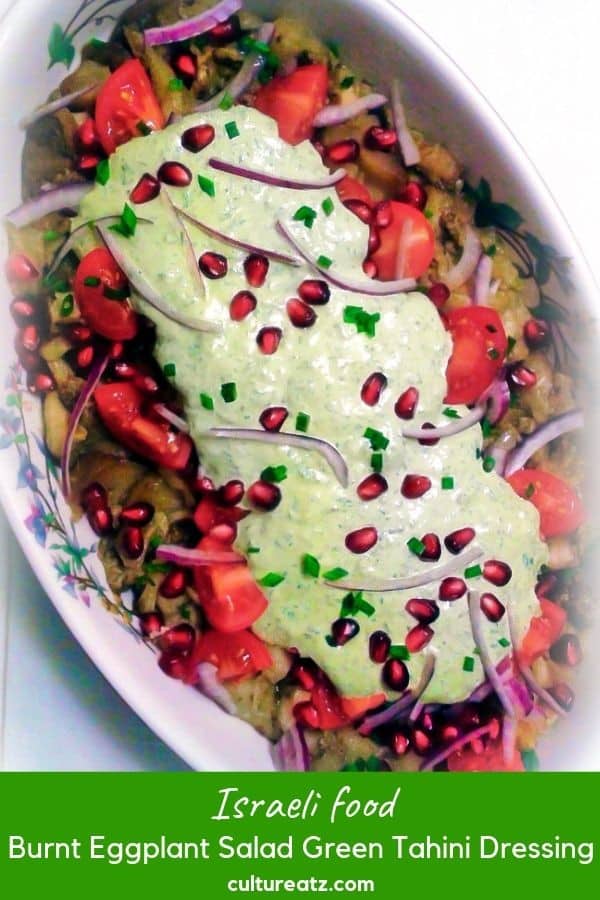 Burnt Eggplant Salad with Green Tahini Dressing
If you are unfamiliar with Israeli food recipes let me lift the veil and give you a taste with this irresistible Burnt Eggplant Salad with Green Tahini Dressing.
Ingredients  
3 1/4

lbs

of eggplants

1/2

tsp

salt

10

grape tomatoes

cut in half

1

tbs

finely chopped chives

100

grams

pomegranate seeds

1/4

small red onion

sliced

150

ml

tahini paste

150

ml

water

80

ml

lemon juice

1/2

tsp

salt

2

cloves

garlic

grated

30

g

Italian parsley

chopped
Instructions 
Preheat oven to 400 degrees F. Score eggplants in few places with a sharp knife and place them in a baking tray, and bake for about 50 minutes to an hour until soft, turning them every 20 minutes or so.

Remove from oven and let cool. Once cooled, tear them apart with your hands, discard the skins, then roughly chopped, drain in a colander to get rid as much liquid as possible, about an hour.

For the tahini dressing, place the tahini paste, water, lemon juice, sa;t, garlic, and parsley in a food processorand process until smooth. If the sauce seems to thick, drizzle in a little bit more water until you get the right consistency you desire. Taste and correct seasoning as needed.

Place the drained eggplant in a serving dish and toss the salt in. Then add tomatoes, chives, pomegranate seeds, and sliced red onion.

Spoon the green tahini sauce on top and toss before serving. Add a light drizzle of olive oil on top.
Eat the World Challenge
Check out all the wonderful Israeli dishes prepared by fellow Eat the World members and share with #eattheworld. Click here to find out how to join and have fun exploring a country a month in the kitchen with us!
Camilla, Culinary Adventures with Camilla: Limonana
Sue at Palatable Pastime:Lemony Roasted Garlic Hummus with Herb Toasted Pita
Pandemonium Noshery: Grilled Chicken Shawarma
April, Home Sweet Homestead: Israeli Yellow Rice
Margaret at Kitchen Frau: Israeli Watermelon, Cucumber & Feta Salad
Loreto and Nicoletta, Sugarlovespices: Zaatar Roasted Carrots with Labneh
A Day in the Life on the Farm: Date Glazed Beef Kebabs
Evelyne: Burnt Eggplant Salad Green Tahini Dressing
Amy: Chicken Albondigas