No, Raleigh is not by the beach as most people seem to think. Depending on which beach you decide to go it can be anywhere from a 2h30min drive to 5h. Going to the beach for me was a priority so my host was accommodating. We went the first and last day. I may not enjoy spending the whole day on the beach but for me a holiday without sand in my toes and a swim in the ocean is just not complete. First day we went to Wilmington beach and the last day we went to the Fort Macon State Park near Morehead City.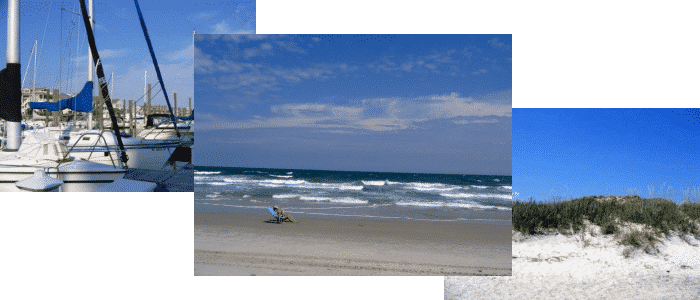 On that last day we decided ultimately to have dinner in the area before heading back home to Raleigh. Being by the sea I had a hankering for some seafood. We went to Morehead City where we checked out about 3 restaurants. We settled on Sanitary Fish Market (a fave of my friend's dad apparently). Sexy and appetizing name, I know! But there is a story behind it…
On February 10, 1938, two partners, Tony Seamon and Ted Garner, opened a fresh seafood market on the Morehead City waterfront. A small building had been rented from Charles S. Wallace for $5.50 per week with the understanding that no beer or wine would be sold and that the premises be kept clean and neat. The name "Sanitary Fish Market" was chosen by the partners to project their compliance.
By the spring of 1938 it had 10 stools in the market to serve seafood. Sanitary Restaurant opened in 1942. Since 1969 they can sit over 600 people! You don,t actually sit in a room with 600 people though. it is split up into 3-4 rooms. You can tell each room was a built addition. Of course it is located on the waterfront. The atmosphere is very reminiscent of a coast seafood shack…just a big one.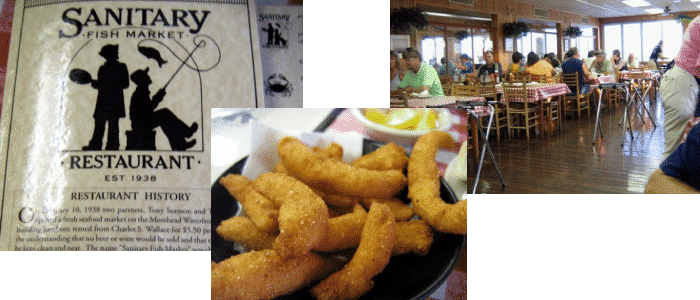 When you sit down you get a basket of hush puppies. Apparently hush puppies are a normal thing here because in 6 days this was my 3 or 4th free basket of hush puppies. These were the best! I am not going to tell you more about them…this will be a future post! One thing I will say: they may taste good but the shape (which is the common shape) is way too similar to a small turd!
We shared a starter of Peel-& Eat shrimps. The concept is fun – you have to shell them – but they were rather tasteless. Rich had a fried combo plate of shrimp, scallops and clam strips. The scallops were amazing. I opted for a daily special of a full Flounder stuffed with crab. The fish was very good but it really needed more seasoning in my opinion. I ate like half it was a huge portion. One of my sides was a stuffed baked potato which was awesome but I was so full my friend had most of it. He can be a bottomless pit lol.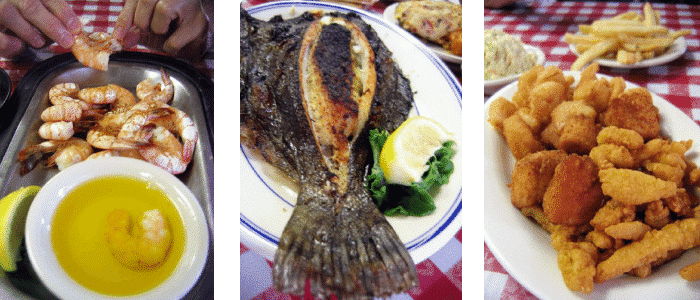 I have traveled extensively over the US and restaurant, service, customs can vary greatly. There are a few things I noticed here in the South that stood out for me…coming from Montreal, Canada:
1) Waiters are always in a good mood, always give their first name and will usually bend over backwards to get you what you want.
2) Restaurant food in North Carolina is dirt cheap! Most of the bills for us two were not far off what in Montreal would be per person.
3) Service is wayyyyy to quick. Like you order and 5 to 10 min later you have your main meal. For me a nice Montreal dinner outing is a good 2-3 hours spaced over time. In no way did the staff ever make me feel rushed to leave the table but you can tell the general mentality is get in, eat fast, get out. Eating out should be an event, and experience…not a chore to get over asap. But I digress, that is the European side in me talking perhaps.
And so you have it. I hope you enjoyed this little Vacation Eatz series of my summer holiday. We will soon be returning to our normal program. Actually first thing up will be a restaurant review: Bofinger. This Montreal restaurant (a chain now with 4 addresses) specializes exactly in the Southern food I ate for 6 days while in NC. Did I think they measured up to the real deal? Tune in to find out!
Want more Raleigh North Carolina posts?