The two really main food items, from what I experienced, in the South were fried chicken and BBQ pulled pork. I tasted a variety of each. Which were my favorite? You will kill me for saying this but in both cases my favorites were from local fast food chains. I know, never in my life did I think this sentence would leave my mouth. Let's take a quickie look at each.
BBQ Pulled Pork: the best was the sandwich at Smithfield's Chicken and BBQ (known there as SNCB). I thought the meat was the most tender and it had mini spice kick I liked I did not taste elsewhere. They also served up some Brunswick Stew which was a recent Cooks Challenge over at the Daring Kitchen. Having a sweet tooth and loving the unusual SNCB apaprently is big on their banana pudding…so I got one…meh it was OK.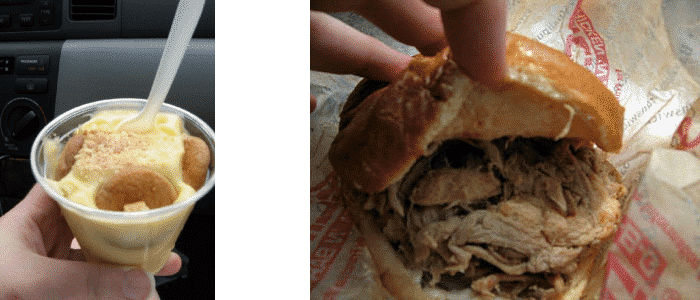 Intermission: beautiful flowers and gardens I saw over the course of the trip. The middle part is the experimental flower bed are of the Raleigh Arboretum (or Arboterium as I kept saying) where they test out species before selling them to you in the spring. Bottom left is a Muscacdine grape. They make a sweet wine from it in these parts!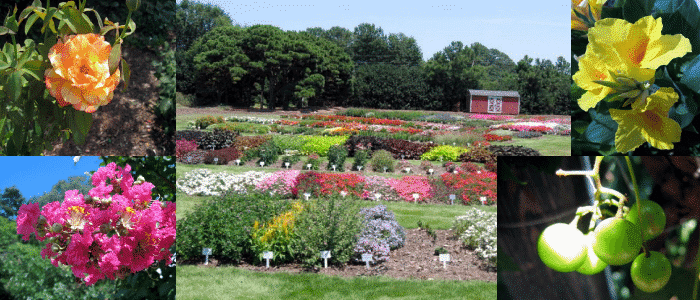 Fried Chicken: And now for my favorite Fried Chicken? Bojangles. My friend really twisted my arm to go here. I could not handle another fried food item at this time. But he insisted it was good and had to go there. Well he was right. The batter at mama Dip's was unbeatable but the overall fried chicken with taste…hands down Bojangles. It was awesome. I think they also served the best biscuits on my trip. The have a sweet one too with berries – yummy! The dirty rice was really good too.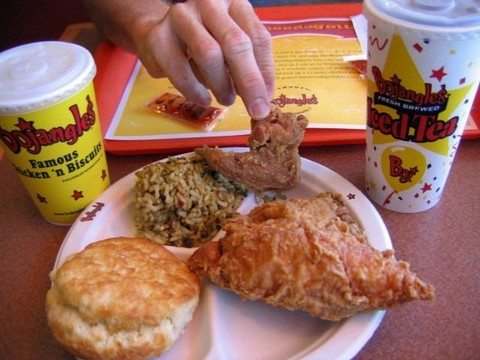 Want more Raleigh North Carolina posts?
Sanitary Beach
Mama Dip's, Ice Tea, Grits and Turkey Shoot