I have been putting of going to Bofinger for quite sometime. The first location is like 8 blocks away from me and I just did not go. At one point I was decided to go with the CEE dinner group but they do not take reservations. Why was I so hesitant to go?  Because the word of mouth reviews I got were mixed and mostly somewhat negative. Since they serve traditional US Southern food I figured if there ever was a time to try out Bofinger it was NOW, upon my return from the South.
Now what most people do not know is that one of the owners of Bofinger is also co-owner of La Louisiane, a Cajun bistro which I love. Again, the first location near me is 3 blocks away from La Louisiane. Since then 3 locations have opened up: downtown, West Island and the Plateau. The website says:...Our goal was to introduce authentic Southern Style BBQ to Canadians. At Bofinger, we prepare all our food with great care. Our famous NATURALLY Smoked Meats are prepared in a true fusion of Southern/Quebec style: Dry rubbed and smoked with maple wood for up to 24 hours.
The one I tried was the Plateau location on Parc Avenue. Not only was I finally going to try this place but it also turned into a 'foodie blogger 'blind date". Through the Foodie Exchange I started chatting with another Montreal food blogger. I really like her blog and I was happy to see we were getting along by email. She suggested meeting and I brought up Bofinger. Now it was a bit odd planning a first date in a really non fancy place lol. But Vibi of La Casserole Carrée said she clearly understood what she was getting herself into. We had a really nice time chatting away for a couple of hours, actually 3 I think he he, and another diner will be planned once the craziness of summer subsides. Her blog is only in French but it is wonderful. Recipes can be translated easy enough.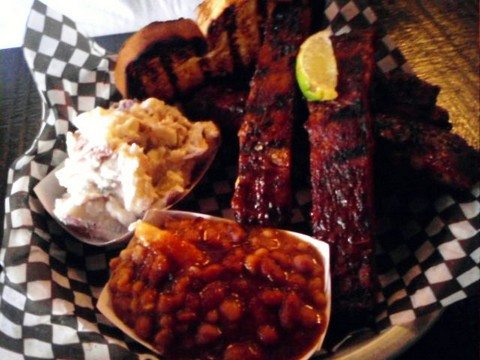 So Bofinger is totally cafeteria style. You order what you want at the counter…your meat and the famous sides plus what ever else you want. You pay, they take down you name and you go sit and wait till you are called. I am not a big cafeteria style fan. But the girl who served us was nice enough. They have trios on the menu – your meat, 1 side dish and a drink.The menu is Southern BBQ in its various forms: ribs, chicken, pulled pork, wings. In North Carolina BBQ is pulled or chopped pork…period. My friend there said it quite well: " for you BBQ is a verb, for me it is a noun". Once you pick your meat you pick your sauce to go with it. Choices are Texas, South Carolina, Honey BBQ, Memphis, Alabama and Crazy Spicy. Sides dishes offered are mac and cheese, baked beans, salad, potato salad, coleslaw, bean salad, fries.
Vibi liked her ribs although they were a bit dry and not the best she has had. Her side dish of baked bean were a disappointment. they were your Canadian variety. Potato salad was good but nothing special. That is all I am going to say about her critic….can't remember other details.
Now for my review – fresh of the plane from the South – please buckle your seat belt and make sure your trays are in an upright and locked position because it is going to be a bumpy ride. I had of course the pulled pork sandwich. Both ribs and pork had a very pronounced smoky taste to them, good but not what I was familiar with in the South. Besides that I found the pork itself a bit bland. As I said you choose your sauce, they did not put enough sauce on the pork and they should add the sauce in the kitchen in a bowl and mix it all up…..not just ladle it on the meat. Never in North Carolina did I have a piece of unseasoned meat sticking out. I got the South Carolin sauce and they got right: traditionally dijon mustard that makes it sour-sweet. With the sauce the pulled pork was good and did bring back vacation memories. If I were them I would not toast the bun….it was a bit burned and too big.
Next the sides. Really, no attempt to have an equivalent to greens? For shame. Actually the only side dishes that were truly reminiscent were coleslaw, fries and mac & cheese. Where were the mashed potatoes with gravy, the black eyed peas, string beans, corn. The mac & cheese was a DISGRACE! it's by the box Kraft dinner with sprinkle shredded cheese on it. It SHOULD BE  by the box Kraft dinner with baked in cheese. Not a fancy dish but the backing with extra cheese is a huge upgrade to this crap. Baked beans were very Canadianized.
Things seriously missing from the menu if they want to call themselves a southern restaurant…biscuit, corn bread, hush puppies and ice tea..the real kind! you want to try some simple different BBQ food which a gourmet touch then Bofinger is for you. If you want to try reall Southern BBQ….travel!! It's not so authentic.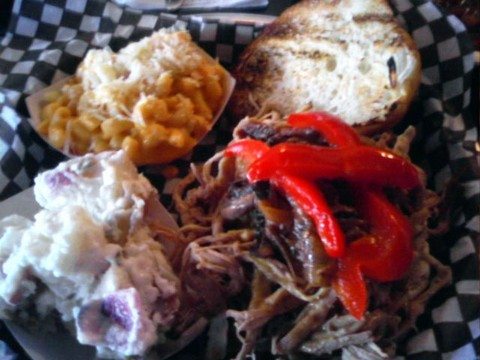 All in all there is one lesson learned here: even if two foodies share a just OK meal it can still be a wonderful outing as what counts is the company rather then the food sometimes.
Bofinger 5667 Sherbrooke West, Montreal, QC