Thai dishes are usually vibrant, exploding with flavor and spicy notes. This Thai Steamed Fish Recipe with a Lime and Garlic Sauce is not the exception. And the gorgeous presentation makes it a real conversation starter too.
For the third Eat the World Challenge we are taking a trip to Southeast Asia, more specifically Thailand! I was shocked to realize I have very little to show for authentic Thai dishes on CulutrEatz. No Thai style fish, or even less a Thai style steam fish for that matter. And I have been wanting to steam a whole fish for a long time but always felt too intimidated. Well, this challenge is about facing all sorts of fears so I prepared one of the most popular Thai dishes, a Thai steamed fish recipe with a Lime and Garlic Sauce.
PIN IT FOR LATER! https://www.pinterest.ca/pin/266275396703267421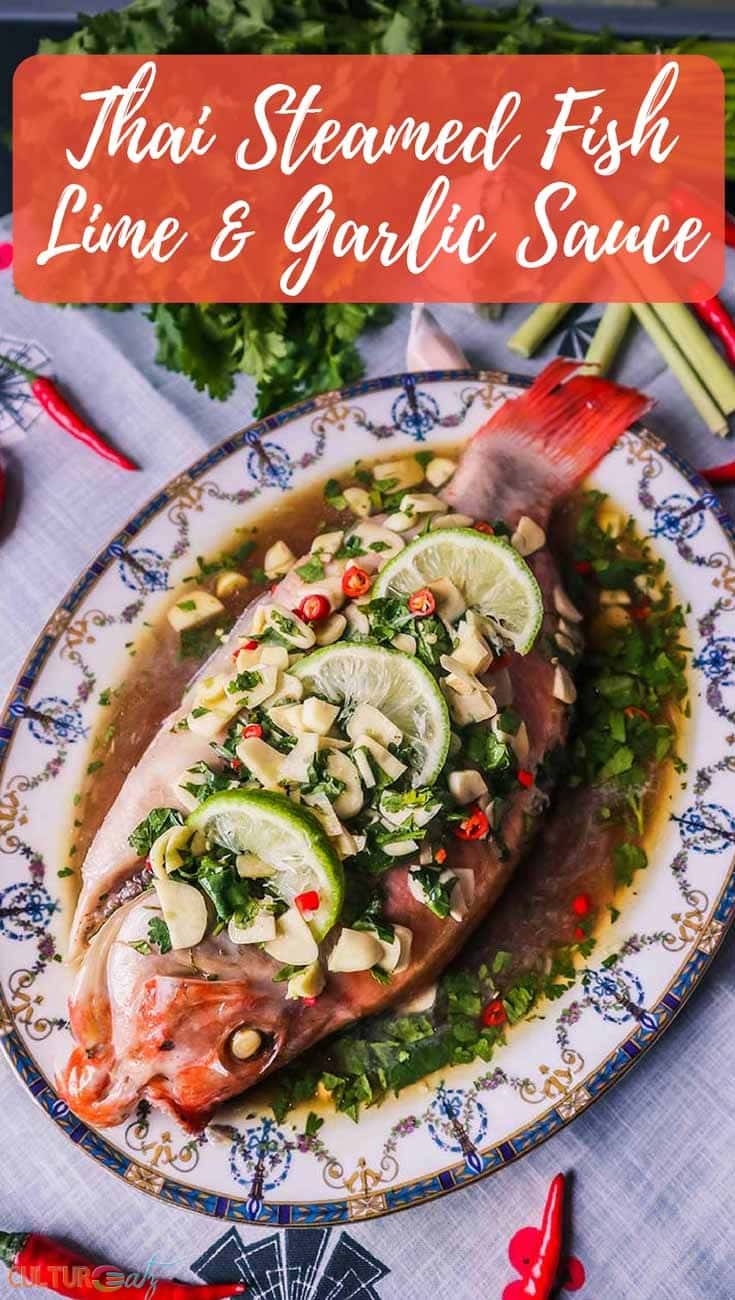 Are you freaked out by a whole fish on a plate? I know many people are but this is the presentation of most countries in the world. The head is a bit freaky but many people claim the most tender meat is on the cheeks. I also grew up learning to fish with my dad and he taught me how to gut a fish at a young age. It's good to really know where your food comes from and not just think everything comes nicely wrapped and sanitized like we are used to from a grocery store. So here is your chance to get a closer experience to Thai food and culture with this dish, break out of your comfort zone.
I have a FREE PRINTABLE for you
Surprise! I have prepared a Cheat Sheet that includes 41 Cooking and Baking Ingredient Substitutions that are commonly found in a kitchen. Click here to get your FREE Ingredient Substitutions Cheat Sheet right now!

How to Cook Steam Fish
My fear in this recipe is steaming the whole darn entire fish. I had never done it before on the blog and I was a little scared. Yet Asian steamed fish recipes are very common in restaurants. You know the one with the big fish tank where you can even choose the fish you will eat? I wanted to do that at home! I also learned  how to steam a pudding this year, it's my year of steaming lol.
But it turned out to be way easier than I had assumed. This is a simple steam fish recipe for your first time. First, you have to get your hands on a whole fish that has been gutted, and the scales and gills should be removed. What is the best fish to steam you ask? For this recipe, you would want a steamed barramundi which is an Asian sea bass. Great alternatives are red snapper, rockfish, tilapia, trout, halibut or even salmon.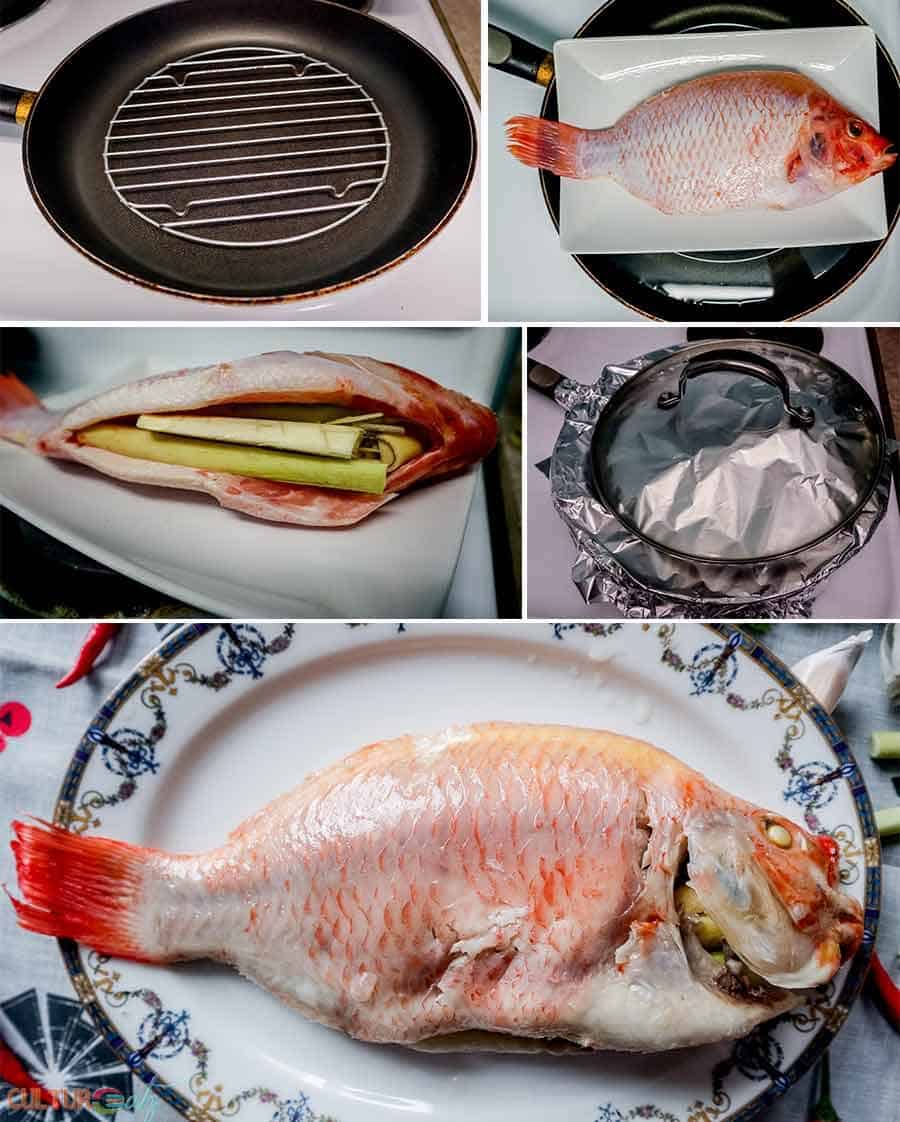 Setting Up a Steamer
Now that you have your fish, how to steam fish in a steamer? And do you need a steamer? Good news, you can hack a steamer at home. Just get a wok or a large skillet and place inside a steamer rack, a round rack or 3 balls of crumpled aluminum. On top of this place a plate where the fish can lay on. Fill the wok with 1-2 inches of water and make sure the plate is high enough that the fish does not come in contact with the water.
Finally, cover with aluminum or a lid that is big enough. Bring the water to a boil and steam for however long the recipe indicates. A rule of thumb for whole fish seems to be 10-12 minutes for 1 pound and add 2 minutes for every extra 1/2 pound. This is a really simple recipe to prepare but the key to success is not over-steaming the fish. The meat should break with a fork and be opaque all the way through, but the bones should be slightly translucent. That is it, you now know how to make steam fish. All you need to add is a steam fish sauce. 

Steamed Fish Recipe with a Lime and Garlic Sauce
When I was choosing the next country I knew I wanted to go to Asia, but which country. I soon realized I had very little authentic Thai recipes, just Thai inspired ones like my Thai butternut squash chilled soup. Basically, you can add a touch of Thai curry paste and call it Thai inspired. So my goal was to find an authentic Thai dish and I found this Thai steamed fish recipe with a Lime and Garlic Sauce from this Thai recipe site. Since then I have also made a Thai Sweet Potato Curry Cricket recipe.
As we discussed earlier, we now have a beautiful whole steamed fish, fragrantly perfumed with lemongrass. Now we need a Thai sauce for fish. Lime sauce for fish is common for steam fish recipe Thai style. In Thai cooking, a  garlic sauce recipe is also popular with the addition of lime and cilantro. For this dish, we will make a batch of this garlic and lime sauce with the addition of Thai chili pepper. The sauce itself is made of chicken broth, fish sauce, and lime juice.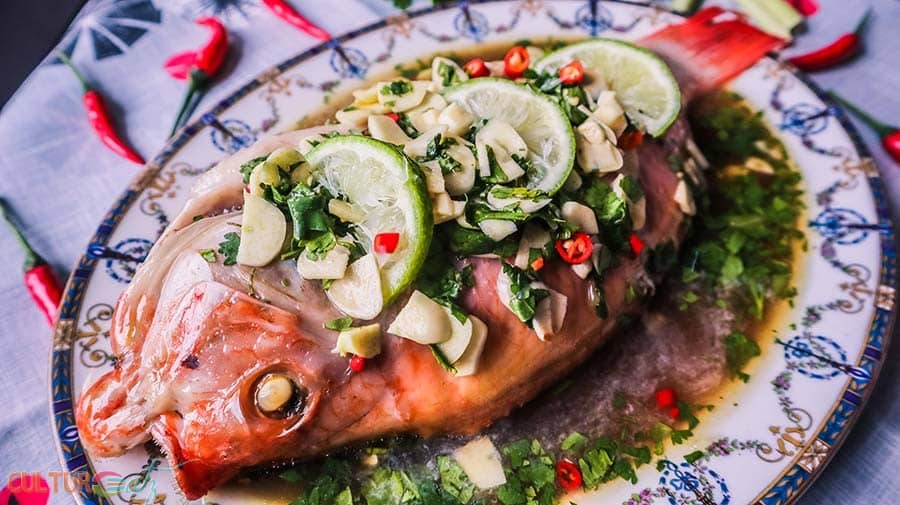 The Taste Test
This recipe definitely covers all the essential Thai requirements: spicy, sour, a little sweet, garlicky, all perfectly balanced. And it is a quick and easy steam fish recipe to make. Really, the hardest decision you will need to make is how many Thai chili peppers can you handle. I added 3 and I was happy but in Thailand, it would be more like 10 to 25 peppers.
But how did it taste? Well, let me put it this way. Once the photo shoot was over, I already had a fork in hand. Somehow, no idea how, the next I knew I ate half the fish, right there on the photoshoot set up. So yeah, it's really good! No wonder this Thai steamed fish recipe is one of the most popular dishes in Thailand by the locals.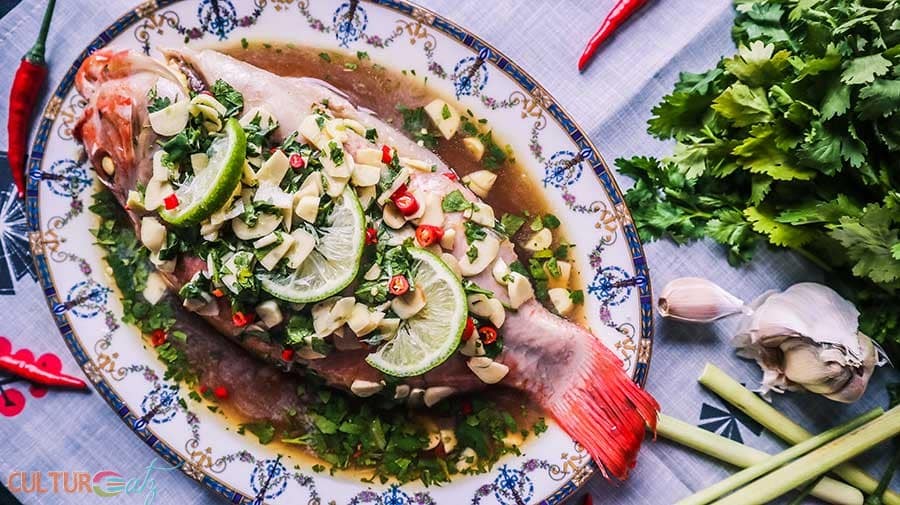 Thai Steamed Fish Recipe with Lime and Garlic Sauce
Thai dishes are usually vibrant, exploding with flavor and spicy notes. This Thai Steamed Fish Recipe with a Lime and Garlic Sauce is not the exception. And the gorgeous presentation makes it a real conversation starter too.
Ingredients  
1

whole fish

about 1 to 2 pounds (barramundi, sea bass, red snapper, tilapia), gutted, scales and gills removed

3

stalks lemongrass

1/2

cup

chicken or fish stock

1

tbsp

finely chopped palm sugar

or brown sugar

1/4

cup

lime juice

3

tbsp

fish sauce

8 to 12

garlic cloves

chopped

Thai chilies to taste

finely chopped

1/4

cup

cilantro

chopped
Instructions 
Prepare your steamer (see blog post). Score the body of the fish with 3 diagonal cuts on each side. Cut off the top half of the lemongrass, bruise the bottom stalks well, and place them inside the cavity of the fish. Steam the fish over boiling water over med-high heat for about 10 to 15 minutes, depending on the size of the fish.

In a small saucepan, heat the stock to a boil, add the sugar, lower heat and stir until the sugar is dissolved. Remove from heat and pour the stock into a bowl. Add the fish sauce and lime juice.

Mince the remaining ingredients and add it to the sauce. Stir well.

Place the fish on a serving dish with edges. Gently pour the sauce over the fish, keeping most of the garlic, coriander, and chilies on top of the fish. Serve with Jasmin rice.
Eat the World Challenge
Check out all the wonderful Thai dishes prepared by fellow Eat the World members and share with #eattheworld. Click here to find out how to join and have fun exploring a country a month in the kitchen with us!
Camilla: Thai One On
Amy: Chicken Satay
Evelyne: Thai Steamed Fish Recipe with Lime and Garlic Sauce
Wendy: Gai Pad Gratiem Prik Thai
Margaret: Shrimp Laksa – a light and luscious Thai Soup
Loreto and Nicoletta: Thai Noodle Shrimp Spicy Salad