The 5 Star Makeover group is back this month with a very season appropriate type of dish: chilled soups. Who would want to eat a hot soup during a heat wave? Not me. And I was pretty sure neither would my guests I received this past Saturday night, at the end of a heat wave.
Funny enough the menu consisted of what were suppose to eat 3 months ago when we all rented a cottage together for a weekend. A couscous (coming soon) and a squash soup never saw day from lack of time. I took the ingredients home to freeze until we could all meet again. Our warm squash soup of the winter seemed inappropriate so I found a cold soup that fit the main ingredient. I forgot to take a picture of the soup with the fried cubes of pancetta I added…totally not a Thai thing but it worked perfectly.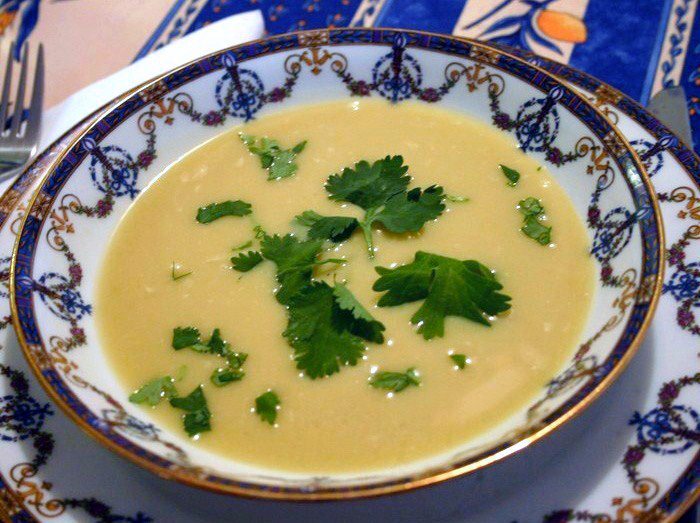 hosted by 5 Star Foodie & Lazaro Cooks!
Ξ Thai Butternut Squash Chilled Soup Ξ
Ingredients
1 stalk lemongrass (2 tbsp)
6 cups vegetable or chicken stock
1-inch piece ginger, roughly chopped
3 cups butternut squash, peeled, seeded and cubed
2 tsp red curry paste
1 tsp palm sugar
2 kaffir lime leaves
2 tsp fish sauce
1 (14.5-ounce) can coconut milk, light or regular
1 lime, juiced
Salt, to taste
1/2 cup cilantro leaves
Directions
1. Slice and mince the lemongrass stalk.
2. In a large pot add the lemongrass, stock and ginger. Bring to a boil and reduce heat to a simmer for 20 minutes. Strain the lemongrass and ginger out and return to the pot.
3. Add the butternut squash, red curry paste, sugar, kaffir leaves and fish sauce to the stock, and simmer until the squash is cooked for about 1 hour.
4. Remove from heat and blend the soup until smooth in a food processor or an immersion blender. Return to heat and add the coconut milk, lime juice and salt. Chill soup completely. Garnish the soup with cilantro and if you like some cubed pancetta.
Want more Thai recipes? Check out: