I am going through an Asian cooking phase right now. I believe one reason for this little obsession is my visits to a few Asian grocery stores filled with unfamiliar ingredients. Oh pretty shiny new things to try! Here is my latest experiment: Korean Sesame Leaves
These aromatic leaves are a staple of Korean cuisine. And would you not know it there just so happens to be a Korean grocery store near where I live. This is where I found them. They were $1.50 for a bunch. I had not idea what to do with them but for that price I think it was worth the risk he he.  I nibbled a small piece of this leaf and it revealed to me subtle minty and nutty flavors.
Now the real name for this leaf is Perilla and the sesame leaf has no actually no relation to sesame seeds. It's actually a case of lost-in-translation. The Korean word deulkkae gets translated literally into wild sesame. There is a Japanese version, same family but not same leaf, called shiso. From my online research you can shred it and toss it into a stir fry or a green salad. Some dishes use it an eating implement where you pick up a meat, a vegetable or else with the leaf instead or say a spoon or fork. I chose a really fun recipe, Leaf Jeon, for this new found ingredient.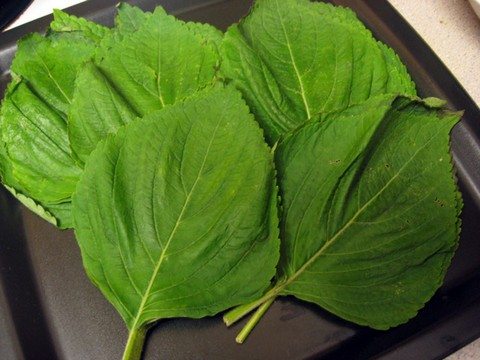 Leaf Jeon
1lb ground beef
1/2 chopped onion
1 chopped garlic clove
salt and black pepper to taste
1 egg
20 sesame leaves, approximately
flour
2 eggs
olive oil or any oil for cooking
Directions:
In a bowl mix the ground beef, chopped onion, garlic, salt, black pepper, and 1 egg.
Cut the stems off the sesame leaf, clean them under the tap water and shake off the excess water. Do not pat them dry . Grab a plate filed with some flour and coat both sides of the leaf with flour.
Grab one coated leaf, put some of the mixed meat mixture on it and spread it over most of the surface with your fingers. Top it of with the other coated leaf. It should look like a leaf sandwich with beef in the middle.
Beat 2 eggs in a bowl. Quickly dip the leaf sandwiches on both sides in the egg mixture and then fry in a bit of olive oil  them in a pan again on both sides until the meat is cooked and the outside has browned a bit.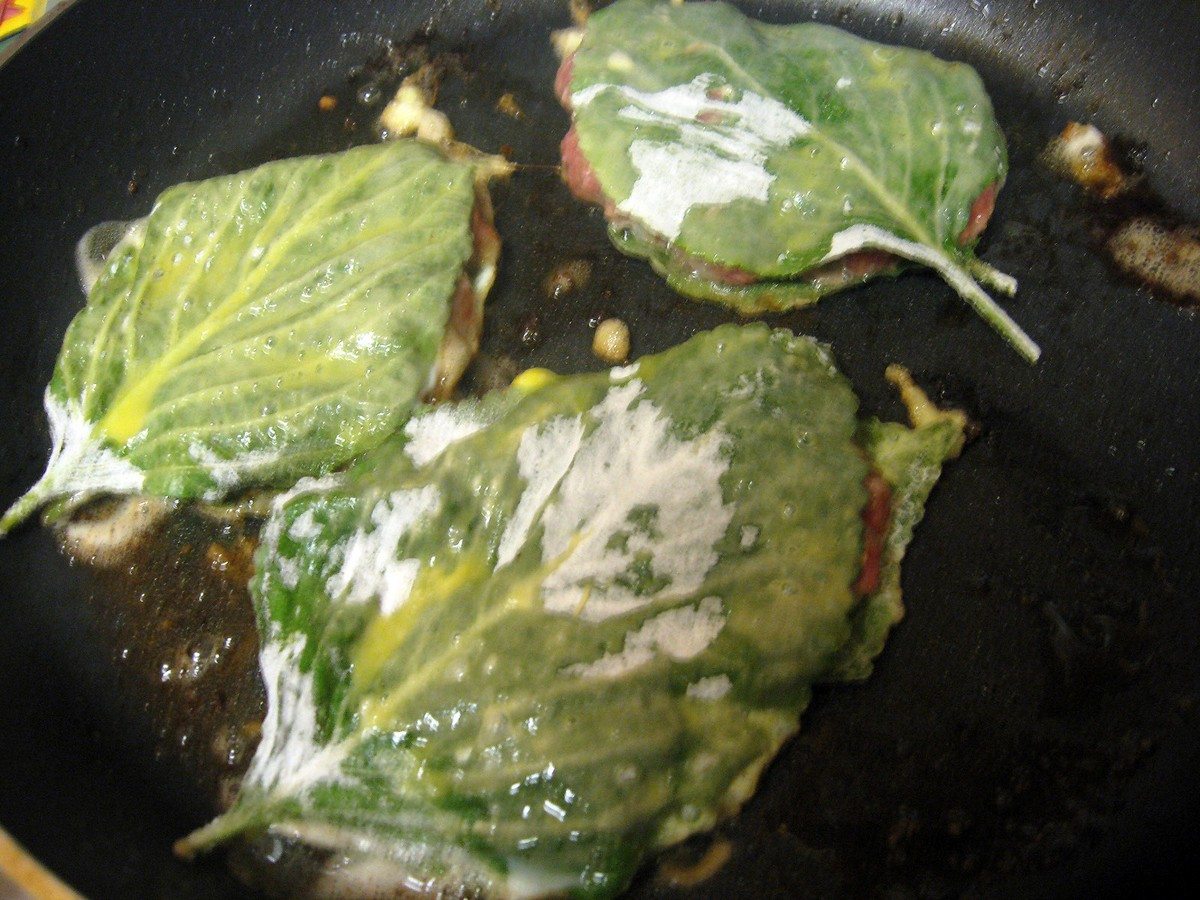 I served mine with slices of pickled daikon and deep fried Shishito peppers (leftovers from my Adegashi Tofu). Other great accompaniments would be rice and kimchi. If you like prepare a  soy sauce mixture to serve with the Leaf Jeon.  This was quite a simple recipe and you can make it pretty fast. I really like the taste but I would perhaps adjust the spicing of the meat a bit. The sandwiches were still quite tasty with a very subtle flavor from the leave and an oozing fatty taste…in a good way. It's like the fat from the ground beef had nowhere to escape during the cooking and it stayed trapped in there.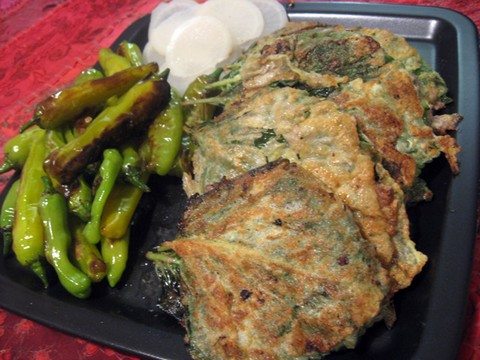 Soy sauce mixture: soy sauce slightly diluted with a bit of water, chopped green onions, sesame seeds, and red pepper powder.