Are you always searching for a new moist cake recipe with an exotic twist? Go to your kitchen right now to bake a Senegalese Mango Chocolate Pound Cake.
This month the Eat the World Challenge group is heading to Senegal. I always love trying out African recipes because I don't tend to search for them as much. But when I do foray into African recipes, I am never disappointed. And this Senegalese Mango Chocolate Pound Cake is no exception.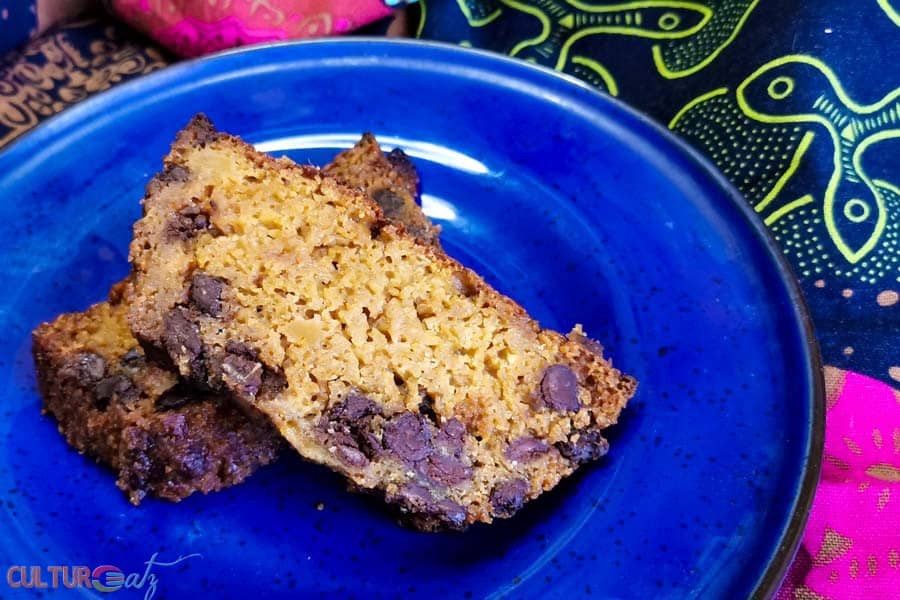 Hidden treasures in the food of Senegal
I actually had a lot of trouble finding a recipe for Senegal at first. Their cuisine offers many delicious traditional Senegalese dishes. But all that is on my mind right now while self-isolating is making sure I have sweets in the house.
Now unlike some people, I am not gaining weight. I already work from home for a while now so I have a well-balanced (ish) diet. But at some point in the day, my sweet tooth is hollering. Finding African desserts to bake can be a bit trickier.
My second obstacle was choosing a recipe that included only ingredients for baking cakes that I had at home. I am avoiding ventures out as much as possible.
And then my prayers were answered when I came across the Senegalese Mango Chocolate Pound Cake. It sounded totally scrumptious and I knew there was a bag of frozen mangoes in my freezer, alongside all my frozen fruits for smoothies.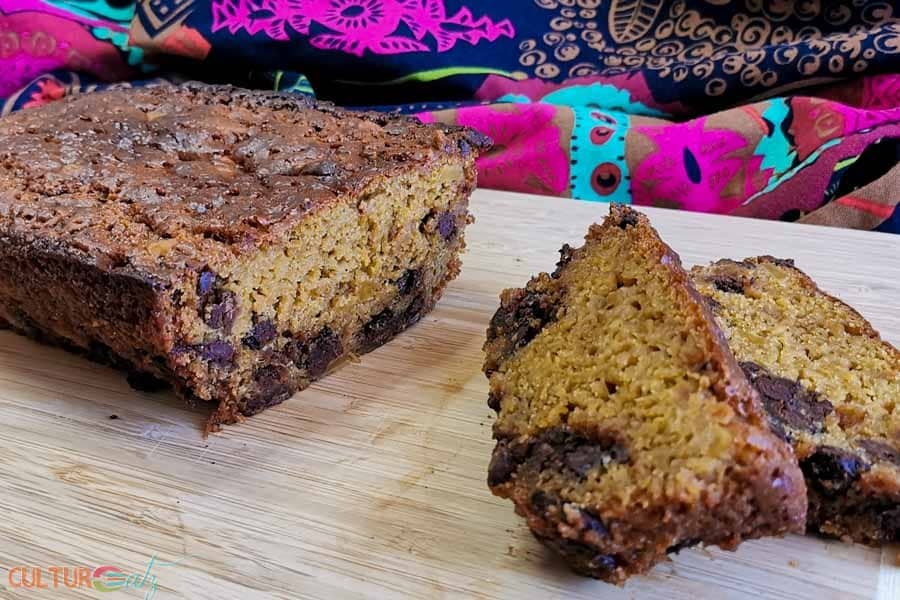 Exploring Senegalese food
Senegalese cuisine at its core is based on West African cuisine. But the Senegalese culture is a nice mix of ethnic groups as well, so you will find flavors from French and Portuguese cuisine, as well as Islamic influences in the food of Senegal.
And apparently there are mango trees, lots of mango trees. Oh, how I wish I had a mango tree. I love trying out desserts from around the world and this mango pound cake got my attention. Plus there is chocolate in it. Of all the African cakes I have searched, this one sounded awesome.
This recipe was created by chef Pierre Thiam. Born in Dakar Senegal, he is best known for bringing West African cuisine to the global fine-dining world. And he is an activist, working with local farmers to open new markets for crops grown in Africa.
And I love reading how he describes his cake…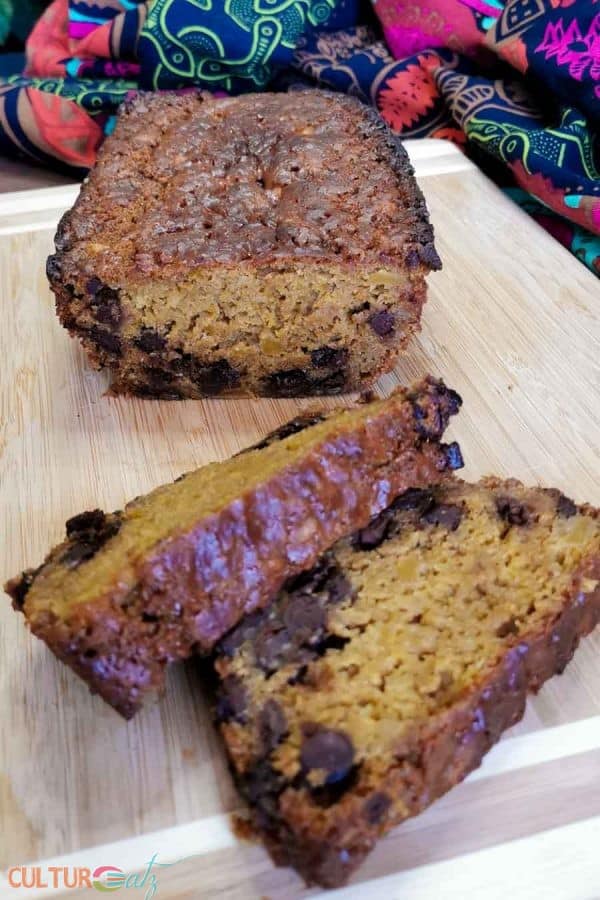 Mango Chocolate Pound Cake from Senegal
"This rich, moist mango cake is one of my favorite desserts during the rainy season in Senegal when it seems as if mangoes are growing from every other tree, yet I can never get enough of them."
Queue the song Africa from Toto.
The chocolate mango flavor combo is a winner. Once baked, the mango taste is quite subtle when you have a bite and it behaves a bit like pumpkin puree, keeping the cake super moist.
As the pictures lead to believe, the chocolate chips tend to gather at the bottom of the cake pan. So it's as if the cake rises from a bottom fudgy layer.
It's not the prettiest cake but it's a really good cake.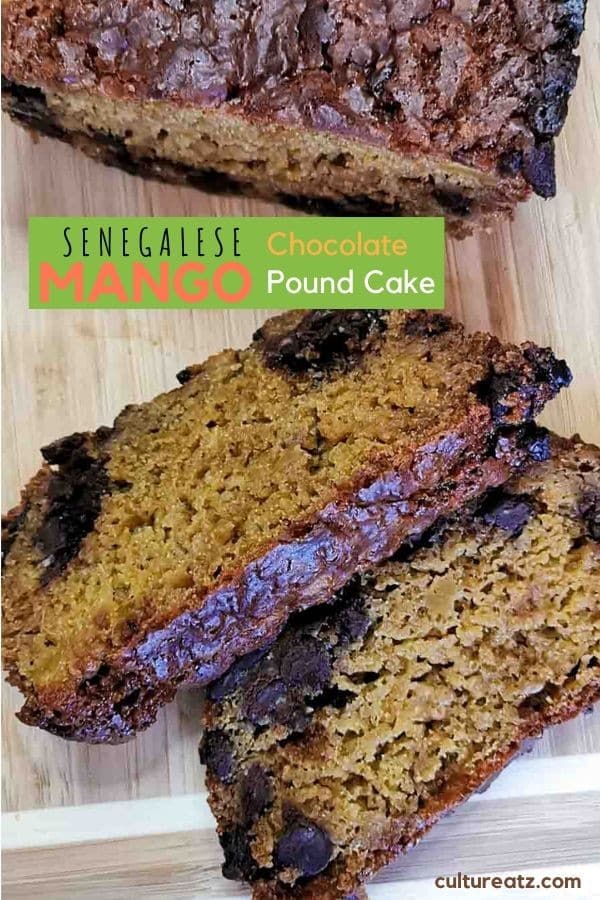 Senegalese Mango Chocolate Pound Cake
Are you always searching for a new moist cake recipe with an exotic twist? Go to your kitchen right now to bake a Senegalese Mango Chocolate Pound Cake.
Ingredients  
1/3

cup

unsalted butter

at room temperature

1

cup

all-purpose flour

1

teaspoon

baking soda

1

teaspoon

baking powder

1/4

cup

honey

1/2

cup

packed light brown sugar

1/2

teaspoon

salt

1

cup

finely chopped ripe mango

1/2

teaspoon

vanilla extract

1

large egg

1/2

cup

sour cream or Greek-style yogurt

1

cup

semisweet chocolate chips
Instructions 
Preheat your oven at 350 F. Grease a loaf pan.

Premix the flour, baking soda, and baking powder.

In a stand mixer, beat the butter, honey, brown sugar, and salt with the paddle attachment. Beat for 5 minutes until it is light. Add the mango and vanilla and beat, until just combined.

At low speed, beat in the egg. Then add the flour mixture and mix just enough for it to combine.

Mix the yogurt in for about 5 seconds. With a spatule, fold in the chocolate chips.

Pour the batter into the loaf pan and bake for 45 minutes or until a toothpick inserted comes out clean.

Leave to cool in the pan on a rack before serving.
Eat the World Challenge
Check out all the wonderful Senegalese dishes prepared by fellow Eat the World members and share with #eattheworld. Click here to find out how to join and have fun exploring a country a month in the kitchen with us!
Amy's Cooking Adventures: Café Touba (Senegalese Spiced Coffee) #eattheworld
Culinary Adventures with Camilla: The Kitchen Elves' Senegalese-Style Gumbo
Pandemonium Noshery: Poulet Yessa – Senegalese Chicken
CulturEatz: Senegalese Mango Chocolate Pound Cake
A Day in the Life on the Farm: Maafe
Making Miracles: Senegalese Poulet Yassa
Sneha's Recipe: Poulet Yassa -Senegalese Style Chicken
Dinner By Dennis: Fataya (Deep Fried Senegalese Street Food)
Kitchen Frau: Mafé (Senegalese Beef & Peanut Stew)
The Schizo Chef: Senegalese Sweet Potato Shrimp Fritters
PIN IT HERE for later