Remember about 5 months ago when I had major water damage and I was suppose to get a new kitchen out of it. Well I did not. Then early last week I had to endure another moment of water problems. No damage (to my stuff, nor in the kitchen) this times but things shook up big time in the landlord's office. My apartment is a construction site in the bedroom, hallway and I have no kitchen right now. So not a whole lo of cooking going on. I am documenting the whole kitchen project so expect soon a post on that.
This meant I had to EMPTY the entire kitchen Sunday, Oh what Fun! And I had a dinner guest Sunday night too, nothing fancy or major but still. My guest is a long time friend who in the past was in Africa for about 4 months. And I just happen to buy an African cookbook. So grab your suitcase and hop on board to a delicious yet simple one pot Gambian stew served with fufu.
Gambian Beef in Aubergine Sauce, from The Taste of Africa
1 lb stewing beef, cubed
1 tsp thyme
3 tbsp oil
1 large onion, chopped
2 garlic glove, crushed
1 19 oz stewed tomatoes
1 tbsp tomato paste
1/2 tsp all spice
1 chili pepper, seeded and chopped
3 cups beef stock
1 large eggplant
salt and pepper
Season beef with thyme, salt and pepper
Heat 1 tbsp oil in a large pot and brown the meat, transfer meat to a bowl
Add remaining oil in the pot and fry the onion and garlic for a few minutes.
Add the tomato can and tomato paste, simmer 5-10 minutes
Add the all spice, chili, beef stock and meat to the pot. Bring to a boil, cover and simmer for 30 minutes.
Cut the aubergine in small cube. Stir into the pot, cover and cook another 30 minutes.
Adjust seasoning if need be. Serves 4 in a soup bowl with some fufu.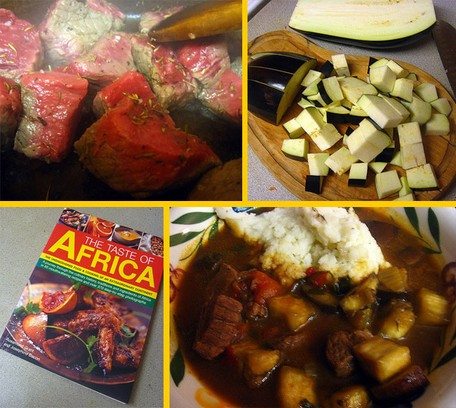 I rarely buy cookbooks any more because of the internet and because cookbooks can be so expensive even if stunning at times. But I had been meaning to visit Appetite for Books for quite some time and I finally got around to it. This bookstore in Westmount (Montreal) is entirely dedicated to books about food. It is totally awesome. I spoke for a while to the lady working there, she gave me great advice and suggestions when I asked for help and we of course chatted about food and blogs. And I could not resist leaving the store without at least one purchase so I got The Taste of Africa cookbook and a historical book on Salt. Classes, book launches and cooking demos also take place here in the full kitchen. It is really worth checking out if you come to Montreal.
____________________________________________
Fufu, from The Taste of Africa
The best way I can describe Fufu is like polenta but it is made with ground rice. It has a porridge-like consistency and is used to mop up the liquid from the stew. I had this at a restaurant once and was fascinated so when I saw the recipe in the book I knew it was a must asap.
1 1/4 cup milk
1 1/4 cup water
2 tbsp butter
1/2 tsp salt
1 tbsp chopped fresh parsley (or 1 tsp dried)
1 1/2 cup rice flour
Put milk, water, butter and salt in a pan, bring to a boil.
Lower your heat to low.
Add parsley and then gradually the rice flour while stirring non stop with a wooden spoon to prevent the rice becoming lumpy. It should ball up a stick together.
If it is too wet still let it cook a bit more. Divide in 4 and add to serving bowl with the stew.