Oliebollen are Traditional Dutch food eaten on New Year's Eve. These fried Dutch doughnuts are made with a yeast dough full of dried fruits and apples.
Can you guess what I will be having for breakfast every day in the upcoming holiday weeks? Oh yeah, many Oliebollen Dutch donuts which are a quintessential Traditional Dutch food treat for New Year's Eve. Apparently over 80% of the Dutch population consumes Oliebollen on between Dec 26th/Jan 06th.
With this recipe, I wish you all Happy Holidays and a very Tasty, Happy and Healthy New Year!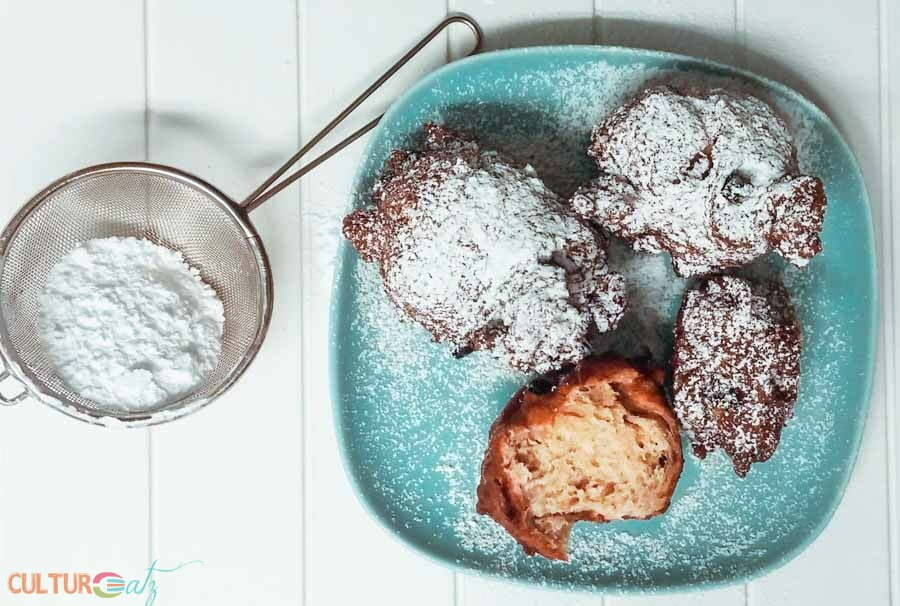 Holidays in the Netherlands
Did you know that Santa Claus does not visit the Netherlands? Instead, children are visited by Sinterklaas (Saint-Nicholas) on December 5th and he leaves them little gifts and treats. The rest of the year, he lives in Madrid, Spain.
On Christmas day, families and friends gather in churches for quiet services and then celebrate over a delicious Dutch menu often including venison or roast goose, roast pork, bitter ballen, and vegetables.
They will also snack on typical Dutch food like boiled chestnuts, fruit, marzipan bread, and cookie. Letter cakes are shaped and baked like the first letter of family member's name and many more Dutch desserts.
The Oliebollen Dutch snack only shows up on December 26th and the Dutch people gorge themselves with them for the next 2 weeks.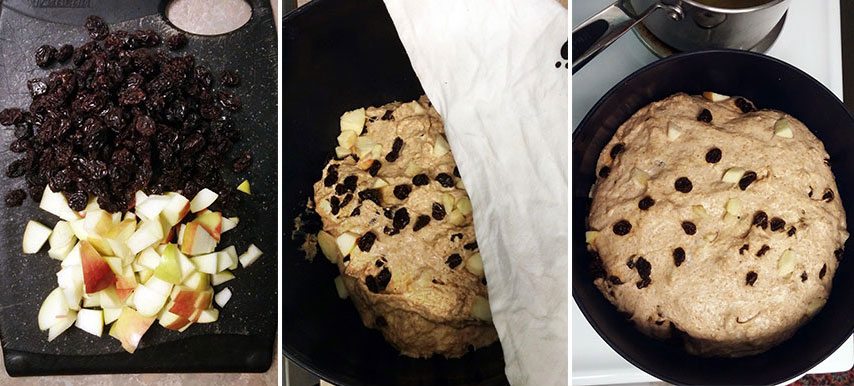 A Traditional Dutch Food New Year's Eve Tradition
Oliebollen were first made by the Batavians and Frisians tribes and they were flat at first. And there is a cool folkloric story tied to these Dutch doughnuts.
The goddess Perchta would fly through the mid-winter sky with some evil spirits pals of hers. Perchta liked to cut open the bellies of all she came across. But if you ate an Oliebollen, her sword would slide off the body of whoever ate them because of the oil.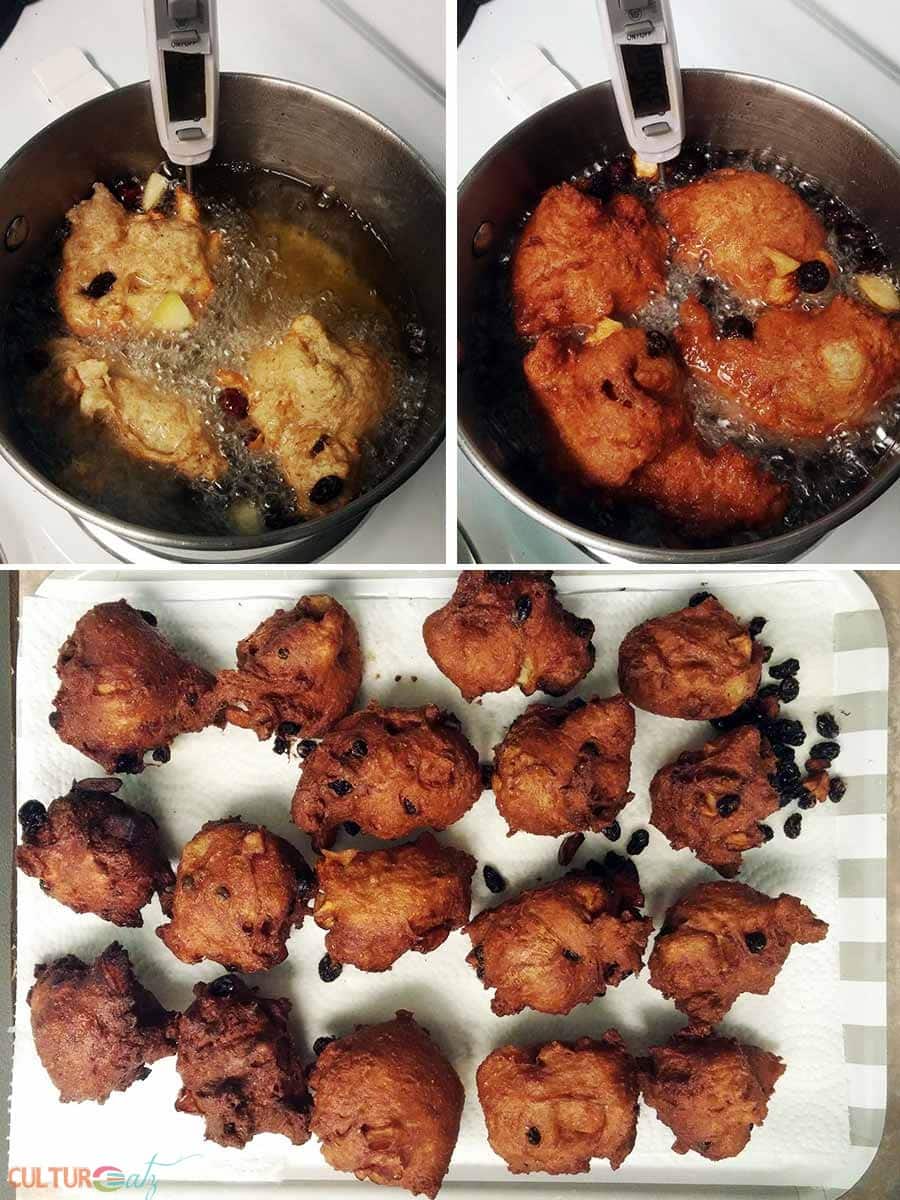 A delicious oil ball
If you translate Oliebollen directly, you get an oil sphere or oil ball. Not a very sexy translation. But it simply means fried dough balls, like our more familiar beignet or fritter fried dough recipe. Mentally, that sounds much better.
Some people just fry the doughnut balls plain but here we have added raisin and apples. You could try other dried fruits and nuts perhaps! Whichever way you make them, they are a great entry when trying out Dutch cuisine, a very popular Netherlands food, the stroopwafel.
The perfect finishing touch is a heavy dusting of icing sugar. They are the perfect breakfast, snack treat or dessert!
Want to see a video presentation of this recipe? Check this out this video and subscribe to my Youtube channel.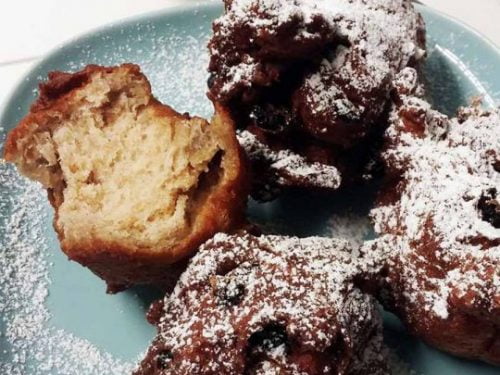 Oliebollen | Traditional Dutch Food Doughnuts
Oliebollens are Traditional Dutch food eaten on New Year's Eve. These fried Dutch doughnuts are made with a yeast dough full of dried fruits and apples.
Ingredients  
300

g

/ 2 1/2 cups whole wheat flour

200

g

/ 1 1/2 cup plus 5 tsp all-purpose flour

10

g

/ 3 tsp instant yeast

10

g

/ 1 1/2 tsp salt

25

g

/ 2 Tbsp caster sugar

3

g

/ 1/2 tsp cinnamon

150

ml

/ 1/2 cup plus 2 Tbsp brown beer

room temperature

175

ml

/ 3/4 cup water

room temperature

175

ml

/ 3/4 cup milk

room temperature

50

g

/ 3 1/2 Tbsp unsalted butter

melted but not hot

1

small egg

200

g

7 oz, or 1 1/3 cups raisins

1

small apple or half a big apple

vegetable oil for frying

powder sugar
Instructions 
In a large mixing bowl mix flours and yeast with a whisk.

Add salt, sugar and cinnamon, and mix again.

Add beer, water and milk (mind the room temperature), the melted butter, and the egg.

Attach the paddle to your mixer (or the dough hook, if you don't have one) and mix the ingredients thoroughly. Go on until the dough becomes elastic, a few minutes.

Let the dough rest for 15 minutes.

In the meantime cut the apple in small cubes, as big as peas or beans.

Add raisins and apple to the dough, and mix well with a spatula.

Put a wet towel over the bowl, and let the dough rise for an hour, until is has nearly doubled in size.

In the meantime, put the oil in your deep fryer. Heat it to 180°C / 355°F.

Get ready for cooking: place a tray on the counter and cover it with two layers of paper towels. Have something ready to place your scoops on, to not cover your counter with grease. And have a timer handy, to track frying time.

Once the dough has doubled in size and the oil is hot, dip your ice scoop in the oil to avoid sticking, and fill it with dough, leveling it against the side of the bowl. Take care to include a reasonable amount of filling.

Release the doughball carefully into the oil, by sticking the scoop into the oil and pulling the lever. For now, don't add more oliebollen. Start the timer.

Observe the behavior of the oliebol. It will start floating around, and after some time, it will turn over automatically. That way, in the ideal situation, it will brown on both sides. If the oliebol doesn't turn over, help it when the frying time is halfway over, using a fork.

After five minutes of frying, take it out of the oil and put it on the tray with paper towel. Wait a minute, and then cut it through the middle with a sharp knife. Look at the center. Do you see raw dough? Then you should have cooked it longer. Do you see a bread-like texture? Then it is done, and you could even try to shorten the cooking time.

If you are satisfied with the texture? Then start again, but now with a few oliebollen at once. Are you not satisfied? Try again with a longer or shorter frying time.

Keep frying until there is no dough left, and make sure the oliebollen are all the same size, otherwise they will need different cooking times. Don't forget to start the timer with each batch, and remember that the ones you put in first, should be taken out first.

Oliebollen are best when you eat them while they are still hot and crunchy. Sprinkle them with powdered sugar and enjoy!
PIN IT HERE FOR LATER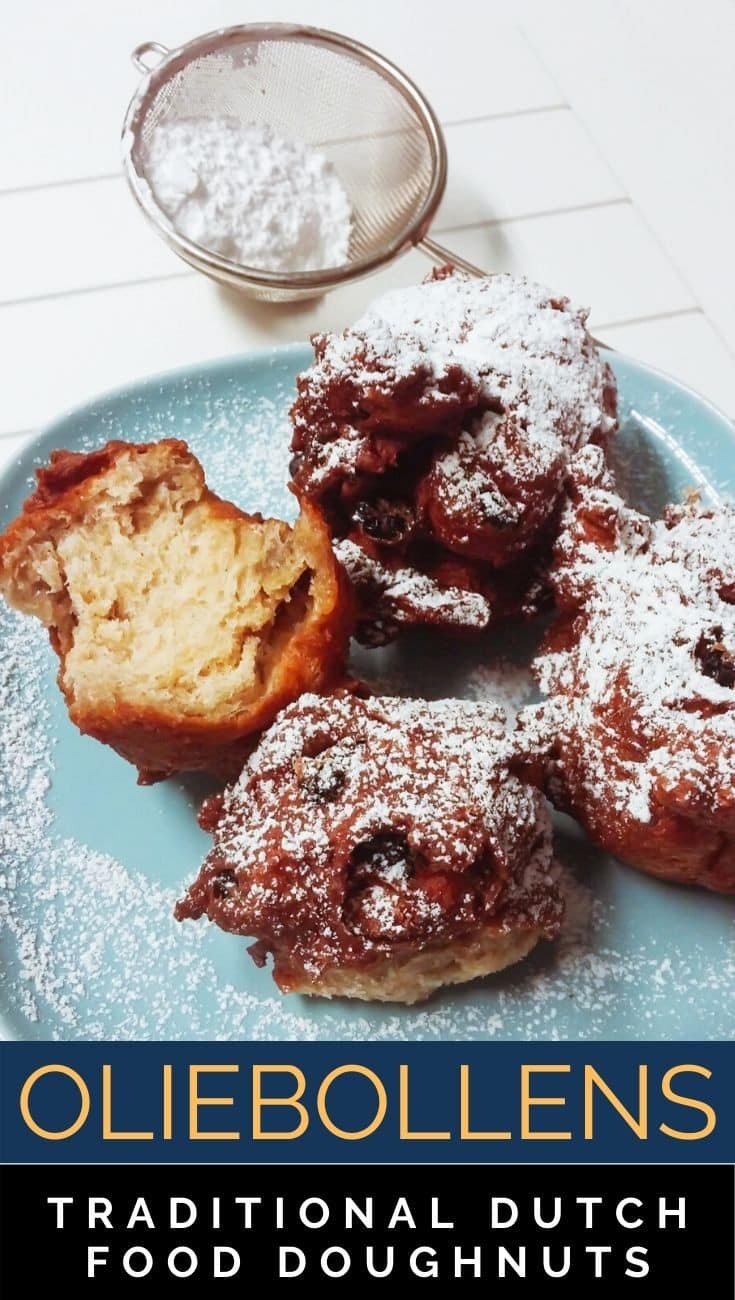 Check out all the wonderful Christmas/holiday dishes and sweets prepared by fellow Eat the World members and share with #eattheworld. Click here to find out how to join and have fun exploring a country a month in the kitchen with us!
Culinary Adventures with Camilla: Glædelig Jul, Nisser, and Mormor Agnes' Æbleskiver
Literature and Limes: Makowiec
Palatable Pastime: Danish Asier Pickles
Amy's Cooking Adventures: Lebkuchenherzen (German Cookies)
Chipa by the Dozen: Pepperkaker (Norwegian Christmas Cookies)
Evelyne: Oliebollen, the Dutch Doughnut
Loreto and Nicoletta: Sandbakkelse, Norwegian Christmas Cookies
Simply Inspired Meals: Classic Christmas Spritz Cookies
A Day in the Life on the Farm: Bohemian Potato Salad
Making Miracles: Scottish Steak Pie
Margaret at Kitchen Frau: Basler Leckerli, Swiss Christmas cookies