Stroopwafels are a yeasted cookies, cooked with a shallow waffle cookie press, split down the middle and filled with a gooey butterscotch filling.
A couple of years back my colleagues and I would buy these Dutch cookies almost every day at a grocery store on the way to work. And we were not alone, the store could not keep up with the demand. And then one day there were none ever to be found again, we were very upset. So you can imagine my excitement when I saw this month's Daring Kitchen challenged was to make Stroopwafels, the very cookies I missed so much.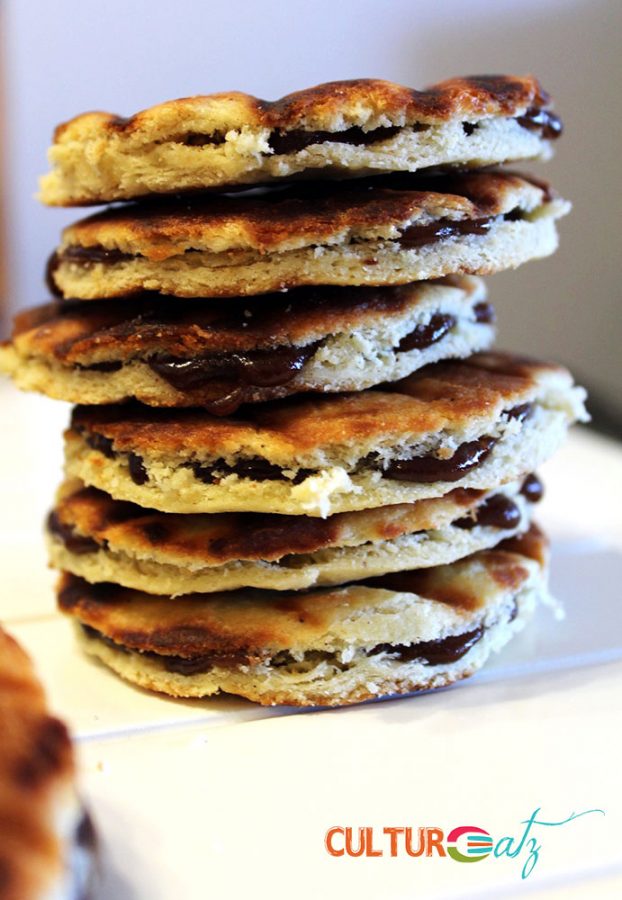 Stroopwafels are originally from Holland and date back to 1784. A baker in the town of Gouda made waffle from leftover crumbs and spices, then filled this waffle with syrup. The Stroopwafel first was born from leftovers. It gained popularity and it now can be purchased all over Holland. You could call it the national cookie. This Daring Baker's challenge is brought to us by Julianna from Egg Day and the recipe comes from Diana's Desserts.
Now I really had to improvise because the waffles are normally cooked in a pizzelle iron or waffle cookie iron, waffle cone iron, or shallow waffle iron. I have a Belgium waffle iron and the grooves are too deep.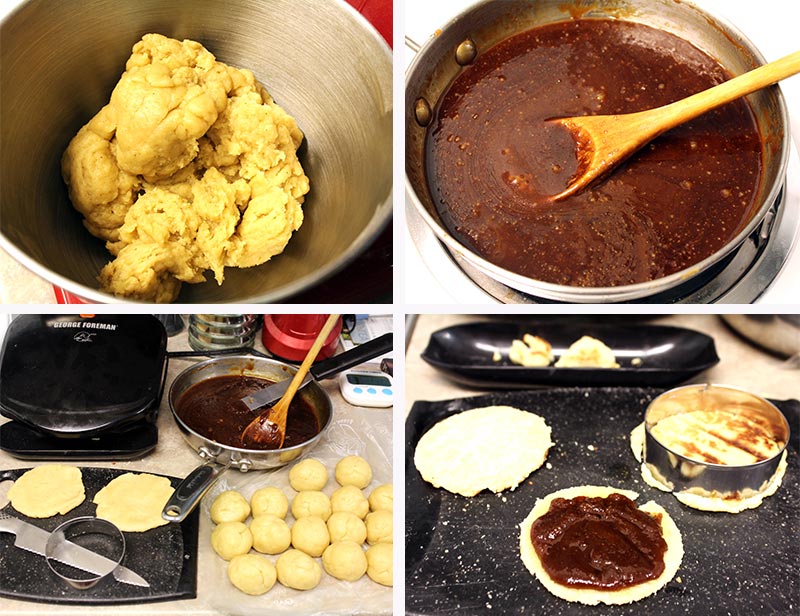 My dusty Georges Foreman grill came to the rescue. The cookies were not as large in diameter as they should be and the waffle cooked quite a bit thicker, but it totally worked to make the cookies.
Alas my butterscotch was a bit granular but the taste of my Stroopwafels cookies was amazing and very close to the real deal! Had my cookies been wider I would have enjoyed them the ideal way: placed over the rim of a steaming tea or coffee mug where they get warmed up and the butterscotch gets gooey.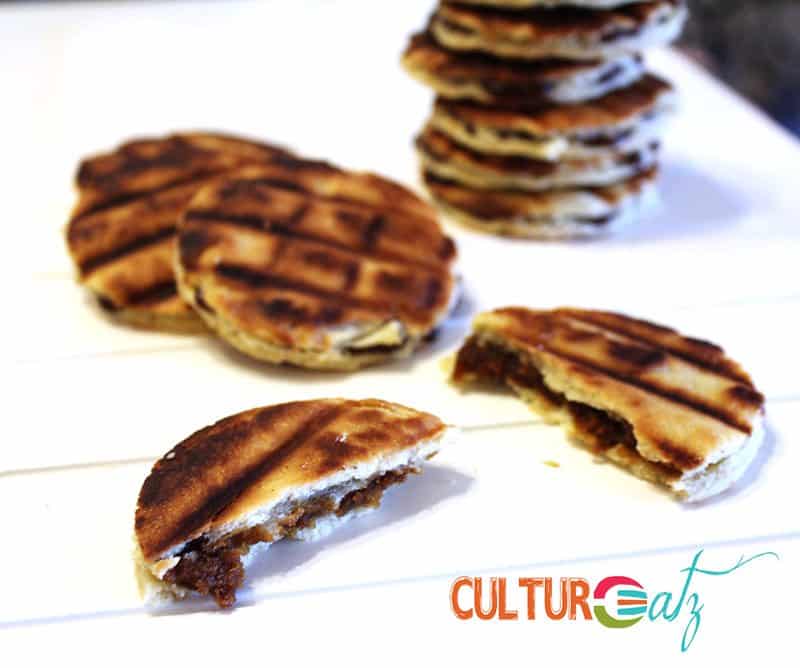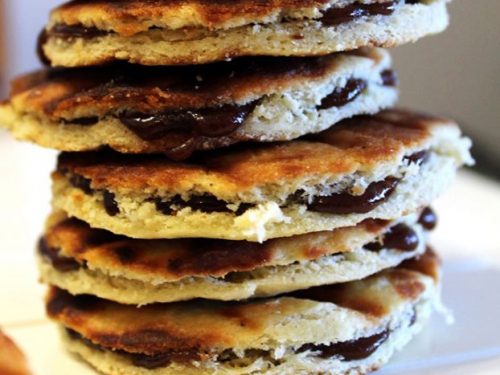 Dutch Stroopwafels
Ingredients  
For the Wafels:
1/2

cup

/ 120ml warm water

105-110°F / 40-43°C

1/4

ounce

/ 7g / 1 envelope active dry yeast

regular, not quick rise

1/2

cup

/ 100g granulated sugar

1/4

teaspoon

salt

1

cup

/ 2 sticks / 8 ounces / 225g unsalted butter

melted

2

large eggs

4

cups

/ 500g all-purpose flour

1/2

teaspoon

ground cinnamon
For the Stroop Filling:
1 1/2

cups

/ 300g brown sugar

packed

1

cup

/ 2 sticks / 8 ounces / 225g unsalted butter

1/3

cup

/ 80ml dark corn syrup

or molasses

1

teaspoon

ground cinnamon

Oil spray for cookie press
Instructions 
In a stand mixer bowl combine water, yeast, a pinch of sugar from the ½ cup and salt. When the yeast is foamy (about 3 minutes) add the remaining sugar and butter, blend together. Add the eggs and mix. Add the flour and cinnamon. Mix one minute beyond just combined. Allow the dough to rest, covered or wrapped in film, while you make the stroop.

In a heavy bottom pan combine the brown sugar, butter and corn syrup. Over medium high heat, bring mixture to a boil, not stirring. Attach candy thermometer.

Brush the sugar down from the sides of the pan with a wet pastry brush. Bring to 234-240°F / 112-115°C / soft ball stage. If you don't have a candy thermometer, you can test it - at this point the syrup dropped in to cold water can be formed into a soft and flexible ball. Remove from heat, add cinnamon. Stir until smooth.

Preheat waffle iron. Measure the dough into 24 to 26 x 1 1/2 ounce / 42g balls. Roll into round balls. Lay out a cutting board, round or decorative cookie cutter, knife, and offset spatula.

In quick order spray the cookie press, put in a ball of dough into each side of the cookie press. Close quickly using pressure to flatten the dough. Timing varies for each iron, roughly 1-3 minutes, allow your cookies to cook. Look for the steam coming from your press to diminish noticeably. You are looking for a dark golden brown. If they are undercooked they will not be crispy when cool. If they are overcooked you cannot split the cookie to fill it.

As soon as the cookie is cooked (it may be puffed, if you're lucky) cut with the round cutter. This gives you a clean edge to halve the cookie.

Cut it through the middle to make two disks. It will be hot, use a clean tea towel to handle the cookie if necessary.

Spread 1-2 tablespoons stroop onto one half of the cookie, then top with the other half. Allow to cool.

If you move quickly, you can refill the cookie press after you've cut and split the cookie. Those cookies can cook while you are filling the ones you just removed from the iron.

They store well wrapped at room temperature for up to a week.
Notes
The waffles are nearly impossible to split once they cool. If you need to pause in the process do it after you've split the cookie.
Cinnamon is the traditional flavor but there is contention about just how much cinnamon should be used. You can make any flavor variation you'd like: vanilla-omit the cinnamon and add vanilla, nut-add ½ cup finely chopped toasted nuts to the stroop after it is cooked.