Want to be the cool mom for your (young and old) kid's next birthday party? Make this easy Planet Mars Ice Cream inspired by the movie The Martian.
No potatoes for me! Because potatoes is the main food of choice in this movie.  We were asked to watch the film The Martian and make an inspired recipe. And I knew most people would do potatoes. Got nothing against them, but I would loose points for my infamous crazy idea loopy creative reputation. So I came up with an ice cream.
Yep ………….. a Planet Mars Ice Cream!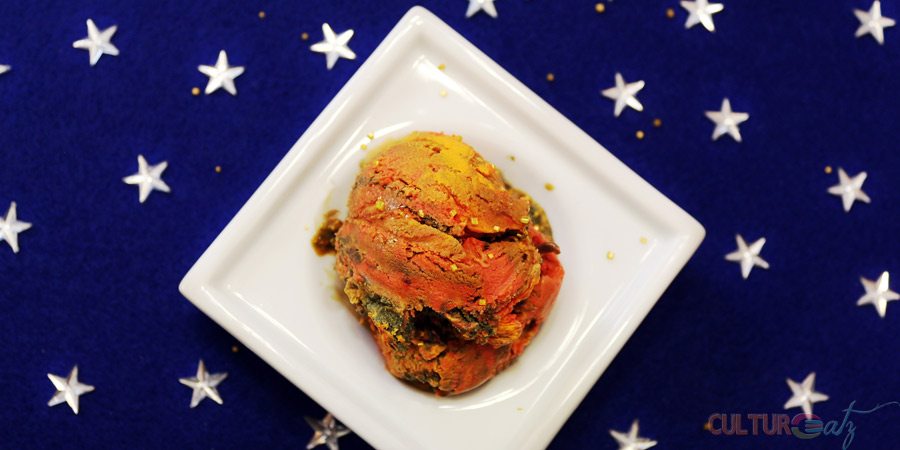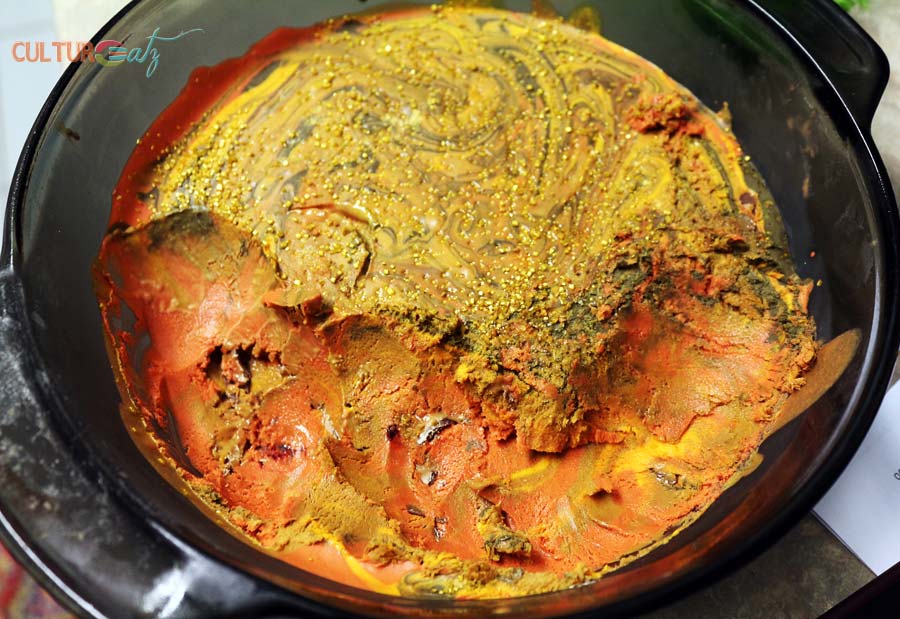 The Martian  is a 2015 science fiction film starring Matt Damon as an astronaut who is mistakenly presumed dead and left behind on Mars. The film depicts his struggle to survive with this basic dilemma: food. He needs to grow food. Well his eureka moment comes when he comes across a bunch of potatoes for a Thanksgiving dinner. And it does not hurts that he also happens to be a botanist. Will earth realize their mistake and, if so, find a way to rescue him? Watch the movie to find out! I really enjoyed this film and in fact it was the second time I was seeing it.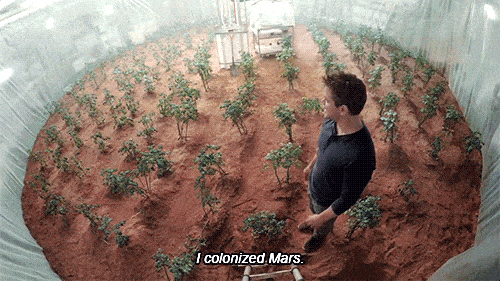 Food 'n Flix is hosted this month by Wendy at A Day in the Life on the Farm ! In this monthly group a host picks a movie of their choice that pertains to food. Everyone watches the movie and then makes a recipe which the film inspired. It can be any recipe you want. Join us!
Food sightings in The Martian: coffee, space food lunches ( mac & cheese, beet goulash, meatballs, vegetable soup) and dinners (beef stew with noodles, beef teriyaki, vegetable stew, sweet and sour chicken), grape juice or recycled urine, making water, protein cubes, a sugar bomb,  Thanksgiving dinner potatoes, , microwaved potato and ketchup, potato plants…did I mention potatoes?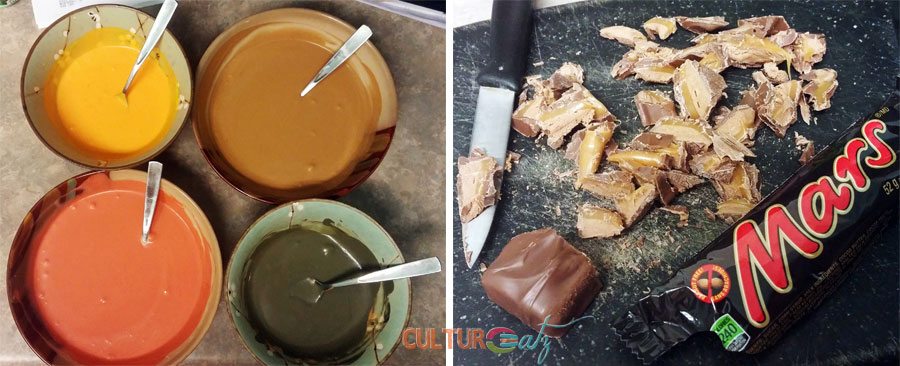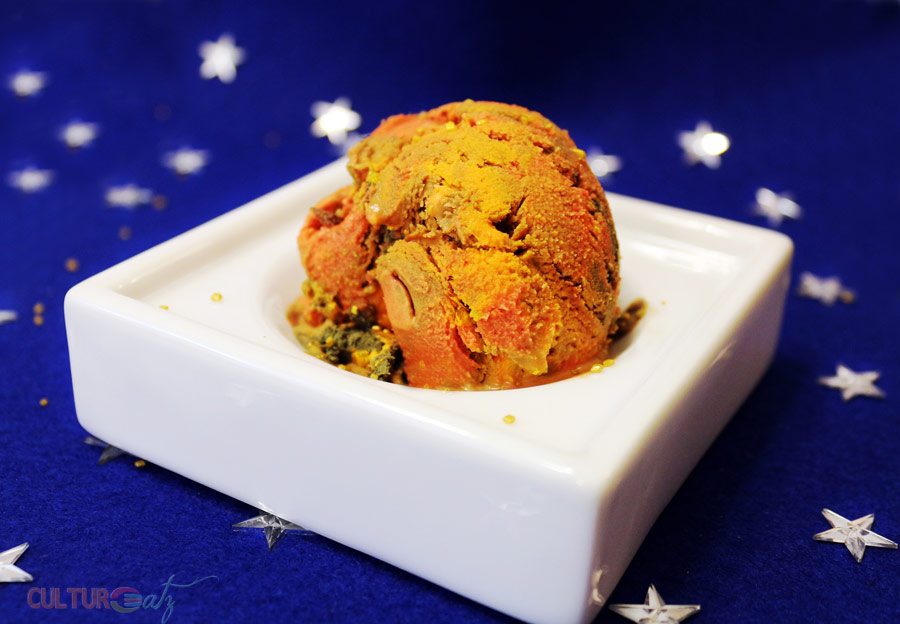 Planet Mars Ice Cream
I really wanted to stay clear of any potato recipe. Yeah that was a challenge in itself. Researching actual space food, I learned a lot about the history of space food but I did not come across any concrete recipes. I did find however these two recipes created for astronaut Samantha Cristoforetti where she shows us on video how she puts together these two dishes in space: whole red rice and turmeric chicken and mackerel, quinoa and leek cream tortilla. Very cool but not so pretty for the blog.
I finally hit the jackpot when I found this galaxy ice cream idea but changed my colors to imitate the planet Mars! And for good measure I of course threw in a chopped Mars bar!
By the way it is plain vanilla but it looks…out of this world. I am proud to add it to my long list of special ice cream recipes.
A few more unique and fun ice cream recipes: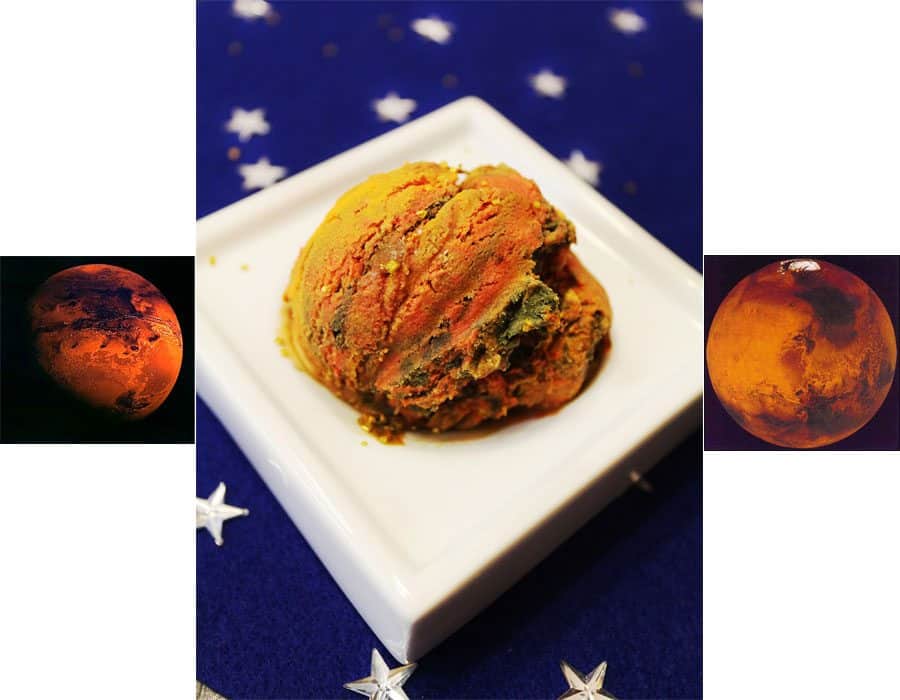 Next to the actual Planet Mars….pretty darn close right?
Being a space cadet (ha ha, get it?) I got 1 cup of whipping cream when I was at the supermarket. Duh! I needed 2 cups. I substituted my second cup with plain yogurt which I had in the fridge. Great way to accidentally cut down on the calories! It worked just fine, I just had to freeze my colors separately a bit before putting them all in my main freezing container.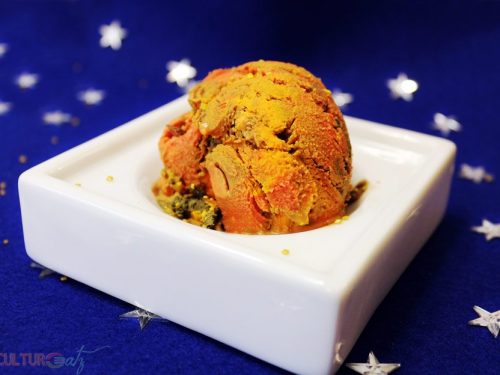 Planet Mars Ice Cream
Want to be the cool mom for your (young and old) kid's next birthday party? Make this easy Planet Mars Ice Cream inspired by the movie The Martian.
Ingredients  
2

cups

whipping cream

or 1 cup whipping cream + 1 cup plain yougurt

1 8

oz

can sweetened condensed milk

1

tsp

vanilla

gel food coloring

black, brown, copper, red, golden yellow

1

Mars bar

chopped

Sprinkles
Instructions 
In a stand mixer or a bowl with a hand mixer, beat the whipping cream until you get soft peaks.

Add in the sweetened condensed milk, vanilla and optional yogurt if using. Mix until well combined for about 1 minute.

Separate ice cream liquid into 4 separate bowls: 2 medium (main colors) and 2 small (accent colors). Color each bowl with food coloring until you get the desired color.

If the liquid is too runny, place the bowls in the freezer in 15 minute increments until it holds up a bit.

In a large container, pour your #1 main base color and then combine each color by the large spoonful and toss in randomly the chopped Mars bar. Mix gently with spatula to blend the colors a bit. Top with sprinkles if desired.

Freeze for 6 hours to overnight before serving with an ice cream scoop.