A salad, tossed and served in a bowl – BORING! Instead throw that lettuce on the BBQ and turn your dressing into an ice cream: Anchovy Ice Cream on Grilled Caesar Salad! Voilà!
It's Food 'n Flix time again! In this monthly group a host picks a movie of their choice that pertains to food. Everyone watches the movie and then makes a recipe which the film inspired. It can be any recipe you want. This month's pick is hosted by Kimberly at Coffee and Casseroles and she picked a fun movie that the whole family can enjoy: Hotel Transylvania 2. It's been a while since I did a crazy recipe, this movie was full of insane inspirations but I took one almost word for word, that is Anchovy Ice Cream!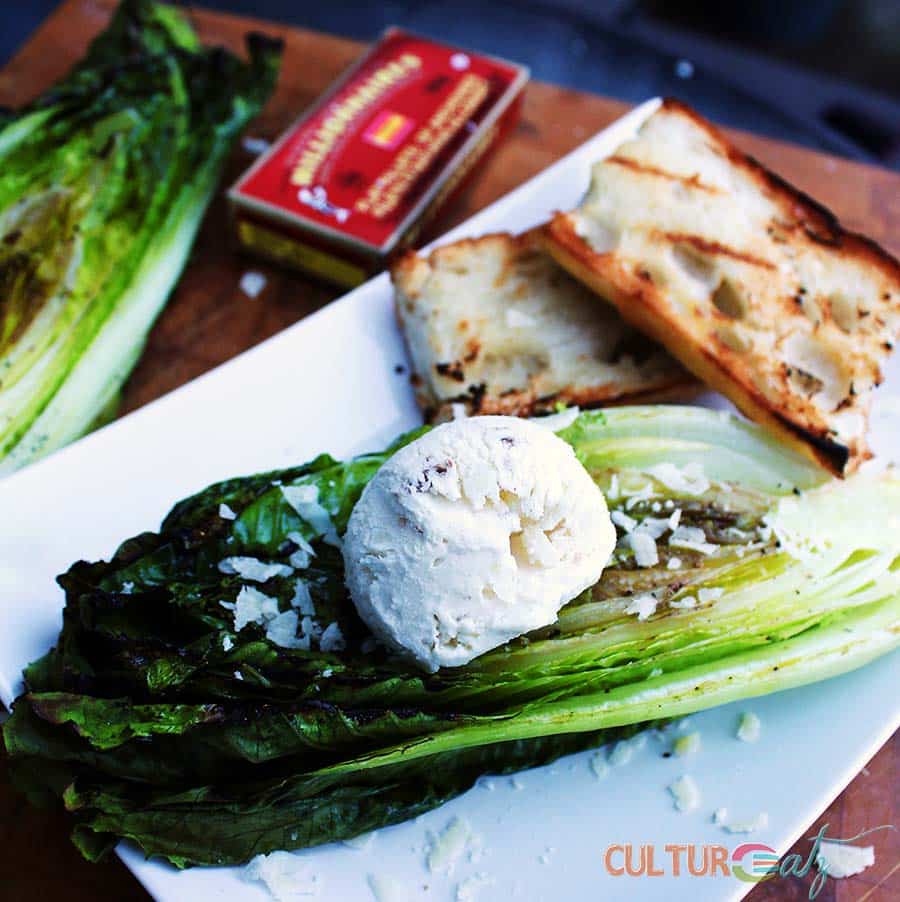 The movie: Hotel Transylvania 2
The 2015 Hotel Transylvania 2 3D computer animated film follows up the sequel Hotel Transylvania from 2012. Do not worry about missing the first one, it is easy to catch on very soon. Dracula runs a hotel for monsters because, you know, they need to chill out too sometimes. But humans are starting to come to the hotel now as well, especially for the marriage of Dracula's daughter and a -wait for this – human (eww). Nine month's later they welcome into the world their son Dennis.
Dracula is concerned that Dennis – whom is calls Dennisovitch – might become more human than vampire so he enlists his friends try to bring out the monster in his grandson in order to keep his daughter from leaving the hotel. Dracula has till Dennis' 5th birthday. Will Dracula succeed? To find out watch the movie 🙂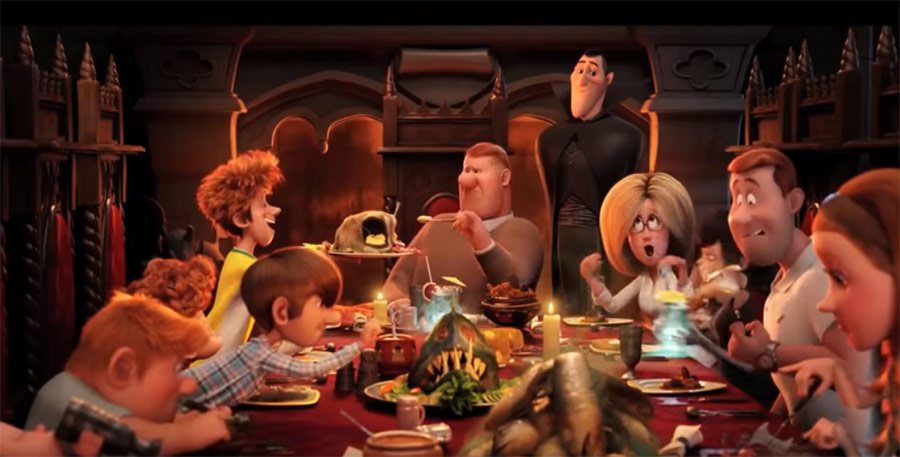 So my last movies in this group have left me on the fence when it comes to how much I liked them. This time I ADORED this movie. It was so cute, so much fun. It captured my attention the whole way through. I really recommend it for a fun movie night for people of any age. Now I will have to see the first part too.
Food Inspiration
I was completely surprised at how many food items are mentioned in this movie. The "monster' food was funny. What is reproachable about the rest was that the food was mostly junk food and the movie is aimed a kids. Come on throw them a salad in there too. Another source of inspiration could have been any Romanian dish as Transylvania's location is in Romania.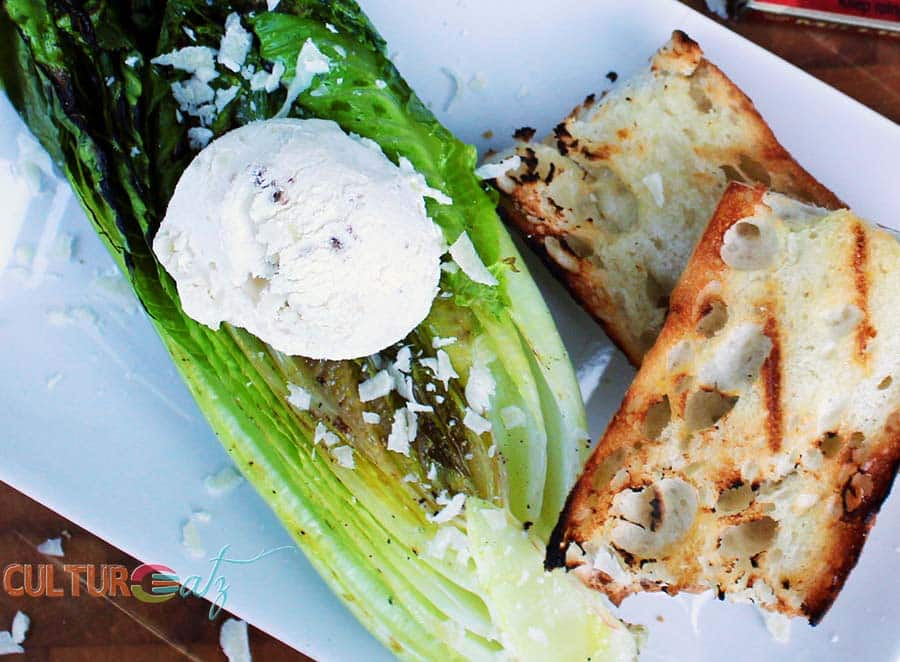 My list of foods spotted during the film includes:
jello mold for Blobbie, bug hors-d'oeuvres, wine, wedding cake, ice cream and anchovies, spiders, sheep barf, monster ball soup, skull birthday cake and loads of other cakes, porridge head, cupcake, ice cream cones, pinata candy, bird seeds, slurpees, chips, avocado, count chocula cereal, raisins and carrot stick, red licorice, blood mouthwash, banana, apple, grapes, marshmallow, rotting fish, blood wine, smoky Mai Tai cocktails, dead pigeon, tea and soup cauldron.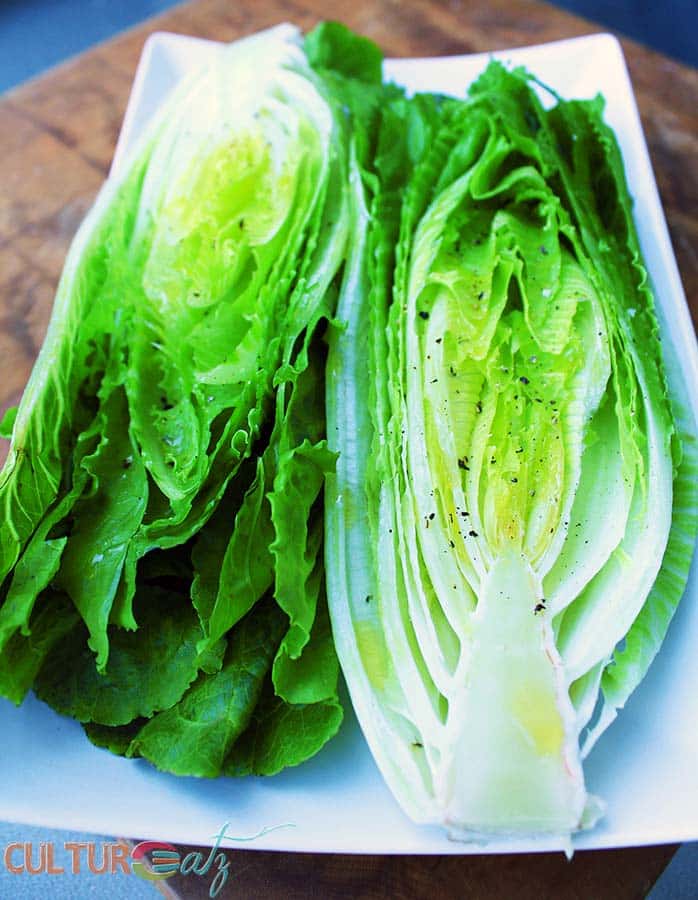 Did you say anchovy ice cream?
When the human hubby offered his wife anchovies and ice cream as a pregnancy snack, a seed got planed in my brain that I just could not shake off. I had to look into anchovy ice cream. Turns out I am not the first on the planet to think up this crazy anchovy frozen recipe, not that there so many anchovy ice cream recipes out there lol.
I reworked the recipe to add more ingredients from a typical Caesar salad dressing. And I grilled my half head of romaine lettuce on a grill first with a piece of baguette. Have you tried grilled Caesar yet? OMG it is so good. One your lettuce has a few charred lines just place a small scoop of the anchovy ice cream top and it will melt. Finish the whole plate off with a sprinkling of Parmesan chips.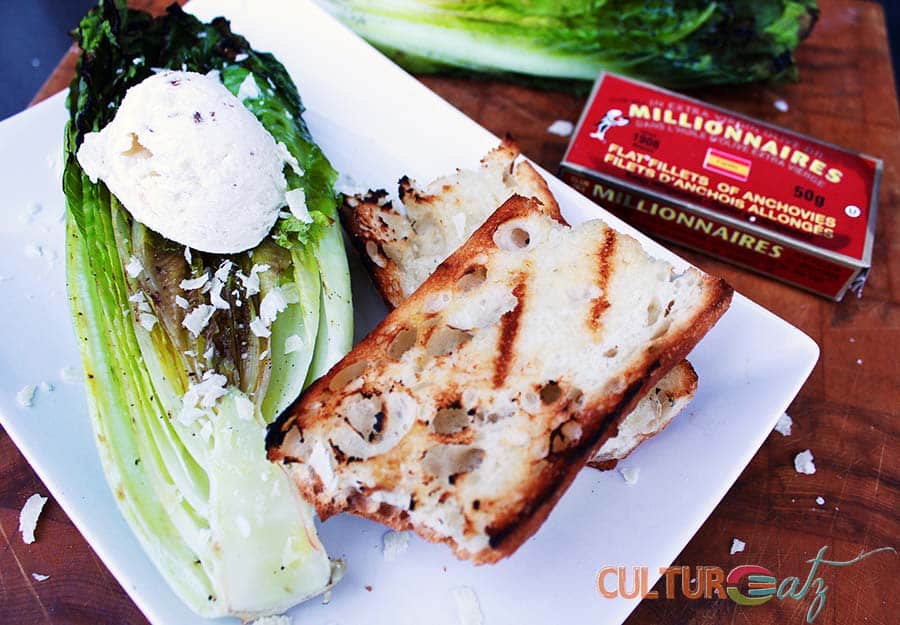 The result is gorgeous to the eyes and delicious in the mouth. The ice cream tastes just like Caesar dressing and the anchovies are not overpowering. I bet if you did not tell your guests they would never guess about the anchovy ice cream. I dare you to try it! 🙂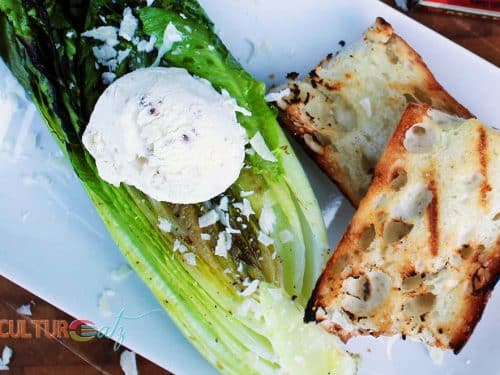 Anchovy Ice Cream on Grilled Caesar Salad
Ingredients  
For the ice cream
300

ml

heavy cream

3

anchovy fillets

rinced

1/4

leek

white part

1/2

garlic clove

crushed

2

teaspoons

lemon juice

1/2

teaspoons

Dijon mustard

1/4

teaspoon

Worcestershire sauce

pinch

of salt and pepper
For the salad
French baguette

garlic clove

olive oil

1/2

a head of romaine heart per person

Parmesan cheese

grated or slivered
Instructions 
For the ice cream
Chop leek very fine and sweat in a pan on low-med heat with a bit of olive oil.

Meanwhile chop the anchovies very fine.

Mix all the ice cream ingredients together and churn in an ice cream maker according to manufacturer's directions and transfer ice cream to a container for the freezer.
For the salad
Cut a few inches of baguette per person, halve lenghtwise. Rub with olive oil and garlic clove.

Cut romaine heart in two lengthwise

Place romaine and baguette on a grill and char till you get lines, not long for the romaine.

Plate romaine and baguette, serve with a small scoop of the anchovy ice cream and sprinkle with Parmesan.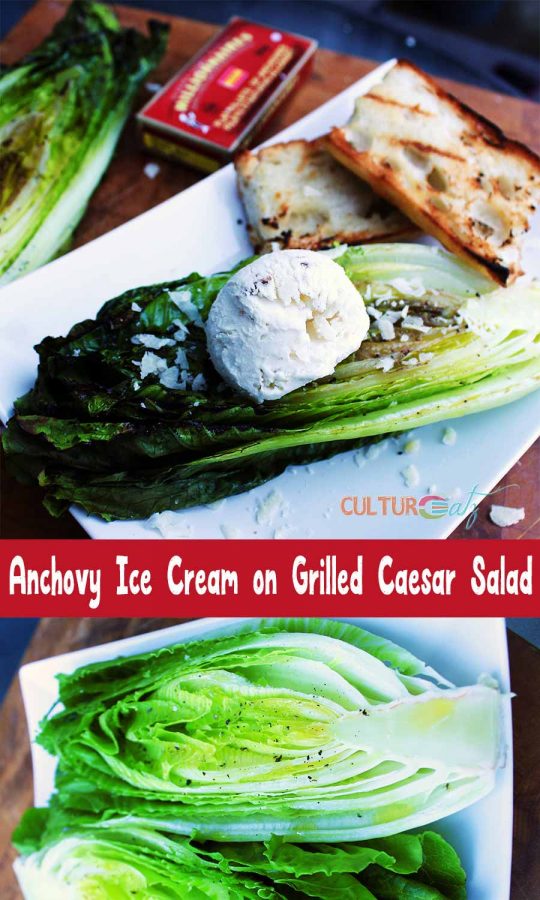 A few more unique and fun ice cream recipes: