Looking for a fun and slightly grown up ice cream recipe to try out? This Bourbon Cherry Pistachio Ice Cream is perfect: beautifully jeweled with cherries and pistachio, and spiked with a touch of Bourbon.
It's Food 'n Flix time again! In this monthly group a host picks a movie of their choice that pertains to food. Everyone watches the movie and then makes a recipe which the film inspired. It can be any recipe you want. This month's pick is hosted by Kimberly at Coffee and Casseroles and she picked The Witches of Eastwick. My summery recipe inspiration birthed from this film was a Cherry Pistachio Ice Cream. Good thing because as I write this post the expected temperature today is 38 C with the humidex!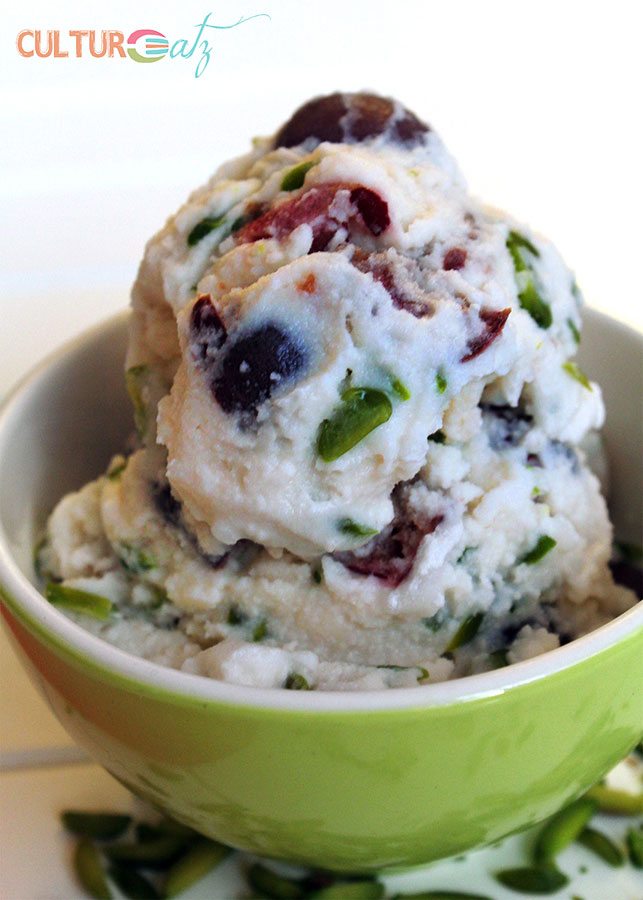 The Witches of Eastwick is a 1987 comedy-fantasy film with a stellar cast made up of Jack Nicholson, and Cher, Michelle Pfeiffer and Susan Sarandon as the witches. Jack Nicholson plays, what else, the devil himself out to seduce three older and dissatisfied women living in Eastwick, Rhode Island. This film has New England written all over it! The women unknowingly form a coven and discover their little magical abilities.
Their polyamourous relationship quickly becomes the talk of the town. A bad spell resulting in a murder turns the witches against the devil. This angers him and he seeks revenge on the ladies. But in the end Female Power prevails as the witches vanishes following a voodoo doll ritual.

It was not my first time seeing this film but it had been a long time. It has not aged well even if it is entertaining. And the only message I got out of it: even the devil can't beat a woman scorn! I would not really call this a food film, more a film with some food in it. There are a couple of scenes where foods are part of the story, like a couple of gross cherry scenes (these are the pretty shots above). So yeah the gross inspired me 😀
Some foods I spotted during this film were: martinis, olives, fish, eggs, lots of ripe fruit, tea, cakes, salads, tamarillo, bagels, gravlax, and anything else I may have missed.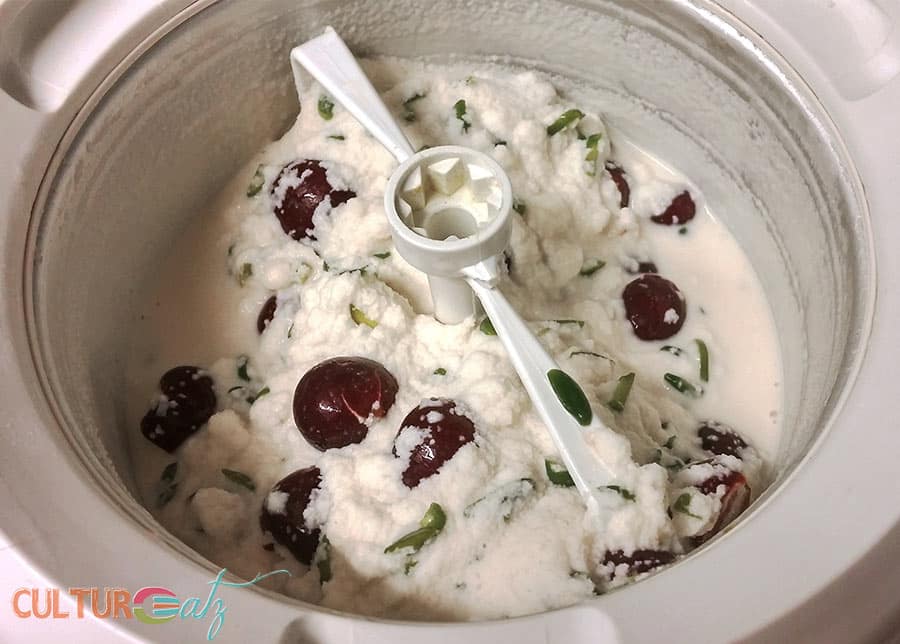 My inspiration came from the ice cream, cherries, pistachio and a bottle of Dewars White Label whisky I noticed in the movie. So you can see now how easily this ice cream recipe came about: Bourbon Cherry Pistachio Ice Cream! Another original ice cream recipe to add to my long list of unusual ice cream flavors.
It's a little boozy, a little summery, a little exotic. I really liked this flavor but would add more jam the next time. A note about alcohol and frozen desserts: don't add more as it could prevent your ice cream from becoming solid.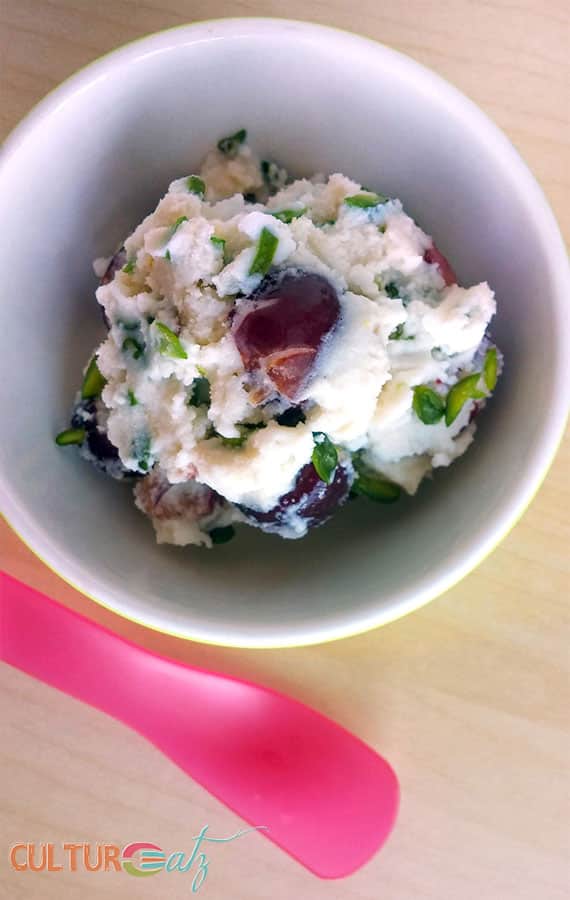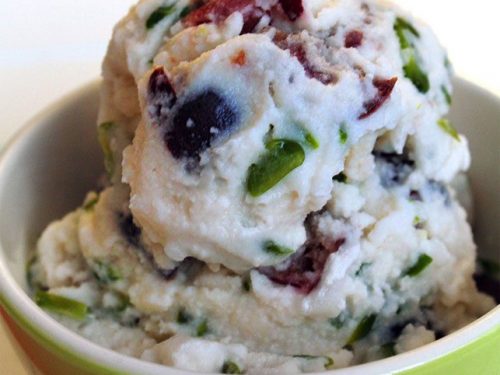 Bourbon Cherry Pistachio Ice Cream
Ingredients  
2

cups

3.25% milk

1

cup

heavy cream

1/2

cup

granulated sugar

2

tablespoons

cherry jam

optional

3/4

cup

cherries

roughly chopped,

1/2

cup

pistachios

roughly chopped

a pinch of sea salt

2

tablespoons

bourbon
Instructions 
Soak cherries in 1 tablespoon of bourbon for about 1 hour.

Mix all the ingredients together.

Churn in ice cream maker according to manufacturer's directions and transfer ice cream to a container for the freezer.
A few more unique and fun ice cream recipes: