Looking for a new exotic and delicious dessert to serve at your next meal? Seek no further than this aromatic Lemongrass Panna Cotta, an Italian dessert with an Indonesian twist.
How is your summer going? OK technically summer the season just started but I bet your social calendar is already in full swing! I know mine is as I seem to not have a weekend in town until end of July and on that weekend I am hosting an out of town guest. So I had no choice but to go look in my old recipe archives. You know those recipes we made but never got around to posting (because of the pics, sorry not the best)? Well you are in luck because I have been holding out on a goodie with this Lemongrass Panna Cotta. It's a perfect sunny light dessert with an exotic twist!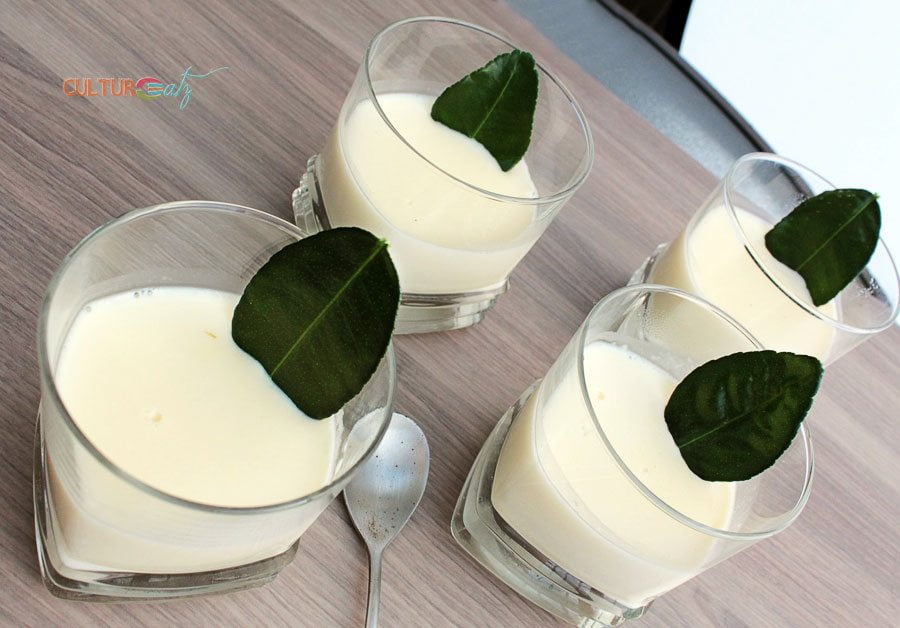 One of my favorite restaurants in Montreal – and the only worthwhile one at that – is an Indonesian restaurant called Nonya. And I always go of the Rijsttafel tasting menu when we are a group.
Rijsttafel is actually a Dutch term used to describe a meal made up of many sides and served with rice. I love it because you can try a whole bunch of different dishes at once.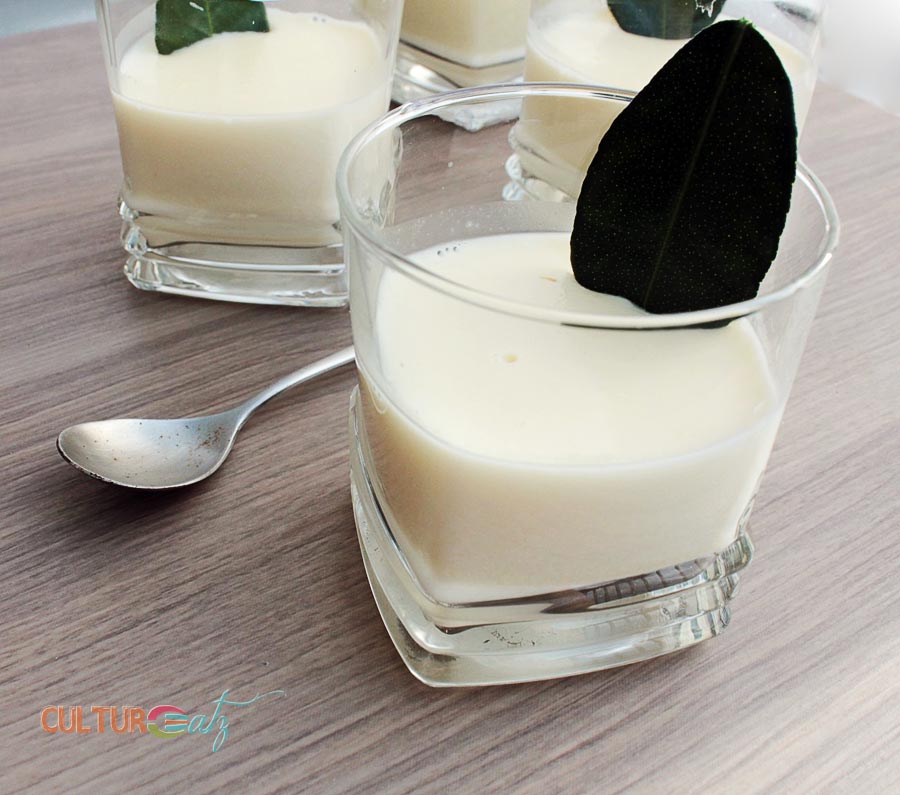 One of the reasons I love food from Indonesia so much is that the taste is so colorful, exotic, and out of my normal element. And you know I consume food from so many parts of the world but I am rarely surprised by a new taste – not the case with Indonesian food. You will often find satay, curries, fork tender pieces of meat and poultry, sea food, lots of coconut milk based dishes and complex flavors.
Every time I have been at Nonya the only dessert option with the tasting menu was a delicious Indonesian black rice pudding. But the last time I went there was a second offering: a fabulous Lemongrass Panna Cotta.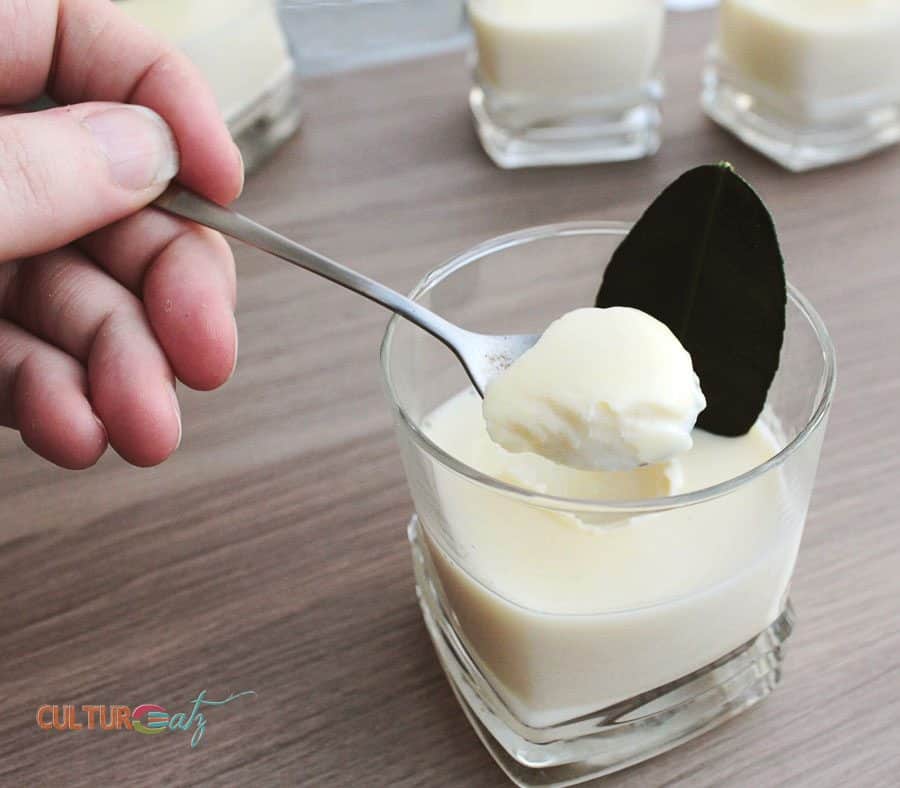 What is Lemongrass?
Raise your hand if you are a fan of lemongrass! I am a huge fan but I know a lot of people who just cannot stand it. Lemongrass is a tropical island plant from the grass family and is known for how fragrant it is. The taste would be best described as a fresh citrus ginger mint flavor. Also it is a bit like citronella as well. It really gives a dish a lot of depth. You can buy hard tough stalks of lemongrass. Your best bet is to cut it into manageable pieces, crush the stalks with a knife, and then infuse you dish with it and discard the stalks before serving.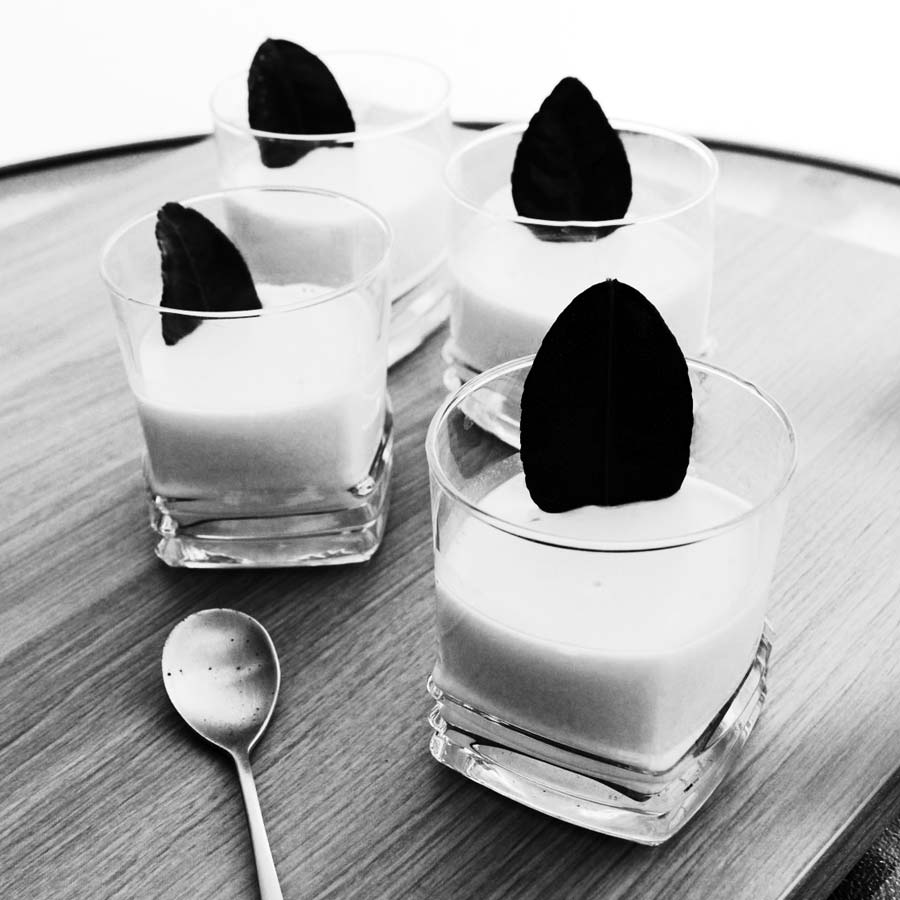 I love me a nice panna cotta recipe  and it is so easy to make, contrary to popular belief. I fell so hard for the Lemongrass Panna Cotta I just had to recreate it at home. Talk about fusion cuisine: Italian and Indonesian!
My adapted recipe was found on an Australian online news site of all places. But it was almost just as delectable as the one I had from the restaurant.
Yields 8 portions
Exquisite Lemongrass Panna Cotta
Looking for a new exotic and delicious dessert to serve at your next meal? Seek no further than this aromatic Lemongrass Panna Cotta, an Italian dessert with an Indonesian twist.
Ingredients
600 ml heavy cream
250 ml coconut milk
3 to 4 stalks lemongrass
1/2 cup sugar
1 1/2 teaspoons gelatin powder
Instructions
Cut lemongrass into 5cm/2 in pieces and smash them with the back of you knife.
On medium heat, add the cream, milk, lemongrass and sugar to a saucepan and heat until just simmering, stirring occasionally. Remove from the heat.
Add the gelatin to the mixture and whisk until well dissolved.
Leave the mixture to cool for 20 minutes and then pour through a fine sieve to strain. Pour evenly into 8 moulds or bowls sprayed with oil.
Cover with cling film as to prevent a skin from forming and refrigerate for at least 4 to 6 hours.
7.8.1.2
462
https://cultureatz.com/lemongrass-panna-cotta/
Did you make one of my recipes? I would love to see it. Take a photo and tag me on Instagram @cultureatz.
EDITOR'S NOTE: This post may contain affiliate links (disclosure policy). Please support CulturEatz by clicking on the links and purchasing through them so I can keep the kitchen well stocked. It does not alter the price you pay.