Welcome to part 2 of the special Gongfu tea Chinese Tea Tasting 2 ceremony I hosted for a few friends.
It was the perfect way to enjoy the 5 tea samples I received from Teavivre. Make sure to check Gong Fu Chinese Tea Tasting 2 part 1 to learn more about all the teas we tried and about the Gong Fu tea way!
I thought I would start of this post with a silly shot…perhaps I will regret it lol. But this my readers is what happens when you drink too much good tea and introduce a Tibetan Singing Bowl to the mix. I recently took a Tibetan Singing Bowl workshop and basically ran out to buy one that following week. This is us being silly with the said bowl, left to right top, and then bottom: Sandra, Melanie, Evelyne, Michele and (discreet) Rebecca.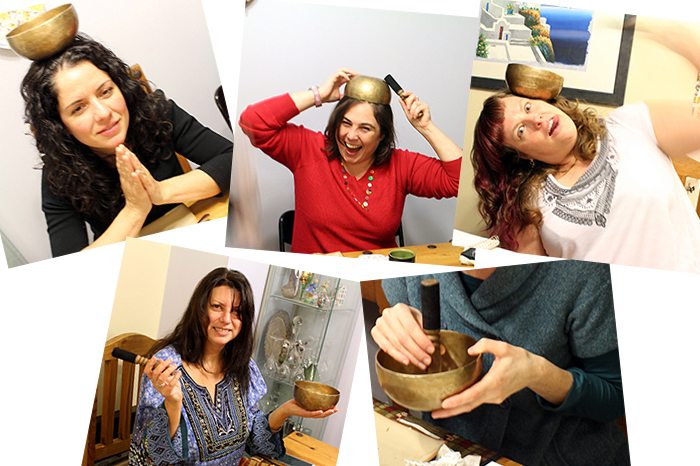 In the post Gong Fu Chinese Tea Tasting part 1 we covered the first two teas, we have three more to explore.
Nonpareil Anxi Qing Xiang TieGuanYin Oolong Tea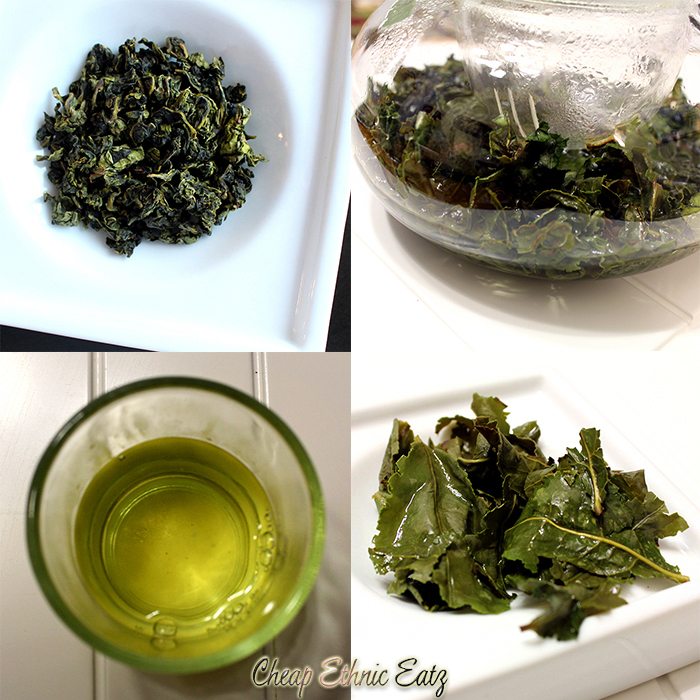 Harvest time: October 12, 201
Anxi County lies in the middle by south of Fujian. Nonpareil Anxi Qing Xiang TieGuanYin Oolong Tea is planted in Nanqi and has excellent quality because of the environment. This teas is made by a traditional making process: sun withering, spreading, fixation, rolling, forming and roasting. Being 60% – 70% fermented, these teas are high amino acids, vitamins, polyphenols and antioxidants. This tea is a forest green color and has a strong orchid aroma.
Group taste notes
steep 1. strong orchid smell, tahiti, hibiscus, jasmine, more fragrant after salad bite
steep 2. dark green color, earthy, fresh cut grass
steep 3. yellow green, drying cut grass
steep 4. more depth, less grassy, kept floral notes all steeps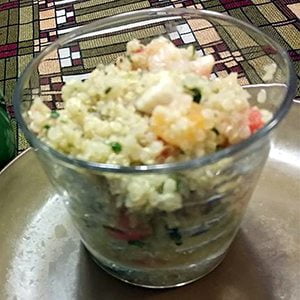 Food pairing: Shrimp scallop citrus quinoa salad
Liu An Gua Pian Green Tea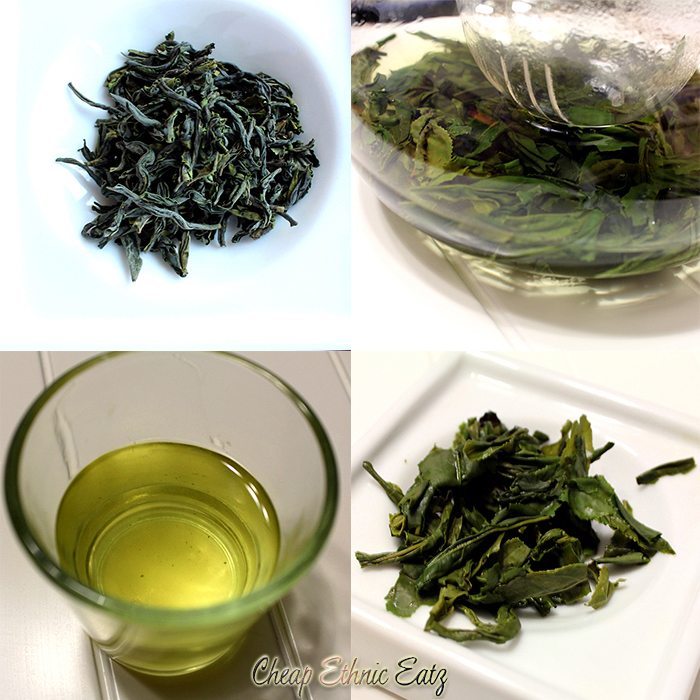 Harvest time: May 3, 2014
This tea grows in the Qiyun Mountains in the Anhui province. Liu An Gua Pian Green Tea is deservedly in the list of China's top ten teas.  Made only from larger, mature leaves that are rolled up during processing, the dry leaves have a distinctively plump shape to them. It is the only kind of tea made of pure leaf –without any buds and petiole. Very uncharacteristic for a green tea, it has a quite sweet taste and strong aroma, that is also overlaid with an almost smoky, spicy tang.
Group taste notes
steep 1. this one is strong for a green tea, not astringent, smoky aftertaste
steep 2. fairly strong, astringent, bitter in middle of tongue, great with pineapple it becomes citrusy
steep 3. sides of tongue feel it, not astringent, more full bodied
steep 4. less potent, more acidic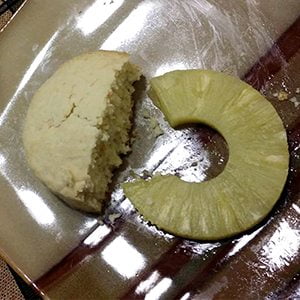 Food pairing: Pineapple and citrus scones
Fengqing Wild Tree Yesheng Raw Pu-erh Tea Cake 2013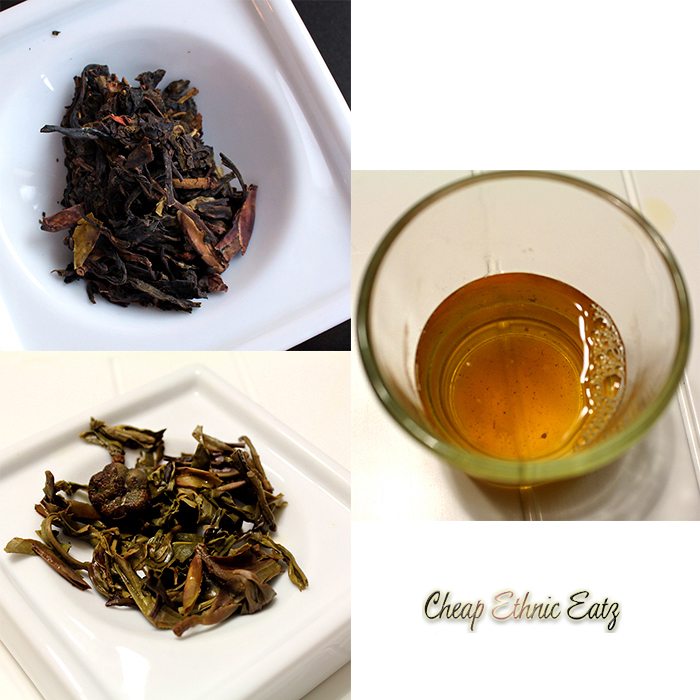 Harvest time: March to May, 2013
This raw pu-erh cake is grown and produced in Fengqing, Yunnan, which is the origin place of DianHong black tea. Once the Fengqing Wild Tree Yesheng Raw Pu-erh Tea Cake 2013 is harvested the fresh leaves, tea workers process them by fixation, rolling, drying, sifting, and then storing the leaves in carton boxes. One third of the leaves are tea buds, which can give the tea a mellower flavor after a year's proper preservation. The tea tastes strong and soft, has heavy flavor and a sweet aftertaste. Pu-reh tea is an acquired taste, it is like the scotch of teas. It is excellent for digestion.
Group taste notes
steep 1. smoky, mossy, tea looks like a forest floor, mushrooms, fungus, vanilla and almonds
steep 2. wet leather, cigarette smoke, animal, musky, wet fur. Bitter, strong, wet moss carpet in the woods
steep 3. color kaki, more mellow than 2nd steep, only 2 of us like this steep.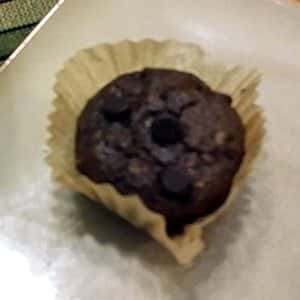 Food pairing: Quinoa dark chocolate muffins
———————————————————-
We made it, here is my review of all 5 sampled teas with this Chinese Tea Tasting 2. Which were the favorites? They were the Nonpareil Te Gong Huang Shan Mao Feng Green Tea (3 of us) and the perfumed Nonpareil Anxi Qing Xiang TieGuanYin Oolong Tea (2 of us). The Pu-reh was a new thing for all but one lady. It did not win over most of us but I want to explore it more. I could learn to enjoy it.
What have I learned with this Chinese Tea Tasting 2? Very high grade tea is just an absolute delight to drink, it is like I never really had tea before. A high quality tea is so much more refined, pure and crisp. Try eating one raw leaf before infusing: it should be a bright intense color and have an intense taste. Once you have brewed all your steeps you will see a fully reconstituted gorgeous leaf as well: just gorgeous. Go ahead and splurge a little at Teavivre, your tea drinking experience will be rewarded.
The products featured in this post were provided to me free of cost. Any personal opinions reflected in this post are my own and without influence.