I had an incredible eye opening experience. And I have to admit I never thought I would say this following a Chinese Tea Tasting, but I was left in awe after trying 5 very high grade tea samples from Teavivre. A high quality tea is so much more refined, pure and crisp. An excellent tea is like enjoying a top vintage wine. I will never be able to look at the boxed stuff or tea chain stores the same way again.
Since this tea tasting was a rather unique opportunity, I decided to host my bastardized version of a Gongfu tea ceremony with the tools I had and a few friends. You can read more about the real traditional Gong Fu ceremony here but I will give you a quick resume here as well.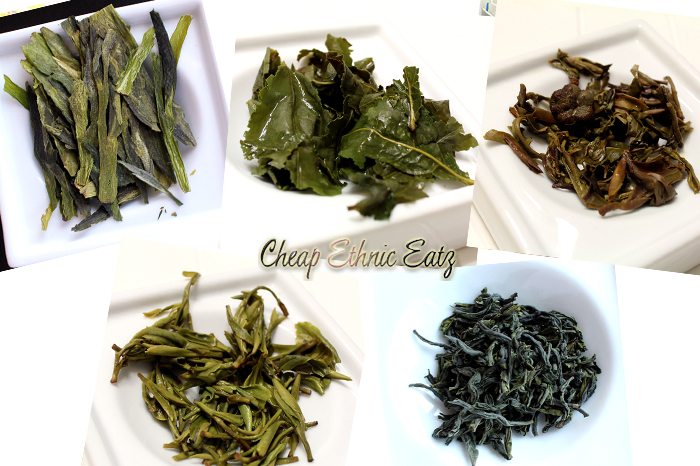 Only try a Gongfu tea ceremony with high quality tea. Each tea is brewed in a larger quantity and with small water portion, for short periods of time. Each tea can be brewed at least 4 times. The water must be of good quality and one must heat it to a specific temperature. Each tea is different but to give you a rough estimate brew about 3 to 4 grams of tea for 85 ml (3oz) of water at 80 C (176F). Brews are usually a rinse (5 seconds and not consummed), 30 sec, 1 min, 1min 30sec, 2 min, and so on. Again each tea varies.
You would not think adding an extra 30 seconds per brew may make a big difference but, on the contrary, it could completely change the taste. It is really worth brewing each tea as many times as recommended. Also try drinking some of the tea once it has cooled, this will also reveal a whole new flavor at times.
We had 5 teas and we were 5 ladies at the table. I assigned one tea per guest and asked them to prepare a small food contribution to complement their tea. It was really hard to match specific teas with food but I think we did a great job and every dish highlighted nicely the teas. The tasting ceremony took 4 hours, each of us tasting 18 different steeps.
The food pics were taken by a friend with her phone, I totally forgot as I was so concentrated on shooting the teas. Thank you Michele. Today I will cover the 2 first teas we had and in part 2 (coming soon) we will look at the last 3 sampled teas.
We had 3 Green teas, 1 Oolong tea and 1 Pu-reh tea. I planned the order according to the flavor profile: from the lightest tasting tea to the strongest. On to the teas…
Premium Tai Ping Hou Kui Green Tea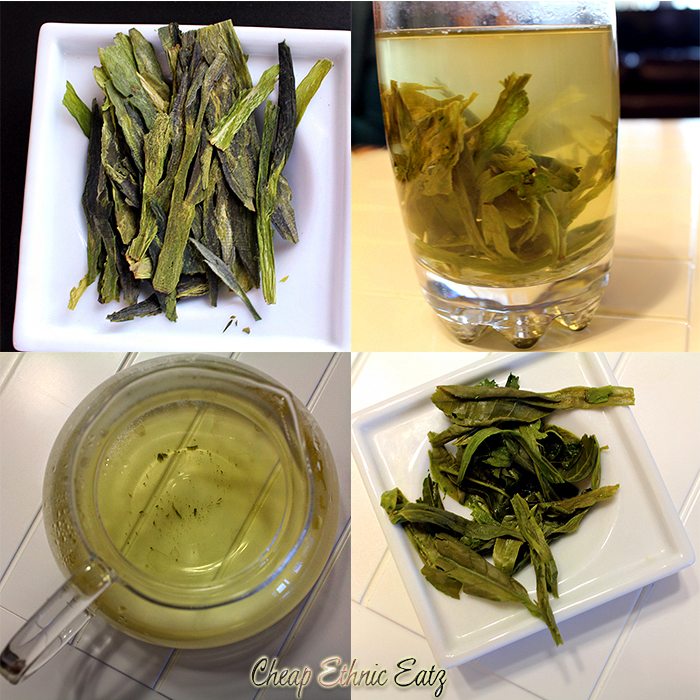 Harvest time: April 25, 2014
This tea grows in Hou Keng on Huangshan Mountainbla. Premium Tai Ping Hou Kui Green Tea has uniquely long, flat leaves that make an amazing sight when brewed in a clear glass.  The tea is made from one bud with two leaves that come from a large leaf variety of the tea plant found only in Anhui province.  During processing the leaves are pressed flat in an oven, giving the tea its unique shape. When brewed it has a bright green color.
Group taste notes
steep 1. smooth, buttery, like grass. melon mellows taste, ends a bit of bitterness
steep 2. full bodied, better, lingers, smoother. zucchini buttery after sip
steep 3. even more buttery and fat, rich, drier aftertaste once swallowed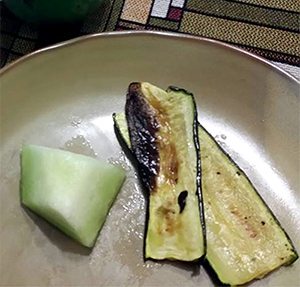 Food pairing: grilled zucchini and cantaloupe
Nonpareil Te Gong Huang Shan Mao Feng Green Tea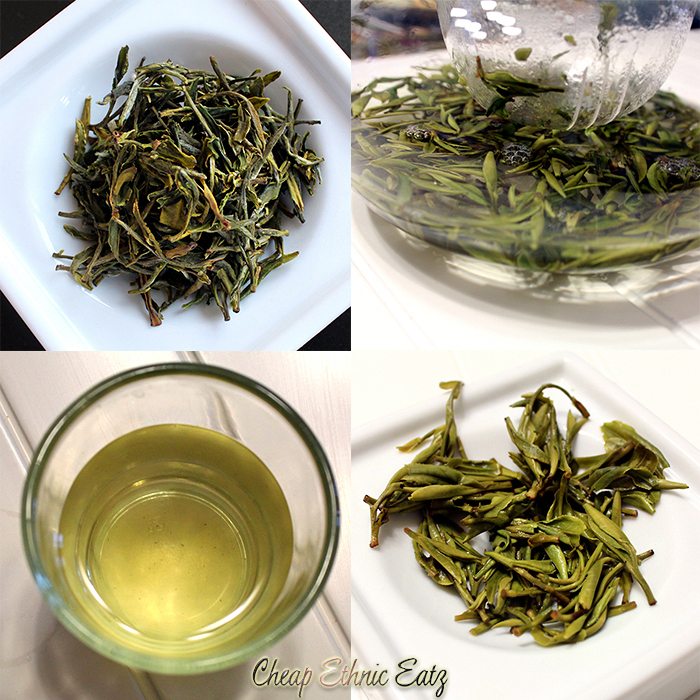 Harvest Time: March 28, 2014
This tea is grown in Shexian County, Huanshan City, Anhui Province, and it is a kind of pre-ming green tea. Pre-ming tea has strict requirement of the picking time and its making standard. The Nonpareil Te Gong Huang Shan Mao Feng Green Tea is know for its curly shape, bird-tongue-like appearance of a yellowish green color. Nonpareil means that the tea was used to be paid as tribute to the emperor.
Group taste notes
steep 1. perfumed, citrus, Basmati rice, not astringent, nutty
steep 2. hits all the taste buds like sides, metallic and mineral
steep 3. stronger and hits the tongue even more, like liking wet rocks, emphasizes cilantro in noodles
steep 4. drier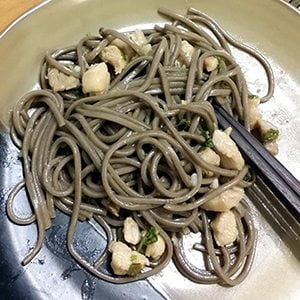 Food pairing: Ginger lime chicken Soba cold noodles
Coming soon: part 2 with the remaining 3 teas and the favorites of the guests!
The products featured in this post were provided to me free of cost. Any personal opinions reflected in this post are my own and without influence.