Mustard soup? Absolutely! Made with onions, leeks, and stock as a base, adding stone ground mustard and beer elevates this Dutch Beer Mustard Soup.
I am dropping in quickly with a quick recipe post. It's a recipe I have been meaning to post for quite some while. For about a year and a half actually. I first had this Dutch beer mustard soup during my month-long trip to Europe. As you guessed, this soup is from the Netherlands.
I spotted this soup in the menu of a brewery in the middle of a small town. It was love at the first spoon and I wanted to recreate that moment in my kitchen.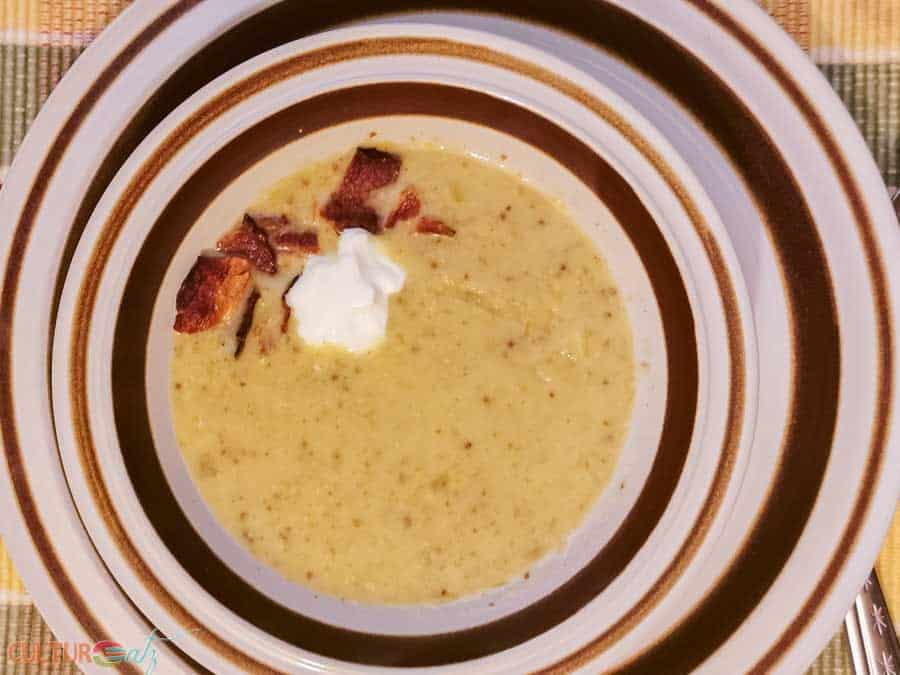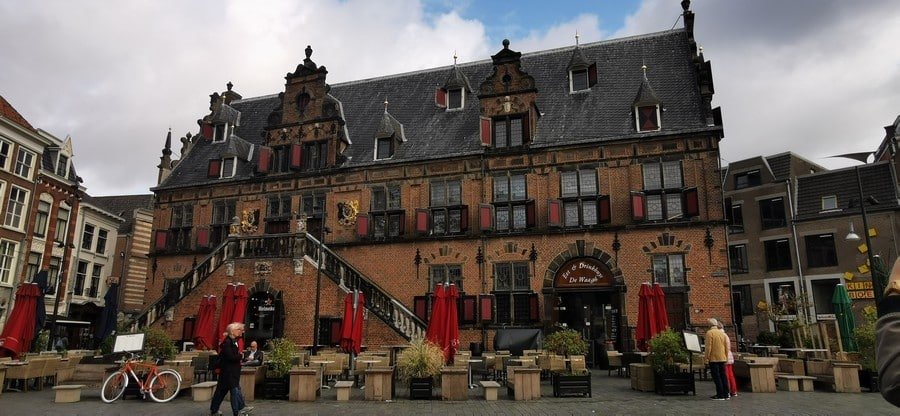 Nijmegen, runner up for the cutest town in the Netherlands
One morning my friends Dennis and Tim announced they were going to take me to a beautiful old town. It's amazing the discoveries you find when With locals. The destination was Nijmegen, the oldest city in the country. As in just over 2,000 years old.
II you are looking for a super quintessential adorable European town, this is it. It's the kind of city you just want to stroll around in, exploring all the nooks and crannies. There are even small Roman ruins to see. The town square is straight out of a fairy tale. And if you go off the beaten track, you might just the three-story building with 9 red lights on a totally ordinary neighborhood.
We highly recommend you visit the Stevenskerk (St Steven's Church) and find the tour guide inside as they will show you the catacombs that are normally not accessible. I don't care if you saw already 10 churches on your trip, go there. And it did not hurt that someone was also practicing on the organ during our stop.
Midday we had a bit to eat at Brouwerij De Hemel, the oldest craft beer brewery in the Netherlands. There are restaurants and tasting rooms on the first floor. The brewery and distillery are in the basement. For a fee, you can visit the small but fascinating museum down there.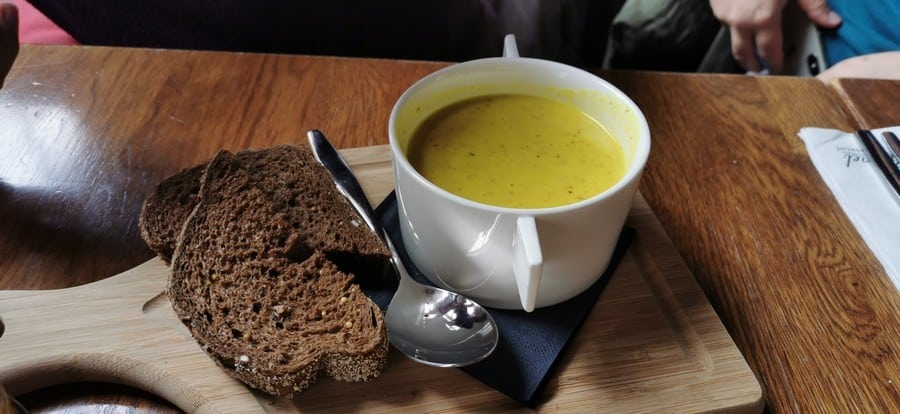 Upcycled beer to mustard
But beer is not their only specialty. If they have a beer that has turned sour or not to the house standard, they are equipped with a machine that can turn the bad beer into vinegar. You can buy beer vinegar.
And their 3rd product is beer mustard, made with homemade beer vinegar, beer, ground whole grain mustard, and light seasoning. There are three versions: fine, coarse, and ancient mustards.
Who knew learning how to make mustard at home was so easy!
I missed it on the menu but Tim ordered this Dutch beer mustard soup. If you are a regular reader, you know if it's weird or unusual I MUST try it. Even if my food and beer sampler was delicious, once I tasted the soup I wished I had gotten it.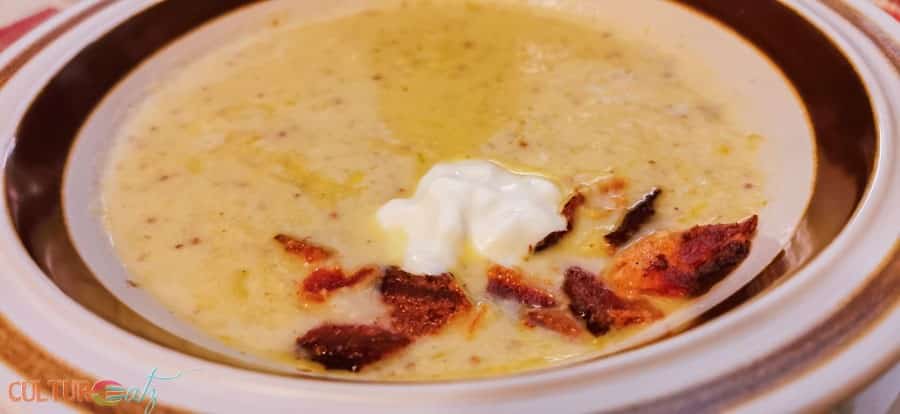 Dutch Beer Mustard Soup
The soup blew my mind. There is only 2-3 tbsp of mustard in it, you are not eating tons of mustard. But it's just enough to make the most pleasant soup. Traditionally the soup is served with bread and bacon or cubed pancetta.
I knew right then and there I wanted to make my own and I was inspired by this Dutch mustard soup recipe. This soup is not the most esthetically pleasing soup but it certainly hit the spot and brought memoeries.
Why have I hesitated to post the recipe for so long? Because it does not even come close to the one in Nijmegen. Why? Because of the mustard. You can see the pic of the soup from my trip is much more yellow and the flavors much bolder.
We just don't have top-level mustards in North America. Dijon would not be a good choice and don't even think of using something like French mustard. The best I can do here is use old-fashioned mustard, the grainy one.
I guess when travel is a safe thing to do again, I'll have to head back here to buy some proper mustard.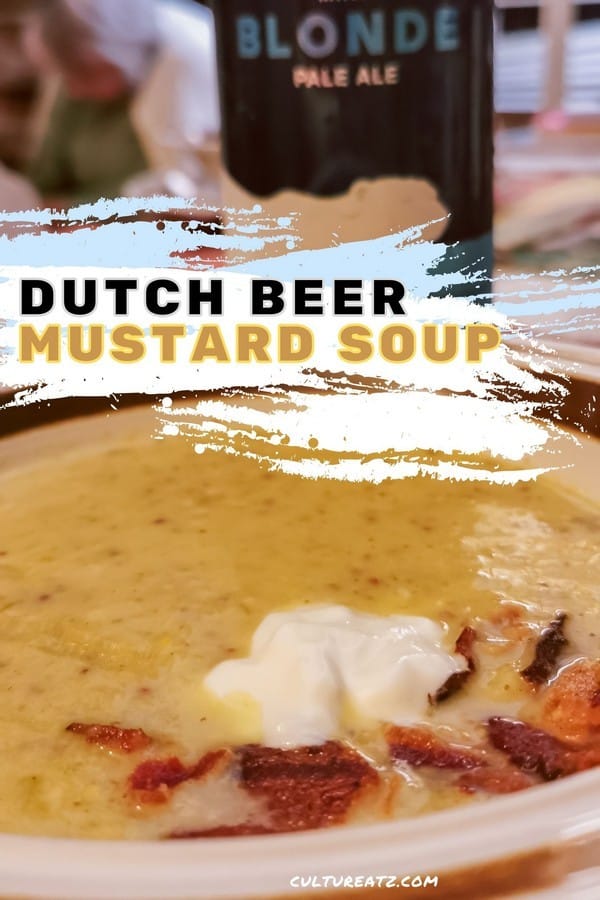 Dutch Beer Mustard Soup | Mosterdsoep
Made with onions, leeks, and stock as a base, adding stone ground mustard and beer elevates this Dutch Beer Mustard Soup.
Ingredients  
1/2

lb

cubed bacon or pancetta

1

large white onion

chopped

2

leeks

trimmed and chopped

2

cloves

garlic

minced

3

tablespoons

stoneground mustard

1.5

cups

vegetable or chicken stock

1 12-

ounce

bottle beer

Pale lager or Pilsner

1/2

cup

milk

1/2

cup

heavy cream

1

tablespoon

cornstarch

optional

Salt and ground pepper

to taste
Instructions 
Cook the bacon or pancetta in a soup pot on medium-high heat until crispy. Strain and place on paper towel in a plate. Add the fat back to the pot.

Reduce to medium, mix in the onion with the leek and cook for 5 minutes, or until soft. Add the garlic and cook for 1 minute.

Add the stock, beer, mustard, milk, and the cream to the pot.

Bring to a boil and simmer for 10 minutes.

Puree the soup in a blender and add back to the pot.

Stir the cornstarch wit 2 tablespoons of cold water. Mix into the soup and simmer until thickened.

Season with salt and pepper, and top with bacon or pancetta.
PIN IT HERE for later!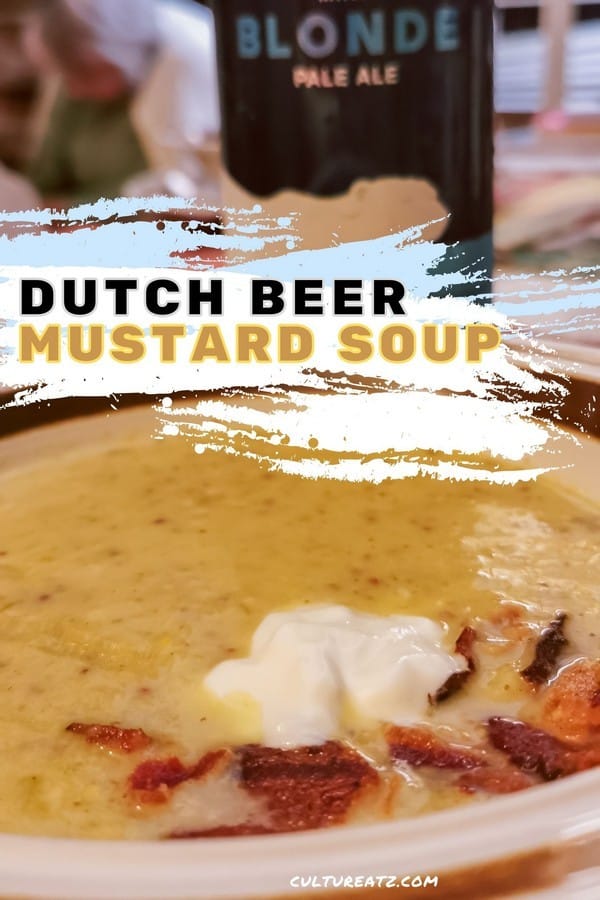 Want more soup ideas?
Refreshing Savory Pear Gazpacho
Vietnamese Beef Pho Play Soup with Coffee
Sopa de Ajo, a Spanish Garlic Soup with a Poached Egg
Cilantro Parsley Soup