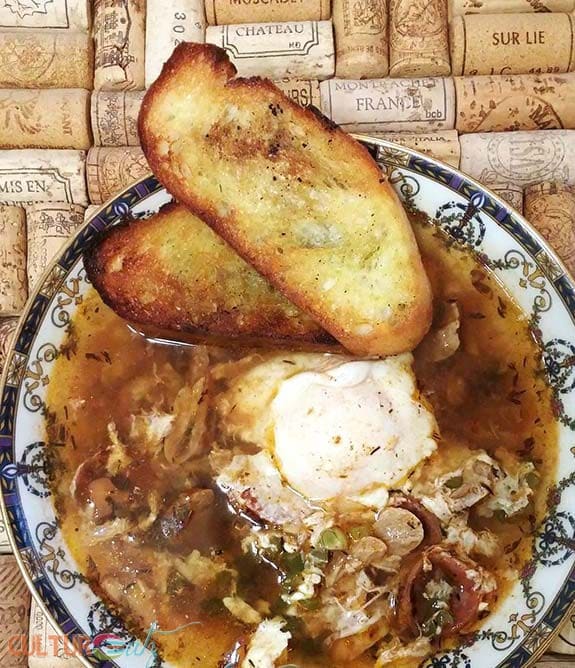 Garlic lovers rejoice! Enjoy a beautiful bowl of Sopa de Ajo, a rustic Spanish garlic soup accompanied by poached eggs and grilled bread.
The traditional Sopa de Ajo is said to have been created by Castillian shepherds looking for a way to stay extra warm during colder nights out in the pasture. Many recipes cook the bread right into the soup but my garlic soup is served more as a broth with the bread on the side. A chunky and earthy broth rich with crispy chorizo, fragrant thyme, smoked paprika, and large pieces of caramelized garlic cloves.

Sopa de Ajo
It's fresh garlic bulb and garlic scapes season! And what better way to get a heavy and healthy dose of garlic than with a garlic soup…with 4 whole garlic heads in it! Don't worry they are slowly caramelized in a pan so it takes a lot of the edge off.
If you find garlic scapes, why not add a good handful too in the soup. These are the stems and flower buds of the garlic plant. Scapes have a mild garlic flavor and a slight sweetness. BONUS RECIPE: I also recently prepared garlic scrapes as a vegetable side dish for dinner! Just grill them till tender on the BBQ in an aluminum dish with olive oil, salt, and pepper. Loved it, give it a try!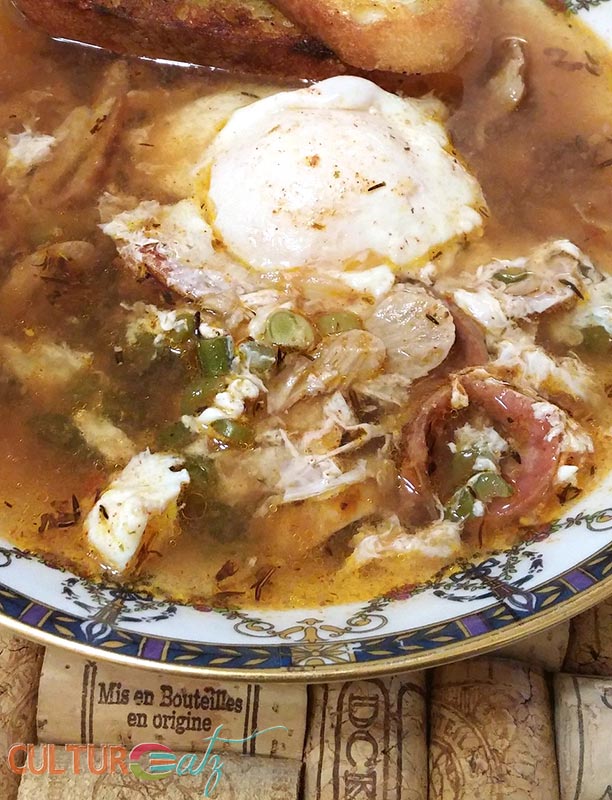 Everything is better with poached eggs
Served with poached eggs and a few slices of grilled bread, this earthy soup is hearty enough for a light summer meal on a cooler or rainy day. I poach my eggs no more than 3 minutes and serve up my soup right away. Dipping my bread in the runny egg yolk is truly one of life's great pleasures.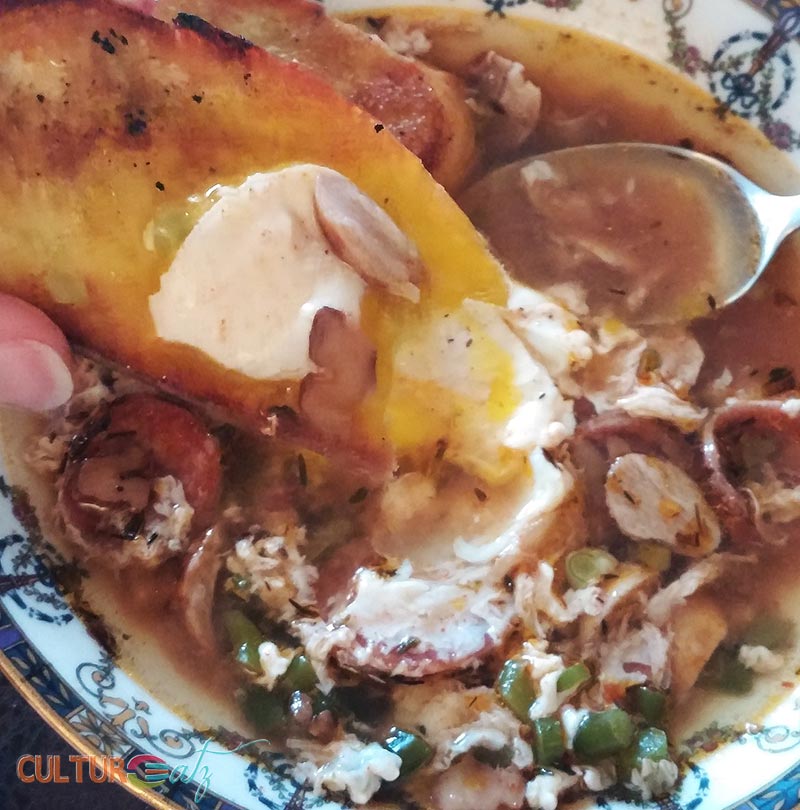 Yes, the taste of the Sopa de Ajo, or garlic soup, is mellowed by caramelization. But a warning: if you plan on canoodling and kissing later in the evening, make sure all parties eat a bowl first 🙂
If you are looking for more summery garlic soup, why not try my Thai Peachy Garlic Scape Soup.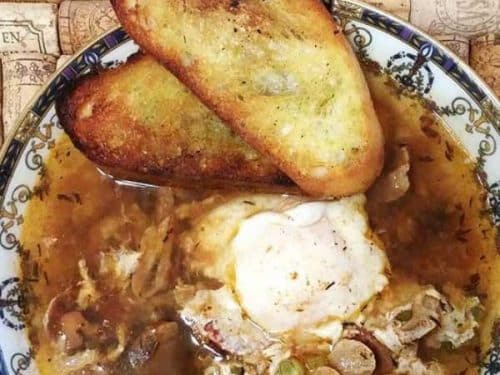 Sopa de Ajo (Spanish Garlic Soup)
Ingredients  
1/4

cup

olive oil

4

garlic heads

broken into cloves, unpeeled

100

gm dried chorizo

finely chopped

1

tsp

thyme leaves

4

cups

chicken stock

1/2

tsp

smoked sweet paprika

handful of garlic scapes

chopped (optional)

4

eggs

4

thick slices of bread

char-grilled
Instructions 
Over a low heat warm oil in a saucepan. Add the garlic and cook until skins are golden, stirring occasionally for about 15-20 minutes. Remove garlic and leave to cool. Squeeze garlic cloves from skins and chop roughly.

Add chorizo to same pan and cook until crisp on medium heat until, about 2-3 minutes. Add the thyme and cook until fragrant. Add the chicken stock, paprika, garlic cloves and garlic scapes. Keep on a simmer and prior to serving, poach eggs in the soup for 3 minutes.

Serve into bowls right away with slices of char-grilled bread.
PIN IT FOR LATER!