I am away for a little bit to frolic in the country…..enjoy this scheduled post and I look forward to posting upon my return.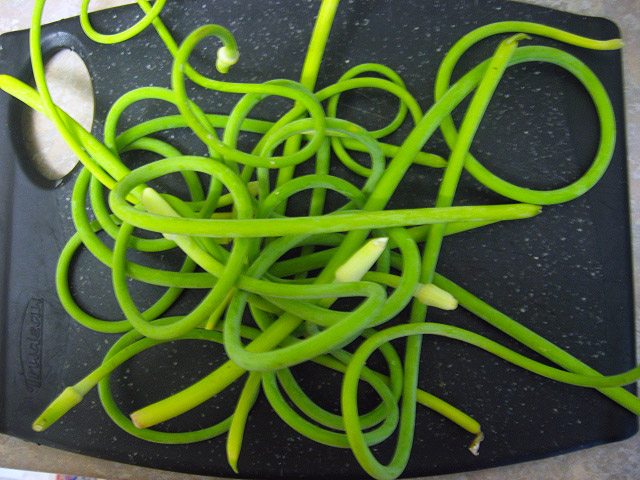 Recently I was invited over for dinner at a friend's place. She had gone to a farmer's market that day and her purchased treasures brought on a discovery for me: garlic scapes. I had never come across (consciously at least) this green stalk before. On my next farmer's market trip I found some and had to bring a small bunch of garlic scapes home. But what to do with them. Two recipes really caught my eye: a soup and a pesto. I had enough for both so you get both.
Garlic scapes are the immature flower stalks of the hardneck garlic bulb variety. So you they are tender and edible and have a delicate hint of garlic flavor. They are usually harvested and found in markets during the month of June and July.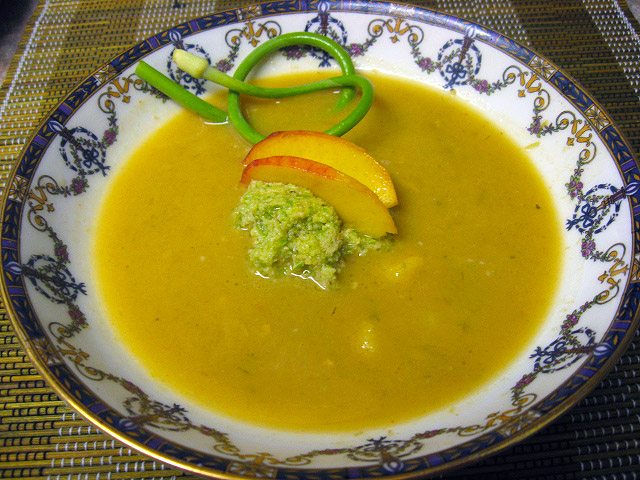 Ξ Thai Peachy Garlic Scape Soup Ξ
1 tablespoon of oil
1 dozen garlic scapes, green shoots chopped
2 cups of chicken or vegetable broth
1 tablespoon fish sauce
1/2 coconut milk
1 peach, chopped
1/2 inch grated ginger
1/2 to 1 teaspoon chili sauce
1 tablespoon lemongrass
a pinch of sea salt
freshly ground black pepper
1 tablespoon of lemon juice
Directions:
Heat the oil in a large saucepan over medium heat, then add the scapes and saute for 2 minutes.
Add the broth and all the ingredients except lemon juice.
Bring to a boil and simmer, covered,  for about 20 minutes.
Remove from the heat and then puree using a hand blender.
 Add the lemon juice, adjust salt and pepper to taste. Makes 2 servings.
What can I say about the soup, the taste is truly unique and so flavorful. Obviously the soup itself is not Thai but the seasoning is: coconut milk, chili, lemongrass, ginger and the fish sauce. I was inspired to add a piece to bring an underground sweetness to the soup and it was perfect. Imagine all those flavors with a light garlic taste. Wonderful and extremely exotic.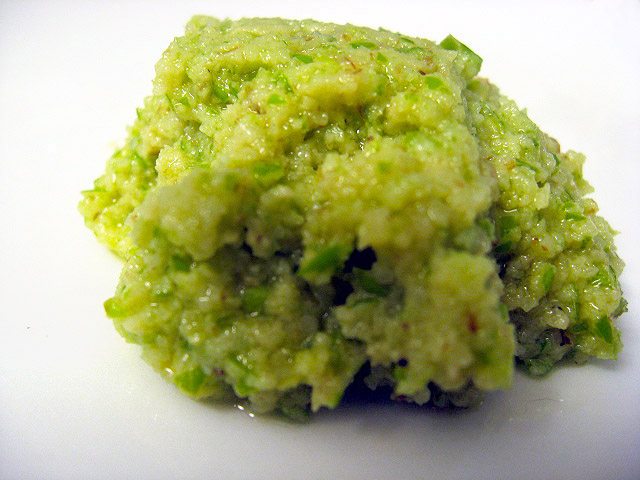 Ξ Garlic Scape Pesto Ξ
1 cup garlic scapes, chopped
1/3 cup walnuts
1/3 cup grated Parmesan cheese
1/3 cup Extra virgin olive oil
Salt, pepper to taste
Directions:
Place garlic scapes, walnuts, and Parmesan in a food processor. While the processor is running drizzle the oil in slowly. Season and store in the fridge or freeze into cubes.